Last updated on September 28th, 2021 at 01:25 pm
Looking for a fun outdoor activity for your toddler? If they aren't quite ready for a bicycle, give a toddler tricycle a try!
Tricycles come in a wide range of shapes and sizes, and children as young as 18 months of age can be seen riding one. For generations, the tricycle has been a child's first experience with cycling. In fact, riding a tricycle seems to be a right of passage for most kids. Starting with a toddler tricycle is a great way to give children independence and encourage outdoor play.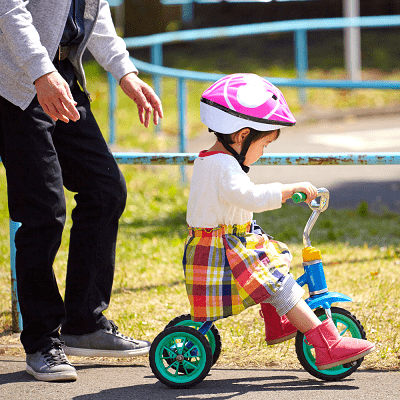 Are trikes good for toddlers?
Riding a tricycle is an effective way to improve balance and coordination of various parts of your child's body. Riding a tricycle promotes hand-eye coordination, motor skills and enhances muscle growth. Additionally, it also helps enhance arm-leg coordination as your toddler learns to master climbing on and off the tricycle.
Of course, kids love it because it's fun, but it also gives a child confidence in their physical abilities. The sense of accomplishment your child will feel when they pedal for the first time is awesome for their self-esteem.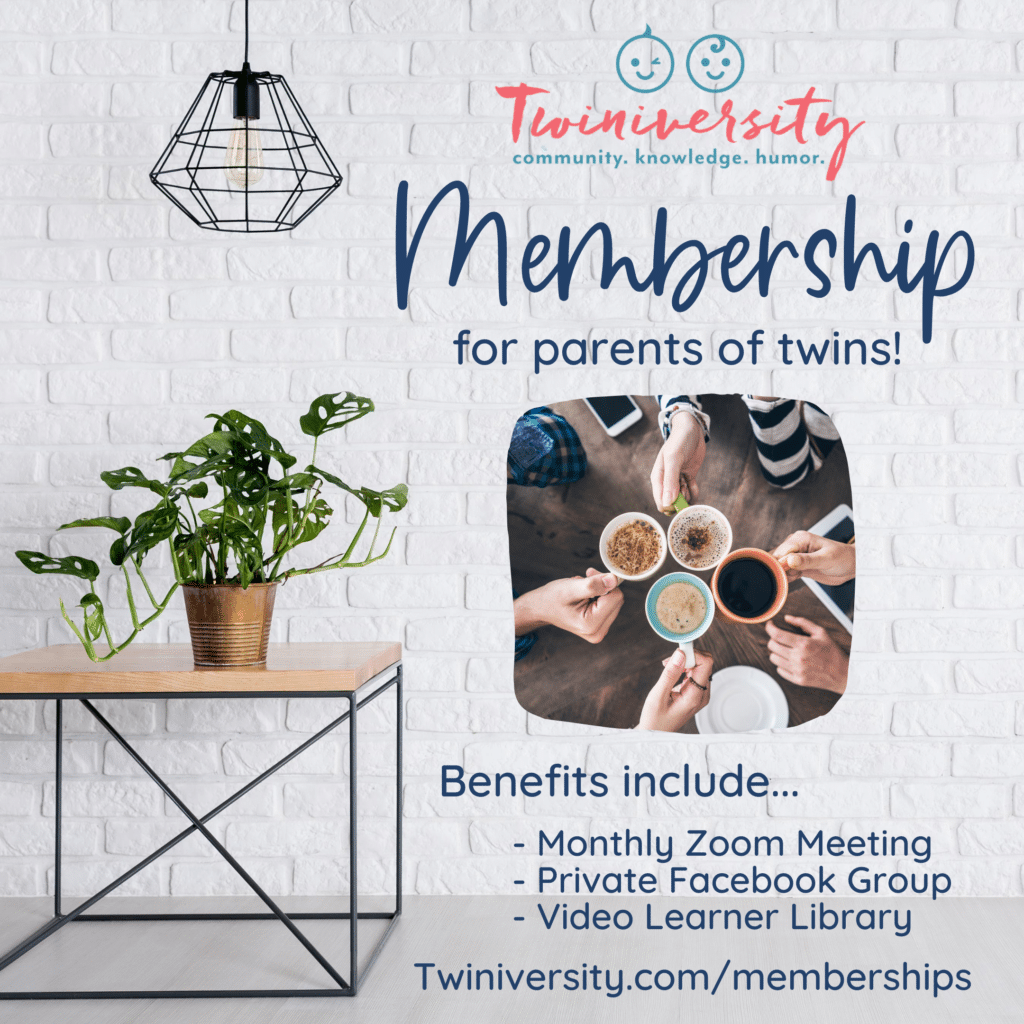 Need some twin parent friends? Get the support you need with a Twiniversity Membership. Benefits include a monthly twin parent club meeting on Zoom, access to a private Facebook group just for twin parents, and a video library of twin parenting lessons. Visit Twiniversity.com/membership to join today!
What age can a toddler ride a tricycle?
According to the American Academy of Pediatrics (AAP), most children are ready to ride a tricycle when they are around 3 years old. This is the age when children meet the cognitive milestones needed to succeed at riding a trike. 3-year-old children should be able to listen and respond to directions and have the physical coordination to pedal. If your child is unable to do these then it is a good idea to wait to teach them (not to mention less frustrating for the parent).
Toddler not ready for a tricycle? Check out this post about toddler scooters instead for hours of outdoor fun.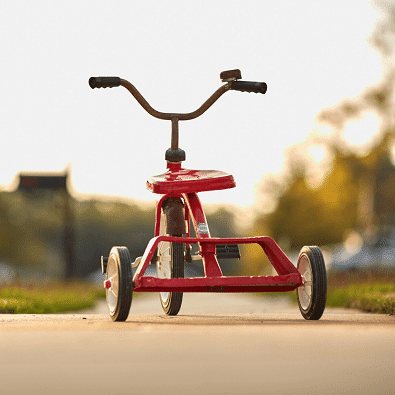 Can a 2 year old ride a trike?
If you buy a tricycle at the wrong time, your little one might not be able to enjoy it. What's more, the child may completely loathe the idea of riding a tricycle considering the effort it requires. Your toddler's feet should be able to touch the ground, their knees should bend slightly when settled on the pedals and your child should be able to reach the handlebars.
Finding the most age-appropriate trike is not always a walk in the park. Some have seats too far from the pedals that your child can't reach while others come without a footrest. This is when a 4-in-1 or Grow w/ Me tricycle is a good option. The best way for young children to learn the skill of pedaling is to start with a toddler tricycle and then progress to a bigger tricycle as they grow.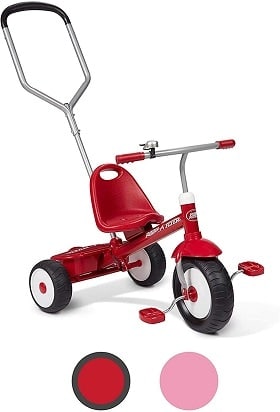 What is the best tricycle for a 2 year old?
Radio Flyer Deluxe Steer & Stroll Trike
This versatile tricycle is 2 trikes in 1. Pedals lock to become footrests for your child while you steer using the parent steering handle or unlock the pedals and remove the parent push handle when your child is ready to ride on their own. This trike features an adjustable seat that grows with your child and is equipped with a covered rear storage bin so your toddler can bring their favorite toys on every adventure. Supports up to 49 pounds and is constructed of a solid steel frame, chrome bell, and durable molded wheels. Buy one here.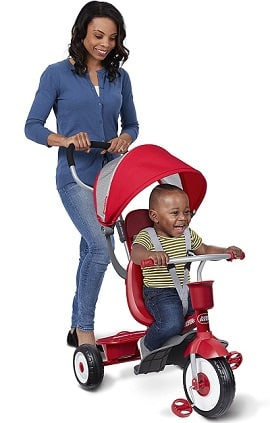 Radio Flyer 4-in-1 Stroll 'N Trike
We like this Radio Flyer, too! It's great for little one and grows with your child. Use it for kids from age 1-5! That's a lot of years to use one scooter. Use the parent-controlled steering when your toddler doesn't quite have it down yet, but let them slowly gain confidence and independence as they grow by removing pieces to ride alone! The canopy has UV protection and the safety harness will give you peace of mind while your little one races off down the sidewalk! Get this scooter here.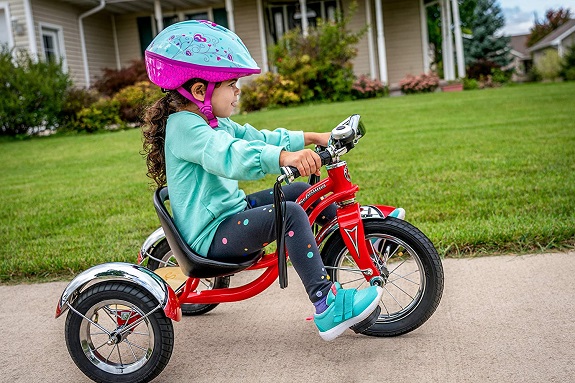 Schwinn Roadster Tricycle
We like this Schwinn for its low-to-the-ground design. Let's be honest, the lower the better when your toddler is getting the hang of tricycles. Those cool chrome fenders give this bike a retro feel that they will love. It comes in six colors and is best for children ages 2-4. The tassels and classic bell are so fun! Get one here today!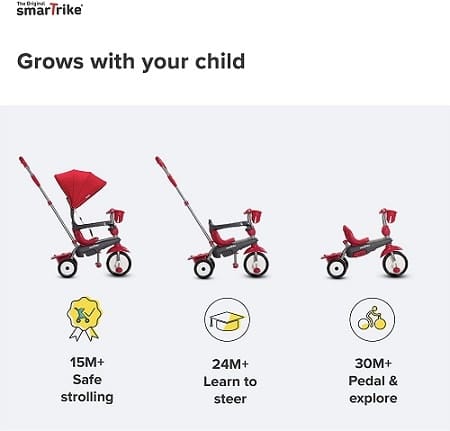 smarTrike Breeze Plus
This bike from smarTrike will grow with your toddler from age 1 to age 3 by removing the parent steering, the UV canopy and the foot stands. The parent steering comes with a button to seamlessly switch between parent and child steering control. It comes in two colors and offers a two year warranty. Get it here.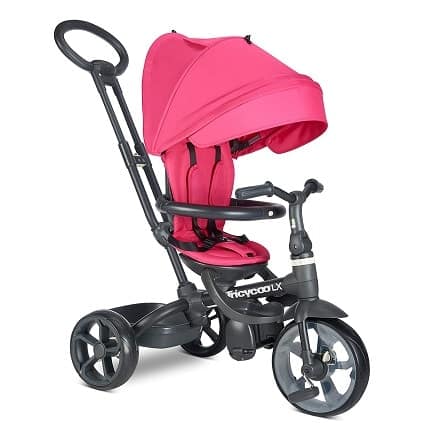 Joovy Tricycoo LX Kid's Tricycle
This toddler tricycle can be used form 6 months all the way until your little one turns 5 years old! It has 8 different configurations to accommodate pretty much any size and ability. Get any of the 5 colors here.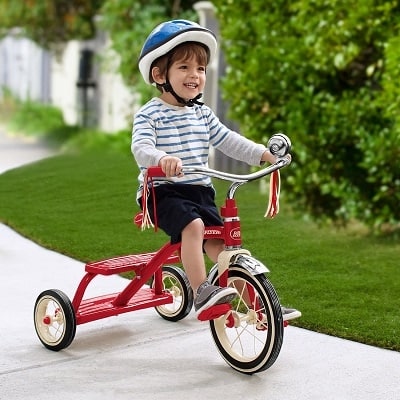 What is the best tricycle for a 3 year old?
Radio Flyer Classic Dual Deck Tricycle
This sturdy trike features steel construction, spoked wheels, a 12" front wheel, and real rubber tires for durability. The controlled turning radius prevents tipping for safe and confident riding. This tricycle is classically styled and includes chrome handlebars and a fender. Your child will also love the streamers and ringing bell, and the double-deck rear step makes climbing on and off easy. The adjustable seat grows with your child. This trike is designed with the seat placement at a 45-degree angle to the pedals, allowing your child to use a downward motion making pedaling easier. Buy this here.
How do I teach my 2 year old to pedal a tricycle?
The best way to show your child how pedals work is to demonstrate. You can do that by placing their feet on the pedal and then using your hands to rotate the pedals to make the wheels move. Ensuring that you teach pedaling before putting your little one on a toddler tricycle is going to help with their balance and understanding of how the trike works.
Are tricycles bad for toddlers?
Safety is always the most crucial element of riding any cycle, even a trike. Ensure that you introduce all safety gear to your toddler, including helmets, elbow pads, and knee pads.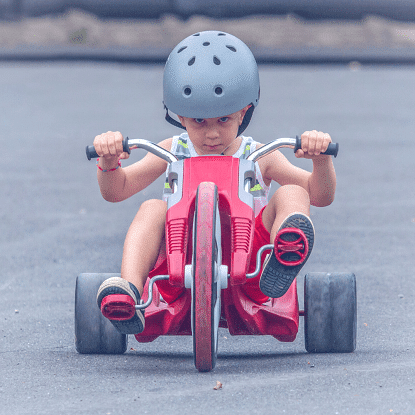 Should a toddler wear a helmet on a tricycle?
Just as kids should always wear helmets when riding bikes, research shows that even tricycle riders should wear a helmet. A study in the journal Pediatrics showed that in 2012 and 2013 there were about 9,340 tricycle-related injuries treated in U.S. emergency rooms. The head was the most frequently injured body part, and cuts on the face were the most common injury. Make sure your child wears a helmet every time they ride a tricycle. Also, make sure the helmet fits properly.
A helmet should be worn squarely on top of the head, covering the top of the forehead. If it is tipped back, it will not protect the forehead. The helmet should not move around on the head or slide down over the child's eyes when pushed or pulled. The chin strap should be adjusted to fit snugly. When choosing a helmet, look for a sticker inside stating that it meets Consumer Product Safety Commission standards.
Children learn best by watching you. Whenever you ride your bike, put on your helmet.
How can I choose the best toddler tricycle?
Deciding on a toddler tricycle can be overwhelming; there are lots of options to choose from. If you can, test ride the tricycle with your child. You will know instantly if the tricycle is the right choice. If your child isn't with you, look for tricycles that are low to the ground with big wheels that are easier to control due to their low center of gravity and are then less likely to tip over, and always remember, safety first!
Of course, this is a great way to have some outdoor fun with your toddlers. So buckles your helmets and head on out for a good time riding bikes (and trikes) with your little ones!