IKEA is voluntarily recalling over 29 million chests and dressers, which include dressers from the MALM line as well as other IKEA dressers and chests. The recalled chests and dressers are unstable if they are not properly anchored to the wall, posing a tip-over and entrapment hazard that can result in death or injuries to children. Six children have been killed and three dozen others injured in the past 27 years, and federal safety officials are urging consumers to take immediate action.
The furniture giant said Monday that after the three deaths of three children it is no longer selling its "Malm" series products because they "could be a danger," stated Ikea USA president Lars Peterson. "Please take them out of the room," Peterson said, adding that customers are eligible for a free repair kit to anchor the furniture to a wall. Refunds will also be offered.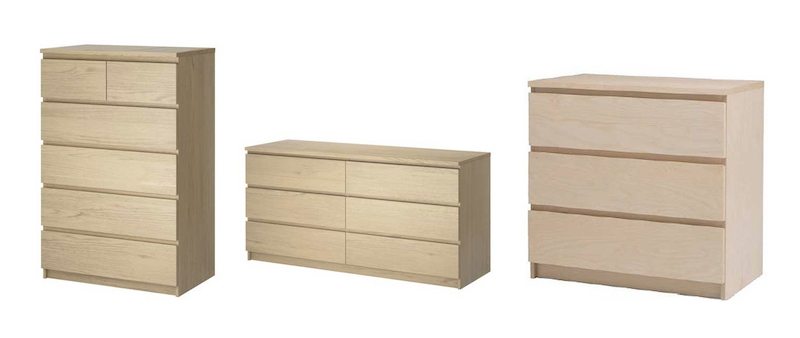 "Consumers need to act immediately because it's a very present hazard, especially if you have kids in your home," CPSC Chairman Elliot Kaye said in an interview. Kaye said consumers, "need to either get their anchor kit from Ikea for free and install it on their furniture, take it back to the store for a full refund or have Ikea come and pick it up from their homes for free."
CPSC and IKEA are urging consumers to inspect their recalled IKEA chests and dressers to ensure that they are properly anchored to the wall. Chests and dressers should be properly anchored to the wall whether or not they meet the ASTM standard. Consumers should move any unanchored chests and dressers into storage or other areas where they cannot be accessed by children until the chests and dressers are properly anchored to the wall or removed from the home.
The recall affects children's chests and dressers taller than 23.5 inches and adult chests and dressers taller than 29.5 inches that do not meet the performance requirements of the U.S. voluntary industry standard. The recalled MALM chests and dressers were manufactured and sold through June 2016 and include the 3-drawer, 4-drawer, 5-drawer and 6-drawer models. Other IKEA chests and dressers in this recall were sold at various times through June 2016.
For a list of chests and dressers affected by this recall, please click here.
Contact IKEA for a choice between two options: a free wall-anchoring repair kit or a full or partial refund.
Free wall-anchoring repair kit
To order a free wall-anchoring repair kit, please click here
Full or partial refund
If you are unable or unwilling to attach your chest or dresser to the wall using the repair kit, or if you are not comfortable that your chest or dresser has been properly attached to the wall, please click here.
For more information about the recall, please click here.
Related Articles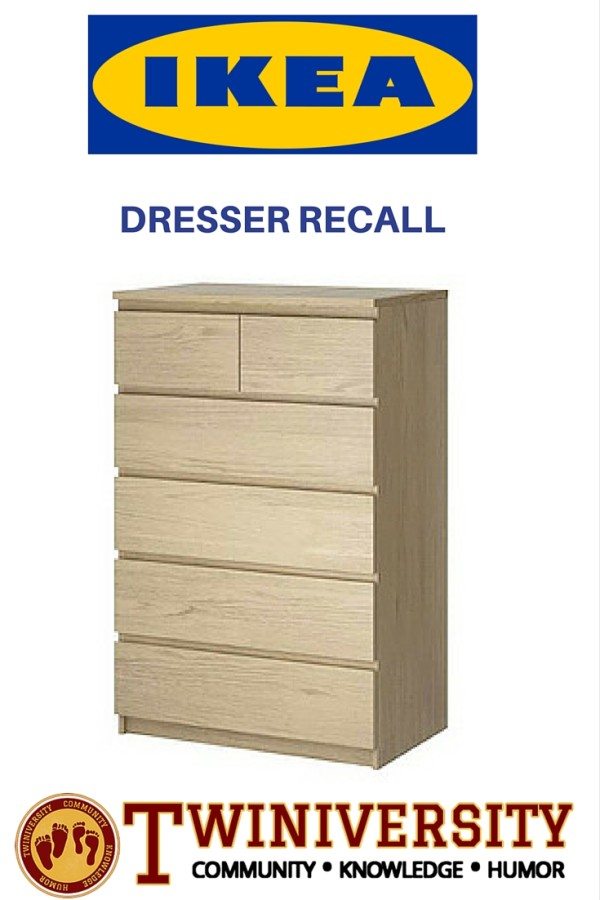 ---
The rate of twin births has risen 79 percent over the last three decades, and continues to increase. A mom of fraternal twins and a national guru on having two, Natalie Diaz launched Twiniversity, a supportive website with advice from the twin-trenches.
What to Do When You're Having Two is the definitive how-to guide to parenting twins, covering how to make a Birth Plan checklist, sticking to one sleep schedule, managing double-duty breastfeeding, stocking up on all the necessary gear, building one-on-one relationships with each child, and more.
Accessible and informative, What to Do When You're Having Two is the must-have manual for all parents of twins.
---
Whether you're a twin parent in the big city surrounded by scores of resources, or a triplet parent out in the country with no one around for miles — our multiples parenting forums are for YOU! Sign up for FREE and connect with people who are just like you — parents of multiples looking for advice, parenting tips, or even just people to chat with who will understand what you're going through. Our forums are open to people all over the world and we offer scads of specialty rooms to find others who are going through the exact same thing as you. Check it out today!
---
Twiniversity is the #1 source for parents of multiples and we are growing faster every day!
Find us all over the web: