Last updated on September 28th, 2021 at 02:37 pm
Hey gang! We've got a great article for you on kicking off a home fitness routine postpartum, PLUS we're giving away 2

Bouncer Balance Softs

from

BabyBjörn

!
THIS CONTEST IS CLOSED!
The BabyBjörn Bouncer Balance Soft is an ergonomic baby bouncer with an extra long period of use. It can be used from newborn up to 2 years of age. It can be turned into a rocking children's chair, which gives proper support to small children's neck and back. There is a natural baby bounce that runs on your babies' own movements and requires no batteries. The Bouncer Balance Soft can be folded up flat, which makes the baby bouncer perfect for storage or transport. It's also the perfect place to keep your babies safe while you manage a home fitness routine. Check out the great article below to learn how!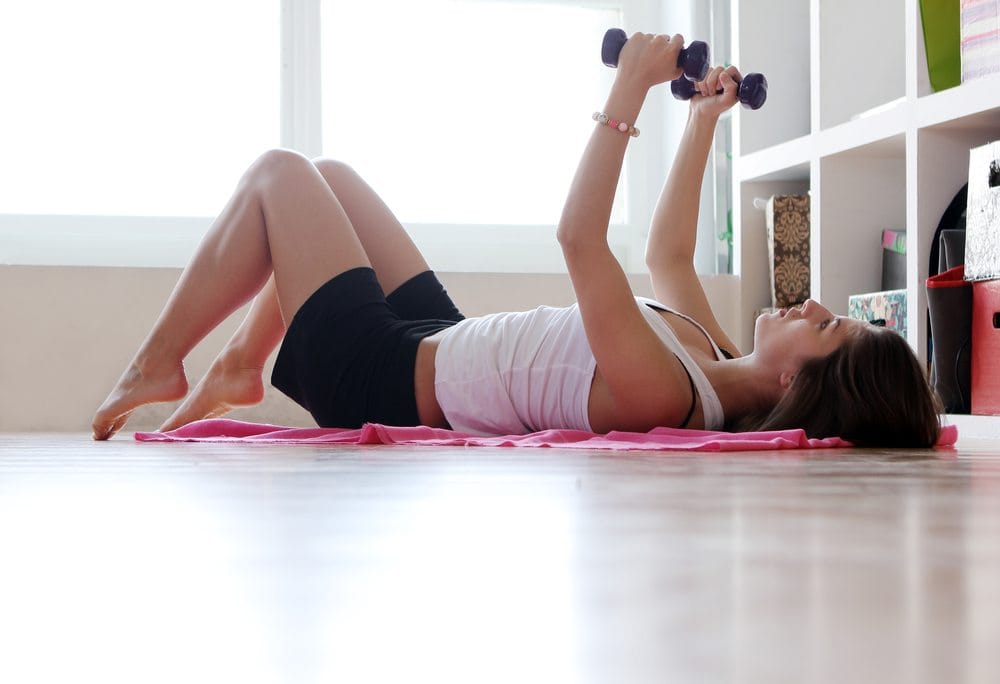 Kicking Off a Home Fitness Routine Postpartum
The last thing on my mind right after delivering my girls was getting back into shape, but after they were home from the NICU and I had trouble fitting into my clothes, I really struggled with my self-esteem. I was beyond exhausted and generally felt pretty blah about myself. After the birth of my first child, I worked really hard to lose the baby weight (plus some) and dropped 55 pounds before becoming pregnant again with my twins. When I decided that the girls were on enough of a schedule and I was relatively back to being human again, I quickly realized that what worked the first time with my son was not going to work with twins. And so, the journey towards starting a home fitness routine began.
In my quest to get back to being comfortable in my clothes, and skin, again, I tried multiple things. I signed up for a stroller fitness class, but then I realized I was the only twin mom in the class. Pushing that 100 pound stroller up a hill while doing squats and lunges almost killed me, and inevitably one of the babies would be fussy, causing frequent stops. I also tried a mommy and me workout class that essentially uses the babies as weights, but as it was designed for one baby, not two, it became challenging to keep one occupied while the other was lifted and carried around to work out the biceps. I could not afford a gym, and even if I could, the idea of leaving both babies in the gym's child care was not hugely appealing to me given their early start at life and complications at birth, so to the living room I ventured.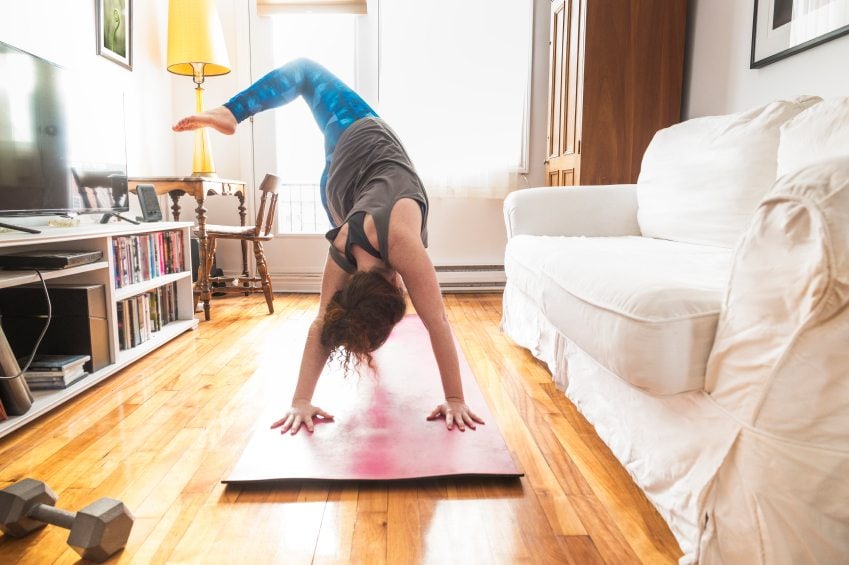 Given that I do not live in a gym, I did not have huge amounts of space to work with or lots of equipment, so I found some workout DVDs that would allow me to use my small space and still see some results. As with anyone who has children, timing is everything. It is impossible to work out when the babies are screaming, bored, or hungry. So, there generally seems to be two key times to get that fitness going; when they are sleeping or right after they have eaten. Nap time was my preferred workout time, but that did not always happen the way I wanted, for any number of reasons including change of schedule, and I quickly realized that the only way I could see results was if I worked out every day.
One of the easiest ways to ensure that my home fitness routine actually happened was to feed the girls, then use their bouncy chairs to keep them safe and comfy while they played with a few toys and giggled at mama attempting to do push-ups. Knowing that they were contained and not able to accidentally come into my path made it easier to actually get the workouts done. But since nothing lasts forever, the workouts had to be no longer than half an hour, and I had to be flexible. Sometimes I needed to pause my workout to calm a fussy baby or change a diaper.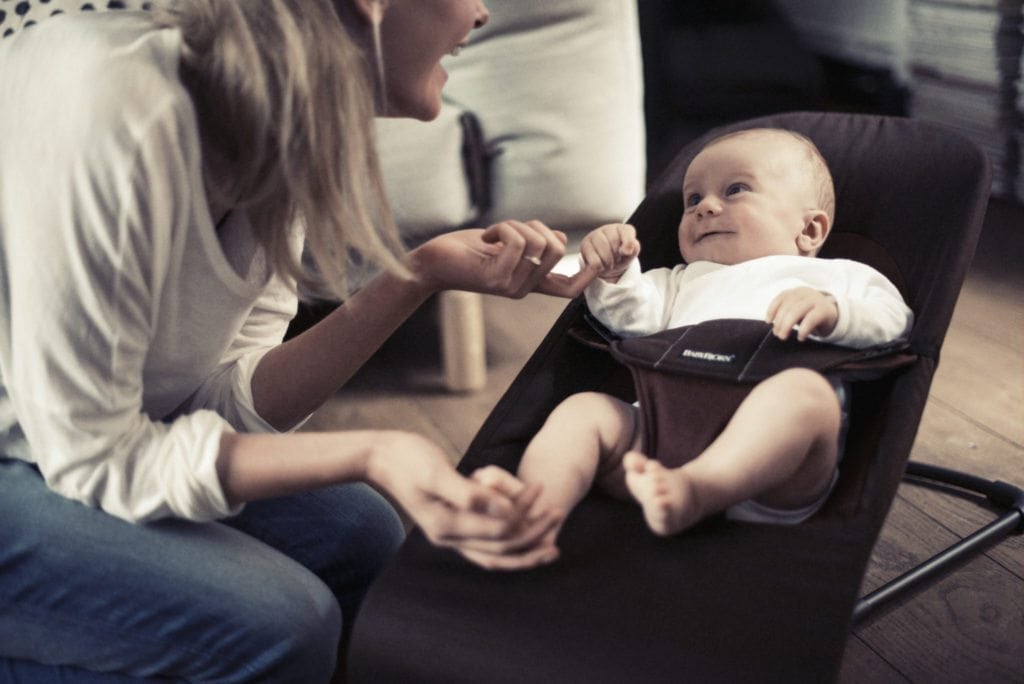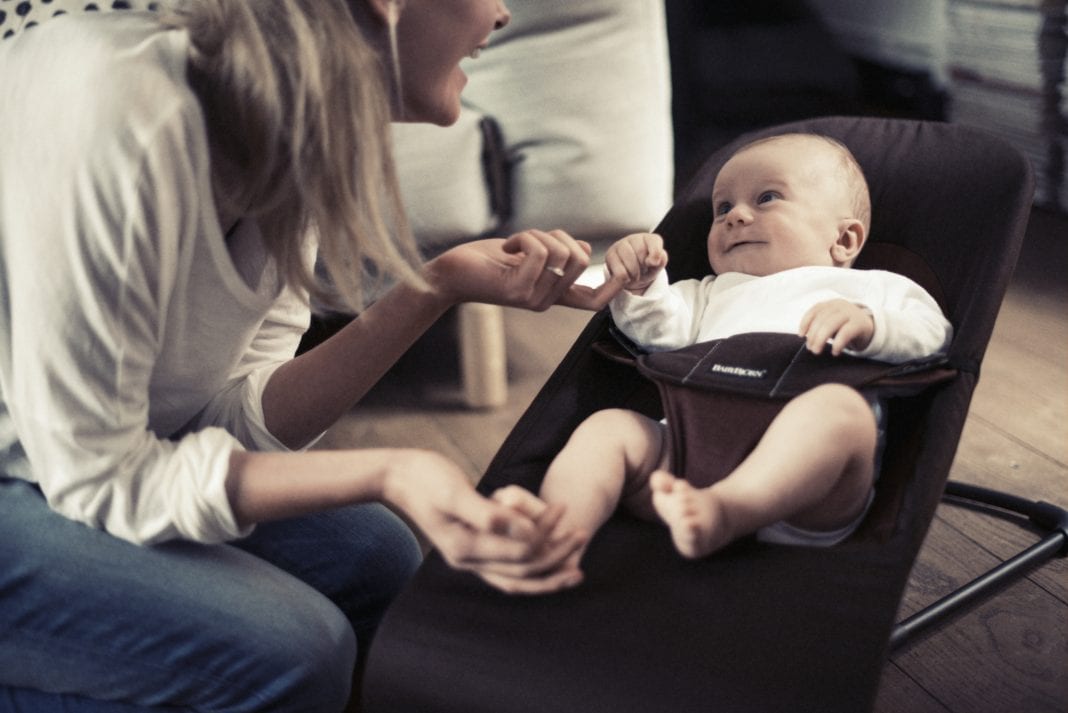 Ultimately what started as a way to fit back into my pre-pregnancy clothes turned into something more; I started to feel more energized, despite having little sleep, and stronger, but not just physically strong – mentally and emotionally as well. And though my babies are now turning into strong-willed preschoolers, working out and exercise are still very much part of my life and we talk about it as a family. My hope is that all three of my children will see the correlation between exercising and my overall well-being so that they can grow up with a healthy balance as well, and have a healthy self-esteem that comes from feeling strong, in any number of ways.
5 tips to remember when you begin to workout
Get everything ready before you start. Feed babies, change diapers, make sure they are happy with plenty of toys, and grab everything you might need to be within arm's reach.

Drink lots and lots (and lots!) of water! Buy a cute water bottle that you really enjoy to help motivate you to use it. Adding cut fresh fruit or lemon juice to your water will help keep you drinking.

Always warm up and cool down. Plan for at least 3 minutes of stretching before and after your workouts.

Don't go crazy on day 1 or you'll feel defeated and be less motivated to try again the next day. Start slow and aim for 15-20 minutes for your first workout. Start with lighter weights or resistance bands, then push yourself to get heavier ones as you get stronger.

Have fun! Try new workouts and vary things up each day, keeping it fresh. And enjoy yourself!
Note: Make sure to check with your doctor before starting a fitness routine postpartum to ensure that your body is ready.
THIS CONTEST Alyssa Keel has worked as a social worker in both Canada and the U.S. for several years. Living in Toronto, Alyssa is a single mum to a rambunctious five-year-old boy and amazing three-year-old identical twin girls, one of whom has Cerebral Palsy. During her high risk mono mono twin pregnancy, Alyssa began blogging, an extension of her love of writing. Alyssa loves taking photos and impromptu dance parties with her kids. Follow Alyssa and her family's adventures at adventureswithmultiples.com
---
THIS CONTEST IS CLOSED