Looking for a last-minute gift for that special someone? Are they a Disney fan? Did you know that you can purchase Disney e-gift cards straight from shopDisney.com? You'll receive the gift card by email to print out and put under the tree!
This is a perfect gift if you're planning on a Disney Parks trip in 2021 because they are redeemable at shopDisney.com, Disney store, Walt Disney World Resort, Disneyland Resort, and more! Give the gift of Disney Magic with a Disney Gift Card so your family and friends can purchase their favorite Disney merchandise. It's simple for you and perfect for them.
If you haven't checked out the shopDisney.com site you should really browse around. I had no idea how much stuff they had on there for us grown-up Disney fans! I'm seriously considering buying a set of Mickey Mouse glove corn holders. I mean, how cute are these???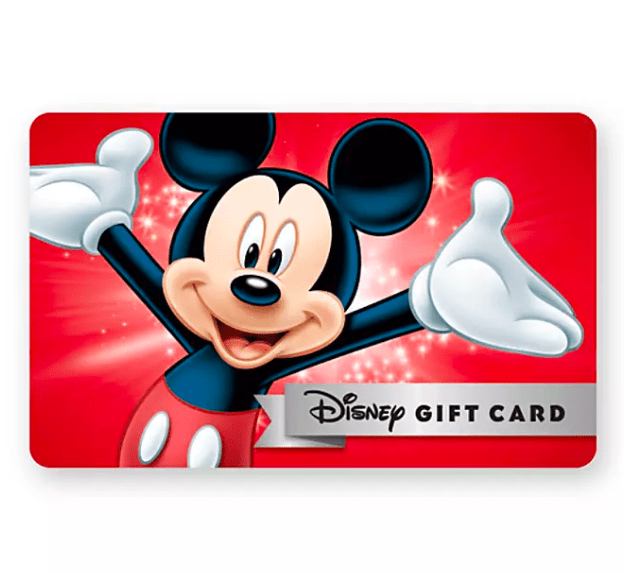 What can you buy with a Disney gift card?
The Mandalorian clothing for kids and adults
Mickey Mouse bath toys
Toy Story action figures (maybe they'll even come to life)
Disney cloth face masks
A Buzz Lightyear Swim Backpack for your swim lessons
Jack Skellington cheese board and tools set (see, it's not just for kids!)
Use for dining, tips, and shopping at the Disney Parks
Great for kids to have their own spending money at Disney Parks! This will help you budget for your trip.
Disney gift cards are available in $25, $50, $100, $150, $200, and $500 denominations. Click here to buy now! Note: Disney Gift Card eGift is usually sent to a valid email address within 60 minutes but may take up to 24 hours.