Last updated on September 28th, 2021 at 01:26 pm
If your holiday mission is to find the cutest matching Christmas pajamas this year, look no further. We've put together our best tips to help you shop!
Where can I buy matching family Christmas pajamas?
There are many retailers that sell matching Christmas pajamas for the whole family. You can find the perfect plaid, Santa themed, or even snowman themed jammies for everyone. Some places even sell sets that have an option for the four-legged friends in your life, too! Keep in mind that infant sizes can be a bit harder to find than others so if you are needing infant sizes, you should shop sooner than later.
Where can I find matching family pajamas?
Um…hello Target! And if you can't find them there, check out Amazon. The trick with matching Christmas pajamas for the whole family is finding all the sizes you need. Any time I have waited until Thanksgiving or later I wind up getting stuck with whatever is left and not what I necessarily wanted. Learn from my mistakes and shop early to beat the rush and score the prints you want. Although, I have bought one set for my kids and another for myself and my husband in the past because I couldn't get all I wanted in the same print and it did look really cute, too. So if you can't get all the same, fear not, there's hope for a cute picture by the tree this year. You just might need to be a bit creative and flexible!
Are you on the hunt for the perfect gift for mom this year? Check this list out now to help you shop!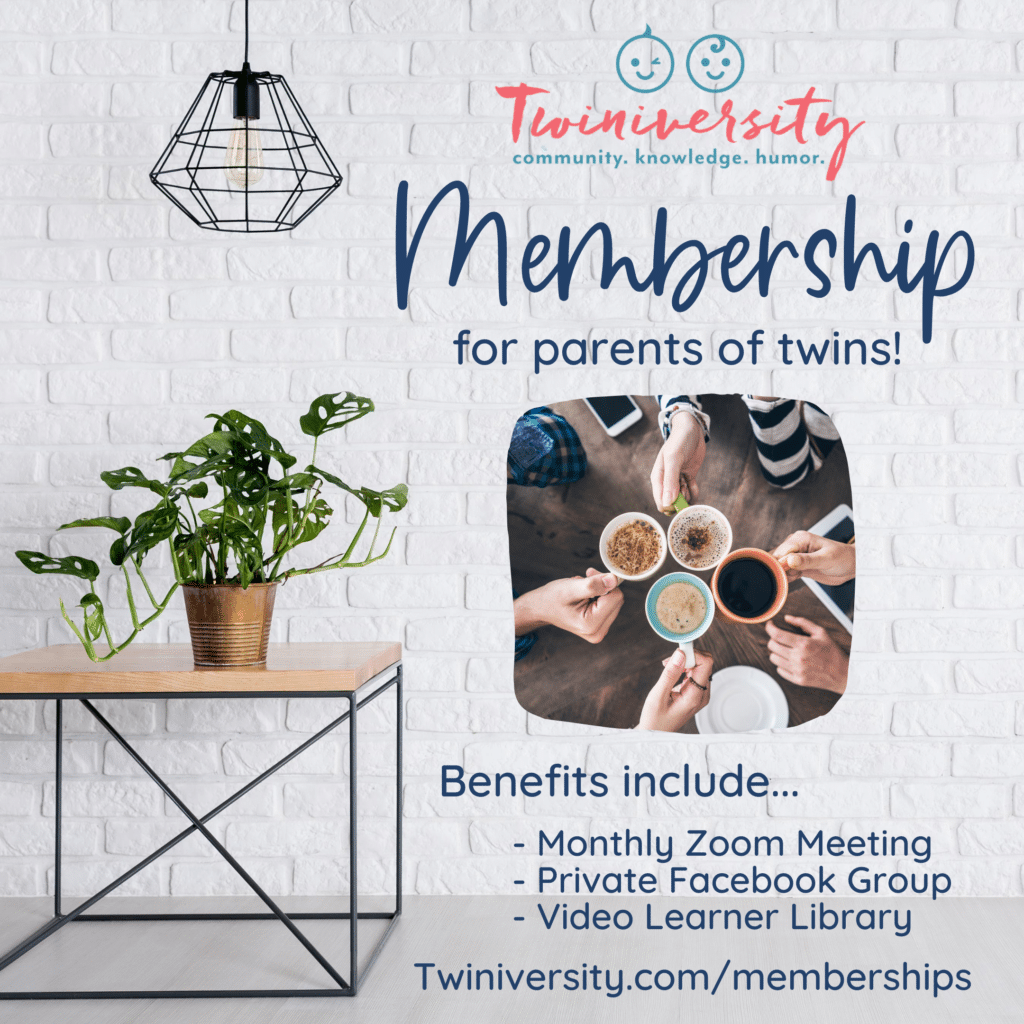 Need some twin parent friends? Get the support you need with a Twiniversity Membership. Benefits include a monthly twin parent club meeting on Zoom, access to a private Facebook group just for twin parents, and a video library of twin parenting lessons. Visit Twiniversity.com/membership to join today!
Does Target have matching pajamas?
Yes! They have a whole bunch of matching Christmas pajamas. This store is my go-to for matching Christmas pajamas. I love them for their price. When you have growing kids, who wants to spend more than $50 on a set of pajamas your kids will have outgrown by next year? Not this frugal mama, that's for sure! You can often get them at Target for the lowest prices in town and they still have plenty of styles and sizes to choose from.
Where do the Kardashians get their Christmas pajamas?
Okay, so I admit, I didn't know they did this. I had no idea the Kardashian clan is known for their super cute matchy matching Christmas pajamas until just now. And while I typically don't feel the need to be "in the know" about all things Hollywood, I love Christmas so I have to say that I feel like I have been missing out. They seem to always have the cutest little sets and with so many of them, it's hard not to be a little entranced by the giant family photos. Love them or hate them, you cannot deny that this famous family seems to be matching Christmas pajamas goals for us all year after year! Keep reading to find some sets from Hanna Andersson, which is reportedly where this family shops for their sets.
Need a great gift for Dad? Check out our gift guide for Dad's here!
Are You a New Twin Parent?
Check out Natalie Diaz's book:
"What To Do When You're Having Two
The Twin Survival Guide From Pregnancy Through the First Year"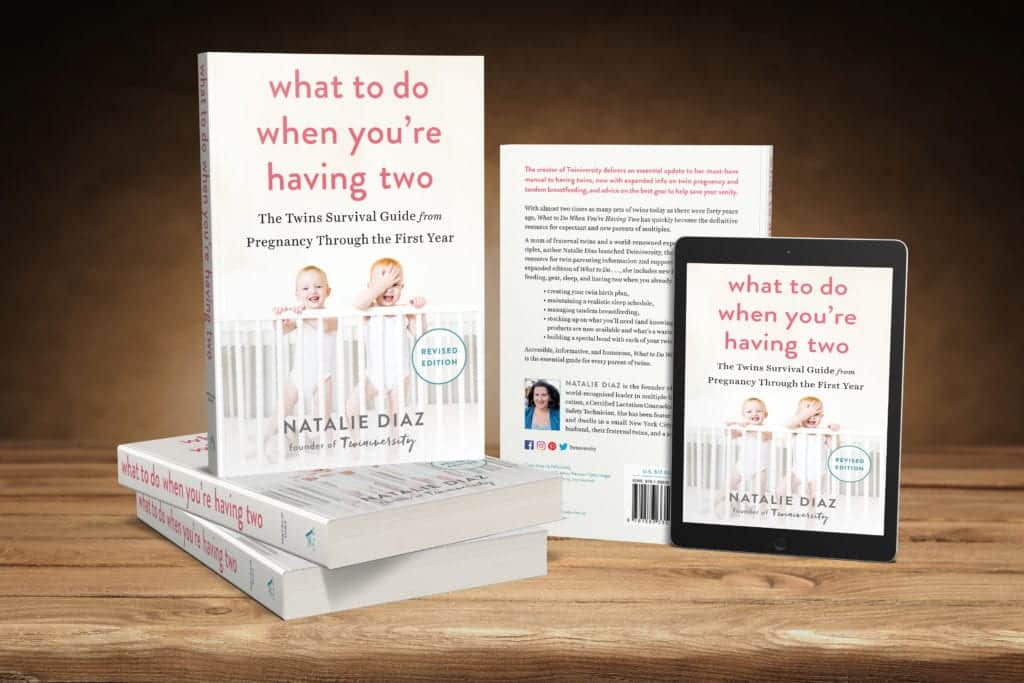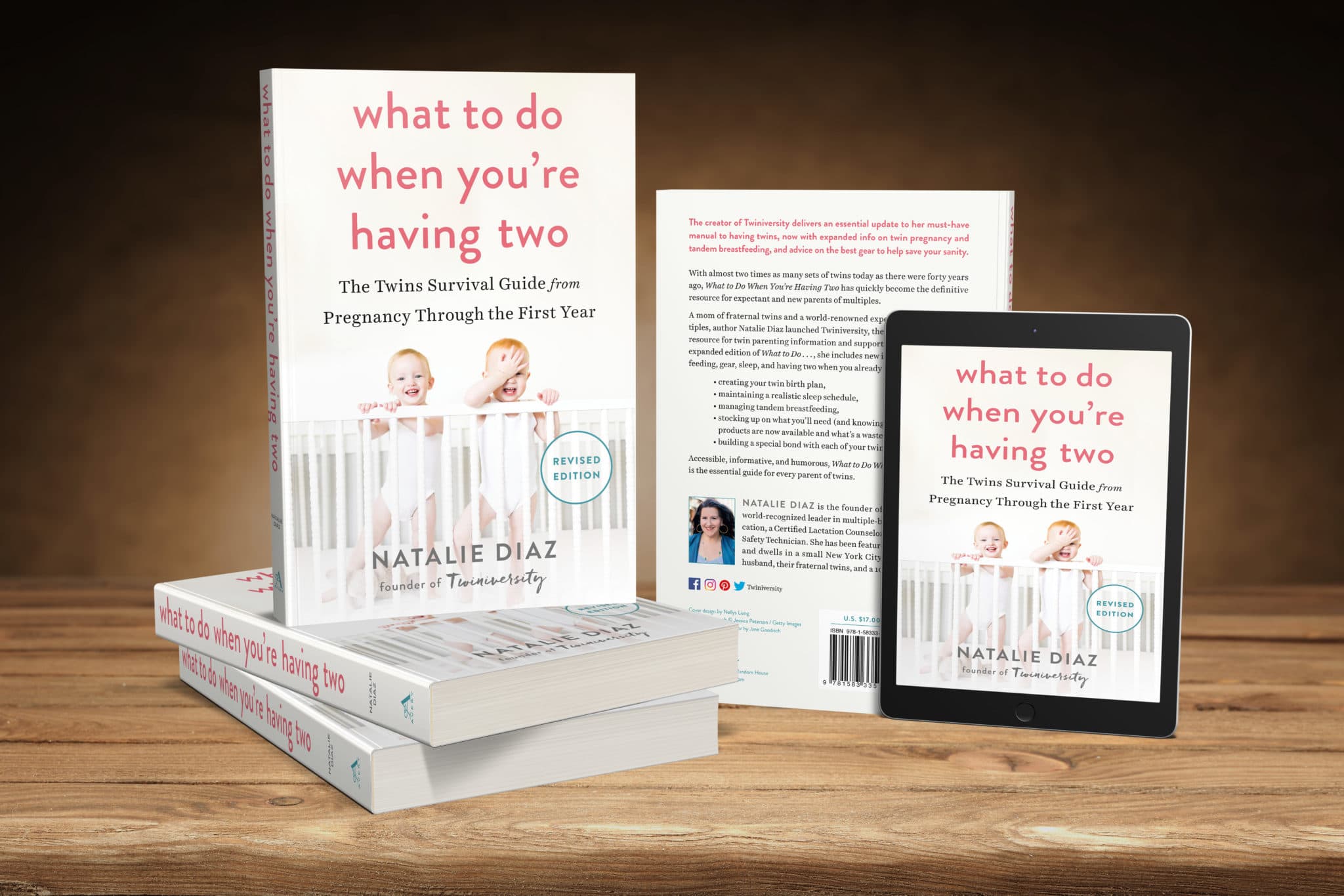 In What to Do When You're Having Two: The Twins Survival Guide from Pregnancy Through the First Year, national twins guru and founder of Twiniversity (and twin mom herself!) Natalie Diaz provides a no-holds-barred resource about life with twins, from pregnancy and birth all the way through your duo's first year of life.
Where to find matching Christmas pajamas
With so many stores to choose from, how do you know which ones are worth even the minimal amount of effort required to scour the store (or site) for all the sizes you need? Don't worry. As always, we've got your back here at Twiniversity. Here are some great places to check out.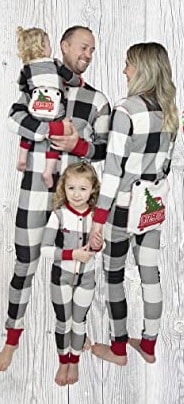 Lazy One Flapjacks
The motherload of choices is almost always Amazon. They have a seriously wide range of sizes, colors, and prints to choose from so you will definitely find the perfect set. Since we're here to make your life easier, we've narrowed the choices down a bit for you. With these sets, you can choose from 8 different prints. If you are looking for a set that includes infant sizes through adult, this may be one of the best you can find. This is a one-piece set and there is even a dog bandana option! Buy it here!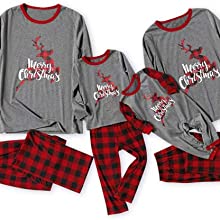 IFFEI Matching Christmas Pajamas
One-piece pajamas not your thing? Not to worry, we have plenty of 2 piece-options available, too! Check out this adorable set. This set comes in 3 different patterns and is can be purchased for babies as young as 9 months old. The sizes run all the way up to an XXL in men or women which makes them a great option for matching Christmas pajamas. Get these here!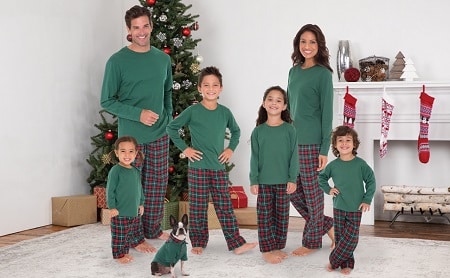 Pajamagram Matching Christmas Pajamas
These cute little jammies come in pretty much all sizes. There are newborn through 3x in women and XXL in men. They also have actual dog pajamas to match, too. They are super cute matching Christmas pajamas and they are absolutely worth checking out! See them here!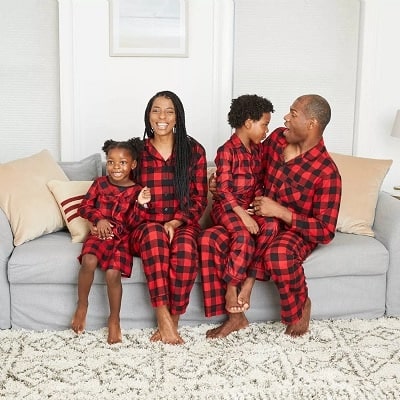 Target Buffalo Check Pajamas
Shh…Don't tell but these are my favorite. I already got mine for my family this past weekend and I LOVE how soft they are. These ones come in TONS of sizes, even infant. They have an option for a nightgown for little girls or the two-piece set. Either way, you can't go wrong. Buy these here.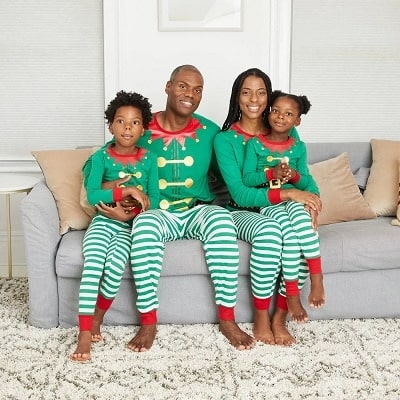 Target Elf Matching Christmas Pajamas
This set is so stinking cute. I don't care who you are, there is something super cute about the elf shirt pattern and the striped bottoms. Like many other sets, the infants get a sweet little footie one-piece set. These sets will definitely add something special to your Christmas morning photos around the tree. Buy them here.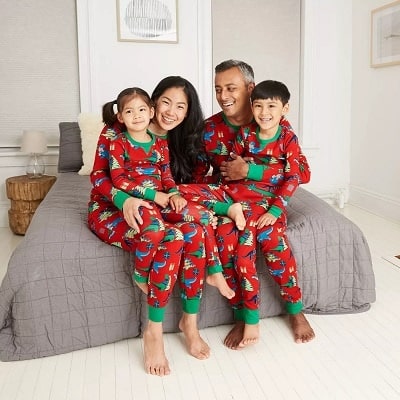 Target Dinosaur matching pajamas
Maybe your family wants something a little more unique this year. Try these dinosaur sets of matching Christmas pajamas to make your photos stand out a bit more than others. There's nothing wrong with Christmas trees but who says dinosaurs don't belong at Christmas? Check these out here!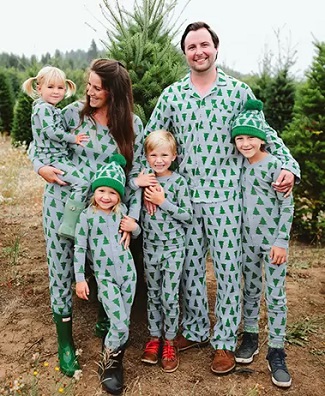 Hanna Andersson Tannenbaum Set
If you've been wondering about the Kardashian sets, look no further. This is where they get them. These sets come with options to get matching socks, slippers, hats, pet PJs, and even face masks. With more prints to choose from than just about any other place on Earth, it's no surprise that they are a bit more expensive than some other places. Keep in mind that many of these pieces come in an organic cotton option and many say that the quality is worth the money with these matching Christmas pajamas. Buy them here!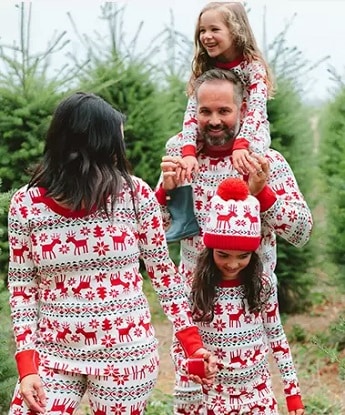 Hanna Andersson Dear Deer Set
This is another set of matching Christmas pajamas brought to you by the same company that appears on the Kardashian clan year after year. The little deer sets are adorable. Again, they are organic and come with the option to purchase socks, moccasins, hats, face masks, and hats. Check these out here!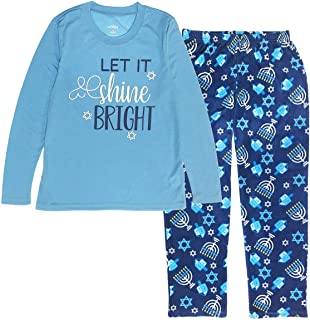 MJC International Hanukkah sets
Of course, we cannot leave out our Jewish friends! This Hanukkah set is checking all the matching set boxes for us. Check out how adorable this set is! It also comes in many sizes, has a newborn onsie sleeper, and a bandana for your pup as well. So cute, and its fleece so you know it's warm! Check it out here on Amazon!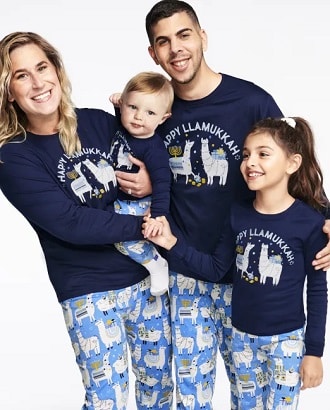 Hanukkah Llama sets
Combine Hanukkah with llamas for the perfect matching pajama sets! These from The Children's Place are so cool and even have 2 different styles of socks that you can add! They come in size 0-3months through XXXL in adults unisex. Get them here!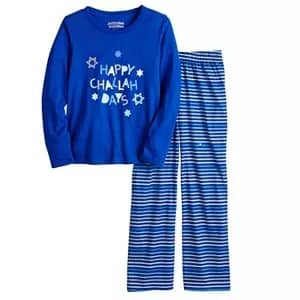 Happy Challah Days pajamas
Sweet and funny holiday pajamas? I'm in. These come in sizes for the whole family and Kohl's is known for their good sale prices so keep an eye on them to know when to buy. They have a nightgown option for girls, a sleeper for infants, and a matching bandana for the family dog! Get these here!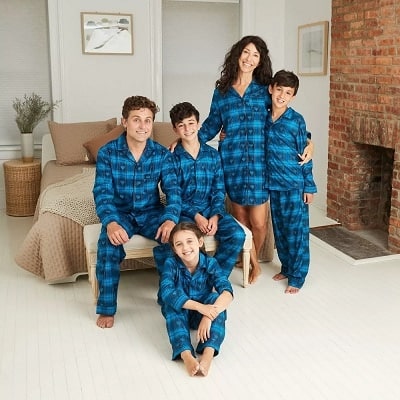 Matching flannel Hanukkah pajamas
These flannel plaid sets are one of the best I've seen. And they're from Target so you know they are reasonably priced! They include nightgown options, even in adult sizes for Moms but you can stick to the two-piece sets as well. Check these out here!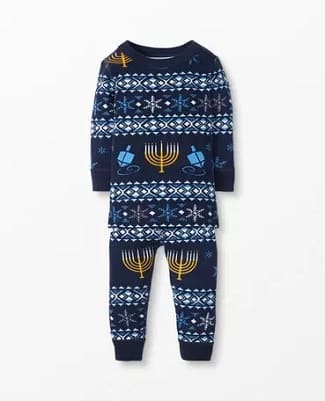 Eight Nights Hanukkah Sets
This cute little set comes in 3-6 months up to a size 12. They also have a two-piece women's set that matches perfectly. They are made from organic cotton and are certainly look pretty cozy. Check these out here from Hanna Andersson.
With so many cute options, you may wonder what the catch is. I'm gonna let you in on my own little secret. Shop early. That's it. Shop early to make sure you can get the exact matching Christmas pajamas you want in the sizes you need. I have waited until the week of Thanksgiving and while we found sets and they were cute, they just didn't live up to what I had envisioned. So don't be like old me, be like new me and get shopping today!
Struggling to simplify this Christmas season? Read about the 4 gift rule here!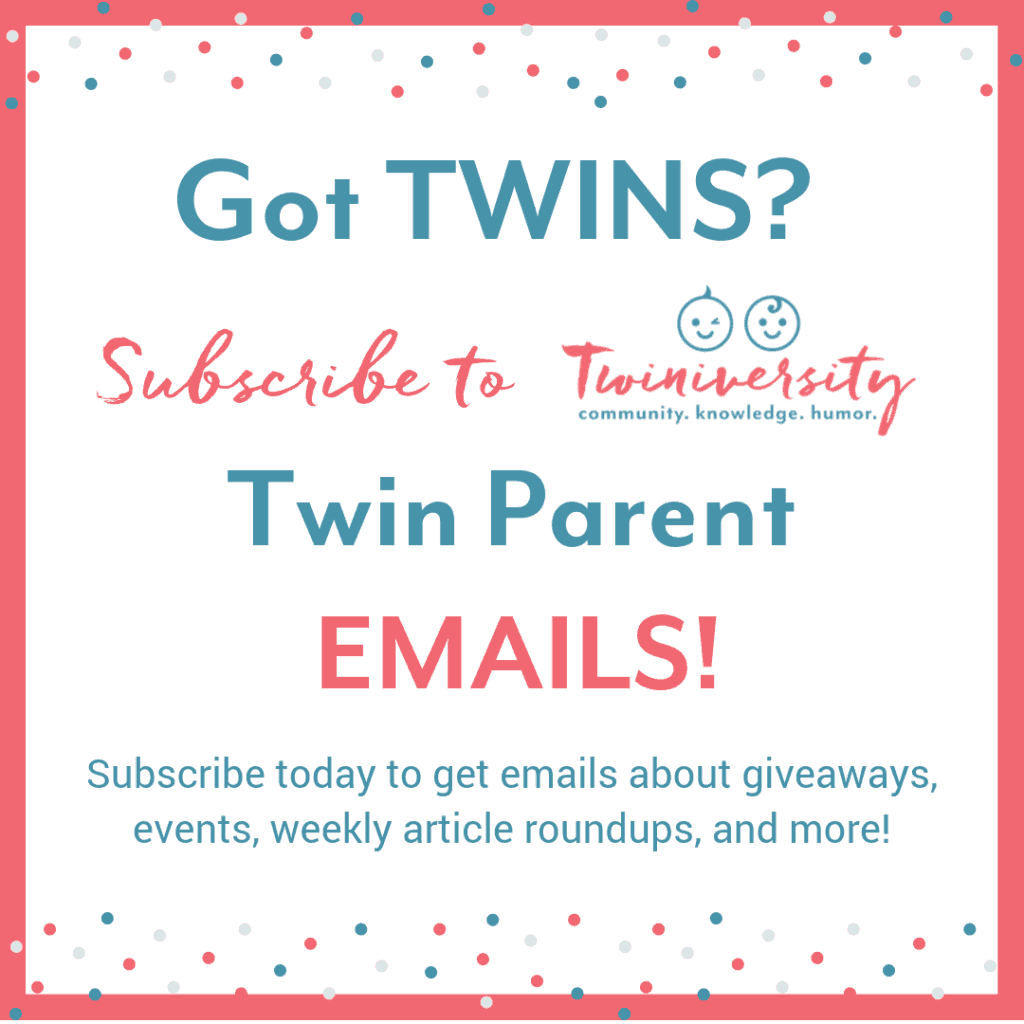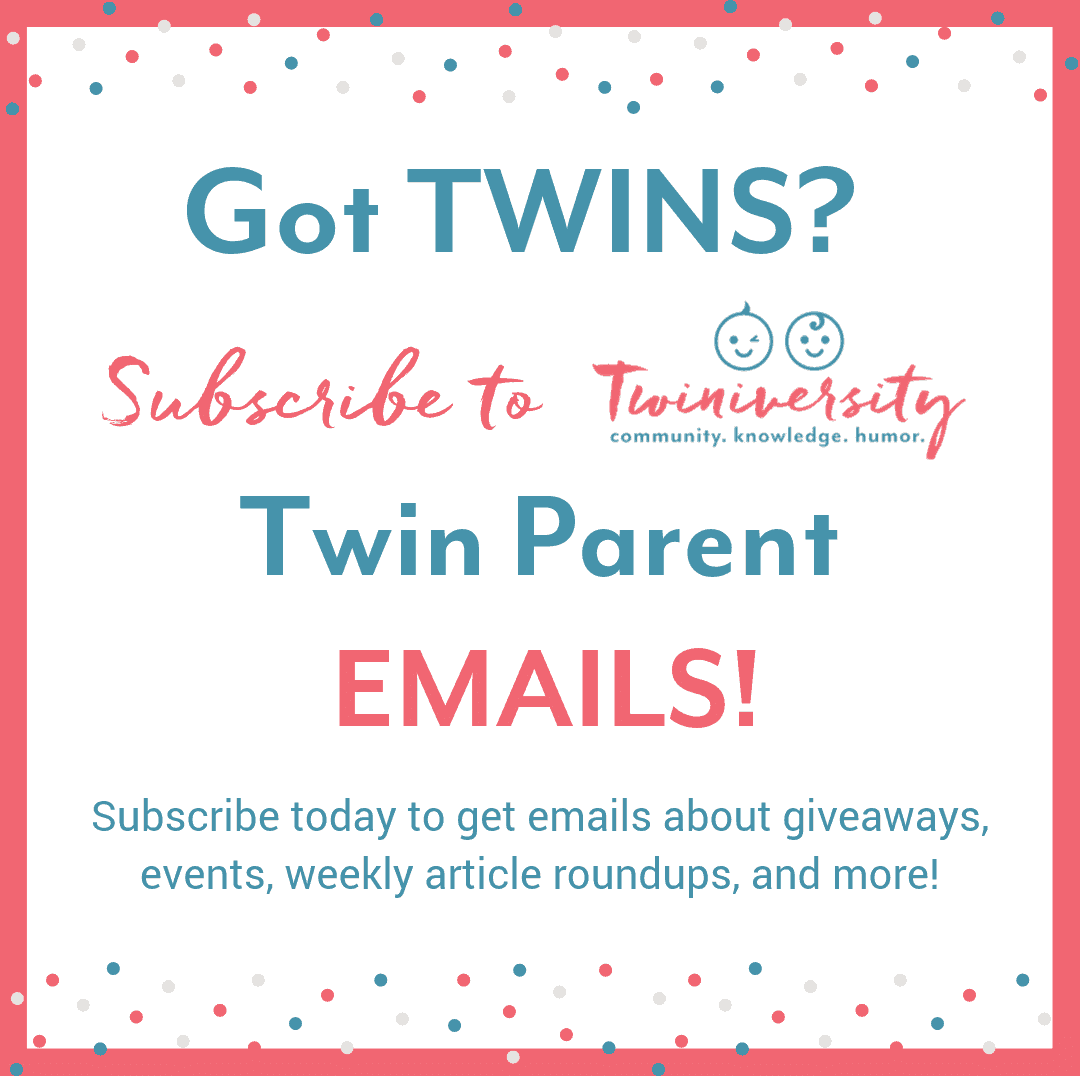 Want to be the first to know about giveaways, deals, and more just for twin parents? Sign up for the Twiniversity email list! Subscribe today to get emails about giveaways, events, weekly article roundups, and more! Pregnant with twins? We'll be sending you a weekly twin pregnancy email to keep you on track with your pregnancy to-do list! Click here to learn more… and while you're at it, check out our Complete Baby Safety Course and Twin Parent Memberships.