Read about Mission Point Resort, an ideal Mackinac Island lodging choice for families with children of all ages with plenty of fun activities. Mackinac Island is a great getaway for families in the Midwest who are looking to do a road trip to a very special place.
Disclosure: I was provided a complimentary stay at Mission Point Resort in exchange for this review. My opinions are all my own.
If you're looking for a kid-friendly resort for your family vacation, book your stay now at Mission Point Resort on Mackinac Island in Northen Michigan. We were so very happy with our three-night stay and, in hindsight, I wish it had been longer.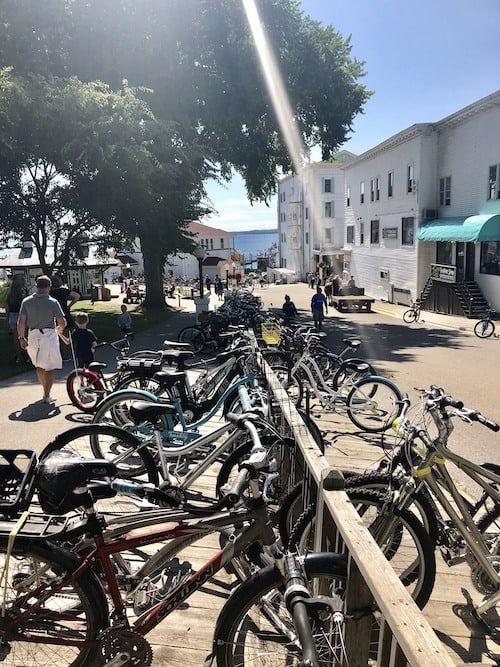 About Mackinac Island Lodging
To stay on Mackinac Island is to go back in time. There are no motor vehicles allowed on the island and to get places you have to take a horse and buggy, ride a bicycle, or use your own 2 feet. It is truly a magical place that will make you feel like you got in a time machine!
To get to Mackinac Island (pronounced "MACK-i-naw") you have to either take a ferry (we took Shepler's) or a small charter plane. Heads up that the ferry only runs from late April to late October thanks to Lake Huron freezing over in the off-season. The island pretty much shuts down from November to March so don't even bother planning a visit during that time.
The great thing about taking the ferry (see below for tips on ferry check-in with kids!) is that when you arrive on the island your luggage is already taken to your hotel ahead of you. This is a huge help because trying to lug all of your baggage around the island without a car would be a real pain. As soon as we stepped off the ferry we simply turned to the right and walked about 15 minutes until we ran right into mission point resort, which you cannot miss, as it is the final hotel on the end of the street.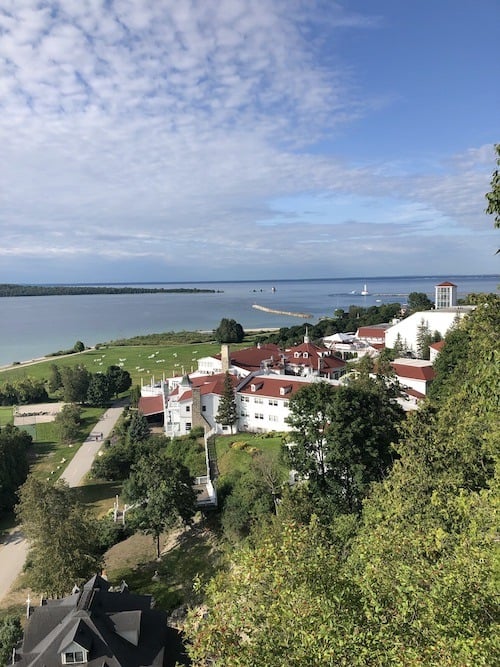 Arrival at Mission Point Resort
Upon arriving at Mission Point you are greeted by a large green grassy lawn with dozens of white Adirondack chairs overlooking Lake Huron. It is a picture-perfect scene out of a postcard. The biking path goes straight through the resort and you can see dozens of people biking, walking, and horse and buggies pulling luggage and other packages here and there.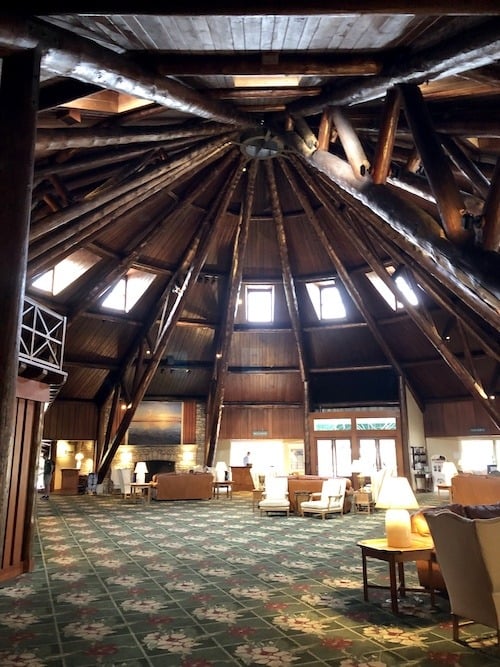 You'll check in at the Main Lodge, which houses two restaurants, the front desk, the concierge's desk, a bellman, a coffee shop, a convenience store, a gift shop, and the majority of guestrooms. There is another building housing even more guestrooms called the Straits Lodge, which recently got its own little coffee shop. Make sure to stop at the Concierge desk and meet Nick, the Mission Point dog! My son fell in love with this sweet and obedient border collie who lives at the resort with the resident Concierge, Pat.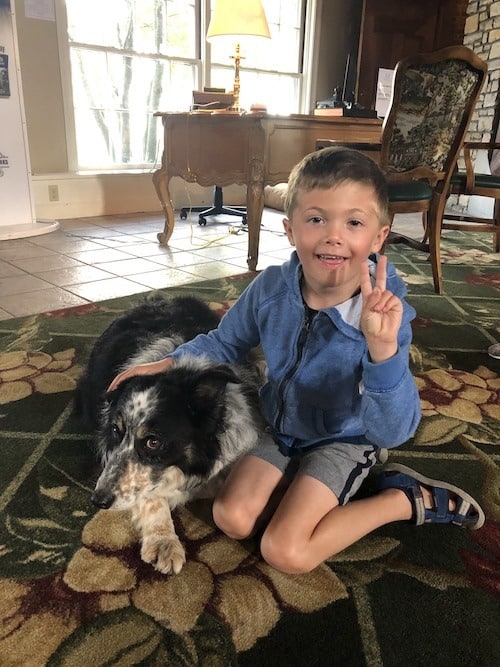 In between the two lodges, you'll find a small swimming pool, two hot tubs, a bike rental, the Lakeside salon and spa (my hubby LOVED his 30 min. massage there), a small movie theater/art installation space, a "Kids Club" (open from 2-5 pm daily), a health club, and an arcade room (which could use a bit of a facelift).
And further down near the lakeshore you'll find 18 holes of putting golf, Bistro on the Green, tennis courts, and a croquet/bocce ball lawn.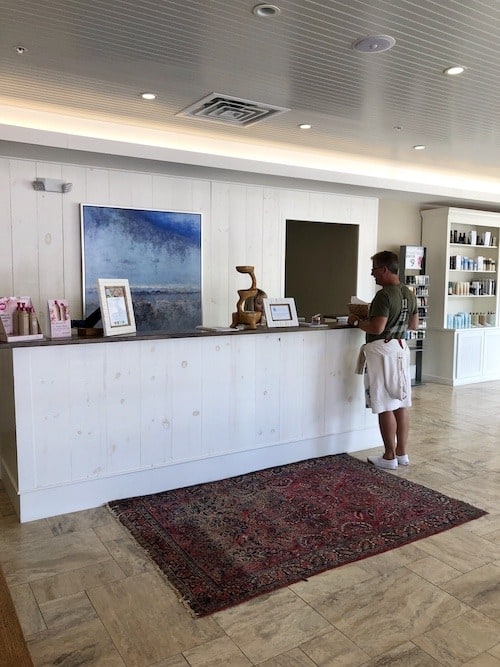 Is Mission Point Resort good for kids?
I really can't express enough just how fantastic this resort was for our six-year-old twin boys. There were many occasions when they were either acting out or just being a little too silly and no one even batted an eyelash. All of the staff were very understanding, friendly, and supportive of us and our kids. They really went out of their way to make my boys feel welcome and involved and I truly appreciated that.
The guest rooms were very nice and I really appreciated having two separate bedrooms. It was great to put the boys down to bed and be able to retreat to our room to stay up a bit after they went to sleep. The king-size bed was a nice luxury compared to my queen size at home and the mini-fridge was extra helpful to store our son's medication.
Mission Point Resort Amenities
The grounds of the hotel were just gorgeous. Flowers everywhere! On multiple occasions, I saw the groundskeeper and his staff tending to shrubbery and flowers to make sure that everything was perfect. Be careful in the mornings because there are typically goose droppings on the main lawn and you'll want to watch where you step!
I really enjoyed the breakfast buffet each morning at the Round Island Bar and Grill, found in the lobby of the Main Lodge. There was an omelet station! It doesn't take much to impress me, LOL! There was really something for everyone and my boys loved the endless supply of bacon. We enjoyed one dinner there as well and it was just delicious; I had steak and it was cooked to perfection.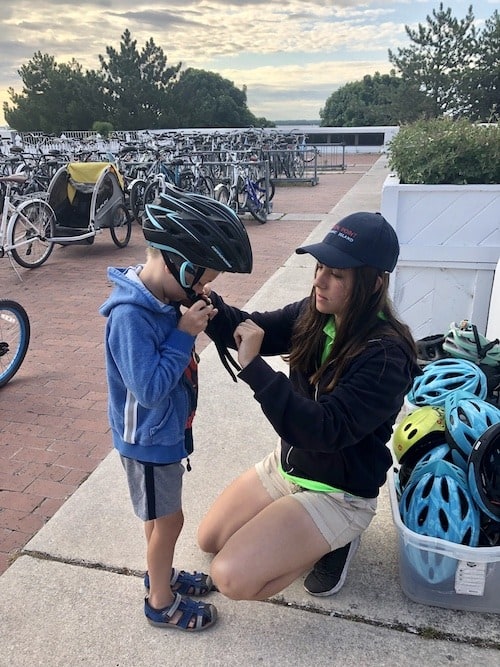 Renting bicycles at Mission Point Resort
If you're looking to rent bicycles to ride around the island you can do it right at the hotel. The staff was very accommodating to help us figure out what bikes will be best for us.
Be aware that if you're a short person that there are limited options for bicycles that will accommodate your short stature as well as a tagalong or trailer attached to the back. I am 5'2" and I wasn't able to rent a bike because there just wasn't anything short enough for me that would allow my six-year-old (who still uses training wheels) to also ride on the back.
The next time we visit the island I'm definitely bringing my own bike from home. There is a fee to bring a bicycle on the ferry but I think it is well worth it. Bicycles with training wheels are not allowed on the streets.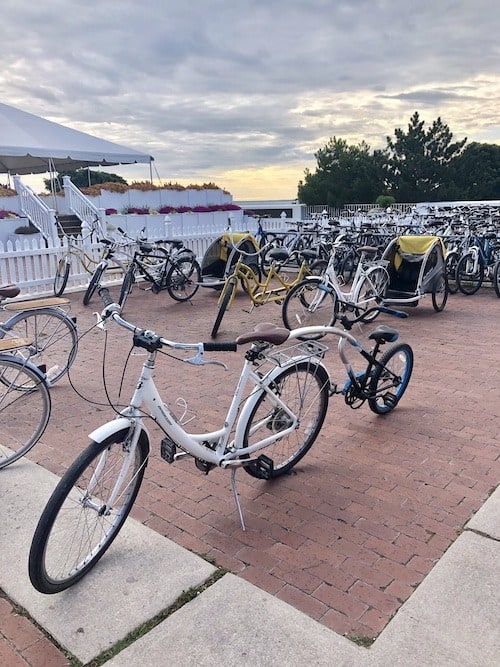 Exploring Mackinac Island
Even though the bicycles didn't work out for us, we had a great time taking a hike around the island behind the resort. The island is so big that you can only hike a small portion of it with kids in tow. Make sure to bring good walking shoes for this!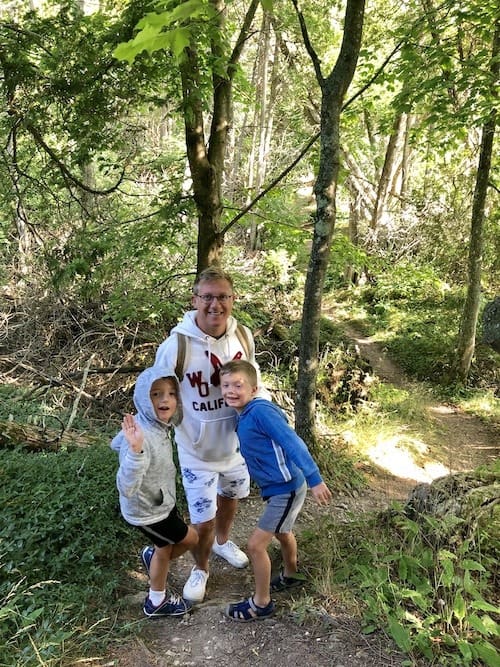 Highlights of our walk included Arch Rock, Turtle Park, and a stop at the famed Grand Hotel (which costs $10/person just to go inside — we took a pass on that).
At the end of our (very long) hike, my boys were exhausted and we were thrilled to find the Jockey Club cafe across the street from the Grand Hotel to sit down and have a nice meal. The food was delicious and the service was top notch. From there, we rented a taxi (a.k.a. horse and buggy) to take us from the Grand Hotel all the way back to Mission Point, which was a thrill for all four of us. The 15-minute carriage ride through town was one of the highlights of our trip.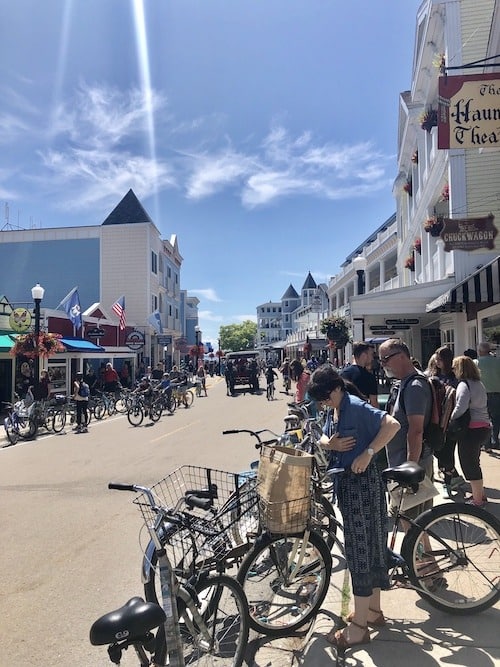 Things to Do on Mackinac Island
During our three days on the island, there was so much to do. I really recommend that you plan a minimum of three days to make sure that you don't feel cheated. Highlights of our stay include a visit to Fort Mackinac, the Butterfly House, playing mini-golf at Mission Point at dusk, rolling down the hill right after mini-golf, and shopping in town for fudge and ice cream.
Other activities available are horseback riding, kayaking, boating, and carriage tours of the island. We missed visiting the Mackinac Art Museum which we were told has a great kids art studio. One more place to check out for your older kids — the Historic Mill Creek Discovery Park which offers nature programs, costumed historical demonstrations, a climbing wall, and a zip line.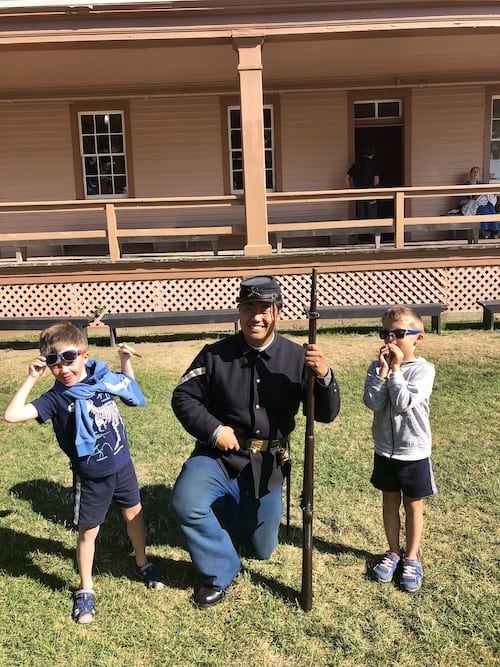 Fort Mackinac
The last time I visited the island as a child there wasn't much more to Fort Mackinac than the fort walls and a canon, at least in my 11 year old's memory. Now they have so much more to explore! The best part was the children's play area, where we found many great hands-on activities, including dress-up, music, games, play artillery, and more. My boys could have stayed there all day. The demonstrations of the rifles and cannon were also a big hit with the kids. Give yourself at least 3 hours for the Fort.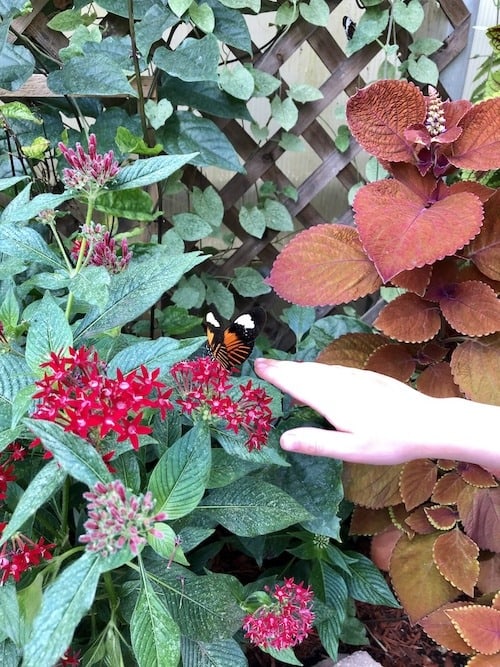 Butterfly House
The Butterfly House is an indoor butterfly sanctuary. Guests are welcome to walk through and look at all the beautiful butterflies but hold very still if you want one to land on you. Just outside that is a separate area called Insect World with various insects and other animals in terrariums to visit.
Your admission allows you to come back multiple times throughout your stay, so hold on to your admission bracelets. The kids could come back every day if they wanted.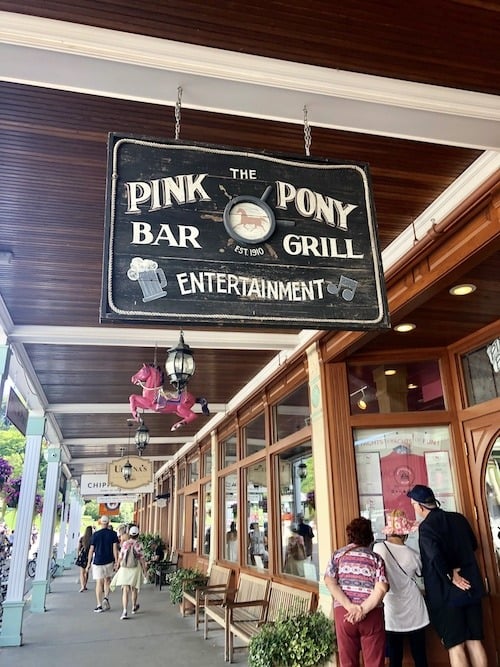 Where to Eat in Town (That Won't Break the Bank)
We had a fantastic lunch at the Pink Pony, which is in the Chippewa Hotel (tip: there's also public bathrooms in the lobby.) Get there early because it fills up FAST. They have indoor and outdoor seating — if you sit outdoors you'll face the harbor with a gorgeous view. The food was some of the best of our trip.
The locals pointed us to a great Tex-Mex dinner at Horn's Gaslight Bar & Restaurant, where we feasted on burritos, tacos, and beer (well, the grown-ups only for that last one). Fun fact: Horn's has the first-ever liquor license on the island.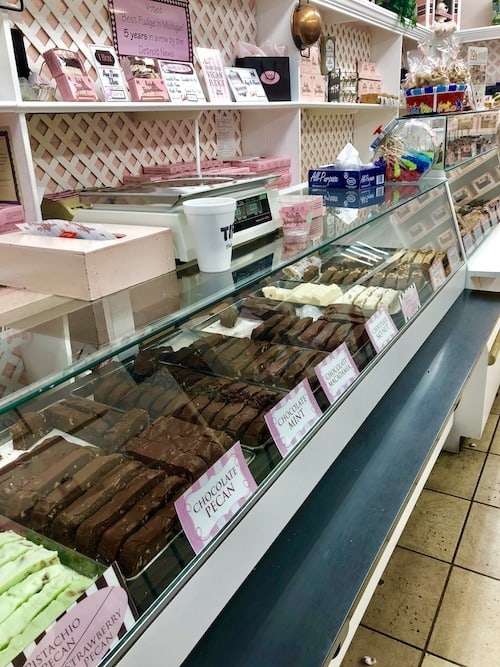 After dinner, we enjoyed delicious ice cream at Ryba's fudge shop. The line was way shorter here than at many of the other ice cream shops and the ice cream was just as good.
You can find fantastic fudge everywhere you turn. You literally cannot walk five steps without hitting another fudge shop. Mackinac Island is known for its fudge, and for good reason. It'll melt in your mouth and you'll be taking home several boxes with you. Some stores will even ship it to your friends and family for you.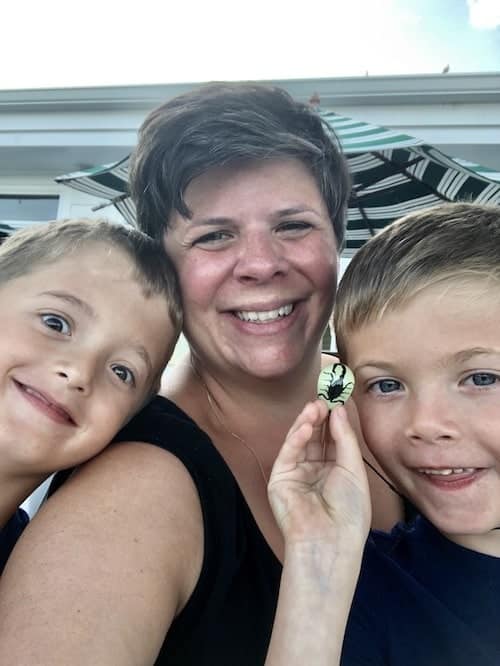 Coming back to Mission Point Resort at the end of each day was truly like coming to a home away from home. Every staff member we encountered was so warm and friendly and it really made for such an incredible experience. I cannot recommend this resort highly enough. The property has been around for a very long time and is in need of some cosmetic upgrades, which were already being worked on during our stay, so expect to see a bit of wear and tear. But overall the property is just gorgeous.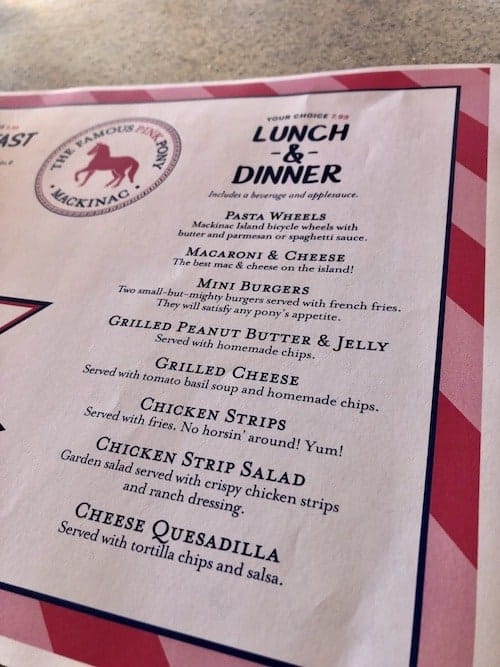 Shepler's Ferry Tips for Families
There is a learning curve with check-in procedures at Shepler's Ferry. I'm going to outline it all so you don't have to go into it blind like I did!
Departing from Mackinaw City
Pull up into Shepler's and take a parking ticket. Someone will direct you to park nearby the baggage takers. At this point, they will take your bags and ask you the name of your hotel. Make sure to COUNT how many bags you're giving them and pay close attention to this number. Put the bag claim tickets somewhere safe like in your purse. Your bags will be shipped to the island ahead of you and will take up to 2 hours to arrive in your room so keep any medications with you.
Go up to the ticket booth and buy your ferry tickets (or if you bought online tickets, just check in). The attendant will give you a map to the extended stay lot, which is several blocks away. (If you have a lot of kids with you, it may be wise to leave one parent with the kids at the dock and have just 1 parent drive to the car to the lot.)
Go get back in your car and use your parking ticket to get out of the dock lot (the 1st hour is free!) and drive to this extended stay lot. There will be attendants there to show you where to park.
Wait in the covered shelter and take the next shuttle bus to get back to Shepler's dock.
When you arrive, walk everyone to the ticket taker for the next ferry. You may have to wait a while until the next one is ready to board. Be sure to check the schedule for departure times.
Take the ferry to the island. Weeee!!! This takes about 20 minutes altogether.
Get off the ferry and check in to your hotel. Once your bags arrive at your room, count them to make sure all are accounted for. We were missing one, but luckily our bellman tracked it down!
Departing to Mackinaw City
Two hours before you want to get on the ferry to leave the island, call the bellman and have them come to your room to take your bags. They will tag everything and, again, be sure to COUNT how many bags they are taking.
Board the ferry of your choice and enjoy the ride back.
When you get off the ferry your bags will be waiting in one of two tents — either the one that's exclusively for the Grand Hotel guests, or the one for all other hotels. Go in there and find your bags — they are organized by hotel but they will probably be scattered throughout various rows if your hotel is large (none of ours were together).
Once your bags are found (and check to make sure they are all yours) you have two choices — bring all of your bags on the shuttle with you (there's very little room for bags), or send one adult on the shuttle to get the car and the other adult stays with all the kids and bags. We picked #2 and I'm glad we did. I whipped out our portable DVD player to keep the kids entertained.
The driving adult pulls into the lot and into the temporary parking spots (right by the ticket booth is a great spot) and that's where you load up the car. You will not have help with this from the ferry people, just a heads up. Again, parking is free for the first hour and you'll be off the boat and on your way in about 30-40 minutes.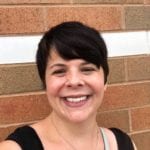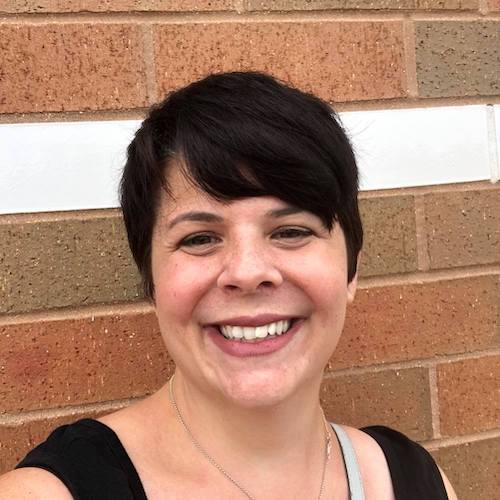 Julie Burt Nichols is mom to twin 6-year-old boys, Desmond & Alec, who were born on Halloween. Julie loves her job as the "Wizard Behind the Curtain" at Twiniversity — the #1 global resource and support network for parents of twins — where she serves as Editor-in-Chief of Twiniversity.com and Instructor for the Chicago Twiniversity expecting twins classes. She loves serving as a resource and support for parents of twins in the Chicago area. Julie is proud to be a certified child passenger safety technician.
A Quick Family Getaway to Lake Geneva Wisconsin
Indianapolis: A Great Weekend Getaway with Kids
Is Woodloch Resort a good place to visit with your family?
mackinac island hotels mackinac island lodging places to stay on mackinac island where to stay on mackinac island hotels on mackinac island mi mackinac island accommodations mackinac island motels