Last updated on August 23rd, 2023 at 04:51 pm
Giving birth to my singleton was one of the easiest things I've ever done. I was in active labor for 90 minutes, and about 60 minutes of it was spent waiting for the doctor to arrive and prepping the room. I pushed three and a half times, and my daughter was born. It was so much less dramatic than I had expected. When I found out I was having twins, I was hopeful I would have another easy vaginal birth but was also very aware of the fact that a c-section birth could be in my future. And that scared me.
I started taking a poll with friends and family that had twins; did they deliver vaginally or via c-section? After polling 5 women, the score was 5 c-sections and 0 vaginal births. I could feel my dreams of another easy vaginal birth slipping away. I did not want a c-section! Not just because my vaginal birth was so easy but because I didn't want longer healing time after. I had an almost 4-year-old at home and I wanted the freedom to pick her up and give her bear hugs and cuddles without the fear of hurting myself or tearing my stitches.
Naturally, I started quizzing my doctor. Now mind you, besides the fact that I was 35 years old, I had a perfectly healthy pregnancy so far. There were no pre-existing conditions stopping me from having a vaginal birth. My doctor mentioned that I was her fourth patient having multiples and all were due before me. With every appointment came the question, "Any multiples delivered lately?" And depending on the answer, the follow-up question was, "How were the babies delivered?" In the end, two had c-sections and one had a vaginal birth! SUCCESS! My hope was restored. The universe was sending me a sign to split the difference and even it out for my doctor.
With every appointment, I was reassured that a vaginal birth plan was in my future. At my 36 week appointment, my doctor was sure that I would deliver sometime that week and there was no reason to expect anything other than my planned vaginal delivery.
At 36 weeks and 3 days, my twins were born at 11:25 and 11:26 p.m. via emergency c-section. Here's how it happened.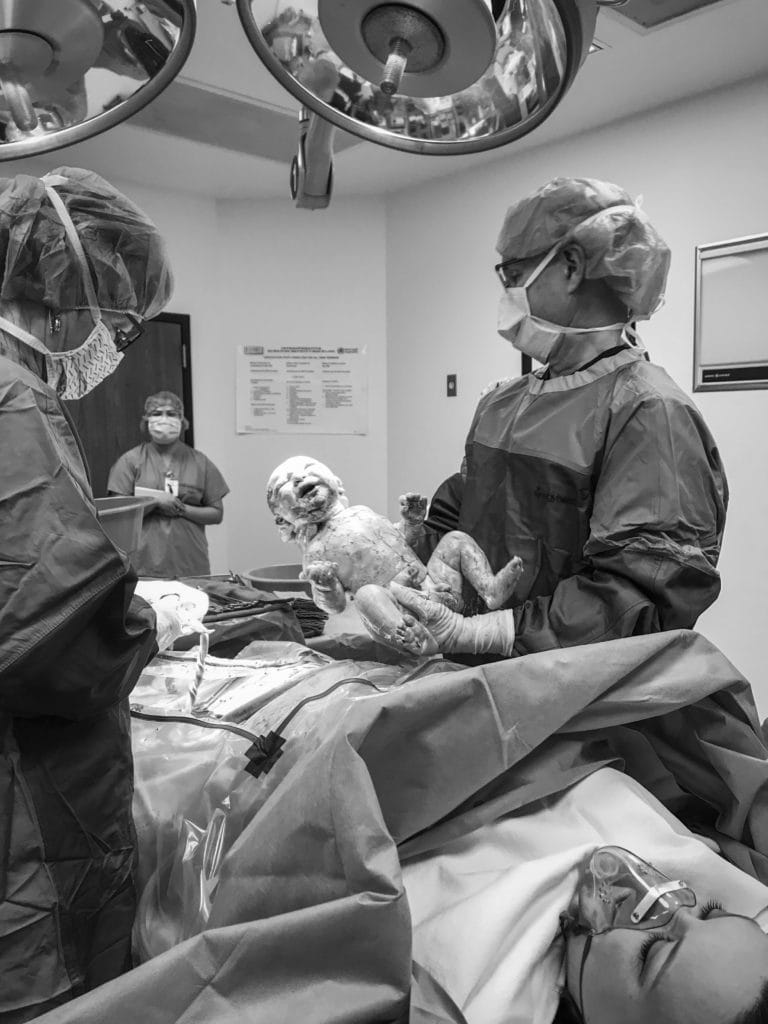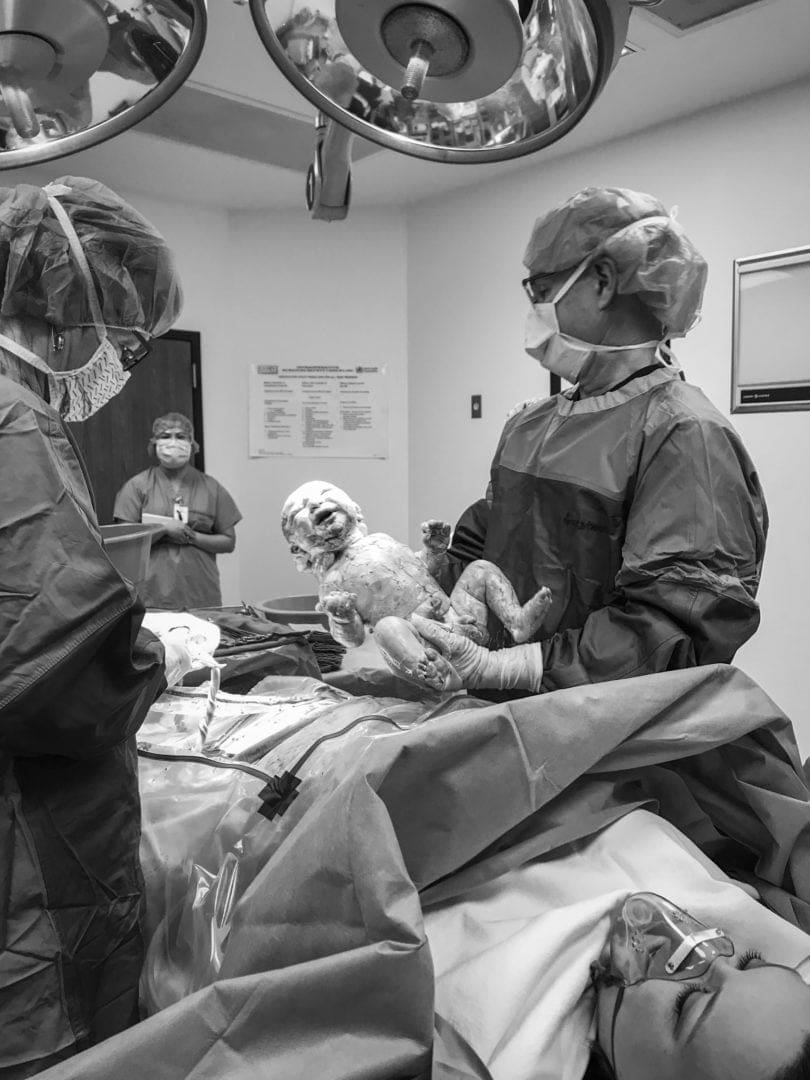 My Emergency C-section Delivery with Twins
I had just put my daughter to bed on the night of her fourth birthday and decided to take a lukewarm bath to help with my back pain when baby A decided that was the moment she was done, and pulled her placenta right off the wall of my uterus. I started bleeding. As I watched my bath water turn red, I wasn't sure if my waters had just broken (I was induced with my first pregnancy) or if I had just hemorrhaged. Either way, I remembered my doctor telling me if I started to bleed, I needed to get to the hospital.
I called the doctor on my way and she was so calm, simply saying she would call ahead and let them know I was coming and she would meet me there. I'm ashamed to admit that I was still hopeful my twins would be born vaginally (and not on their sister's birthday.) After arriving at the hospital it took all of three minutes to determine that I would be going in for an emergency c-section within 20 minutes. I immediately started to cry. This was not the plan. I didn't want a c-section. My body was built for having babies vaginally. How was I going to explain to my daughter that not only would she have to share her birthday with her siblings, but also I wouldn't be able to lift her and cuddle her for the next six to eight weeks? I was about to meet my sweet baby twins, and instead of feeling excited I let the fear of a c-section get me down. I understood the severity of the situation but I found myself still trying to bargain with the doctor for a vaginal birth.
I couldn't have asked for a better doctor, nurse, and hospital staff. They were so attentive to my fears and walked me through every step. My husband stayed by my side from the moment I changed into a hospital gown to the sewing up of my incision.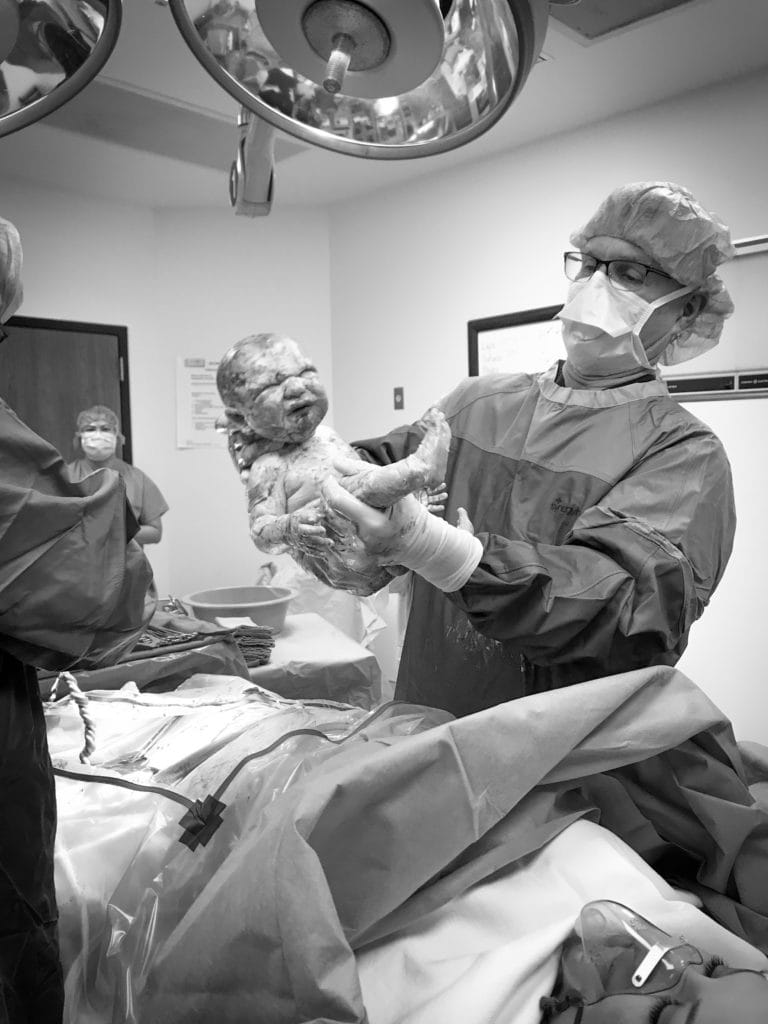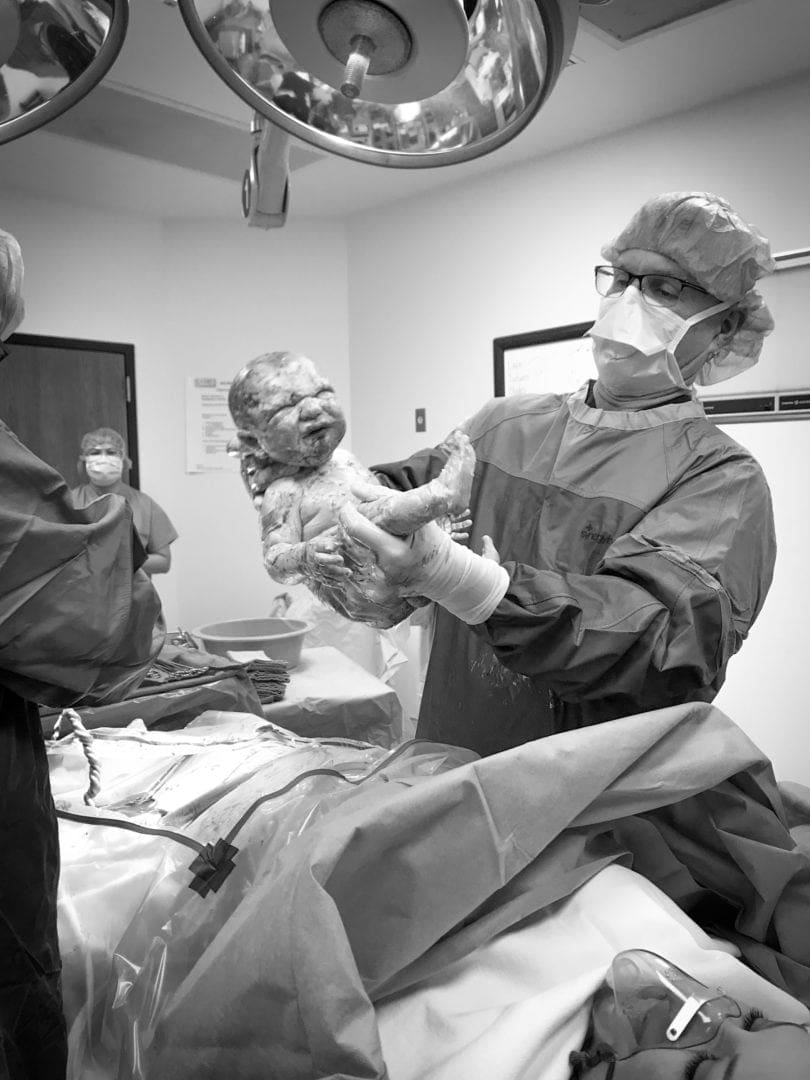 It turns out my baby A had a placental abruption, which resulted in her sac filling with blood and causing her to aspirate blood, leaving her in the NICU for three days. I'm so very lucky that both my babies came out mostly unharmed. And to be honest, the c-section experience wasn't nearly as bad as I thought it would be. The recovery took time and was unpleasant. I can still remember the burning feeling I would get just to the left of my incision that was so painful it took my breath away. I wasn't able to pick up my four-year-old for at least six weeks, but honestly, she didn't seem to notice because she was too busy being a big sister to twin babies.
My scar is now fully healed, and crooked (in an emergency situation precision is the least important thing), but I don't mind. When I see my scar, I'm reminded what it represents: a mother's will to overcome fear and worry for her children. And the fact that no matter what's in your "birth plan", when the time comes, it's not really up to you.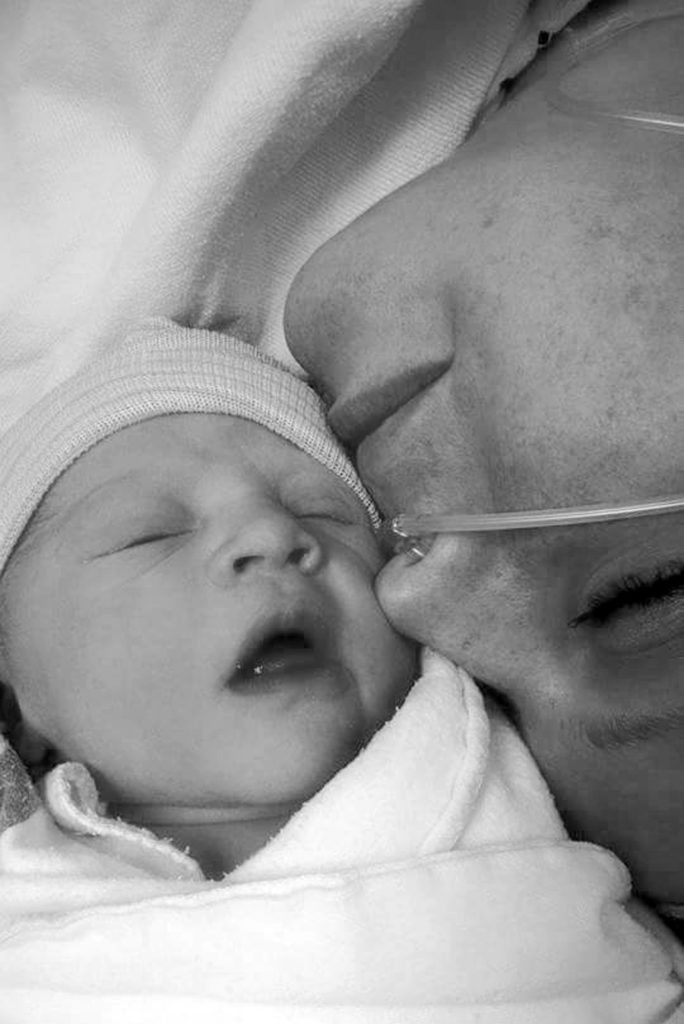 5 tips to help ease your fear of a c-section:
Ask your doctor plenty of questions and voice your concerns. The more you know about how it will all unfold, the better prepared you'll be.

Do not Google anything about having a c-section. You'll see more than you ever wanted to and may be more scared than you were before.

Ask for help; rely on your partner and/or family and friends to assist with things you can't do.

Allow yourself the time to heal. You can't help yourself or your babies until you're recovered.

See the big picture. When it's all over, you get the best prize: a sweet baby or two.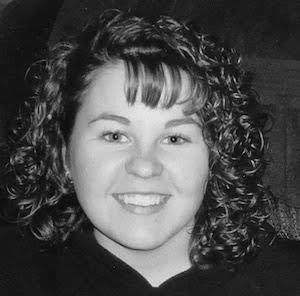 ---
Related Articles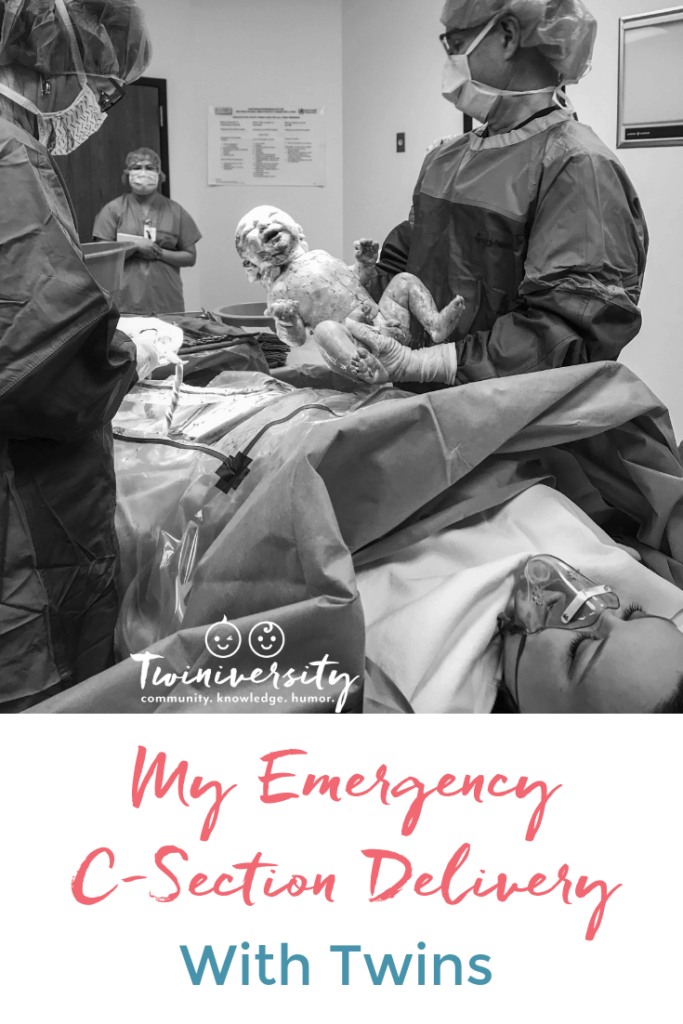 ---
Got twins? Us too! The Twiniversity Podcast with Natalie Diaz was created BY parents of twins FOR parents of twins, from your pregnancy days through your twin's teenage years, this podcast covers it all. It's all about parenting twins, offering plenty of strategies for making life better, parenting hacks, and of course, humor. We are laughing WITH you every step of the way.
---
Parent-to-Parent Mentorship Program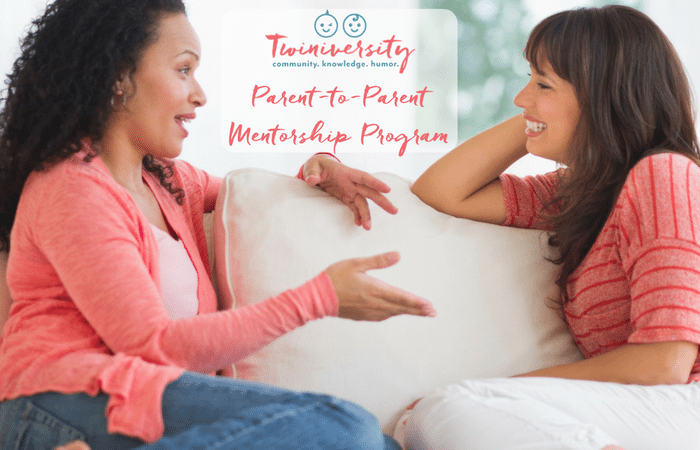 Are you looking to connect with an experienced parent of multiples who has been in your shoes? Do you want to feel supported, guided, and heard as a new parent of multiples*?
Or, do you love offering advice and tips to new parents of multiples*? Would you love to support, guide and listen to a soon-to-be or new parent the way you wish someone was there for you?
If you said, "YES!" to any of those questions, then the Twiniversity Parent-to-Parent Mentorship Program is perfect for YOU!
We are looking for parents of multiples from around the globe who want to be matched up with a parent mentor, or who want to BE a parent mentor. We'll be matching up moms with moms and dads with dads from all over the world to get personal support in this crazy life of multiples parenting!! All you have to do is complete a simple application form and we'll do the matchmaking! And the best part? The program is totally FREE! There are no fees to take part in this program.
---
Are You a New Twin Parent?
Check out Natalie Diaz's book:
"What To Do When You're Having Two
The Twin Survival Guide From Pregnancy Through the First Year"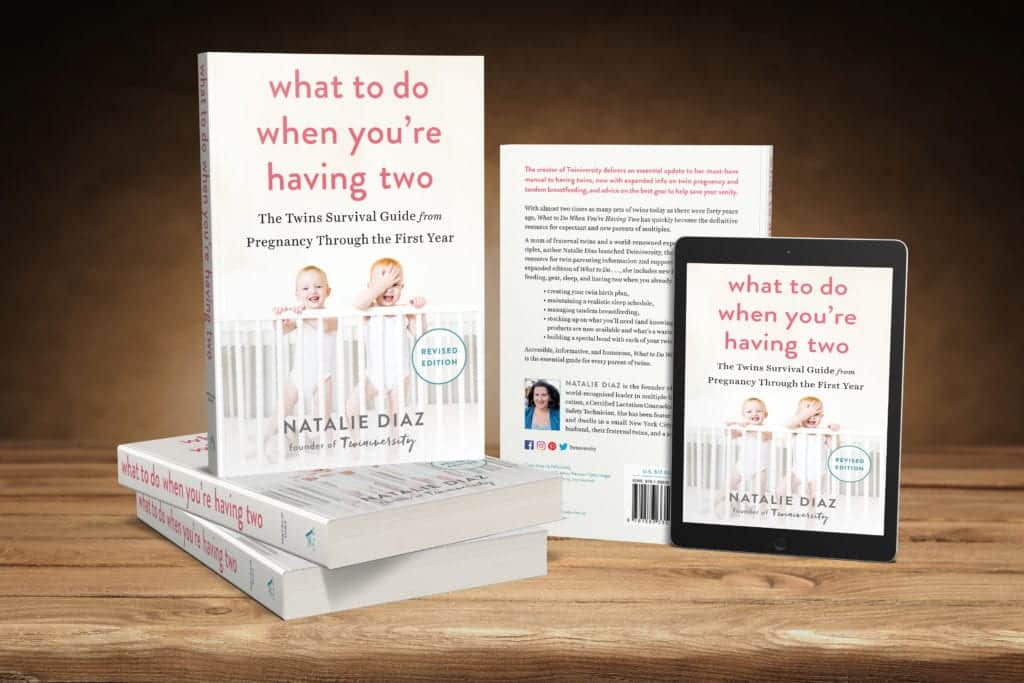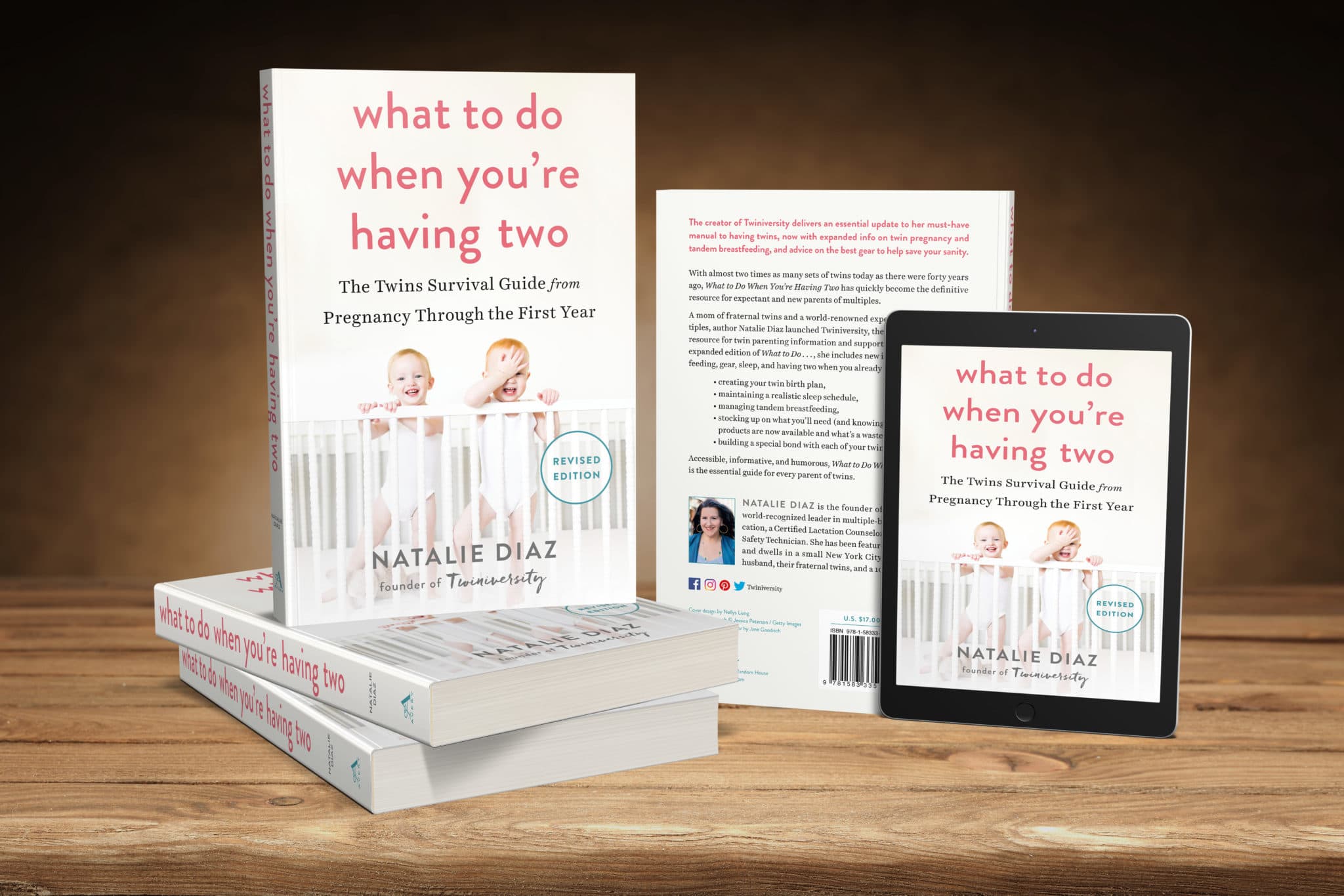 In What to Do When You're Having Two: The Twins Survival Guide from Pregnancy Through the First Year, national twins guru and founder of Twiniversity (and twin mom herself!) Natalie Diaz provides a no-holds-barred resource about life with twins, from pregnancy and birth all the way through your duo's first year of life.
---
Have you taken your expecting twins class yet? We offer a great class on demand so you can take it on your own schedule! There are so many video modules covering everything from your twins' baby registry to your first week at home with twins! Sign up today to get started before your twins arrive.