(This post, and most posts on Twiniversity, contain affiliate links.)
Diaper Bag For Twins, like the Girl Scouts, the motto for all twin parents should always be "Be Prepared". Any parent of multiples can tell you that preparation and planning your day can make all the difference between chaos and calm. To help you on your way to multiple parenting success, we've organized a list of what features you'll need for your diaper bag and what it should contain too so you can always "Be Prepared".
What features should I look for in a twins diaper bag?
A good diaper bags for twins should have some key components like:
insulated bottle pocket
large capacity diaper storage area
zippered pockets
easy access exterior pockets
adjustable straps or a cross body strap
water resistant interior to handle spills
plenty of pockets
strong zippers
portable changing pad
easy access side pocket
A twin diaper bag should also be able to be worn by any gender or age of folks in your family. Consider the style and considering who will be using it. Will grandpa really want to walk around town with a hot pink diaper bag? Probably not.
Should I get a Diaper Bag or Diaper Bag Backpack?
Before you make this decision on your twins diaper bag, think about what you might be using right now and what you're used to. If you typically carry a shoulder bag, you'd be used to that, but think about this, as your twins get older , they will get super mobile and will you have an easy time holding two little hands with that shoulder bag, or will it slide off? Many parents of twins opt for a cross body or a backpack just for the hands free-ness that a bag like that will provide. So think about now, but think about the future too.
Can I use a purse as a diaper bag?
If you are a creature of habit you might be looking to convert your everyday purse into a diaper bag, and true, while there are inserts that you can put into a purse to make it a bit more organized (click here for one on Amazon ) but in all sincerity, that might work for a singleton, but when packing a diaper bag for twins, it won't be so easy. The odds your purse is big enough, is pretty slim.
Do I need two diaper bags because it's twins?
I would love for this to be a solid "no" but honestly, it really depends. Sometimes parents like to have their own diaper bags and be responsible for packing it themself. Maybe your partner spends more time outside, while you spend more time visiting family. You may each really want to consider having your own bags, but it depends on your budget and how particular your "better half" is.
Twiniversity Picks for Best Diaper Bag for Twins in 2022
Best Overall: Skip Hop Duo Weekender Diaper Bag (it's usually cheapest on their website and shipping is always free there too) Buy on Skip Hop. Buy on Amazon.
Best Backpack Diaper Bag: Iniuniu Backpack Diaper Bag. Buy on Amazon.
Best Budget Twin Diaper Bag: Dikaslon Crossbody Diaper Bag. Buy on Amazon.
Best Luxury Twin Diaper Bag: JuJuBe Eco BFF Fashion Diaper Bag. Buy on Amazon.
Honorable Mentions: Mominside Leather Diaper Bag,Skip Hop Diaper Bag Backpack, Ruvalino Diaper Tote &Eddie Bauer Places & Spaces Lake Diaper Backpack, Allcamp Diaper Bag.
What should you pack in your diaper bag?
Your daily diaper bag for twins should contain:
at least one diaper per baby for every two hours that you will be out (plus four extra just in case)
wipes, about 7 or 8 thousand should be enough : )
an extra shirt for you! (we always forget about us, don't we?)
enough formula bottles to give each baby 1 extra feeding, just in case you can't get home in time for the next feeding which should be stored in the bags insulated pockets.
if you're breastfeeding pack along some extra breast pads
pacifiers , plus a spare or two (Dr. Brown's Pacifier & Bottle Wipes wouldn't be such a bad idea either)
enough baby food for one and a half servings per baby, PLUS a baby spoon for each baby
first aid kit (antibiotic spray, band-aids, a packet of Advil for you)
$20 cash
insurance card copies for you and the twins, along with emergency phone numbers,
hand sanitizer and more hand sanitizer
toys for the road
snacks for you and the twins
What do you need for twin newborns in your bag?
When you are picking what to pack in your diaper bag for twins , you should refer to the list above for the basics, but always remember to modify sizes as the twins get bigger. Many folks forget to move a size up in their diaper bag for twins as they get older. Don't be one of those parents who have to squeeze their tiny thighs in a onesie that's one size too small.Yes, we know, this seems like a lot for one diaper bag, but remember, you do have two babies! Also, when shopping for your diaper bag, you don't ALWAYS have to go the conventional route. A backpack works just as well as a traditional diaper bag. There are a lot of backpack style diaper bags on the market today, which is super helpful when you have twins.
How many diapers do you need for twins in your diaper bag?
Depending on how long you're planning to be out, Twiniversity recommends at least two diapers PER HOUR that you'll be out. Yes, this is a cautious number, you won't be using that many, but it's better to be safe than sorry.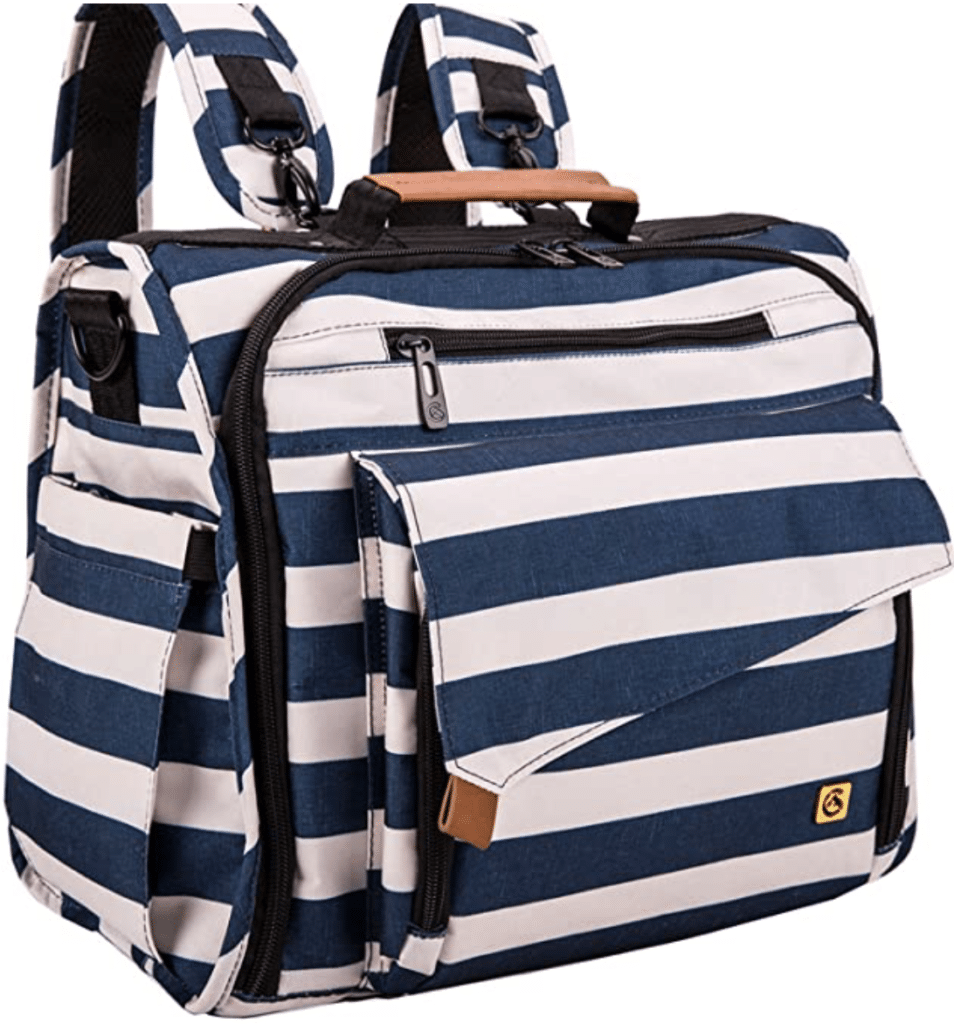 Should I have a spare bag in my trunk?
Whether you're a driving family or a walking family, having an extra set of everything in your car and/or your stroller will really come in handy one day. Trust us! Keep a stash tucked away for emergencies, filled with… FOR YOUR TRUNK
2 sets of baby clothing
4-8 diapers
package of wipes
extra shoes (if they are wearing shoes)
1 roll of paper towels
shirt and pants for you, in case of "protein spill" on the road
snack bar/pack of dried fruit (for you)
small garbage bags
Need some twin diaper tricks? Reach our Twiniversity Twin Diaper Hacks by our Twiniversity community!
What should be in your stroller basket
your stroller rain cover (don't just take it with if you think you'll need it) ponchofor you (how can you push a stroller AND hold an umbrella?)
a bottle of water or two
a pump to fill a flat (if you have air-filled tires)
1 set of baby clothes (1-piece pajama)
1 t-shirt that can fit either parent
2 extra diapers
a handful of wipes in a Ziploc baggie
snack bar for you!
* Remember to change the size of your kids' clothing as they grow.As time goes on you'll start to figure out what you really need in your diaper bag for twins. Maybe you need more diapers for Baby A, maybe you need to have a few extra pacifiers because Baby B likes to chuck them all about, maybe you need TWO extra shirts because of "protein spills". Whatever you pack, make sure you really LOVE your diaper bag. If you don't love it, sell it or return it and get a new one. It should be large enough to fit everything you need, be easy to carry, and have enough pockets for a day out with the twins.Have no regrets because you'll be using this diaper bag for at least three years (yes, you'll still use it for a while after they are potty trained to carry extra clothes in case of accidents!)
---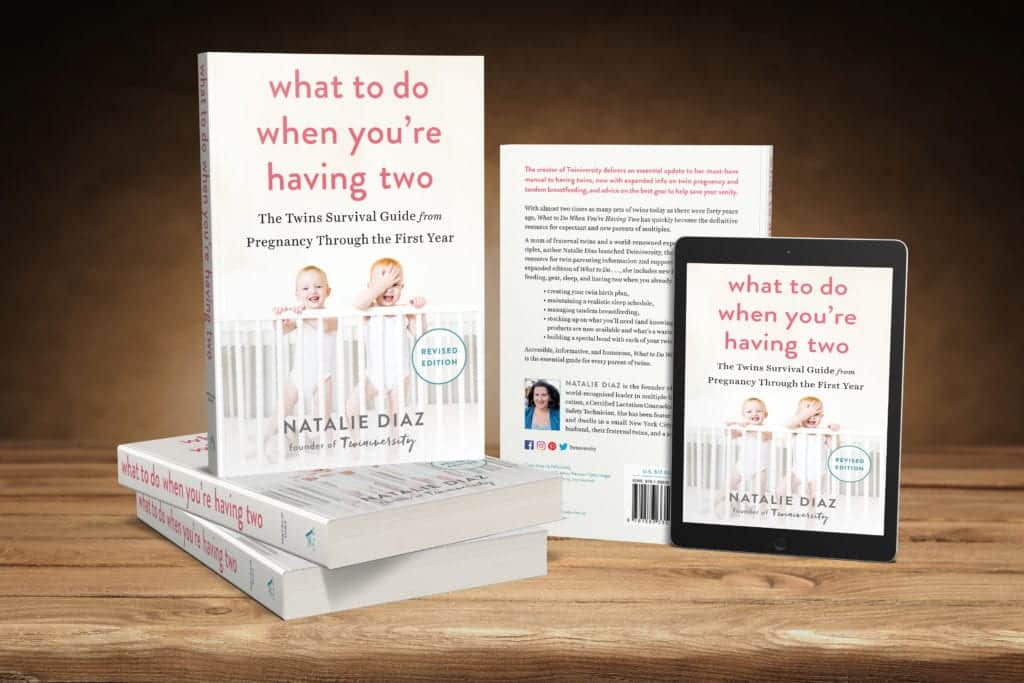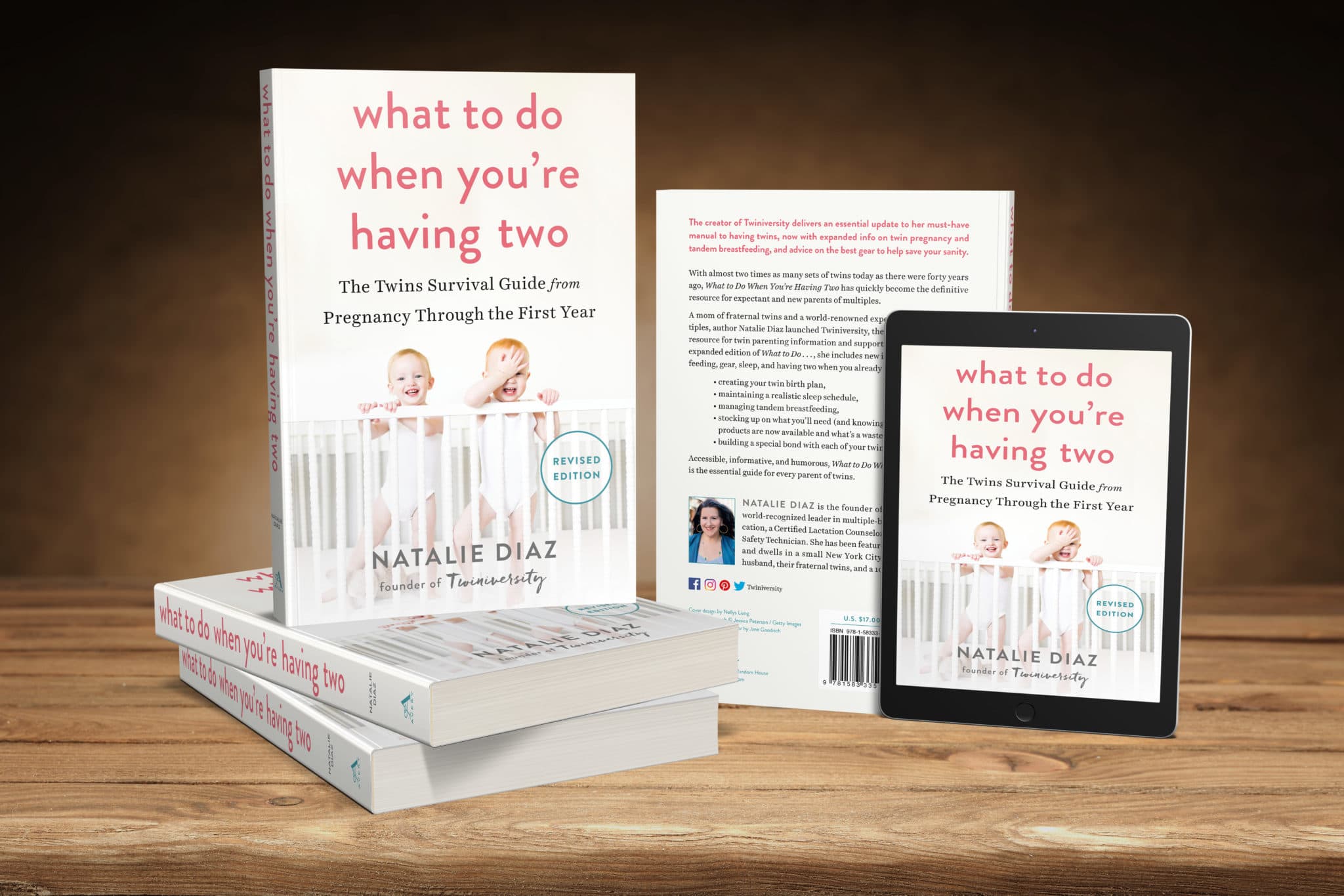 In What to Do When You're Having Two: The Twins Survival Guide from Pregnancy Through the First Year, national twins guru and founder of Twiniversity (and twin mom herself!) Natalie Diaz provides a no-holds-barred resource about life with twins, from pregnancy and birth all the way through your duo's first year of life. BUY NOW