Last updated on August 24th, 2023 at 07:46 pm
Nat sat down with Dr. Deena Blanchard of Premier Pediatrics in Manhattan, NY in this Facebook Live Chat to discuss Postpartum Mood Disorders, how to open a conversation about it, and ending the stigma surrounding it. Thank you Premier Pediatrics for giving us such great insight.
---
Nat:
Hello everyone. Welcome to Twiniversity. If you haven't meant Dr. Deena, should we use your last name? So we're here with Dr. Deena who is my kids' pediatrician and really one of I would say is my favorite authorities on all things kids medical. And I text you enough. We have had a really, really, really, rough month. It has not been great for the Diaz family health-wise.
Dr. Deena:
Well yeah, we're totally on an upswing.
Nat:
We are on an upswing. Every ten years this seems to happen. So when the kids were three we all got the flu-like back like super bad. Then I had the vaccination for me. Yes, we made it through without the flu but we instead got other things that were equally as exciting. So it's just really nice and if you do not have a really good relationship with your pediatrician you have to find a new pediatrician because it's pretty important that you're able to start conversations and not feel like oh my gosh I'm bothering the doctor this is horrible. You should always ask the doctor. The doctor may say I can't answer now I'm you know I'm doing something else but you definitely want to have a really nice conversation.
Dr. Deena:
Well, that's our job. Totally. We actually prefer if you're in touch with us. We care for your kids we know what's going on with them. It's actually better for us to know what's going on with your kids because we can provide the best care for them.
Nat:
I wish that I had a relationship with my doctor the way that you have it with the kids. I don't even remember like we didn't even have one solid pediatrician. We had a few but yeah I wish that I could like text my regular doctor and be like I have a call. I'm always in urgent care that's just like I don't even bother like I don't even have a doctor that I care about. So I'm like whatever, I'll go to urgent care. Anyway, that's not what this conversation is about.
Today we are talking about postpartum mood disorders and how to start a conversation. How to recognize the symptoms. How to know, you know when and if to call the doctor. And there's so much to this story that I mean I don't even know where to begin. So I found out that Dr. Deena also had postpartum depression.
Dr. Deena:
I actually had postpartum anxiety. It's really an important difference. We have to talk about the difference between the two. You can have either or which most people don't really realize.
Nat:
I think that most people like that googled postpartum depression then they might not recognize the signs or they might not know that there are other things that can happen post-natal. So that's why we were talking about postpartum mood disorders. This is not about postpartum depression. This is not about postpartum anxiety. There are a slew of things that you might feel and we are hoping to debunk some of those myths and help you start that conversation with your OB, your primary care doctor or a therapist if you have one. But if you have any questions or concerns please just message us right now. And this is how this goes. Dr. Deena and I are in New York City.
Dr. Deena:
I was going to say you can speak to your pediatrician about postpartum emotional stuff that you're going through because you're going to see your pediatrician a lot more than the other doctors. And the pediatrician is really at the forefront of mental health. We'll talk about that as we move forward. I do feel like it's really important that moms and dads feel like you can come to your pediatrician. We do know how to screen. We do have support resources and we care. We don't just care about the baby we care about the entire family. We care about the entire family unit. I think that's important for new moms, second third moms to know.
Nat:
So if I was going to the pediatrician's office with my twins and we have a regular appointment what signs do you recognize in somebody? So forget about me saying to you I think I have this. What are some things that a mom may be experiencing that she doesn't even realize is postpartum anxiety? And also by the way, if you guys could hear us okay I do want to have like a quick thumbs up for you guys that are with us. I usually do that at the beginning so quick thumbs up so that we know that you could hear us okay? And then hearts if you can see us okay? So we're actually already getting questions. Julie's behind the curtain so throw your questions up during this live feed. Julie will then text them to me so if you see me looking over here just know that it is really simply because I'm reading your questions. We often get a lot of comments during the life and we don't want to miss a thing. So, Julie texts me independently. So, going back what are the signs that we may be feeling that you may recognize that is a postpartum mood disorder?
Dr. Deena:
Okay so let's start. Its sort of kind of one thing that I think is really important is what's called the universal screening. And so the American Academy of Pediatrics recommends screening at the two week, five week, two and four week, and six-month visits. And so we do that in our practice. So that is done privately. So basically the mom fills it out and we'll get a score. So, sometimes people won't realize or they don't feel comfortable to say I'm feeling not well for whatever reasons and so we have so we'll start with that. And we do it for everyone. So, there is no stigma associated with it's just a routine screening.
So other things in terms of signs to look for yourself, within the first two weeks of life it's very common (ten to 14 days) what they call postpartum blues, for you feel yucky, to feel sad. You know but that cloud sort of lifts by about two weeks.
Nat:
Why is it happening? What is happening at this two-week mark that fairly universal thing to happen?
Dr. Deena:
The thought is there are all these shifting hormones. We don't know exactly. Well, actually more research has shown that postpartum mood disorders may be related to shifting hormones. First of all you're under stress. Right? So having one baby is stressful. Having two babies is super stressful. If you have older kids it's hard. You're also sleep deprived. Right? That's used as a form of torture in other countries. And there's also adjustment to having a new adjustment to having this new person in your life. I like to say a baby is like a new boss that keeps you up every two hours and doesn't speak English and you have to guess what they want. There are a lot of changes. Shift in family dynamics. All that stuff combined makes up this adjustment period. If in the first few weeks you're feeling severe sadness, worry, or insomnia, you're not sleeping when the baby is sleeping. You're having unusual thoughts for yourself, more intrusive thoughts. Obviously that would match postpartum baby blues and you may want to talk to someone sooner. But, then after two weeks for most people you may still be tired, exhausted and not feeling yourself. But, symptoms start to improve. It's hard as a parent and as a person, area things experienced as a new mom approaching motherhood.
Nat:
That's a big deal. I feel ya. I think a lot of people are just like well this is what it's like. This is what it's going to be like. This is it. It's stressful. This is what it's like This is what I'm supposed to feel. Every new mother I mean everybody hears about baby blues. So everybody just assumes that the baby blues and if you didn't have a kid before and you didn't know that there were different levels of baby blues or whatever you want you may not be able to recognize that. I feel the worst for people like why I asked you about how do you recognize it is because so many people don't they just assume that it's normal. And I feel like the burden really falls on you a lot sadly because you have to be the one that sees it nowhere at Premier Pediatrics they do have this form but you may not have this form so how has your doctor really know? And then when you're going to your pediatrician's appointment you're just like this was needing this link pooping this one's breastfeeding this one's not latching you have so many things going on in your mind that a doctor may not even be able to recognize because you're like here's my questions. Give me some answers. I gotta go.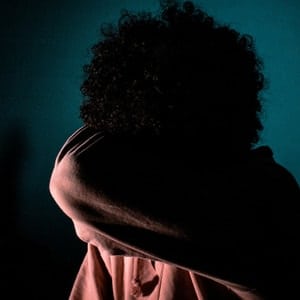 Dr. Deena:
So one of the things that I would say in terms of myself is this sort of excessive grief about your child and the perpetual sort of reassurance. If someone is calling me very, very frequently, over and over again and the baby is basically healthy. I will start to say obviously something is going on. I would say it seems like you've got a lot of things on your mind. You seem very worried. The babies seem okay. How are you feeling? I think that is a very big point. Especially with postpartum anxiety your anxiety transfers to the baby. You might not come in and say I feel nervous but you may say that you're not sleeping well because you're super worried if you fall asleep that the baby isn't breathing. That's a common one. What if I go out and you didn't leave enough breast milk or I don't have enough formula. If I go out the baby cries. What if, what if, what if. It becomes this never-ending cycle of what if. And that's a huge thing for moms and dads to recognize. If you're having a lot of those kinds of thoughts, you're probably having sort of postpartum disorder. The other I think is big is being able to have someone you trust to watch the kids. If you have someone in your life who you trust under normal circumstances but you can't leave your baby alone with anyone else for fear that something bad will happen. Or you can't rest.
Nat:
Even your partner?
Dr. Deena:
Even your partner for fear that something bad is going to happen. Of course, more so you should trust your partner, right? The fear of having that is usually a sign. If you feel disconnected from the baby. You don't have to be embarrassed. If you feel disconnected, you're having a hard time connecting with your baby talk about to your pediatrician. Maybe you'll feel better in four months. Maybe you won't. Let's say you would feel better on your own. Why should you miss the first four months of your baby's life? I feel like I missed the first four months of my second son's life. I had terrible postpartum anxiety. I did not enjoy the first four months of his life and that's lost time I'll never get back. I feel very strongly that I don't want that to happen to other women.
Nat:
In addition to not enjoying it, the odds are that you actually could forget it because if your depression or anxiety is so bad I think that your brain does this little shut-off and then you go back and you don't even remember. Apparently, I say apparently because I don't remember, but when the babies were three months old so we went to Enrique Iglesias concert at Madison Square Garden. At the time it was my god sister worked for people in Espanol and she got us tickets like really good tickets. She was the editor like we have really good tickets so we went to go see this concert at Madison Square Garden. So picture this 13,000 people in a stadium with blaring music, going behind the scenes. And I swear to God I have zero recollection of that. Zero. To the point that now it's like it's a comical thing because at this point thirteen years later you can't but just laugh at it. But there are so for the first four months I could only remember their life in pictures. There are things that I could remember but I'll go through like a photo album and this would be nine months old I don't remember you know this person visiting from out of town. It's so it's interesting because it took so long to get help because I felt that stigma. I just assumed that every twin parent feels like this. Every twin parent feels overwhelmed. Every twin parent feels stressed. Every twin parents in the NICU every twin parent has you know a traumatic delivery with significant blood loss and an extensive hospitalization. I had no friends that had twins so I assume this is what everybody else was experiencing.
Dr. Deena:
Those are classic symptoms of postpartum anxiety disorder. You have all of them. So, for example, one of the questions for history is there any anxiety or depression in your family. And anyone personally because if you actually have a history of and I think this means you should look for and you should know that you have the support here. So sort of setting people up for success I think is really important. And for a place, you feel safe.
Nat:
I think the twin thing throws a really freaking huge monkey wrench into this and because the appointments like my pediatrician that I was with previous Athena we've been with her since the dawn of time. But when I went I put on a front because I had some fear that my doctor was going to judge me. Even though she wouldn't and you know her well enough and she would never. But for some reason, if I don't present myself in some fashion she's going to think I'm a failure.
Dr. Deena:
That's how postpartum anxiety works. People are more likely, to be honest with a screen. You bring up a really important point. After my second son when I had postpartum anxiety I felt like I had to be perfect. I also had this sense that I'm smart, educated, pediatrician, what the heck? Why am I feeling like this? So, I would go to brunch. I lost thirty pounds in six weeks. People were like oh you got into your skinny jeans and I was like yay! But, really it was because I wasn't eating because I was so miserable. We as moms, you as a person who is a spokes figure for moms, me as a pediatrician it is our responsibility to say no these conversations hushed. No more do not support each other. No more. If you feel amazing after having a baby great. But if you don't feel good that's okay too. That's really the message. You don't have to feel great.
Nat:
Now we have some questions we get to that so we go up a little bit. So can postpartum anxiety depression come and go or is it something that's like I have it I'm having a good day today? I'm having a horrible day today.
Dr. Deena:
It can come and go. It doesn't have to start early. It can start later. A lot of moms deal with postpartum anxiety or depression when they go back to work. That's a really stressful time. In general, mood is fluctuating. You can have better days. You can have worse days. I feel like if it's interfering with your days. Or if you don't like the way you're feeling for any reason talk to somebody.
Nat:
So, it can come and go.
Dr. Deena:
Absolutely.
Nat:
And any time after birth. When are we kind of out of the woods? Is there a time we are hormonally out of the woods? You may never be out of the woods anxiety wise.
Dr. Deena:
The Psychiatric Manual criteria are a year but honestly, there's a move to change that. There's a large percentage of anxiety during pregnancy.
Nat:
And the fear like I'm not gonna have these babies delivered correctly I'm not going to make it. I'm can't do this. But it happens. I see students that have this and I'm like okay. Like here's how we're gonna get through this and sometimes you may be able to just be able to talk to somebody that's either been there and done that and I think it's so fantastic that we have somebody today. Heidi who's joining us and she's like should some of the thoughts that she had made her feel possessed. How could she help others?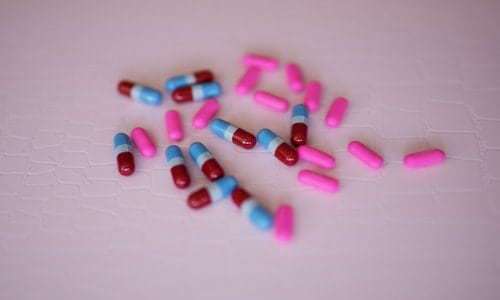 Dr. Deena:
Now okay, so I think there are so many things we need to talk about. And this is a very one percent of women you can get postpartum psychosis. And postpartum psychosis is an emergency. It is a medical emergency if you at any time feel that you have thoughts of harming yourself or harming your baby you need to call your doctor.
Nat:
Would you call 9-1-1?
Dr. Deena:
If you don't have access, call 911. Walk yourself to an ER. There's a lot of fear. People think they're going to lose their children. Not how it works. It is you want to believe it in your child's overall if God forbid if you have postpartum psychosis. It is a gift to yourself and to your child to walk yourself to the emergency room. If you're having trouble breathing, if you think you're having a heart attack put that in the category of having an emergency. For postpartum anxiety and depression the same. It's not an emergency, but it is the gift to yourself, your child, your entire family to get help. There is no benefit to suffering in silence. No one wins. There's no reason to do it and there is no benefit to judgments. That's our responsibility. There are lots of ways to get involved. Get the House plus further support international is amazing. City motherhood is doing great work. Miscellaneous institutions are doing great work. Here actually at our office we have a postpartum social worker that sees patients. We are partnered with both companies and they're doing great work. And we have mom group also. There available to everyone. You don't have to be a patient here.
Nat:
So, anyone can join the moms' group.
Dr. Deena:
I firmly believe at this point in my life I'm a better parent and a better parent for going through postpartum anxiety. Do I wish I had it for four months and didn't know what was going on with me? No. But I've been there and I feel like it's my ethical, moral, emotional responsibility and desire to help new moms.
Nat:
Jen brought up a good point. When we're in the NICU this is gonna sound crazy but we don't have the benefit of going to the pediatrician right? Because we're in the NICU. I wish that there was some kind of universal screening that the NICU did.
Dr. Deena:
It's being talked about.
Nat:
We were in the NICU for 31 days. So many things were happening in 31 days that weren't recognized that it became part of my normal life. So by the time I went to the doctor it wasn't worth speaking about because it was already part of my normal life that I think it really has to happen before I think these conversations need to happen during pregnancy. So talk to your friends, your family, anybody who then you know that it's expecting. And so somebody was saying like how do I help? You help by saying it happened to me. Right? It happened to me. It happens just like when people talk about IVF right? No. What do you want to talk about? Idea if you want to tell me that you had IVF and be like yep that was me. You can but so many people don't talk about high up and then you're hiding in the shadows about IVF. Well you could be a cocktail party with somebody who has just gone through IVF. They concede to the great doctor every day but nobody something nobody wants to talk about. So we have we have so many blocks against us because you start off with the shame of not conceiving. Then you go to the shame of failing to conceive possibly with failed IVFs. Then you get pregnant then you have the fear that you know that you're never gonna hold these babies. Not everybody has a good pregnancy. Maybe it's a very upsetting pregnancy where you're always in the hospital, your cervix is shortening, your blood pressure has gone wacky, or maybe your blood sugar is wild.
Dr. Deena:
Mass General Hospital has an amazing women's and children's program as well. And I think what you say is so true that basically it's stand up and say like I personally it took me a long time to speak about my story because no one is going to trust me as a physician if you took Zoloft after you had a baby. I was nervous. I was embarrassed I felt like oh my god. And then kind of said this is crazy. I am giving advice to people to get help and I can't stand up and say that's it. Part of being a good role model is to say there is no stigma. I am what I consider a confident confident educated woman and I had postpartum anxiety and that is okay. And you and you can have help and our resources available to you. And so it's not something that happens that needs to be in the shadows that need to be whispered about. I really think that's important. The other thing I want to get back is breastfeeding. Yes you can breastfeed on most medications for anxiety and depression. Do not let people tell you that you can't. There's a whole field of psychiatry that's called reproductive psychiatry. If you are pregnant and you have a history of being on medication and you're already starting to have symptoms, see a reproductive psychiatrist. Talk to your pediatrician. Who is he? Or your OB. Or the RPI website. Look people up. In New York we are so blessed that we them. But it's not across the country. There are resources. You can do phone consultations. There is definitely a wide amount of resources coming up because we are realizing how important this is. If you think about it thirty percent of women will have some sort of postpartum mood disorder.
Nat:
I think that's low. Also, that's the singleton universe. I'm curious to know and I didn't want to out Julie but Julie has outed herself about her postpartum anxiety. It's not my story to tell. But this is not an uncommon discussion within the mom squad. So many of us have had postpartum issues whether it's anxiety or actual depression that to me it's funny but to me, it's a very common, normal conversation. It does normalize what are you making for dinner okay?
Dr. Deena:
People say I'm going to be okay. I'm going to be okay. And so you downplay your symptoms is really kind of…
Nat:
In this country going women we're super lucky. I want to let you guys know that I get calls from women in other countries that have postpartum anxiety or postpartum depression. I don't know if you know this but my phone number literally this little phone that says Twiniversity is available to anybody anywhere in the world. You could literally call me and with the time zone sometimes I'll get a call in the middle of the night I always answer. I don't silent I answer because an emergency I want to make sure that I'm there for somebody. Well I am certainly not a trained therapist. I am somebody that can listen and say okay here's what you do next. Yes here's what happens next. Here's what you can do. Well I remember that it's just so nice to know that people exist. One of the pillars of Twiniversity I don't know if you've never noticed the Twiniversity tagline. We say community, education. We actually say community, knowledge and humor, right? Those are our pillars. The community is entirely built around postpartum support because well we're saying like oh it's normal for us. I want you to know how normal it is and we found like a real statistic that over six hundred thousand diagnoses are given a year for postpartum mood disorders. So, six hundred thousand a year that is not something that it's one person. I feel like people are more likely to joke about it they have herpes. But, I mean like there's I feel like there's things that you're like oh it's common you know? This could be for everybody and whatever for twin parents there's so much shame associated with so many things we really have to stop that and this conversation it really brings up the fact that it needs to be talked about.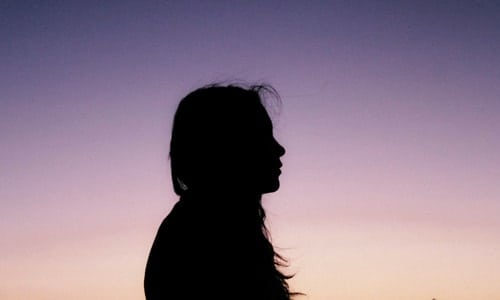 Dr. Deena:
If you have gestational diabetes you would not scream at your body and at your pancreas and say make more insulin, do better, be a better pancreas. It's the same thing. If you have postpartum depression or anxiety you could scream at your brain all day. Don't freak out, be calm, don't be sad. Good luck. It's not going to happen. As a country and as parents and as physicians we need to look at mental health the same way we look at physical health. So, this thing that is not necessarily in your control and it should be any different.
Nat:
Well, what I was saying earlier is that people can call me from other countries. In other countries, this is not a conversation that happens publicly. There is no like oh my mom will talk about it. Your parents won't talk about it; your sister won't talk about it. It is a cause of ridiculous shame that not only is you bringing shame to yourself but also bringing shame to your family. It's nuts.
Dr. Deena:
I do want to say that C-sections do increase the risk. It's the same idea of expectations. We all have these expectations of how the birth is going to be. One of the words I hate is "is it natural?" When people say to me it's wasn't natural to have a C-section a hundred years ago before C-sections mothers and babies died all the time. All of these things that are here – medical advances to treat postpartum anxiety and depression, the ability to deliver babies safely that can't come out vaginally. There are so many things we use the word for natural. There are many ways to have a baby, family, feed your babies. Families don't have to look a certain way.
That's the message we need to be sending.
Nat:
Now, somebody, Jen brought up before too that she wanted to know that if you do have a history of anxiety or mood disorders in general or your mother did. Do doctors ever discourage their patients from breastfeeding?
Dr. Deena:
There are very few medications you can't breastfeed on.
Nat:
But not for the medication wise but for the stress.
Dr. Deena:
I would not. I would see how things go. There are lots of ways to breastfeed. You don't have to have both babies exclusively on the breast to be a breastfeeding mom. You don't have to breastfeed day and night to be a breastfeeding mom. There are lots of ways to breastfeed so I think. I'll give you an example. Moms who are bipolar disorder are at high risk for sleep apnea or depression so they don't get enough sleep. That might be a situation where I might say to a mom okay let's make sure you are getting this number of sleep. If that means we're going to give a little formula great. Because your mental health is the most important thing for you and for your baby. But I would never start at the conversation. But the other thing to keep in mind is its okay to choose not to. So if you say I had a really bad experience and I'm not going to breastfeed. Fine, your choice. Don't feel ashamed. Your baby will be fed. If you're going to be anxious and miserable don't do it.
Nat:
On the flip side, if it makes you feel better go for it. Everybody says you can't do this; it's too much the twins. It's a conversation that has to be had. There's so much to the story and I think. Like John, God bless John. But she was in the hospital I never knew John before she had twins. And she's a friend of Julia's ago weird turn of events and now she's my friend. But when she had her babies she ended up having our first Nat chat. That's what we called them. It's been a while since but I'm available for anybody. I don't want somebody to be me. And the other thing I feel like I have to confess but after I was diagnosed so the day I spoke to my OB. I never spoke to my pediatrician. It wasn't actually me that made the call it was my husband. It's critical that your husband knows the phone numbers of these people. Whether he wants to call the pediatrician or she wants to call the pediatrician but they should have the phone numbers to find those doctors to say hey listen I'm recognizing these symptoms what can I do about it? Like I'm worried about her you know? So if you have a partner that's where I'd let them make the call. So he made the call and we went to the doctor she gave me medication. I never took a pill. Do you know that I then flushed my medicine? Man, I'm telling you that because I was really fearful that I want to be able to breastfeed and have being a mom of NICU babies breast is it wasn't even breast is best. It was breast is necessary. And so I had to be like you have to breastfeed it's medically necessary for premature babies, you have to breastfeed. So, then I'm all screwed up right in my little brains. They're still in the hospital. I get some pills eventually and I'm like I can't take these I have to throw these in the garbage.
Dr. Deena:
I had a similar experience. In brief, I had various forms of anxiety. I went back to work at four months so I had these terrible panic attacks and was dysfunctional. So, I went to see a psychiatrist at that point. And I said I don't need medication. I said we're going to do therapy and we're going to get better. And he looked at me and he said why don't you take this medication for a few weeks? Zoloft is a giant molecule that doesn't go into the breast milk. By the way I breastfeed on Zoloft twice. I didn't feel any shame about it. I was very open about it. And I recommend to people to do it. Like I said, most patients can breastfeed on it. But, I was like oh I don't need that. But he said try it for a few weeks and see how I feel. I said okay, I'm willing to try anything for a couple of weeks. Immediately felt a difference in me. So, the fact that as you share that story it breaks my heart. I'm sure there are people that I see and it's heartbreaking because sometime medicine can help. Sometimes people just need support. Sometimes they just need therapy. Sometimes they need therapy and medications. Sometimes you take a medication for a short while. I was so nervous when I had my second baby I started taking medication pregnant because I was just waiting for it. I didn't want to risk to feel like even for a brief moment feeling like I did before. And I just don't want other women to.
Nat:
If you are worried about you we are worried about you. If you're worried about you we are really worried about you. You may not know that it's something to be worried about but let's go through again what are the signs that we're looking for? So disconnection with your babies.
Dr. Deena:
Loss of appetite. Over appetite. Inability to rest. Can't fall asleep. Excessive worry, a lot of what ifs, unusual sadness for you, crying frequently without knowing why past the first month or two. More severe signs would be having intrusive thoughts about your baby, having thoughts of self-harm, thoughts of harming the baby. Thoughts it would be better if I didn't have this baby. Which doesn't mean you will harm the baby but those kinds of thoughts. I feel like people are embarrassed to say they feel those kinds of things. I think those are the big ones. I find that excessive worry is such a big one and what ends up happening is you start with postpartum anxiety and then you feel anxious that you're anxious that you feel depressed that you're anxious when you feel guilty that you're not doing a good job as a parent. The anxiety leads to depression.
Nat:
It's a freaking never-ending cycle. I am really upset now and you know what I'm upset about? I'm upset about that I didn't say anything. When they were babies when they were born okay so the let's say like 70 hours after delivery I still had not met them. So I had finally gotten to my room. Deena please. So, I'm in the room and I say to my sister I can't do this. We gotta go. In my hospital gown I'm like we have to go. And somebody that was there earlier that day and they took a picture of me like oh my god. Because I couldn't see the babies I was still in my room so they took a picture of me that day and it's random. So keep that thought on the side. So I'm like I can't do this. And it was just me and her in the room and she said okay well what do you want to do? Like what do you like? She didn't know what to say and I was like I don't think that I could do this ever. Like I need not do this like be in the hospital. Like do this like I cannot parent these babies who need oxygen and who have you know medical issues that I don't even understand. What half these tests are for or what they're talking about and they're giving me a report on children I've never even met and it was it was such like I had chills now. And so my sister said okay get dressed let's go and I was like okay. Literally, I get out of the hospital bed, IVs and all and I start getting dressed and now my sister I don't think she really thought that I was going to be like okay let's go. But I was I was not joking around, in plain English. I was going. I was out man. And so I started getting dressed and she's like okay so where are we gonna go? But, she's like but you know what if we go then you know grandma and Julie's supposed to come later today? Maybe we just wait for Grandma Julie to come and then we can go. And so they little by little she just started saying things to me that like brought me back in. But she never said you have to stay. Or she never said you have to do this and this is your job and you have these babies and it's your responsibility. It was okay let's go. Let's just get ourselves organized first and then we'll go. If you look we're coming it sends to you in this book. If you look and I will ask you to read this who is the book dedicated to? This book is dedicated to my sister Vivian Tracy Walsh. You see things to me that only a big sister can in there since their very first breath you've been my rock ever since. And everybody's like why didn't you dedicate this book to your kids? Why didn't you dedicate this book to your spouse? Guess what? In the literal darkest hour of my life that is who was there for me.
Dr. Deena:
What a blessing.
Nat:
And thank God for my sister, who has had so much therapy in our lives. She was therapizing me and I didn't even know.
Dr. Deena:
People who have postpartum anxiety or depression often have a lot of residual guilt. You cannot be held responsible for that. It's not your fault. You were not well. It took me a while to talk about it. I was not well during that time period of my life. And the fact that I did not know what was going on with me; the fact that I had no clue is not my fault. I could not have possibly known. Which is the same thing as my responsibility as a pediatrician if someone is feeling something or it seems like that, to say let's talk about this. I don't think the responsibility is on the mom or the dad. I see things all day every day. Partners look around. Be a good friend, be a good partner, be a good doctor, and be a good everything. Tell them I support you no matter what.
Nat:
You have to do it. If you had lost a finger you would go to the emergency room. You would have a clear visual issue that something is wrong. But with mental health, whether it is postpartum whether if your kids are 40 it doesn't it really doesn't matter.
Dr. Deena:
Are our kids going to be 40?
Nat:
Our kids are going to be 40. Every day I think about it all the time. I am raising I am raising 40 year olds. And I when I think about that it's because I'm trying to help them make good decisions when they're 20. Not good decisions when they're 40. I'll ever tell people I have kids. It's my sister's children. She's the one. She is she's so great. Although she will tell you that she's not she really is she's so great. But she is somebody also that she doesn't need to see the finger cut off to know to go to the doctor. She's recognized and she was very young when she needed help and when the help was way beyond our circle of friends and our family could get her she was like oh no we need to do this. And it's that is a gift on itself. If you have that realization. Okay we know the signs. We're going to talk to our pediatrician and hopefully our pediatrician will be screening us. I pray to you that you're looking just was the support that's a's possible when you're expecting. You may never need it but if you need it you need to know that it exists. Clearly you know that we are here for you so Twiniversity is here. We have a mentorship program and we have Mentors. And, if you're like I need a mentor that had postpartum anxiety, depression postpartum bipolar disorder I know we can find you a match. The other thing I want to bring up is postpartum OCD.
Dr. Deena:
Yes, it's a thing.
Nat:
How would I know that I have that?
Dr. Deena:
Again with OCD people have disturbing intrusive thoughts about their child.
Nat:
Ok.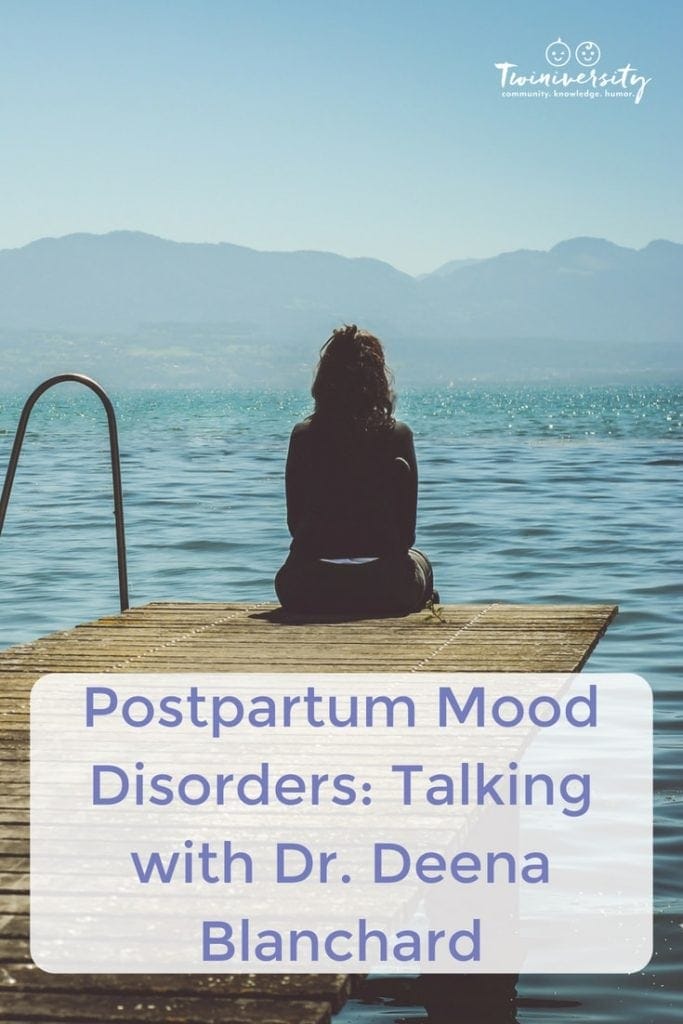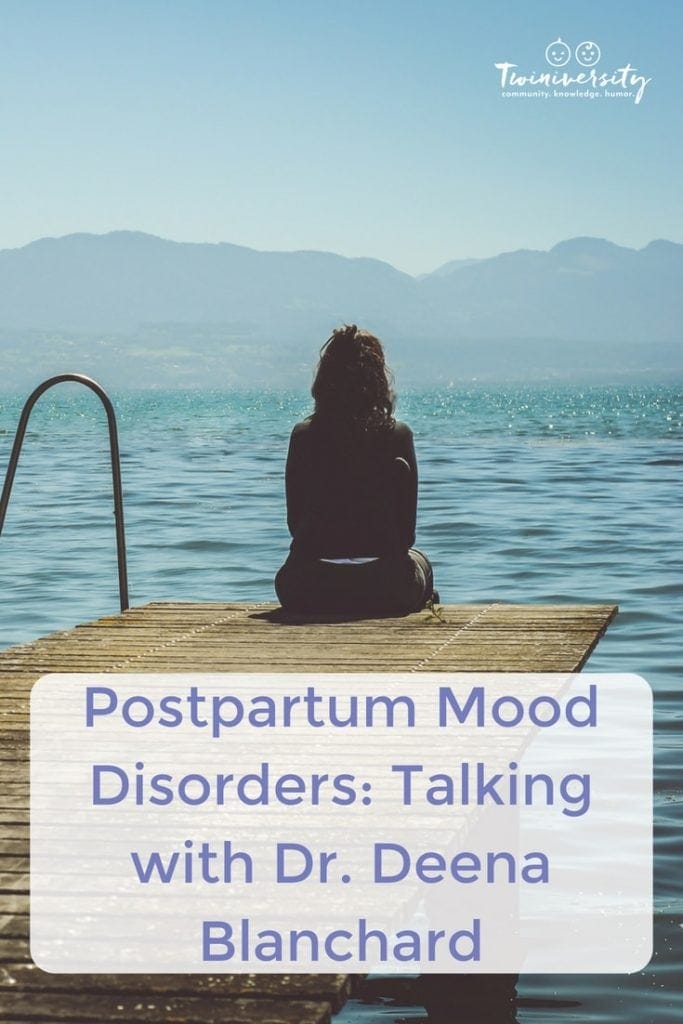 Dr. Deena:
They're really uncomfortable and they don't want to say it out loud. It's not so much of harming the child. You might find yourself obsessively doing the same thing over and over again. Postpartum OCD, postpartum anxiety, postpartum depression, postpartum bipolar.
Nat:
There are a slew of postpartum mood disorders. Well, Jen just said she has room in her posse of mentees. So, Jenna's like four rights now. I don't know what we're gonna do without her. Her baby's just a little but she'll take you. So, if you right now are in the eye of the storm speech your pediatrician. Speak to your obstetrician. Speak to your general practitioner. Speak your sister but do not suffer in silence. Speak to your partner whomever but don't speak to random person like don't be like hey bus driver let me tell you the story because bus driver is not going to know. And a lot of people sometimes will go and they'll be going I'll have a glass of wine. I'll send the bar I'll talk this bartender. That bartender all those super sweet on the ice perhaps may not really be qualified to get you help outside of that glass of pink Rijo. Talk to a real professional. Or Jen is great and you can just email us at community of Twiniversity. It says easy as you can get. You have to email us. You can send us a direct message. You can message us over on Instagram. Honestly, there's so many ways to find us that we made it easy for you. And we made it literally easy for you. We make it easy for the postpartum mom that look that's looking for support. We don't want you to have to go more than two clicks to find us. So when we created Twiniversity that is the truth. You will not have to go more than two clicks to figure out how to get in touch with us. So, is there any final words that you want to know let's say we wanna join our mom's group here. What do we do? So, we linked up the Premier Pediatrics in our little description up top over there around the side of how we were you watching us. So you could click through there. And clearly if you need a pediatrician and you're in the New York City area Dr. Deena she's got room. Like, Jen has room in her mentee posse. So, you need a relationship with your pediatrician. I wish, I wish that I had the balls to do this. I wish that I have a nerve to speak to Dr. Keith and say I'm having a problem. Well, we're gonna shake it up just like we're trying to shake it up. We're bringing you a lot of different options. And it's not just about gear. It's about stuff like this. If you've suffered from any postpartum mood disorder and you want to help somebody else join our mentorship program. Julie we'll put a link to the mentorship program. When you sign up they'll be like a little comment box just say I had postpartum mood disorder and that way we'll be able to know that we could match you up with somebody. That's of course if you feel comfortable telling us. But, we would love if you would because you could really really help the next person. So while I created an entire universe around my postpartum issues you do not have to feel that burden. You could just join our mentorship program. So I thank you very very very much for watching. Dr. Deena as always let's shake hands like they do on like TV. Thank you. Soon I'll be texting you in ten minutes about something. Thanks for watching. For more information go to Twiniversity.com. Stay calm are always email us at community@Twiniversity.com. See you later alligators.
---
Related Articles
---
Parent-to-Parent Mentorship Program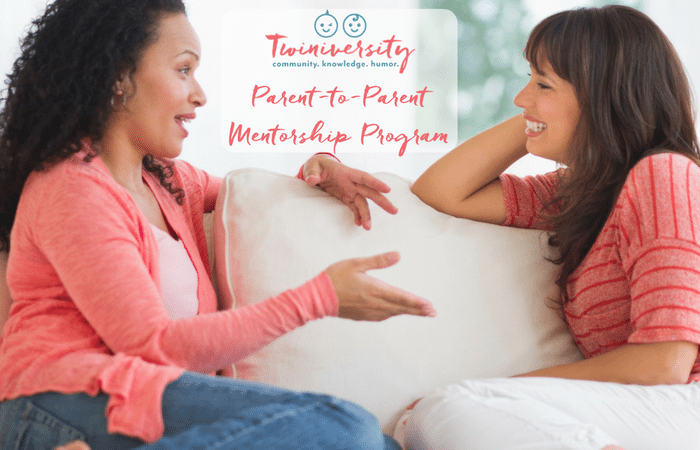 Are you looking to connect with an experienced parent of multiples who has been in your shoes? Do you want to feel supported, guided, and heard as a new parent of multiples*?
Or, do you love offering advice and tips to new parents of multiples*? Would you love to support, guide and listen to a soon-to-be or new parent the way you wish someone was there for you?
If you said, "YES!" to any of those questions, then the Twiniversity Parent-to-Parent Mentorship Program is perfect for YOU!
We are looking for parents of multiples from around the globe who want to be matched up with a parent mentor, or who want to BE a parent mentor. We'll be matching up moms with moms and dads with dads from all over the world to get personal support in this crazy life of multiples parenting!! All you have to do is complete a simple application form and we'll do the matchmaking! And the best part? The program is totally FREE! There are no fees to take part in this program.