Last updated on September 3rd, 2023 at 08:49 am
I am used to living in small spaces. My first apartment was a one room studio that was less than 450 square feet, with a kitchen so tiny, I could reach in the refrigerator, while washing a dish and stirring a pot on the oven. I'm also really short, about 5 feet, and consider myself petite. Well, I did anyway, until I had my twinsies. Small cozy spaces are my thing. I even had a bedroom once that was the front porch of a house we lived in. I know how to keep a lot of stuff organized in a tiny space out of sheer necessity. When I see articles on downsizing and people living in those teensy man-made cabins of 100 square feet I think, I could do that!!
When we finally bought our first house, I couldn't imagine what I would do with all the space, as we only had one child at the time. The house was a sprawling 2 bedroom and 1 bathroom, with an attic! And a garage! The grandeur! Then my twins came along.
I measured their room for the sake of researching this article, and the nursery is 10 feet by 11 feet, and contains two cribs, two dressers, a toy box, recliner and hamper among their clothes, diapers and other needed items. So, how did I make a small nursery work for my duo? The keys for me are seeing the hidden potential in what you have and can use, organization, and willingness to change my approach if the first attempt wasn't working. Here are some things I did in their room to accommodate all of their marvelous stuff:
Back of the Door Storage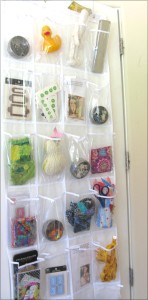 Every bedroom has a door and I don't think I've ever even closed the twins bedroom door. It is always open for 24 hour service! Behind the door, I have an over the door fabric storage holder that has five pockets. This is their bath and linen station where I keep washcloths, bath towels, and cloth diapers. You can keep burp cloths there also and bibs depending on your needs. These supplies are easy to grab and you won't see them if the pockets get messy. The last thing we have time for is folding bibs!
Under the Cribs
My twins have two cribs — they can't sleep together because my son is a nocturnal beast who climbs all over my daughter. If he is awake and she isn't, rest assured, she will soon be awake. When I chose their cribs, we selected a streamlined rectangular shape that would fit flush against the wall, to utilize the most floor space. Sorry, beautiful mahogany sleigh bed-style cribs…..maybe I will buy you for my grandchildren one day. Under one crib, I store their diapers. When taken out of the box, but kept in their plastic sleeves, I can slide two economy–sized boxes worth of diapers under one crib, (that's 324 diapers for those of you who are counting!).
Under the other crib, I keep all of my paper towels torn and cut to size for my homemade baby wipes and store them in Ziploc bags in a re-purposed, cut-to-size diaper box. There is also my older son's magic kit under there. It really is a good spot for hidden storage!
Diaper Boxes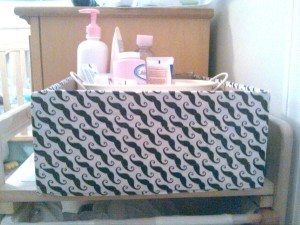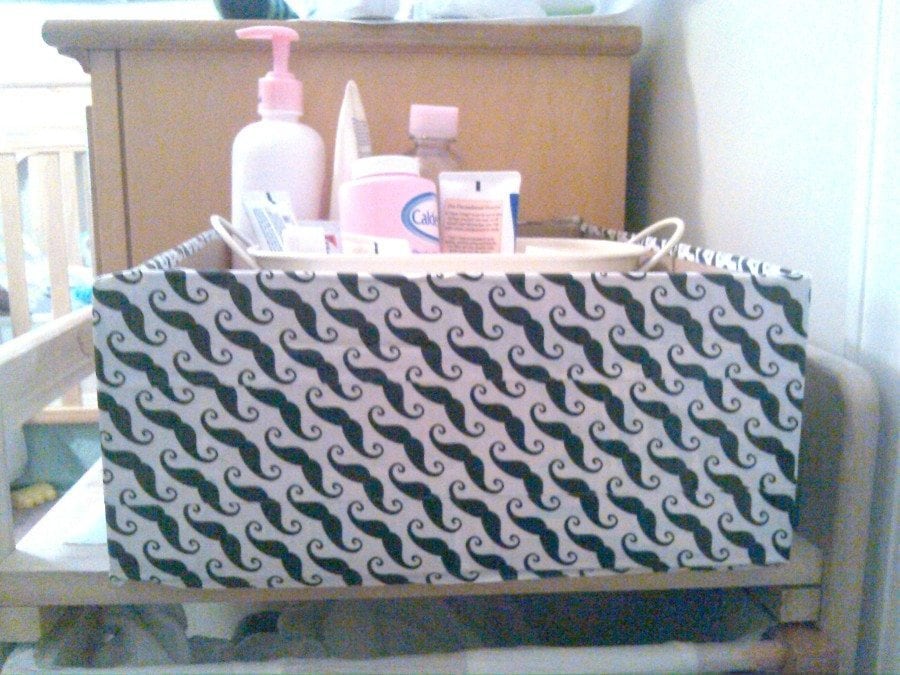 If you are using mostly disposable diapers like I do, there is no shortage of the giant diaper boxes. They are really sturdy so I did some research on how to best use them. I cut them to less than the height of the bottom portion of the crib and then store supplies inside. It is easy to cut with a scissor and slide in and out for storage, you can even staple a few together to make sections. I tried to buy the plastic under the bed storage bins, but they were too expensive and most of them were too tall to fit underneath the cribs. These work great and are free!
Now, if you want to get fancy when you have about 10 minutes to yourself (Hey! It can happen!), you can dress up your new diaper box storage bin by covering it in fabric or scrapbook paper. I took the super shortcut and purchased the patterned duct tape and covered the box. My pattern is tiny mustaches! Have fun with it — there are a huge variety of colors and patterns to choose from that will match your nursery theme. Plus, the cut box is portable so you can easily fill it and put it in the car for trips.
Diaper Stackers
These handy fabric bags are not just for diapers. Yes, I do keep diapers in there, but you can also stash non-heavy items like stuffed animals, folded clothes or just about anything.
Toy Box
My mom, who is the queen of garage sale finds, was able to buy a great plastic toy chest for $5. It has a separate lid that is loose and very light, so it is safe for the twins to lift and we store toys and puzzles in there. The top doubles as seating as it is just their size. When using a toy box, please inspect it before use to make sure the lid is not too heavy, so children cannot get their hands caught or squashed by it and most importantly, remove any locks or hinges so no one can crawl inside and be trapped. I've found that the safest kind are the plastic ones with the separate lid, even though they are not as attractive as their vintage wooden cousins.
Double Closet Rod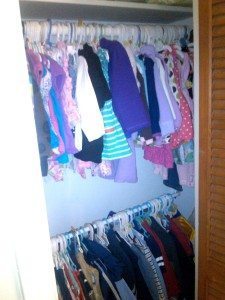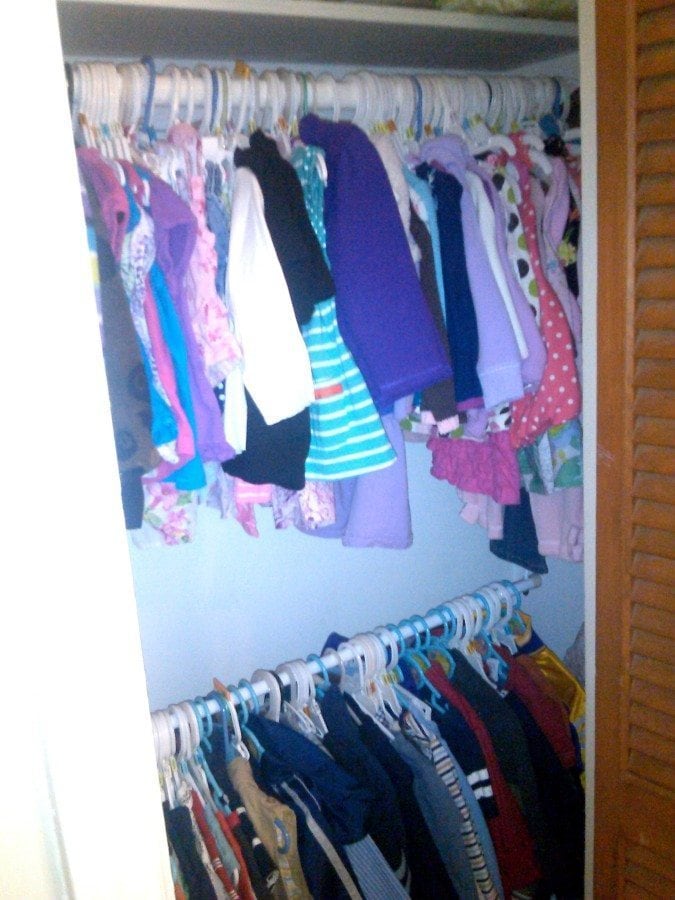 My secret weapon of clothing storage for the twins is the double closet rod. They only have one standard size closet, as my house, built in 1940, came with some seriously teeny closets. Each twin has their own rod and I try to group the clothes by type; short sleeved shirts, jackets, etc. I only put onesies and pants or shorts in their dresser drawers and hang everything else. This keeps your drawers from overflowing and clothes that are hung take less space than those that are folded. I also hang outfit pieces together always so they stay together.
Storage Ottomans
We have two leather storage ottoman cubes with removable tops that work well because of the extra seating. They are wonderful for a quick clean up because everything is out of sight. They also fold up, so they can be stashed when not in use. The best part about these is the day my twins figured out how to open the lids, dive in for the toys, and toss them overhead with reckless abandon. Hilarity!
Above-the-Door Shelves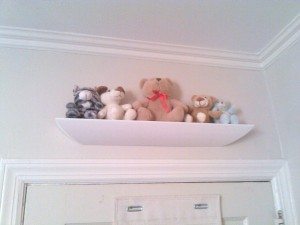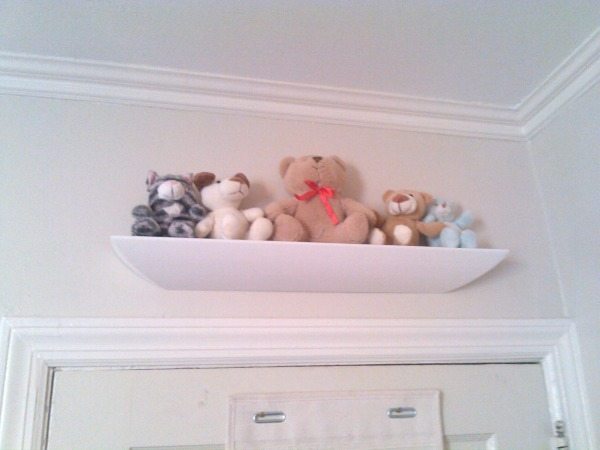 The small picture ledge-sized shelves are great for stashing tiny stuffed animals, photos or knick-knacks. This is a good solution so you don't overcrowd the tops of your dressers with every keepsake. Just no heavy objects, for one slam of the door and you'll be wearing whatever is stashed up there!
Take heart that there are so many positive things about having a small nursery. You may have to re-arrange things until they work best, but it can be done. Your twins will be close — literally, close — to each other, and that bond is very special. It is difficult to misplace things when you can turn around and almost touch both walls. Most importantly, the less space you have, the less space you have to clean! Happy organizing!!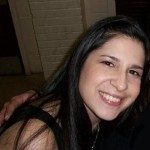 Daniele Parris is a work from home mom to an upbeat seven year old boy and one year old boy-girl twins. She lives in the suburbs of New York City and has degrees in Fine Arts and Philosophy from New York University. She makes her living in the Healthcare industry and spends most of her time with her boisterous Italian family, trying to get a word in edgewise. Her hobbies include cooking and baking, an unholy knowledge of 80's hair-metal bands and trying, albeit almost always in vain, to guess the monetary value of the items on Antiques Roadshow. In addition to her full time job, she has an online shop Little Bambinos that specializes in fun clothing for twins and multiples.