Last updated on September 28th, 2021 at 01:55 pm
Hurricane Irma. Those are two words we will not forget anytime soon. As we drove back to our home in South Florida from our Labor Day Weekend getaway to Legoland Florida, we became increasingly worried that this hurricane in the Atlantic Ocean was headed toward us. This was not a drill. This was a reality. As non-native South Floridians, we were faced with many challenges, the first being, "Should we stay or should we go?"
The next couple of days were filled with watching the news, talking to friends, and weighing our options. If you are not familiar with the geography of Florida, it can be summed up this way – there are lots of people who live here and only a few ways out. Flights were full or getting canceled. News reports of gas shortages along the highways and massive amounts of traffic made road travel seem impossible or extremely risky – especially when your cargo included five-year-old twins and a six-month-old Goldendoodle. Therefore, the decision was made to stay. A number of our neighbors made the same decision and together we started to prepare. In addition to preparing your house for a hurricane, it is also important to prepare your children.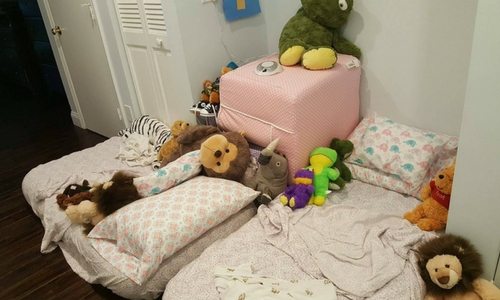 Here are a few things we did with our twin girls in preparation for the unknown:
Give them helper tasks – For example, gathering the flashlights, organizing the non-perishable food, and putting blankets and pillows in the "tornado closet". Kids like to be helpers and it will give them a sense of being part of the preparation process, making it less scary.
Create a special sleep space for them – Set up air mattresses in your master bedroom. Our girls only get to sleep in our room when they are sick, so setting up air mattresses with their favorite stuffed animals was like a party for them instead of storm preparation.

Reinforce what your kids learn about storms at school – Show them the clean closet and discuss the tornado drills in which they participate in school (with hurricanes come tornadoes). Practicing the drill and letting them put special things in the closet will make the closet feel safe to them.

Read a children's book at bedtime for a few days about storms (we love

Stormy Night by Salina Yoon

.) Books help children relate to what is happening around them.
We tried our best not to discuss our concerns about the storm in front of the twins. Instead, we used the days leading up to the storm as team building exercises. Our family is a team and mommy and daddy are the captains. With school canceled, it was important to keep our twins active and engaged. Their reward for good listening was watching a movie and eating popcorn.
Additionally, during this time, we saw the girls' bond strengthen. For example, each was genuinely concerned about how the other twin was feeling as we prepared. As a parent, it meant a lot to me to know that in the midst of the typical five-year-old bickering moments, the girls really do care about one another.
When we went to bed Saturday, September 9, 2017, we did not know what we would wake up to the next day. Thankfully, as the sun came up, we found our house had stayed intact, and the damage sustained was limited to fallen trees and torn up landscaping. Then, at 10:35 am, the power went out, and it stayed out for the next 55 hours. Being prepared helped us survive those 55 hours with five-year-old twins.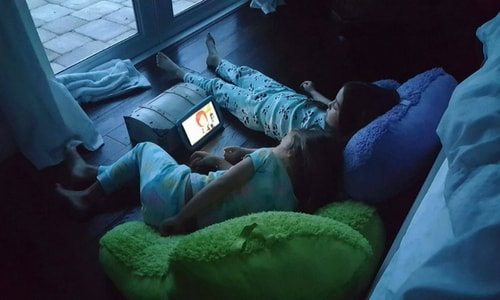 Here are some tips for dealing with twins when the power is out:
Snacks. Snacks. Snacks. Have all of their favorite ones on deck! This includes juice boxes, which I rarely give to my twins. Because they do not get them often, it is a special treat that may make them feel better during an otherwise abnormal time (and they do not need to be refrigerated!)

Try to get them to play with toys, games, and each other in the beginning. Save the tablets and electronics, so that you do not use that battery power right away. You do not know when the power will come back on, and children may become more cranky after the house gets hot.

Download movies and shows to the tablets prior to losing power. You most likely will not have internet or WIFI even when the power comes back on. It took an extra two days for us to get internet services back. We had tablet time at night when it was dark in the house and the girls were not ready to go to sleep. Charging backup

electronic power banks

ahead of time will help you recharge your devices when the power is out.

As soon as it is safe to be outside, go out in the fresh air. Take a walk. Soak in the sunshine. Nighttime is the hardest time when the power is out because the house is blackout dark, especially if you have shutters over the windows. Sunshine equals sanity.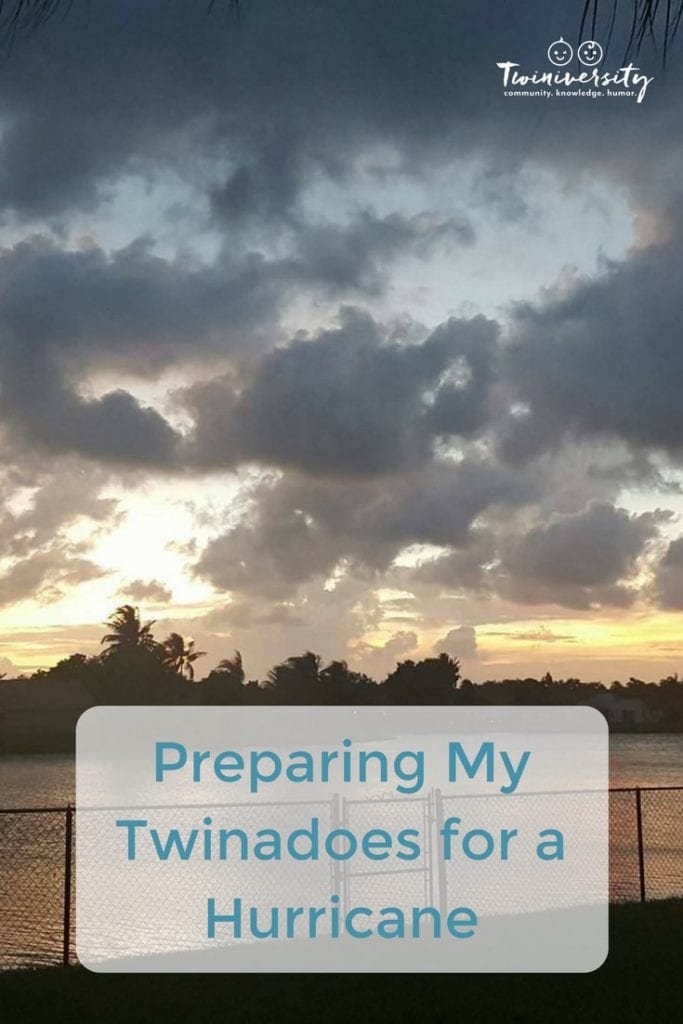 We are very grateful that Hurricane Irma did not bring the amount of damage to our area that everyone was predicting. Although we made the decision to stay, it was not an easy one, but we told ourselves that once you make the decision you cannot second guess yourself. I do not know if we would make the same decision next time. Only time will tell.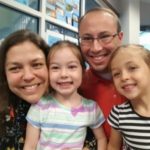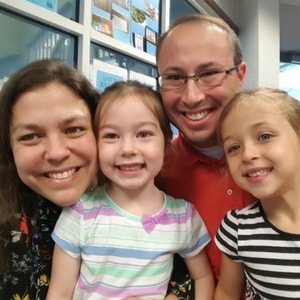 Amanda Foster is the mom to 5-year-old fraternal twin girls. After practicing law in New Jersey for many years, she and her husband moved to South Florida in 2010, so that she could transition from full-time attorney and adjunct law professor to full-time law professor at a law school in sunny Fort Lauderdale. Now she spends her time juggling her law students, twins, husband of 12 years, and Goldendoodle puppy while stealing moments away at the beach to recharge. She calls it sun therapy!
---
Related Articles
16 Items You Need In an Emergency Preparedness Kit, But May Not Have
10 Things Your Children Should Memorize In Case of an Emergency