A MoM recently asked:
When did other moms come to an end with breastfeeding your twins? Did you grieve this change?
Here's what our Twiniversity fans had to say:
– I weaned my twins at two years old. I didn't initially plan to nurse that long but they were very comforted by nursing, so it was hard to transition. It was a bit emotional though.
– I never produced enough to exclusively breastfeed both so I pumped what I could and supplemented with formula until 6 weeks. At that point my husband went back to work and I found it harder to get the time to pump caring for them alone. So now we are solely relying on formula.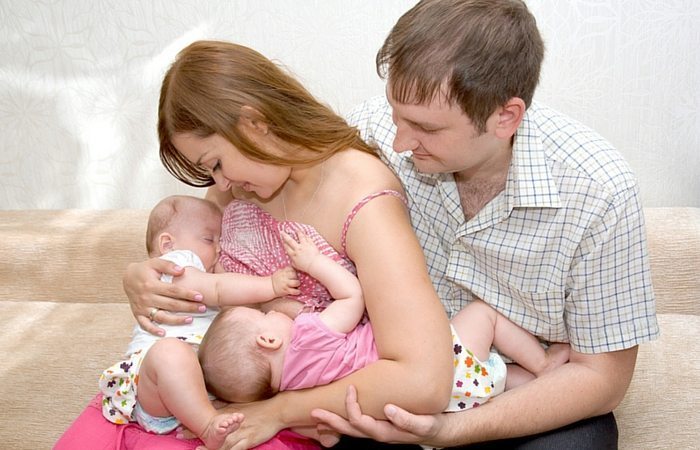 – I pumped and was able to make it to 5 months, then had enough in my freezer stash for the girls to have breast milk for another month. I didn't grieve at all but I felt guilty for not being able to go longer. I actually rejoiced when I didn't have to use that pump anymore!
– I made it to a year with breastfeeding and pumping. I wanted to smash my breast pump when I was done! My twins are now 3 and I still miss breastfeeding them. One of my favorite parts of having a little one!
– I gave birth to my twins at 30 weeks. My milk never fully came in. I managed to last 12 weeks breastfeeding. 5 weeks of those was exclusively pumping and them being fed through a tube. At the 12 week mark my milk reduced and I was exhausted with having a 5 year old and 3 year old to look after as well. I felt guilty but it was a choice I had to make due to being so tired.
– I stopped at 7 months. It didn't matter how long it was for me, the mommy guilt that went along with stopping was real. It was the best decision for us at the time. A fed baby is a happy baby.
– I lasted 10 weeks. I wish I could have gone the year. I never produced enough and I became angry. I knew it was time to let it go. I still feel bad about it but it was the best decision for my mental health and their growth. The moment I gave up the pump a huge black cloud left my world.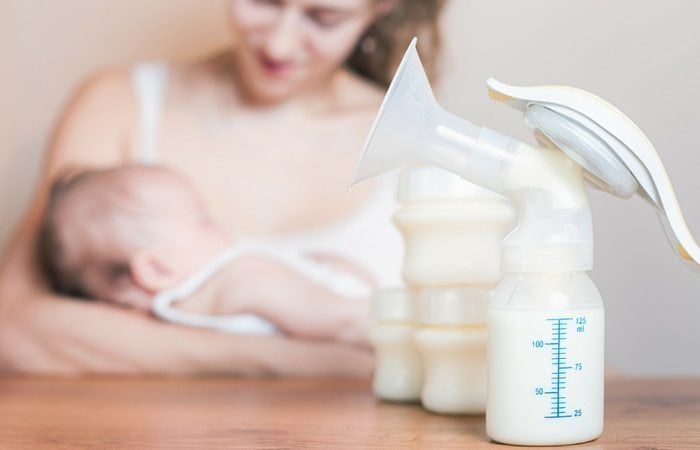 – We made it to 5 months when I started to realize I was not producing enough. One baby would nurse great, and our other would not. I would nurse one baby while I fed the other a bottle at the same time, and then right after that I would go and pump for our baby that wouldn't nurse! I went a day without nursing or pumping and had very little discomfort and that's when I knew I was hardly producing any milk. I was sad at first, but was happy to see they made it to 5 months with breastmilk (and formula). A month later we started baby food. The fun and excitement of that distracted me from the guilt of not being able to produce for them anymore! I was happy that I was able to try and that gave them the best I could for 5 months. The stress that went away after we stopped, and the time I gained with our babies, enjoying their laughter and playtime together made me much happier!
– I have just recently weaned my twins from breastfeeding after 9 months. For me it has been bittersweet. I am extremely happy to have a back the time I have as attached to my pump but I also miss that special time I had with my girls. So now our special time has turned into more play time. I am lucky enough to have been able to stock pile pumped milk to feed the girls in hopes that we can make to our one year birthday without having to buy formula.
– 6 weeks. Felt bad for a while but realized sanity is much more important when you have twins and a 2 year old! Too many people past judgement. Do what is best for you.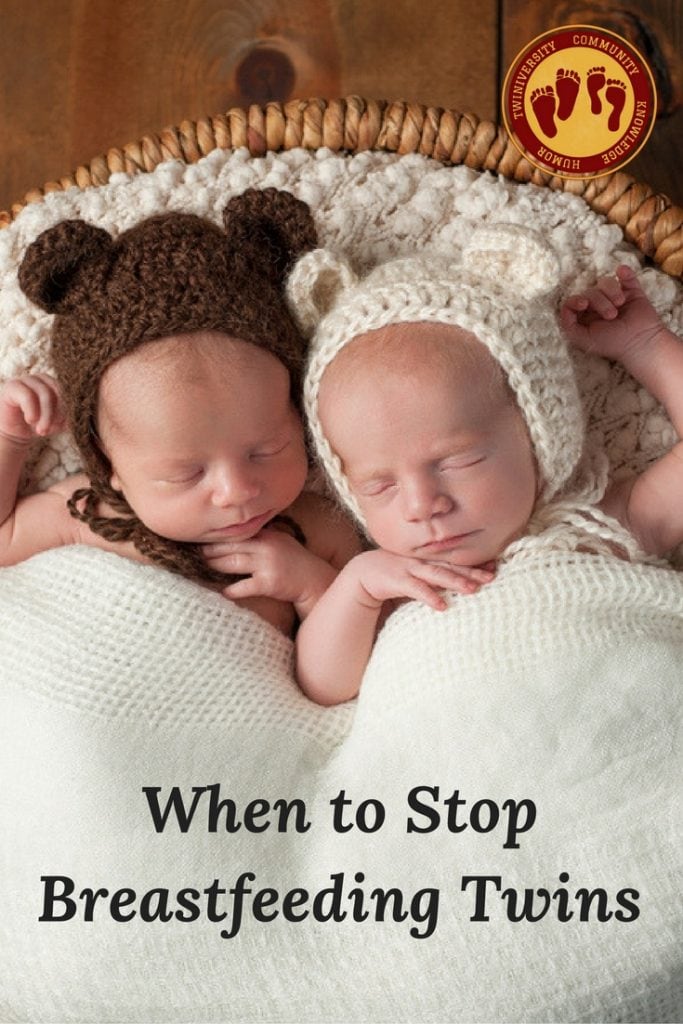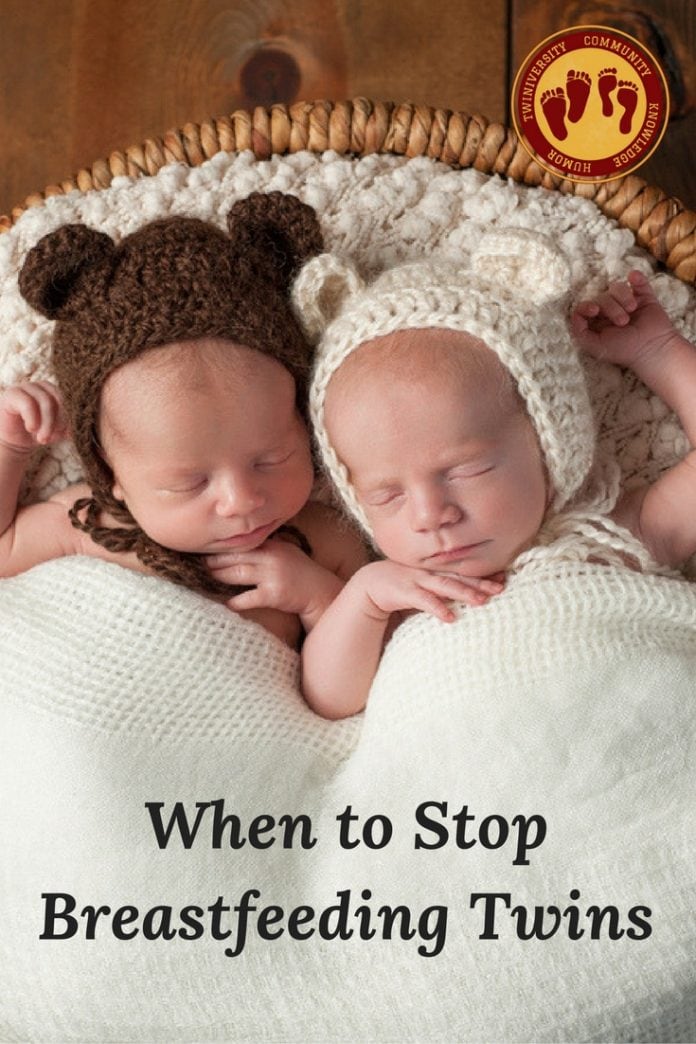 – Still going at almost 13 months! Just first thing in the morning and at bed time. I'm getting ready for them to be done because I sit on the floor and still tandem nurse them. They are so big, it's pretty uncomfortable for me! It makes them happy and settles them before bed so I will probably go a few more weeks.
– Mine are 18 months old and I'm having the hardest time weaning because they refuse! They still nurse at night and several times during the day. I'm going to be sad when it's over because of the special bonding time, but I am more than ready to stop soon.
– Around 6 months it started to taper off. My boys are 8 months old now and refuse to go close to my breast. It makes me a bit sad, but with 4 kids it was difficult. Sharing feedings with my husband is better.
---
Related Articles
---
The rate of twin births has risen 79 percent over the last three decades, and continues to increase. A mom of fraternal twins and a national guru on having two, Natalie Diaz launched Twiniversity, a supportive website with advice from the twin-trenches.
What to Do When You're Having Two is the definitive how-to guide to parenting twins, covering how to make a Birth Plan checklist, sticking to one sleep schedule, managing double-duty breastfeeding, stocking up on all the necessary gear, building one-on-one relationships with each child, and more.
Accessible and informative, What to Do When You're Having Two is the must-have manual for all parents of twins.
---
Whether you're a twin parent in the big city surrounded by scores of resources, or a triplet parent out in the country with no one around for miles — our multiples parenting forums are for YOU! Sign up for FREE and connect with people who are just like you — parents of multiples looking for advice, parenting tips, or even just people to chat with who will understand what you're going through. Our forums are open to people all over the world and we offer scads of specialty rooms to find others who are going through the exact same thing as you. Check it out today!
---
Twiniversity is the #1 source for parents of multiples and we are growing faster every day!
Find us all over the web:
Or contact us by email at community@twiniversity.com