Last updated on September 29th, 2023 at 12:41 pm
It is hard to believe that summer is just around the corner when most of the country is still dealing with cold temperatures and snowy conditions. Perhaps thinking about summer camp prep will warm some of you up!
Summer camp is a time for our twins to socialize and build great friendships. Finding the right summer camp can be tricky. Here are some things to think about when trying to find the right summer camp:
Is it close to your home or work, so that drop off/pick up is easy? No one wants to be stressed about pick up and drop off, so proximity really does matter. Or do they offer bus service?

Will there be other kids from their school at this camp? I like to send my twins to camp with kids from school because those camp friendships have been able to continue through the school year. Some of my twins' closest friends are friends they made in summer camp.

What activities are offered? Do your twins like to swim, go to the movies, explore new places? Going to a summer camp that does not just stay on one campus allows my twins to become more independent as they navigate through the world around them.
I approach summer camp prep like I approach getting ready for the start of a new school year – lists, lists, and more lists. What activities will they be doing, what supplies do they need, and how can I keep this twinsanity life as organized as possible? Those questions are my guideposts for prep.
The first thing on my list every Spring as I start my summer camp prep is making sure to order a new set of labels. Most summer camps require that everything is labeled. I really love the Name Bubbles small round clothing labels and the small rectangle labels. Between washing clothes, swimming in pools and cleaning cups and containers in the dishwasher, these labels can withstand the constant exposure to water, so you won't need to constantly replace them.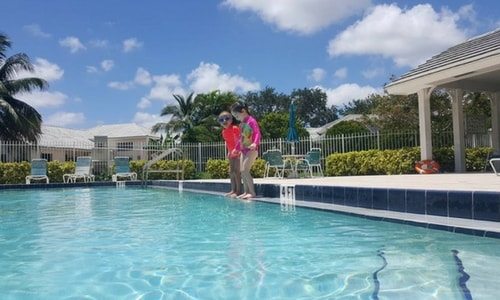 Next, swimming is a weekly activity at our summer camp, so I know I will need:
swimsuits (3 pairs per child)

towels (2 per child)
sunscreen (an extra tube to keep in each kid's backpack)
earplugs for my child who has ear tubes, and

coverups
I like for my twins to wear long sleeve rash guard tops for added sun protection. Hooded beach towels are handy for easy drying off. Adding a personalized name can also help your child find it amid a chaotic after-swim setting. Have a stash of plastic shopping bags handy to put one in each child's backpack on swim days to bring back all their wet items. Find out if your camp requires a doctor's note to add extra sunscreen to your child's body – yes, I am serious, this has become a thing due to allergic reactions. Remember to label your child's sunscreen. Our twins both have sensitive skin, so finding the right product has been tricky. We are fans of Neutrogena Pure & Free Baby Sunscreen for the face and Neutrogena Wet Skin Kids Sunscreen Spray for the body.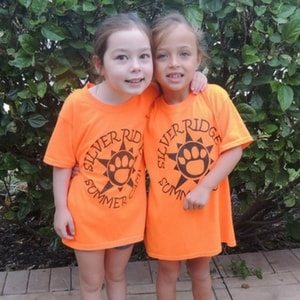 Take the time now to create a system for how you plan to deal with unloading the backpacks and handling the dirty clothes, muddy shoes, and wet bathing suits and towels. Our laundry room is right next to the entrance to our house from the garage, so each day the twins go in the laundry room and empty their backpacks full of wet clothes and take off their dirty clothes and sneakers. We have a bigger kitchen-size garbage can in the laundry room, which has also been helpful. Empty backpacks get put on the foyer bench to be filled for the next day's activities.
At the beginning of the summer, stock up on snacks and juice boxes from your favorite big box store. We send three snacks a day plus two drinks, plus lunch, so it makes life easier if you have all the non-perishable items bought ahead of time. Reuse the same backpack, lunch containers, and thermos drink bottles from the school year. Most likely, those items are already labeled, so this will save you money and time.
Another stop I make in the Spring is to my local Walmart, so that I can buy my twins inexpensive, but cute, shorts, t-shirts, tank tops. Anticipate that your kids are going to get dirty at summer camp. You do not want to waste your time worrying about stains and destruction of clothes. Again, my prep has an eye toward minimizing stressors. Take "worrying about clothes" out of the equation. And, if there is an option to buy a camp t-shirt, buy two for each child. Our twins wear a camp t-shirt when they go off-campus for field trips. It is always helpful to have extras.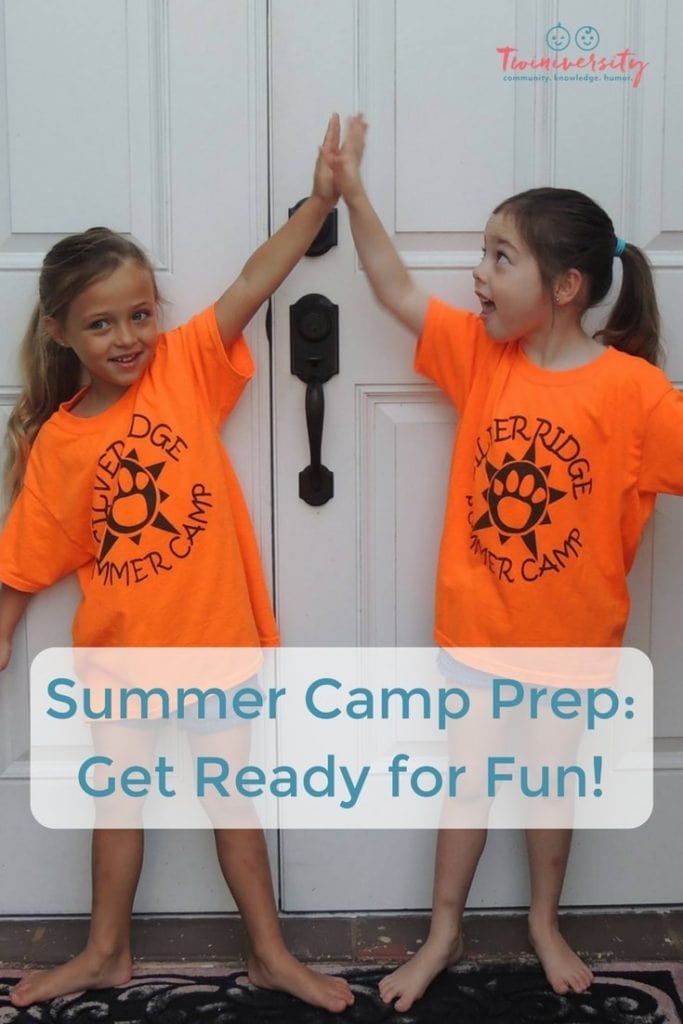 Keep an envelope of small bills on hand for the "extras" that the kids can get at camp. For example, each week, our twins go to the movies with the camp group. The extra at the movies is a "snack pack" that costs a few dollars. All the parents get the snack pack for their kids, so having cash on hand makes handling this task simpler.
In the end, I want my twins' summer camp experience to be an adventure. Doing as much prep as I can ahead of time helps me to minimize the meltdowns (whether it is theirs or mine) and focus on the fun!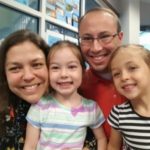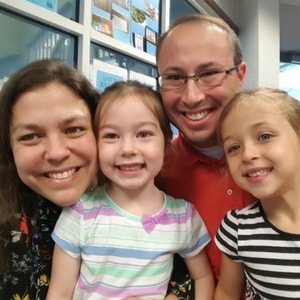 Amanda Foster is the mom to 5-year-old fraternal twin girls. After practicing law in New Jersey for many years, she and her husband moved to South Florida in 2010, so that she could transition from full-time attorney and adjunct law professor to full-time law professor at a law school in sunny Fort Lauderdale. Now she spends her time juggling her law students, twins, husband of 12 years, and Goldendoodle puppy while stealing moments away at the beach to recharge. She calls it sun therapy!
---
Related Articles