For some parents, going back to school means more running around and trying to stay organized. When you have multiples that might mean multiple permission slips to be signed, multiple homework assignments, and multiple after school activities to run to. Here are Twiniveristy's must have supplies to stay organized when the kids go back to school.
Amy Knapp Big Grid Wall Calendar – What day is dance class? Who has a soccer practice on Thursday? This large wall calendar is a must have so you won't freak out at the last minute remembering where and when you have to be every day. The boxes are so big you can make sure to list everything that is going on. There are also handy stickers that you can use for things like dentist appointments, concerts and even date night. This will soon become your go-to calendar every year.

Hanging Wall Organizer – Permission slips, PTA fundraiser flyers, birthday party invitations, coupons and mail. No matter what you want to use this wall organizer for this is the perfect addition to help organize the piles of paper that seem to gather up everywhere. You won't regret having this to help you stay neat and organized.

Command 3M Hooks – Known for it's quality these 3M Command hooks will do you no wrong. Whether it is coats, backpacks, or winter hats, these handy hooks come in a variety of sizes. With it's double sided adhesive strips you won't damage your walls.

Magnetic Responsibility Chart – This magnetic responsibility chart is a great tool to help keep your family organized. The entire back is one big magnet so you can put it on your fridge and not worry about it moving around. With it's dry erase surface you can easily change who's responsibility it is this week to feed the dog!

Electric Pencil Sharpener – Are you getting tired of sharpening all those pencils by hand? When you have multiples the amount of sharpened pencils needed obviously multiplies. This handy electric pencil sharpener will be your new best friend when homework time comes around.

Dry Erase and cork board combo – Whether you need to jot a quick list down or want to have that field trip reminder at eye level so you don't forget about it, this board is perfect for you. Having both a cork board and dry erase board will save space and possibly your sanity!

Turn a shower caddy into a homework supply caddy to hold crayons, pencils, markers, glue sticks, post-its or scissors. Just fill it up and pull it out when it's homework time. No more searching for a purple crayon or glue stick.

Stair step basket -If you have more than one floor in your home, you know how things gather at the bottom of the stairs. This handy stair step basket will help you eliminate that clutter. Not only is it dangerous to have that clutter at the bottom of the stairs, it is also unsightly. Once it gets filled you can easily carry everything upstairs and put it all away!

Now you have all of the supplies to stay organized once the kids go back to school. Try to embrace this time and enjoy some peace and quiet!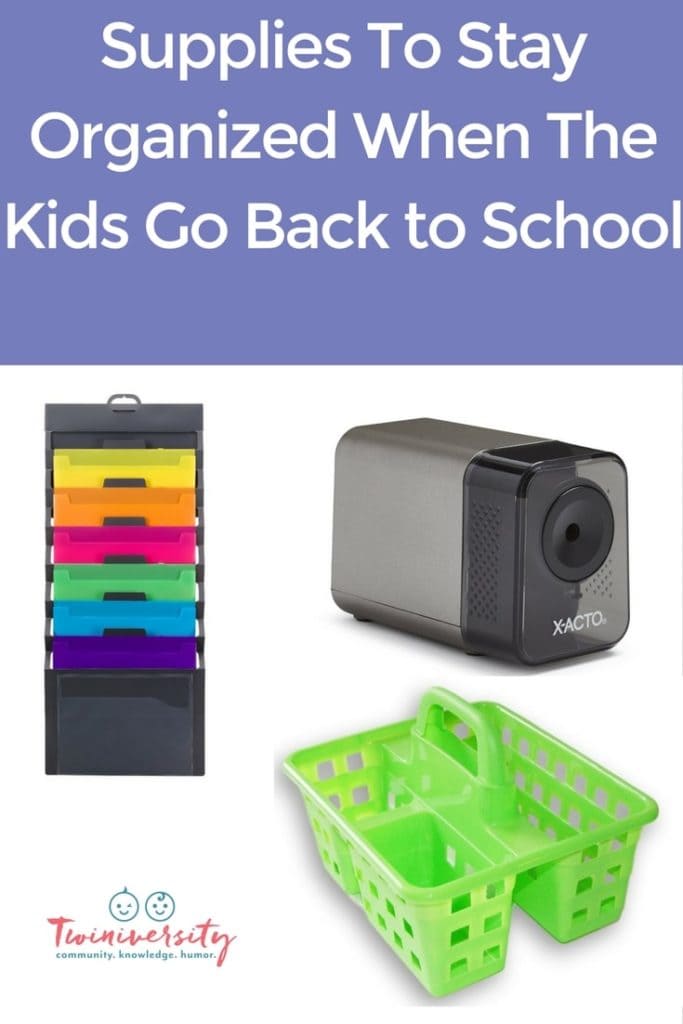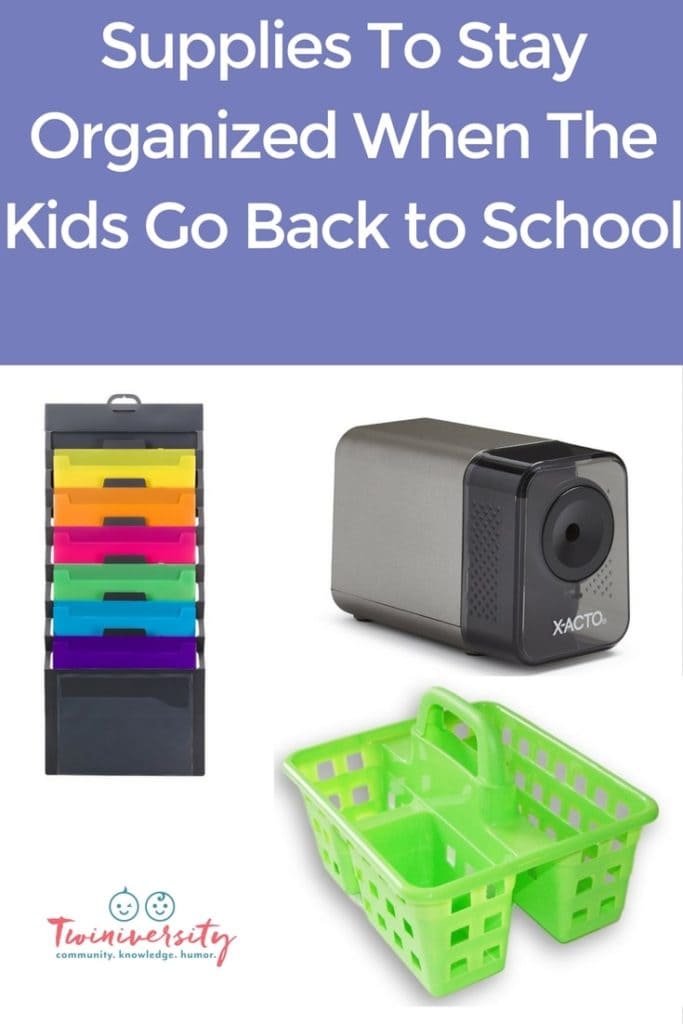 ---
Related Articles
Twiniversity's Favorite Backpacks
8 Tips to Create A Perfect Playroom For Twins