Last updated on September 3rd, 2023 at 09:09 am
When my twins arrived the first few months were a blur, as most moms of multiples will tell you. Slowly, as their hit their milestones, and I re-gained some much needed sleep, I started counting down the days. To their birthday, you ask? No. To their first word? First steps? Last diaper change? No, no, no. I started counting down the days until they could eat food.
Yes, food. Glorious, delectable food! I am a not-so secret foodie. Part of it I chalk up to my Italian blood, part to the mighty twenty-four hour power of the Food Network and part to the countless websites devoted to recipes. I could not wait to cook for my twins and spoil them with homemade goodies, the way I did with my singleton, and pretty much everyone in my life. Would they be good eaters, I wondered? Which lucky food would be first? Finally, the day arrived!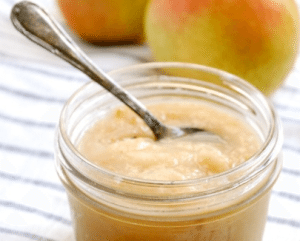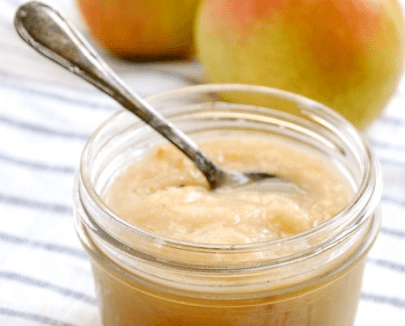 I started slowly, with applesauce and sweet potatoes, and then got into the groove of making big batches of purees, realizing that these two were about to eat us out of house and home. Success! I had two enthusiastic eaters, although my daughter is a little picky and my son will eat anything. As they tried each new food, I realized that some of the gadgets and appliances that I had rarely used were coming in really handy. We didn't have it in our budget to buy a fancy baby bullet, and I already had a top of the line food processor. However, lugging it out each time to puree, given the noise it made and the clean-up (we don't have a dishwasher, sigh) was sometimes more trouble than it was worth. So, I focused on using other tools to figure out some shortcuts and make the most amount of food in about an hour. Time is a precious commodity around here, so I organized myself to be able to make all of their food for the week in about an hour or less.
Here are some tips on how to make meals for your tiny two (or three, or more!) using some of the unsung hero appliances in your kitchen.
Make a plan
I make a detailed list before shopping and stick to it, buying what is on sale in bulk. This helps me to alternate the twins menu and save money. I keep a master list of all of the fruits and veggies they are eating and add to it as they try new things. The first place that I go to in the grocery store is the "last call" rack in the produce section. You can get a large quantity of fruit or vegetables, that may be a little bruised, but if you plan to cook them up that day or next, is worth the bargain. If a new food for them is coming up and on sale, buy a small portion for them to try. One of my twins was sensitive to berries, so I am glad I didn't buy a huge batch at first. Once I have purchased all the fruits and vegetables, I wash, peel and chop everything at the same time, then get to the cooking.
Be prepared for a fickle baby
My son will eat anything, even things that are sour or bitter, like broccoli rabe, he will savor. He also is immune to texture, just shoving everything into his mouth with reckless abandon. My daughter however, is more particular. She prefers her food warm. If it is cold or room temperature, she will sometimes refuse it. Keep in mind that some babies need to be offered a food multiple times and they will eventually warm up to it. Others will never go for it, no matter how much you try. So far, I haven't had to make multiple versions of meals, but I won't be surprised if one day I have to do that.
Look around your kitchen and use what you have. There is no need to buy fancy Tupperware containers to store your baby food. Regular dollar store ice cube trays did the trick for me. Also, because I am an avid baker, I used my silicone cupcake pan. After your purees are frozen, they pop out easily and I then stored them in freezer -safe ziploc bags labeled with the type of food and date.
Mix it up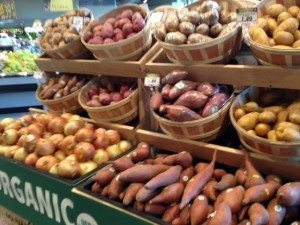 If your twins like apples and pears, combine the two. I would add a little sweet potato to green veggies to make it more palatable. Also, I found the best green vegetable to sneak in is zucchini. Once pureed the taste is very mild, so pairing it with carrots, or white potatoes was a winner.
Don't be so hard on yourself. I found out that putting sweet potatoes and white potatoes together in a food processor equals instant wallpaper paste. Allow yourself to make mistakes, most things will turn out great. Some things, not so much.
Some unexpected tools really saved me time, and using them kept my prep time and cook time under an hour:
Microwave steamer – I asked my sister for this for a Christmas present and I use most often. It is a double

stacker

version, so I just wash, then roughly chop up veggies or fruits, and steam away in the microwave. Butternut squash, zucchini, peas, even fresh peaches or apples with their skins removed. This saves time because you don't have to monitor a steamer on the

stovetop

. Some of the less popular fruits like peaches, plums or nectarines can be used efficiently this way, because they yield little fruit after steaming. I would take the steamed peaches, for example, and use that to sweeten their cereal or add to applesauce to change up the flavor.
Immersion blender – This gadget is so much easier to use than a standard blender. After food is cooked, or if it is already semi-soft, you can just blend away. One of my favorite ways to use it was with bananas and whatever fruit juice

leftover

from steaming. Bananas with apple or pear juice blended in, is great to mix into yogurt or cottage cheese for extra flavor. I never bought the fancy baby yogurts because they were too small and too expensive. Instead, I'd buy a large container of plain

greek

yogurt and add mashed fruit to it. It tastes great has less chemicals and coloring that sometimes can be found in yogurt with fruit.
Potato ricer – This gadget is great for a smooth potato mash! In a pinch for a quick snack or dinner, I'd microwave a white or sweet potato. Once cooked, cut in half and skin and all, push through the potato ricer. It gives the potato a great creamy texture, separates all the skin so you are getting almost all of the flesh of the potato, and

it

easy to clean.
Slow cooker – I love my

crockpot

and use it about 2-3 times per week. It is great to start making simple soups and stews for babies. I start with chicken stock and add veggies, beans, rice, chicken,

pastina

or couscous. After cooking all day, it is usually soft enough for baby. If not, a few quick pulses with the immersion blender can break up any larger pieces to make it safer to eat. Once they graduate to more finger foods, they can share in family cooked meals from the

crockpot

. Last night I made my six year old's favorite, macaroni and cheese, in the

crockpot

and the twins loved it.
Most of all, have fun with it. Create different combinations. Revel in your accomplishments watching them enjoy the food you have made. All too soon, they will be asking you for a dinner of sour patch kids and chicken nuggets (a request from my six year old, which I said no to). Happy cooking!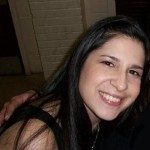 Daniele Parris is a work from home mom to an upbeat seven year old boy and one year old boy-girl twins. She lives in the suburbs of New York City and has degrees in Fine Arts and Philosophy from New York University. She makes her living in the Healthcare industry and spends most of her time with her boisterous Italian family, trying to get a word in edgewise. Her hobbies include cooking and baking, an unholy knowledge of 80's hair-metal bands and trying, albeit almost always in vain, to guess the monetary value of the items on Antiques Roadshow. In addition to her full time job, she has an online shop Little Bambinos that specializes in fun clothing for twins and multiples. Read more articles on Twiniversity by Daniele.
---
Related

baby food making articles