When I was pregnant with my first child, I planned to return to work early from maternity leave to help out with our finances. Then, I gave birth to my son and I couldn't imagine leaving him early. I wanted to be there for every smile, giggle, and milestone. I went back to work when he was one (thanks to Canada's one year of paid parental leave), and though I missed him, I felt good being back at work, which is something that's always been important to me.
Then I learned I was pregnant with twin girls and my life flipped upside down. Having a high risk pregnancy, I wasn't even sure if my girls would come home. They were born at 29 weeks and spent 80 days in the NICU. After their birth, I couldn't imagine being away from them and I spent hours doing skin-to-skin with them, cuddling, singing, and reading to them. One of my girls, Ella, had a rough start and once home, spent hours at appointments and therapy and struggled with movement. She relied on me for so much, and still does; I didn't think anyone else could handle keeping track of her appointments, doing her exercises, and making sure that she had fun. I couldn't plan a future returning to work when I had no idea the extent of Ella's needs.
But, like most families with children, money is tight, and I started to look for a new job, just to see if there was anything open in social work. I never expected to find a new job or be offered one, and I planned to stay home with the girls until at least September, when they would be 20 months actual/18 corrected, and when two day care spots would be open. To my surprise, I was offered a new job quickly and, despite not having day care available, I decided to accept it. With my son in full time preschool, we found a nanny to care for the girls until fall.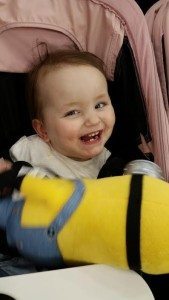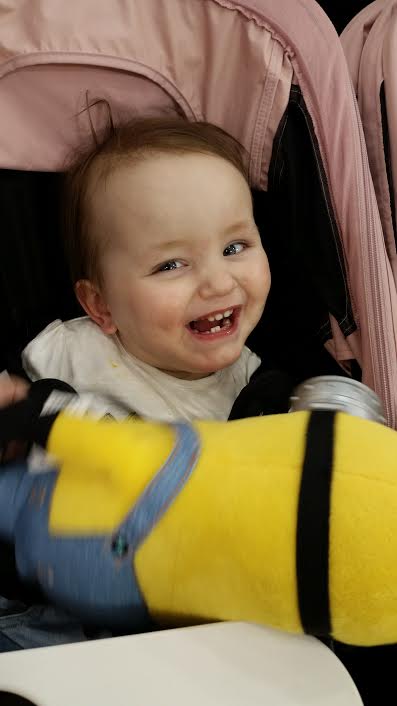 Heading back to work has not been easy. I miss my kids tremendously and I feel guilty. I feel it's been harder this time to go back to work. Maybe because there's two babies this time. Maybe because they were born too early. Maybe because of Ella's special needs. I'm not sure exactly why, but I know it is. I wish I was still at home, still able to watch Ella's progress, be there to witness Raegan's first steps, but that's just not financially possible.
There was recently a study published that every working mum has told me about; that children of mothers who work outside the house complete more education and do better financially. If that's true, why is there so much guilt? I have to try to sneak out of the house before the girls are up or so that they don't notice me leaving, or there's tears and screams and I leave feeling awful. I sometimes work late and get home after the three kids are all in bed, and I feel like I've missed out on so much. Of course, if they were in day care, I would still be missing what they were doing during the day, but I would get to pick them up and see their excited faces, give them snuggles, and put them to bed.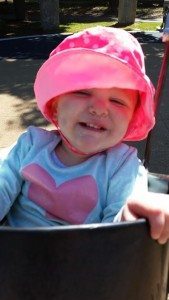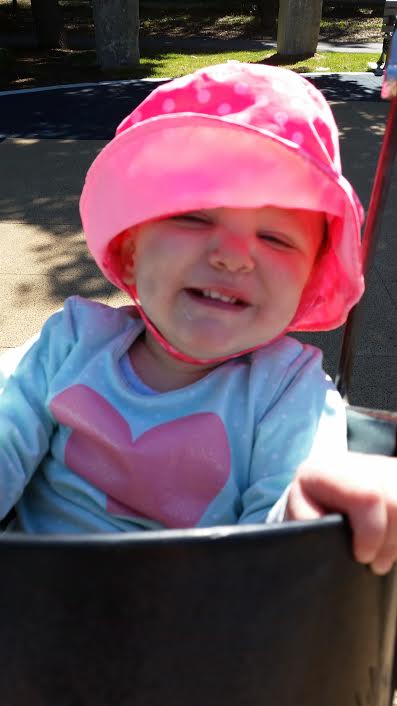 I have met lots of other special needs mums since starting our journey, and many of them stay home with their kids. I think other parents struggle with the same guilt, fear, and sadness; a feeling that we're missing out, that we can't trust others with the extra care our kids need. There's a fear that something might go wrong, and we would blame ourselves for not being there. But there's also a fear of not letting our kids live, of not giving them the chance to see the world, to be independent from us, to make friends, and to experience things in a new way.
We go back to work for so many reasons, and we come home and watch as our children have learned or tried something new, and we watch them blossom. Though we miss them terribly while we're gone, we're so amazed by them and proud of what they can do without us. Ultimately, what every parent wants is for their children to be happy and to get to live a beautiful life, filled with adventure — and that means knowing when to hold their hand, and when to let go.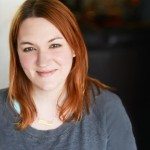 Alyssa Keel has worked as a social worker in both Canada and the U.S. for several years. Living in Toronto, Alyssa is mum to a rambunctious, curious, and loving three year-old boy and one year old identical twin girls. During her high risk mono mono twin pregnancy, Alyssa began blogging, an extension of her love of writing. Alyssa loves taking photos and impromptu dance parties with her son. Follow Alyssa and her family's adventures at adventureswithmultiples.com. Click here to read more of Alyssa's articles on Twiniversity.
Related Articles
* * *
The rate of twin births has risen 79 percent over the last three decades, and continues to increase. A mom of fraternal twins and a national guru on having two, Natalie Diaz launched Twiniversity, a supportive website with advice from the twin-trenches.
What to Do When You're Having Two is the definitive how-to guide to parenting twins, covering how to make a Birth Plan checklist, sticking to one sleep schedule, managing double-duty breastfeeding, stocking up on all the necessary gear, building one-on-one relationships with each child, and more.
Accessible and informative, What to Do When You're Having Two is the must-have manual for all parents of twins.