Working for a living can stink. Even if you like your job, it still stinks at times especially if you have little ones. Having to get up at a time someone else dictates, wear appropriate clothing, commute, deal with other people's issues for eight plus hours a day, cram an entire day's worth of activities into a few minutes of conversation while shoveling food down, do homework, bathe and bedtime. Repeat, five days a week. Add that to the stress of getting kids up, dressed, fed and to daycare and/or school. It makes one really start to wonder what it's all for.
Then on top of it all, being at work trying to be productive while feeling this immense weight of guilt for even being there instead of taking care of these precious babes. This is not to say there hasn't been many a day that I dropped my kids off and gave a great sigh of relief that for the next eight hours someone else gets to deal with them. But, then that voice at the back of my head starts in on me saying that I really should be with them more. That I'm missing so much of their everyday lives and I'll never get this time back. I just want to smack that voice.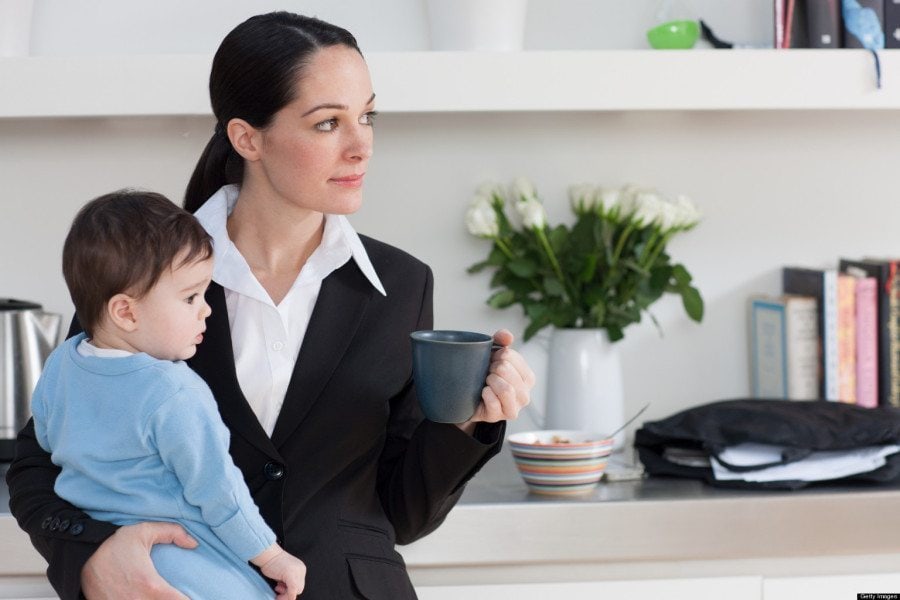 I have worked full-time my entire adult life. I truly do like my job and I currently have an employer and boss who are very flexible and family friendly. This makes life tremendously better. Quite honestly I'm probably a better mom because I do work. Being gone makes me look forward to being with them, makes me miss them, makes me appreciate our time together more. Unfortunately, it also makes me more stressed and impatient. I have proven to myself over and over again that when I'm home for long periods of time with my kids, nothing productive happens.
My husband however, is a teacher and therefore at home during breaks and summer with our kids. Not only do all the kids get fed, napped and played with, he manages to get a tremendous amount of non-kid related things done around the house. That's not me.
After our first son was born, I sobbed going back to work. I felt awful those first few weeks, feeling so guilty that he was with someone else all day long instead of me. Gradually those feelings went away and I remembered how lonely and sad I was at home all day during maternity leave. He was happy to see me at the end of the day and he didn't forget that I was his main woman, not the lady he spent all day with. When his brother came along I almost skipped back to work. I was so overwhelmed with the enormity of what we had just done to ourselves. I couldn't wait to get back to a place where I knew what I was doing.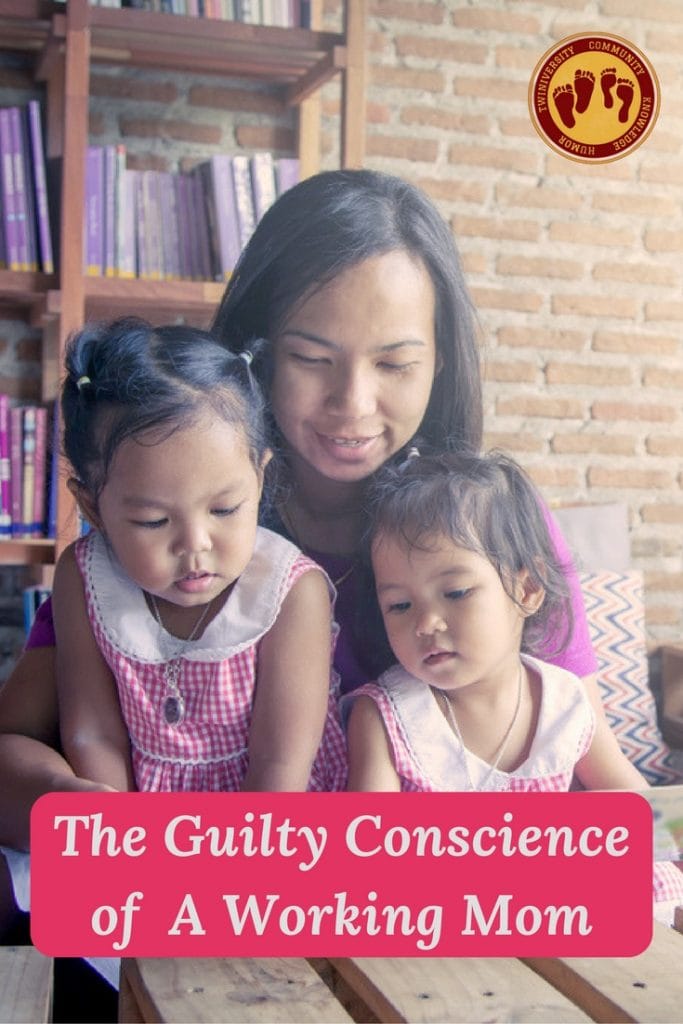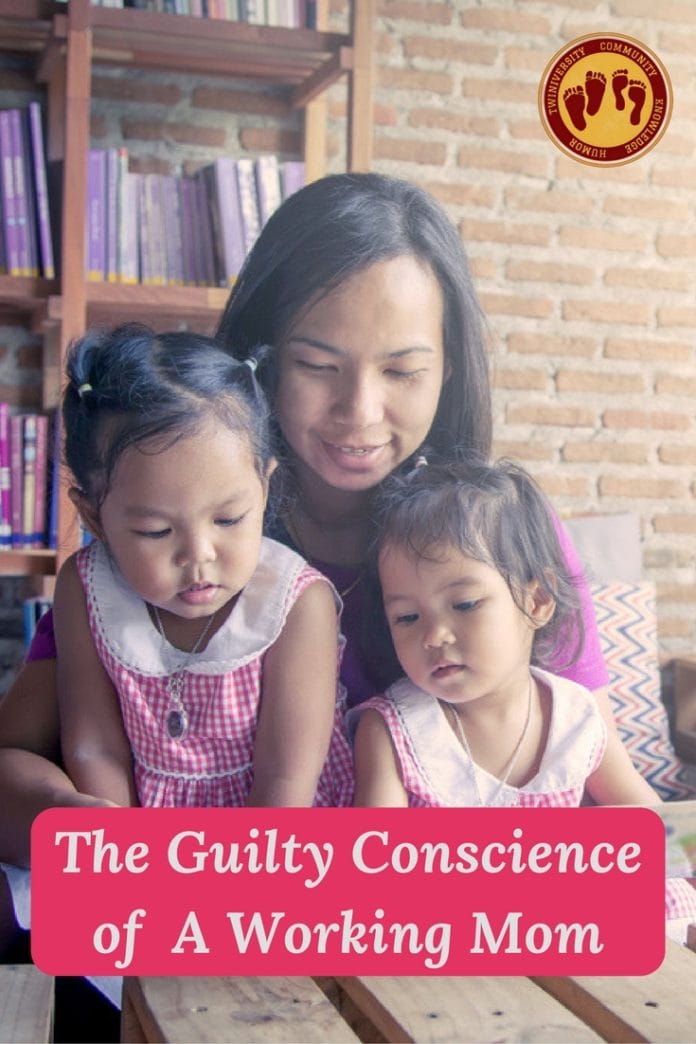 When our twin daughters came, the guilt I felt with our first son hit full-force once again. These tiny babies were being cared for by someone else all day long! I only see them for a few hours a day! I feel like I'm missing everything! Maybe it's because I know that this is it; we will not have any more kiddos after them. Inwardly, I questioned a lot about whether I should stay home. If our lives were financially different or if we hadn't found a nanny we were comfortable with, I might have made a different choice (and probably would have been pretty unhappy, honestly).
I guess what I've learned is that I just have to live with the guilt because I have done what is right for me. Guilt will be my constant companion, but it doesn't have to be the one I want to push out a window. I'm hoping to make this remorse filled companion the one that keeps me in check. The one that makes me take my vacation time instead of pushing it off for another day, or the one that incentivizes me to use a half a day to volunteer in my kid's classrooms. We need to find a way to live together, my guilt and I, because I firmly believe neither one of us is giving up.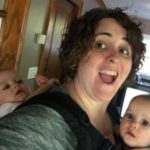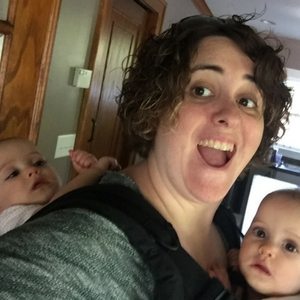 Heather Hayner is a happily married, full-time working mom of four including a surprise set of identical twin girls. In her former life she was a lover of the Upper Peninsula of Michigan, traveling, live music and book reading. She is now just happy to get dishes done before bedtime.
---
Related Articles
---
The rate of twin births has risen 79 percent over the last three decades, and continues to increase. A mom of fraternal twins and a national guru on having two, Natalie Diaz launched Twiniversity, a supportive website with advice from the twin-trenches.
What to Do When You're Having Two is the definitive how-to guide to parenting twins, covering how to make a Birth Plan checklist, sticking to one sleep schedule, managing double-duty breastfeeding, stocking up on all the necessary gear, building one-on-one relationships with each child, and more.
Accessible and informative, What to Do When You're Having Two is the must-have manual for all parents of twins.
---
Whether you're a twin parent in the big city surrounded by scores of resources, or a triplet parent out in the country with no one around for miles — our multiples parenting forums are for YOU! Sign up for FREE and connect with people who are just like you — parents of multiples looking for advice, parenting tips, or even just people to chat with who will understand what you're going through. Our forums are open to people all over the world and we offer scads of specialty rooms to find others who are going through the exact same thing as you. Check it out today!
---
Twiniversity is the #1 source for parents of multiples and we are growing faster every day!
Find us all over the web:
Or contact us by email at community@twiniversity.com