We have had the battle of the bath seats. We have talked about what to use to keep our twinnies clean and safe. I am currently in transition limbo between our seats and a tub and what to do next besides making them the stinky kids because this mama is petrified constantly with my water-loving babes!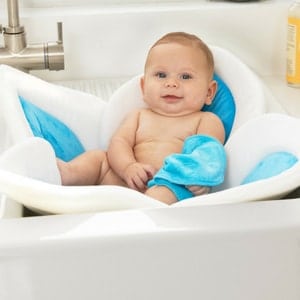 1. Blooming Bath Lotus – If you are a sink bather as we were this soft 4 pedal bather molds to any sink and you can breathe easier that your babies up to about 6 months will not slam their head on the sink. The Blooming Bath Lotus has a variety of cute colors and 2 designs if you prefer more pedals.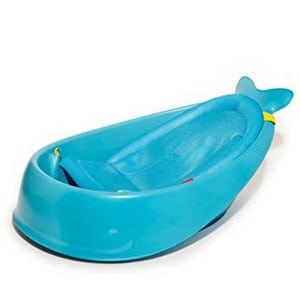 2. Skip Hop Moby Bath Smart Sling 3-Stage Bathtub – Some go right for the bathtub and sometimes this is the easier way to go. Skip Hop's whole line of bath essentials is great and meant to grow with your twinnies! The bath is in smart stages and the sides nice and rounded for comfort and to cradle even the tiniest babies. While you are at it, at least get the MOBY Warm-Up Bath Cuddler to keep them warm. Definitely look at the whole line of safety bath from Skip Hop.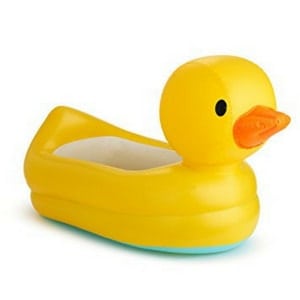 3. Munchkin White Hot Inflatable Duck Tub – This blow-up duck is Ah-Mazing! The simple design of this Munchkin Duck will keep your twinnies comfy and safe! There's a heart-shaped temperature sensor to let you know if the water is too hot. Now we waited a little too long to use this but you can definitely put both twinnies in it for their first baths together!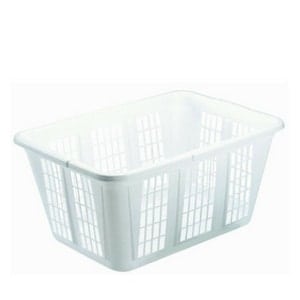 4. Rubbermaid Laundry Basket – As twin parents, you need to be reminded of the ultimate twin bathing hack…a laundry basket! Yup a simple plastic laundry basket it has holes for drainage and keeps them contained!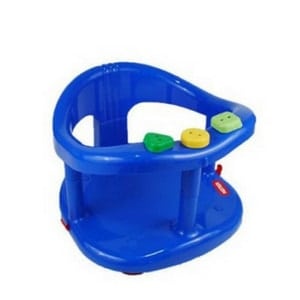 5. Keter Bath Seat – Once mine were too big to sit together on one of these bath containment devices we moved on to the Keter bath seats. The simple design and slim lines were great for our bathtub. You can see the whole write up here on the Twiniversity website.

6. Clevamama Full Length Bath Mat with Kneeling Cushion – Moving on to where I am at currently, wiggly, standing, moving and busy toddlers! This is where the setup begins! On a suggestion from another MoM squad member, I bought this bath mat. Lots of suction at the bottom. This is a cushiony mat that is extra long and says on the package that it's perfect for bathing 2 toddlers!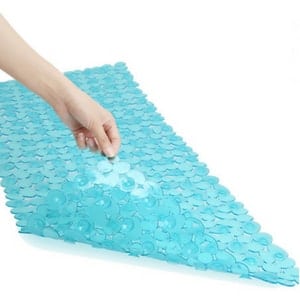 7. Becozier Non-Slip Bath Mat – Ok so on top of the bath mat I have lined my tub with a silicone bath mat that suctions to the wall of the tub. It's not as long or textured but sounds better if their little heads hit the wall. It's mold resistant, non-slip and comes with a 2-year warranty so they do believe in their product. It is also machine washable!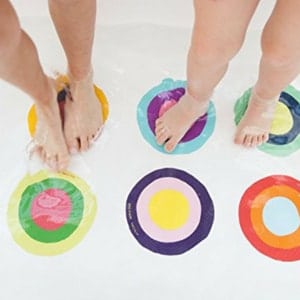 8. Puj Grippy Non-Slip Safety Adhesive Bathtub or Shower Treads – If you don't want to bother with 2 or more mats surrounding your tub I am actually going to be ordering these great dots! They come in cute colors and from the trusted brand Puj they will keep your twinnies safer when trying to climb up to the sides of the tub. The treads come in a 6 pack so if not using for the bottom of your tub I suggest buying 2 or 3 packs.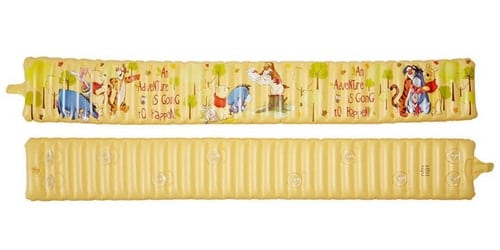 9. Disney Winnie the Pooh Inflatable Safety Bathtub Bumpers – Not going to lie these are in my cart RIGHT now! Bathtub bumpers like at the bowling alley! Suction cupped blow up bumpers. Now the problem I have heard about like so many of these items they could become useless once your twinnies figure out how to pull them down. But hey you tried right?

10. Tubby Table Bathtub Activity Hub with Zoo Mat and Toys – Do not forget once they are older (3 years old) you can add a great Tubby Table to keep your pair entertained while you scrub them down. There are different mats that you can change out and they can have a different experience playing with water!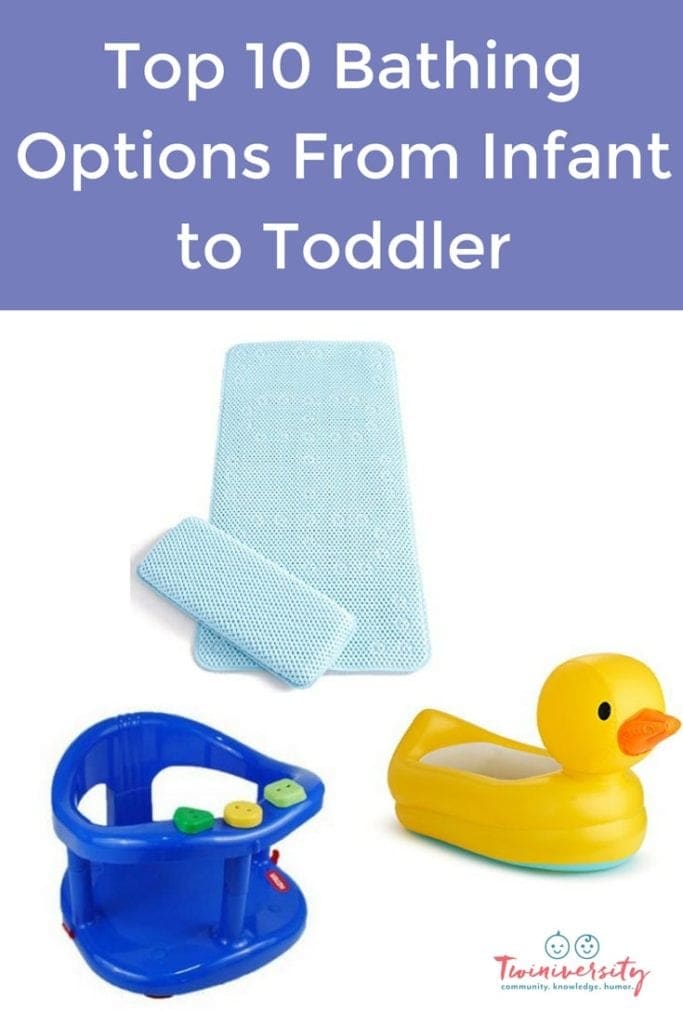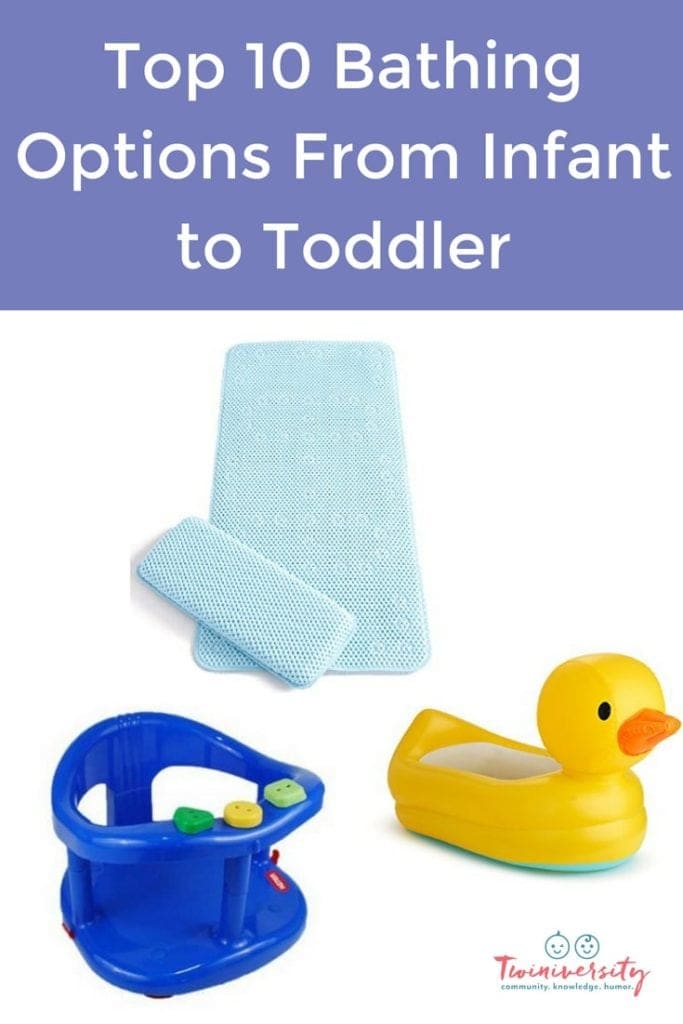 I'm hoping this list gives you a bit of peace of mind but I know not everything will work for everyone. Safety is an ongoing quest and not having the stinky twins would be the goal at the end of the day. Happy bathing mom and dad!
Jenifer Roth is a busy, busy mom to 1-year-old identical twin boys Jase and Evan, full-time High School driver ed teacher, and full-time finder of random information to help others! When not running around from work to home to errands she enjoys working on her blog, making piles of stuff and just hanging with her family! Trying to find the work-life balance has been a journey of its own but push on she must! You can read her blog here!
---
Related Articles
Battle of The Bath Seats: Summer Infant vs. Keter
Can I Give My Twins A Bath Together?