You had me at hands free. The TwinGo is great for parents of multiples or parents of children of varying ages as it allows the person carrying to be hands free and able to tend to other things such as shopping, household chores, tending to other children, etc.
The carrier can be worn as two separate carriers on either front or back, or as one with one child on the front and one on the back. Since it has one set of straps when using in tandem mode it is not bulky. It is easy to assemble and dissemble; it is also easy to adjust sizing from one wearer to the next.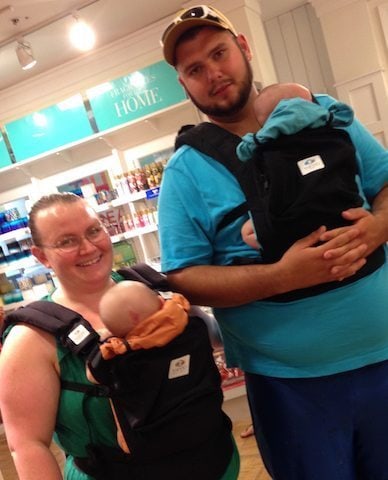 I like that it can be worn by plus sized individuals as well as individuals with a smaller frame. My husband is 6 foot 4 inches and weighs roughly 315 lbs and is able to wear the carrier comfortably. The carrier has many neat features, such as the pocket on each attachment which can be used to store enough supplies for quick outings such as diapers, wipes, or bottles.
One downfall I have encountered is that the child must be able to sit unassisted before safely being able to be worn on the back therefore we had to wait until our twins were 6 months old before we were able to utilize it's full functionality. Since children develop differently, age may vary. Although one can not get the full functionally of this carrier for a few months it still is beneficial in that it can be used for a combined weight of 80 lbs, therefore you will have many months to use it before your children outgrow it.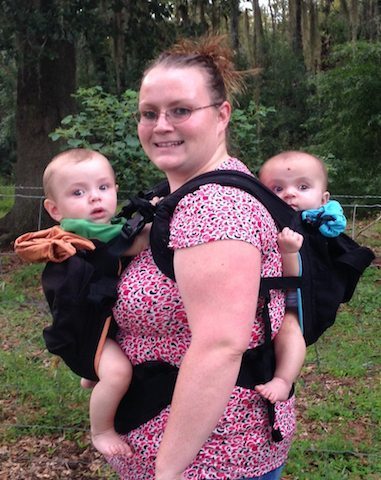 Although this carrier is pricy, the quality and safety it offers cancels out all cons in my opinion. From researching different carriers it appears the Twin Go holds its value and can be resold for close to its value when that time comes.
Review by Melanie Gordon
* * *
The rate of twin births has risen 79 percent over the last three decades, and continues to increase. A mom of fraternal twins and a national guru on having two, Natalie Diaz launched Twiniversity, a supportive website with advice from the twin-trenches.
What to Do When You're Having Two is the definitive how-to guide to parenting twins, covering how to make a Birth Plan checklist, sticking to one sleep schedule, managing double-duty breastfeeding, stocking up on all the necessary gear, building one-on-one relationships with each child, and more.
Accessible and informative, What to Do When You're Having Two is the must-have manual for all parents of twins.
* * *
Whether you're a twin parent in the big city surrounded by scores of resources, or a triplet parent out in the country with no one around for miles — our multiples parenting forums are for YOU! Sign up for FREE and connect with people who are just like you — parents of multiples looking for advice, parenting tips, or even just people to chat with who will understand what you're going through. Our forums are open to people all over the world and we offer scads of specialty rooms to find others who are going through the exact same thing as you. Check it out today!
* * *
Twiniversity is the #1 source for parents of multiples and we are growing faster every day!
Find us all over the web: