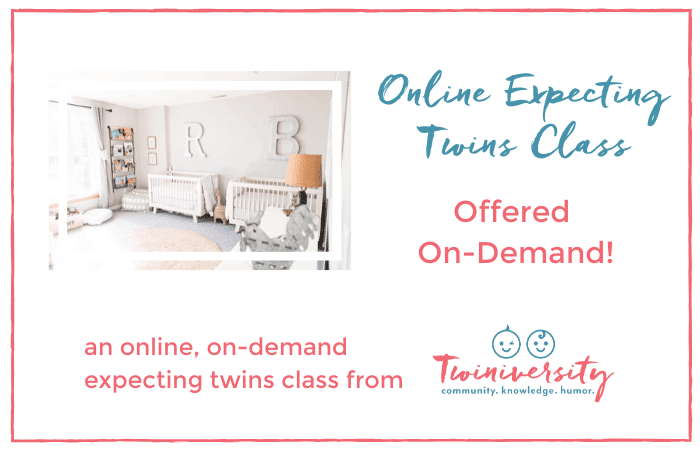 Register now for the #1 Recommended Expecting Twins Class in the World!
Twiniversity offers an online expecting twins class for expecting and new parents of twins or higher-order multiples. This class is an on-demand video class that can be watched at your leisure with unlimited access over a 9-month timeframe.
This class will include an online group live Q&A session with a Twiniversity instructor in a private Facebook group to get your questions answered. We recommend taking this course at 24 weeks gestation or later.
Live in NYC, Chicago or Houston?
If you live in the area of New York City, Chicago, or Houston, you'll want to sign up for an in-person class, which includes a goodie bag, dinner for two, and surprise in-class giveaways — not to mention all the new twin parent friends you'll make that live nearby! Click here for more details on our in-person classes.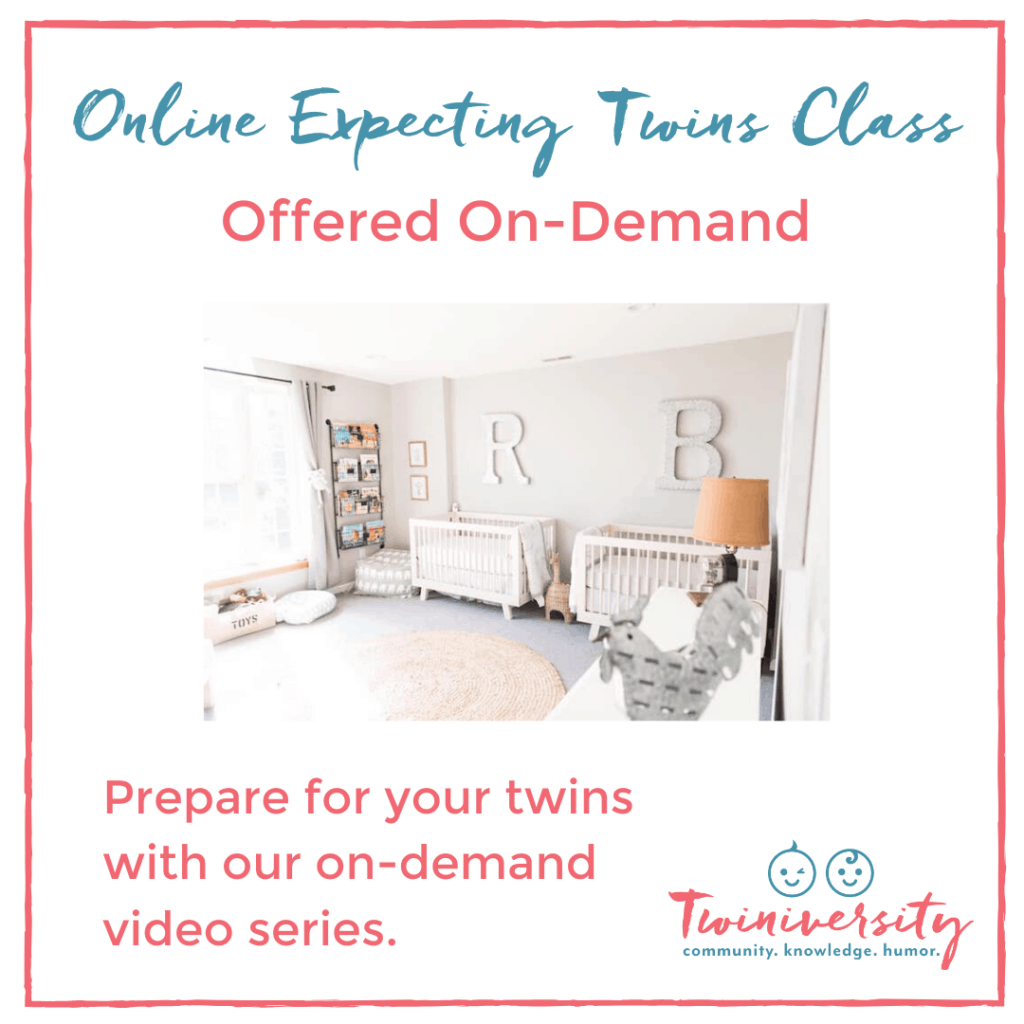 What students are saying about the Twiniversity Online Expecting Twins Class…
Thank you for all the fantastic information from our class and all the resources, we have had a wonderful postpartum transition that we owe to being well informed and prepared!!

Lisa C.
---
My husband and I took the online class about a month before our twins were born (7 weeks premature!) We are so grateful for the sheer amount of knowledge and guidance that the class provided, plus Nat is an absolute hoot!

Lindsay F.
---
I turned to Twiniversity as I was nearing the birth of my twins. As a single gay dad, I found the resource landscape minimal until I took this course. I still use the book and consult this site for practical parent hacks and fun stories. Thank you for being awesome!

Julius E.

What is included in the Twiniversity online expecting twins class?
The Twiniversity Online Expecting Twins Class will cover everything you need to know before your bundles of joy arrive and what to expect of your new life after the twins are born.
The Twiniversity online twin birthing classes / twin parenting classes will give you plenty of tips and tricks on how to adjust after your world gets turned upside-down (in a good way!) and highlight all the important information you need to get you well on your way in preparing your home, yourself, and your relationship for the upcoming arrival of your twins.
Topics include
What equipment you will need and when (full registry provided)
What to pack for the hospital
Pregnancy Concerns
Talking to Your Doctor
Signs of Preterm Labor
Delivery Day Run-Through (vaginal and C-section)
Your hospital stay
Recovering from a C-section
Dealing with a NICU stay
What you should have in order BEFORE the twinnies arrive
Mistakes new parents make
Daily schedules for feedings and naps
Diapering Tips and Tricks
Breastfeeding and bottle-feeding x2
How to manage overnight feedings
Finding and interviewing a Nanny/Babysitter/Mother's Helper
How to get more sleep
Packing your diaper bag
Traveling with twins
Baby proofing your marriage
Why having twins ROCKS!
Handouts on: Registry list, hospital bag packing list, bedrest boredom busters, pediatrician interview questions, how your partner can get involved, help chore chart, twin birth plan worksheet, nanny interview questions and questionnaire, safety tips for twins, keepsakes and milestones, car seat safety tips, how can a doula help me
16 Twin Mom and Twin Dad personal testimonial videos with tips, tricks, and advice for new parents of twins
Registration
Class Fee*
The class fee is $175* per family for the Twiniversity online twin classes. 
For a more in-depth experience, learn about our live classes in New York, Chicago, Houston and private online sessions.
For an additional $49, add on our Online Breastfeeding Twins Class! (retail price $99) You can purchase this along with your expecting twins class.
---
Guidelines for Registering
We highly recommend taking the class before your twins arrive, but we also welcome parents whose twins are already born
We recommend taking the class after 24 weeks gestation
*Scholarships are available for families experiencing financial hardship. Email community@Twiniversity.com to apply and be sure to include details outlining your financial hardship in the email. Scholarships are awarded based on availability. Scholarship requests will be responded to within 7-14 business days.
Are you expecting twins and are active US military in the US? If so, you qualify for a complimentary Twiniversity Online Expecting Twins Class. Email community@Twiniversity.com to inquire. In your email, include details on where you are stationed, which branch of the military, and your rank. Military requests will be responded to within 7-14 business days.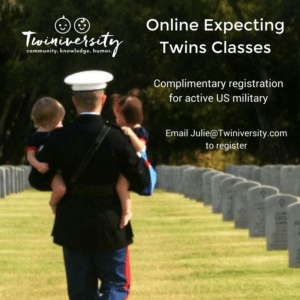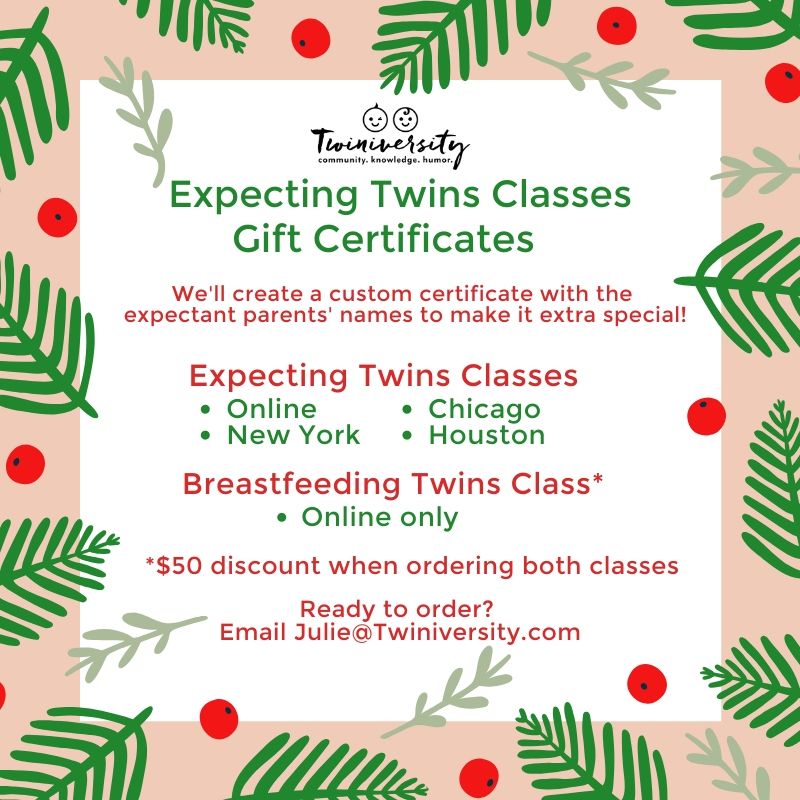 Gift Certificates Now Available
Are you looking for a special gift for a couple expecting twins? Gift certificates are now available for our Expecting Twins Classes! You can purchase a gift certificate for our online, New York, or Chicago classes and we'll email you a custom certificate that you can present to the lucky couple! Email Julie@Twiniversity.com to order.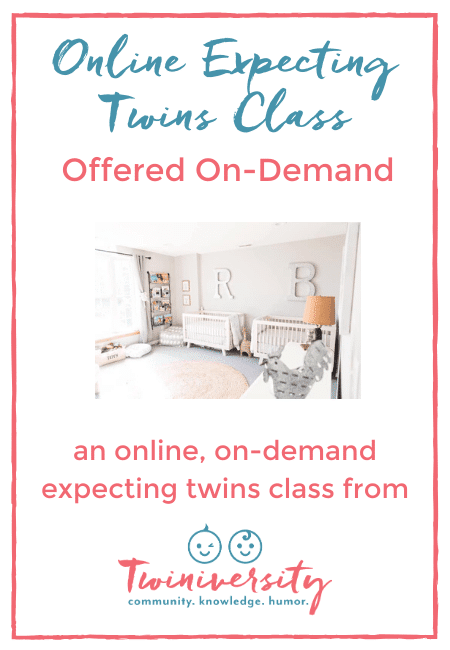 Manhattan expecting twins classes Brooklyn expecting twins classes Houston expecting twins classes Minneapolis expecting twins classes Miami expecting twins classes Canada expecting twins classes Los Angeles expecting twins classes Denver expecting twins classes Dallas expecting twins classes London expecting twins classes Phoenix expecting twins classes Philadelphia expecting twins classes San Antonio expecting twins classes Austin expecting twins classes San Francisco expecting twins classes Santa Monica expecting twins classes Seattle expecting twins classes Long Island expecting twins classes Westchester expecting twins classes Boston expecting twins classes Worchester expecting twins classes Connecticut expecting twins classes New England expecting twins classes New Jersey expecting twins classes Charleston expecting twins classes Columbia expecting twins classes Paris expecting twins classes Berlin expecting twins classes Australia expecting twins classes Munich expecting twins classes Dublin expecting twins classes Kansas City expecting twins classes Iowa expecting twins classes Brooklyn expecting twins classes Houston expecting twins classes Minneapolis expecting twins classes Miami expecting twins classes Canada expecting twins classes Los Angeles expecting twins classes Denver expecting twins classes Dallas expecting twins classes London expecting twins classes Phoenix expecting twins classes Philadelphia expecting twins classes San Antonio expecting twins classes Austin expecting twins classes San Francisco expecting twins classes Santa Monica expecting twins classes Seattle expecting twins classes Long Island expecting twins classes Westchester expecting twins classes Boston expecting twins classes Worchester expecting twins classes Connecticut expecting twins classes New England expecting twins classes New Jersey expecting twins classes Charleston expecting twins classes Columbia expecting twins classes Paris expecting twins classes Berlin expecting twins classes Australia expecting twins classes Munich expecting twins classes Dublin expecting twins classes Kansas City expecting twins classes Iowa expecting twins classes