The development of fine motor skills is important for your child so that he/she may complete everyday tasks such as writing, tying shoes and buttoning. Here are Twiniversity's 9 top toys for fine motor skill development to help your little ones along the way.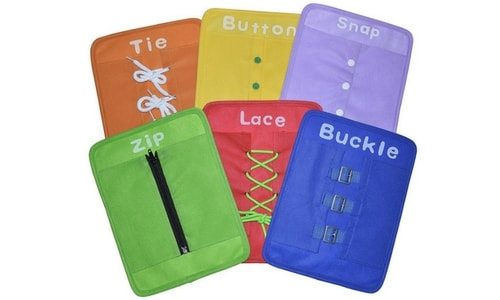 Yoovi Montessori Learn to Dress Boards – Whether your twinnies want to learn to buckle, zipper or tie these boards are perfect. They easily fit in a bag to take with you in the car or out to dinner. Leave the electronics at home and help your child's fine motor skill development!

Skoolzy Peg Board Set – Your twinnies will spend endless amounts of time counting, sorting, patterning, and building with these colorful pegs and board. And it comes with a convienent bag to put it all in. Your twinnies can enjoy wearing the carry bag like a backpack for an easy take-along.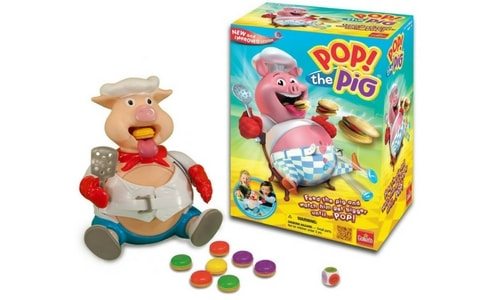 Pop The Pig Game – Your little ones will enjoy "feeding" the pig and pumping his head to make his belly grow. They will love seeing who will "pop" his belt open first. It's not only fun, but it teaches numbers and colors.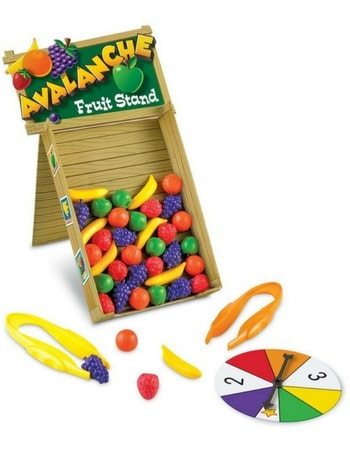 Learning Resources Avalanche Fruit Stand Game – The object of this game is to be the first to gather one fruit of each color with plastic tweezers without causing an avalanche on the fruit stand. The game is a lot of fun, and is adaptable in difficulty to challenge a wide range of kids because the slope of the fruit stand is adjustable — you can make it less steep for youngsters, and quite steep for older kids.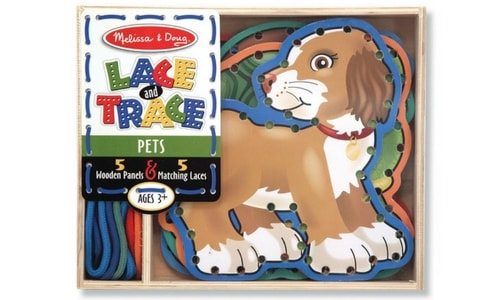 Melissa & Doug Lace and Trace Pets – With nice bright colors on both the wooden pieces and the lacing cords, your twinnies will love picking what color cord they want to use and sit quietly as they enjoy "sewing" their chosen animal. The activity not only improves fine motor skill development, but it also encourages quiet play time.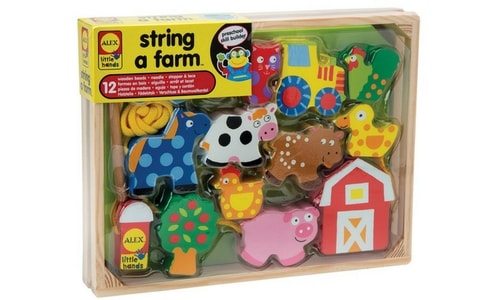 ALEX Toys Little Hands String A Farm – This set of wooden farm anmals will thoroughly keep your kids engaged as they sew and link them together. Not only will these help with their fine motor skill development, but they can pretend play with the pieces.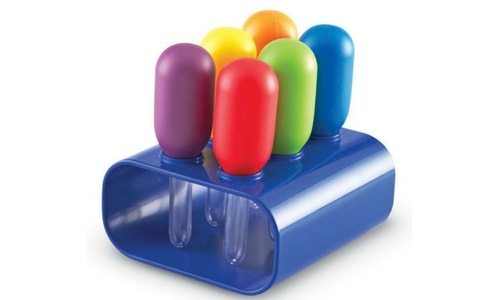 Learning Resources Jumbo Eyedroppers – These jumbo eyedroppers are great to develop fine motor skills and hand muscles. The size is perfect for little hands and can be used for so many different activities to help fine motor skill development. You can make creative art projects by using liquid watercolours or they can be used for water play.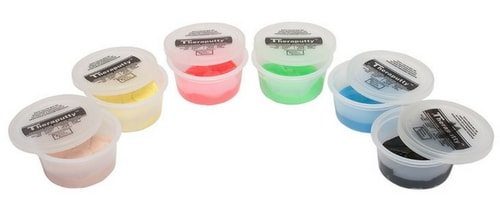 CanDo Theraputty – With 6 different levels of resistance, all which come in a differet color, this multi-pack will be perfect for those with more than one child. Let them squeeze, pinch, stretch or twist this putty to improve their fine motor skill development. And it doesn't dry out!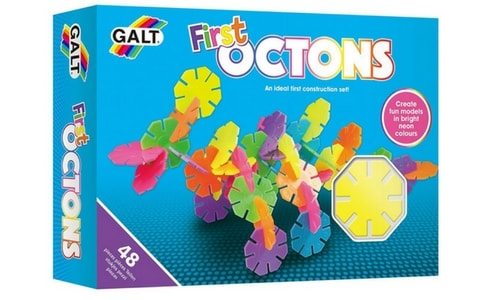 Galt First Octons – These Octons are simple but wonderful. The bold-colored pieces are fat enough toddler hands to handle and manageable enough for them to do on their own as they slide together easily. They will create and endless amount of different things all day long!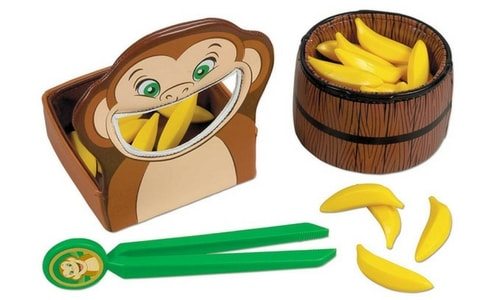 Lakeshore Feed The Monkey Fine Motor Game – How fun would it be to feed a monkey? Well, now your little ones can! They can work on their fine motor skill development by using the plastic tweezers to pick up the bananas and put them through the monkey's mouth. It also helps them with counting.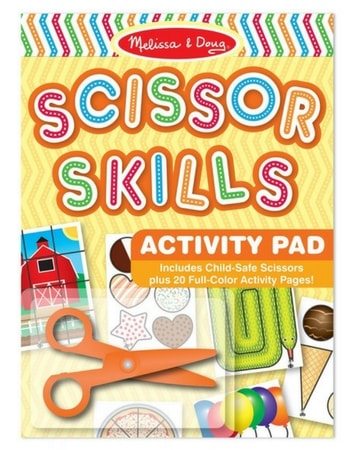 Melissa & Doug Scissor Skills Actvity Book With Pair of Child Safety Scissors – Cutting with scissors properly can be something that little ones find difficult. This activity book is filled with colorful and modern the pages, which will surely engage your little ones while they learn to use scissors. The items cut from the pages can be turned into other things once they are cut out, like matching games or puzzles. This is perfect for any child who loves all crafts.

With these toys, not only will your kiddos have fun, they will also strengthen their fine motor skills. These skills will help them become able to complete important tasks such as writing, feeding oneself, buttoning and zippering.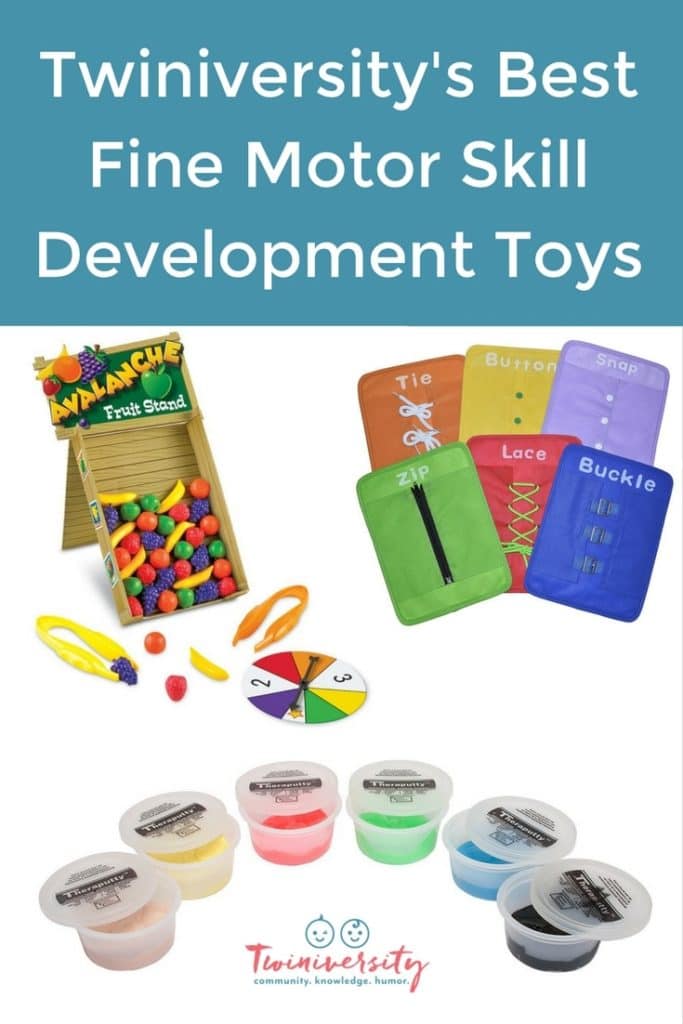 ---
Related Articles
Best Toys For Gross Motor Skill Development
15 Awesome Toys to Encourage Independent Play