Last updated on September 28th, 2021 at 01:58 pm
Gross motor skills are those which require whole body movement and which involve the large muscles of the body. Gross motor skill development is important to enable children to perform every day functions, such as walking, running, climbing, sitting up, as well as other skills like catching, throwing and hitting a ball with a bat.We at Twiniversity have compiled a list of our favorite toys to help you improve your children's gross motor skill development.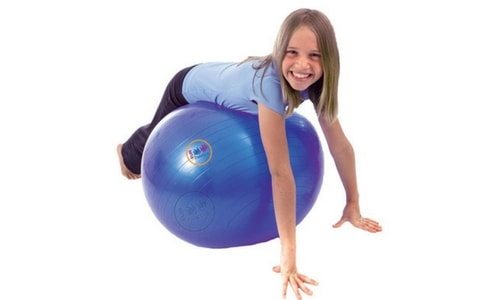 Fun and Function Therapy Ball – This therapy ball is perfect to use with your kids for gross motor skill development, as well as sensory activities. The kids will love bouncing and sitting on this ball. They will strengthen their core muscles, improve balance and attention, and not even know they are doing it.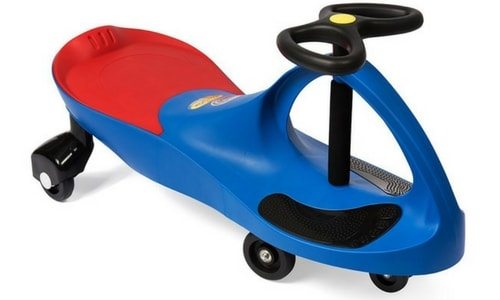 The Original Plasma Car – No batteries, gears or pedals required! Just sit with both feet on the footrests, turn the steering wheel, and away you go. Your little ones only need to twist, turn, wiggle for endless amounts of fun. You'll probably want to get 1 for each of your kiddos so they can race each other!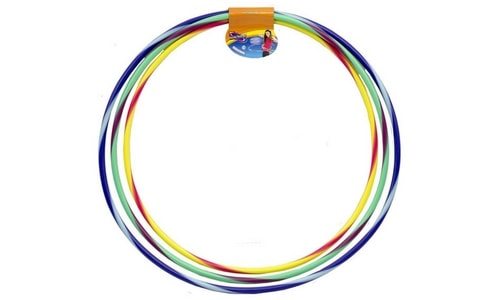 Hula Hoops – Who doesn't love a hula hoop? Your twinnies can use them the traditional way by spinning them on their waist or you can line them up on the ground and have them jump from the center of one to the center of the other and so on. This motion helps them concentrate on their body movements and it's fun!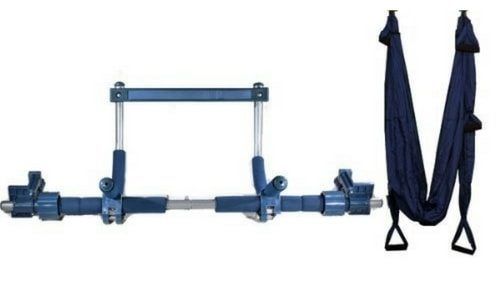 Aerial Yoga Swing and Frame – Why not let you kiddos swing and work on strengthening their gross motor development while inside? These swings are not only fun they are also very calming . Your children can either sit up like a regular swing or lie down while using it. The high weight limit also means that parents can enjoy it too!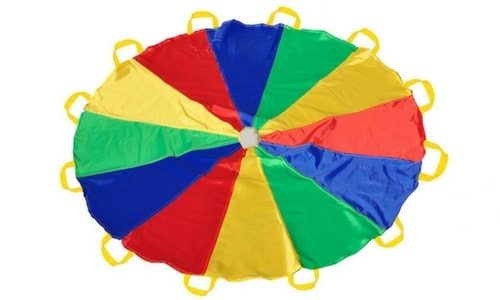 Parachute – This parachute will not only be a hit at home but with the entire neighborhood. You'll be able to put this outside in the yard and know they will be busy for a long time. You twinnies will find all sorts of uses for this. Whether they enjoy lifting it up and running under or making a tent with it by draping it over some furniture. What a joy it will be to have some simple good old fashioned fun. No batteries required, no screens needed. All you need is your imagination.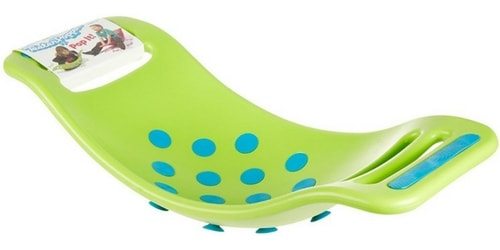 Teeter Popper – It won't take long for twinnies to figure out what to do with this Teeter Popper! They can sit, rock, spin and work on standing and balance! They will love the popping noise it makes when moved and they will also enjoy having something they are allowed to climb/stand on!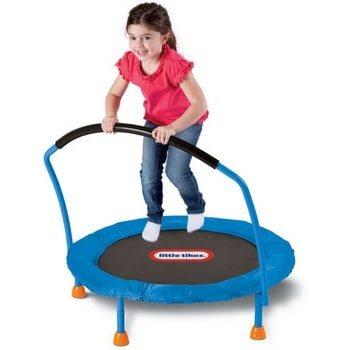 Little Tikes Trampoline – This trampoline will provide hours of entertainment for your kiddos. It has so many amazing features. It's s pringless, which means no pinched fingers! The large jumping surface and handle bar for stability will allow them to work out their whole body. Your kids will have fun while developing their balance and coordination.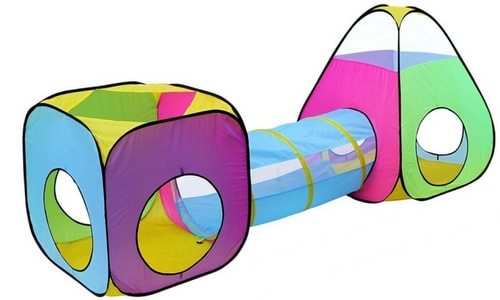 Play Tent and Tunnel – This brightly colored and light weight tent and tunnel is the perfect place to practice crawling, sensory processing and coordination activities. Your little ones' gross motor development will improve just by them climbing through and enjoying the tent.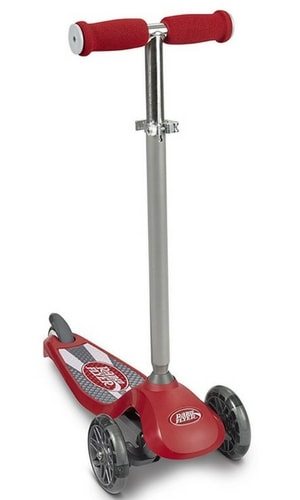 Radio Flyer Lean 'N Glide Scooter – Your kids are going to think this is the coolest scooter! With it's light up wheels and sleak style they are sure to be a hit in the neighborhood. The lean-to-steer technology will improve their balance and coordination as they ride.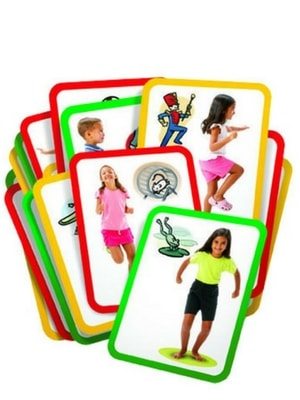 Busy Body Gross Motor Activity Cards – If you're stuck in the house on a rainy day and can't go outside just break out these cards to help your little ones practice gross motor movements. Each card has an ilustration and written explaination of each action.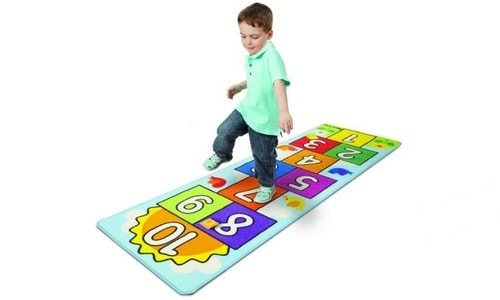 Melissa & Doug Hop and Count Hopscoth Game Rug – This rug will be the perfect addition to your twinnies' playroom. They will really love throwing the bean bags that come included and jumping from box to box as they learn this classic game.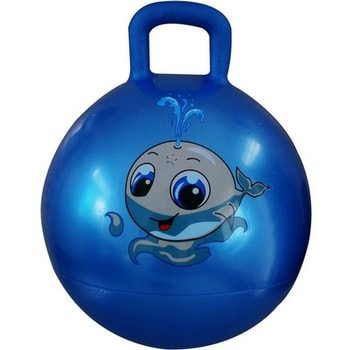 Space Hopper Ball – Another classic your twinnies will love. With this hopper ball your kiddos will be bouncing all over while working on improving their balance. It's a pretty good workout and will surely wear them out. Just pump it up with the included pump and enjoy!

Now that you know which toys are our favorites for gross motor development go and let your twinnies enjoy them!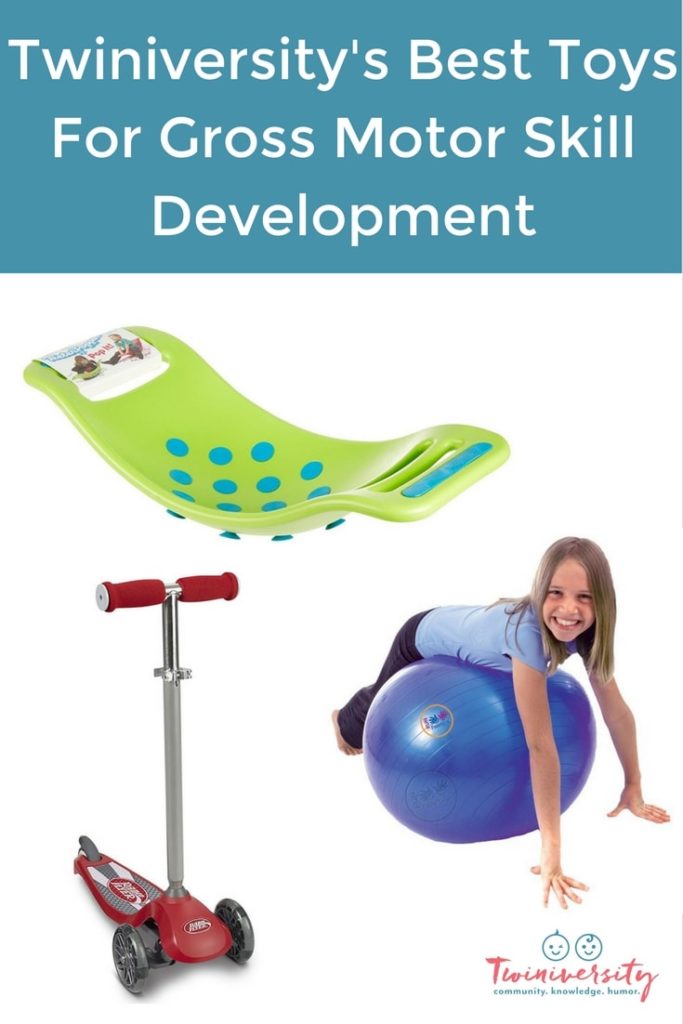 ---
Related Articles
Best Fine Motor Skill Development Toys
11 Must Have Items When Going to The Beach With Kids