Last updated on September 30th, 2021 at 10:09 am
Hey gang, listen up! We've got a great article on creating art with your little ones, plus a fantastic giveaway from our friends at Step2! One lucky family will take home a Jumbo Art Easel.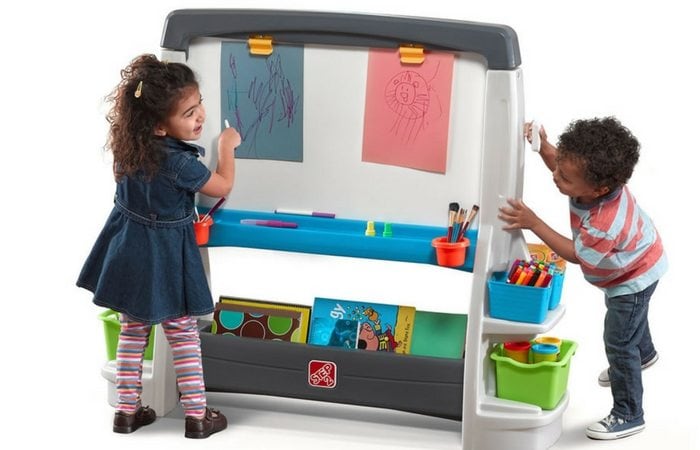 Little artists will have an art-tastic time drawing and creating masterpieces with this Step2 Jumbo Art Easel. This kid's double-sided art easel comes with a white board and chalkboard so that more than one child can enjoy coloring at the same time! Kiddos will enjoy showing off their own artwork on the large art clips (included). This sturdy, artistic play set encourages kiddos to creativity and allows for them to develop fine motor skills through drawing, writing and coloring.
Creating Art With Kids
A large part of creating art is the ability to let go and allow creativity to take over. Children naturally want to do this with art materials; it is up to the adults to make sure their experience is supported and their expression nurtured. Here are a few tips anyone, even non-artists or art therapists, can use to help support a healthy art making experience that not only boosts your child's confidence in making art, but can create opportunities for meaningful conversation.
Avoid "helping" them make art
It is tempting to draw for them, but the more you draw for them, the less confident they are in their own art making skills and the less likely they are to experiment on their own. If they want you to draw for them, instead demonstrate basic shapes they can make themselves, encourage them to try it, and show them how to combine them to make more complicated drawings.
Don't show off
Related to above, making art with your child is not the time to show off your skills – even if you don't think you have any, you are likely more skilled than they are. If you are working next to them, keep your art work simple, make things that look like what they're making. This will support their own experimentation; they will feel less pressure to make their art look like yours.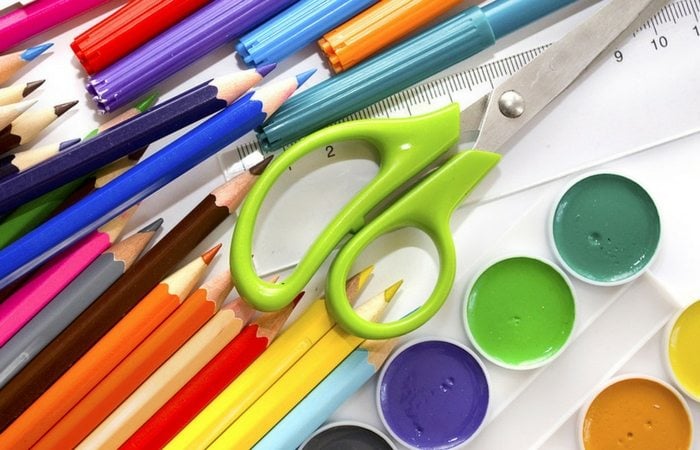 Provide a variety of art making materials
Remember that not all people like the same types of materials. Use things around the house – old paper bags, cardboard boxes, paint, paper towel tubes, old wrapping paper, magazines, glue, tape, markers – whatever! Make sure your kids have the option of 2D (paper, crayons or paint) and 3D (clay, play dough or cardboard) art materials.
Don't make their artwork about your approval
Instead of saying, "I like this," make enthusiastic observations. You can say, "Wow! Those colors are so bright," or "This is a very interesting shape!" First, this changes the purpose of their art making from making something to please you into making something to please themselves. Second, pointing out things that are interesting about their work can get them to talk about it more openly, and can help you learn about what they are thinking while they're making art.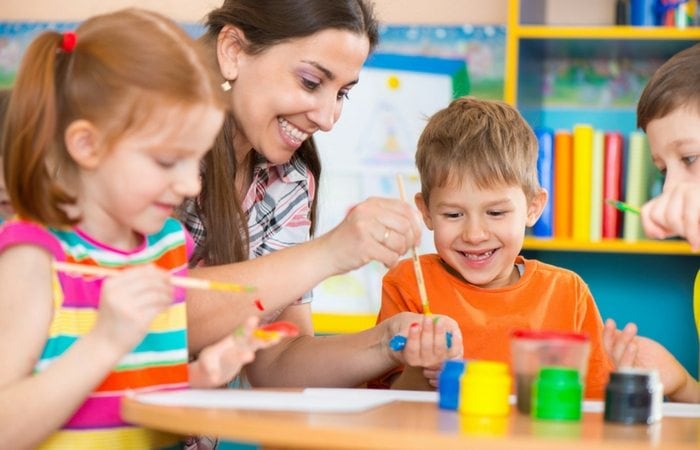 Don't ask "What is it?"
Asking "what is it" can make it hard for children to talk about their work because sometimes either they assume you will know what they've drawn or it sounds like you disapprove (it's hard to say "what is it" while sounding supportive!). Instead try, "Can you tell me about this?" or point out interesting parts of the art work (similar to above).
Encourage cleaning up/maintaining the supplies together
Caring about the materials shows that you care about the work that they make with it
Have them help you pick their favorites to hang up
This is probably the hardest one for me – the artwork that I usually want to hang up are likely the ones with recognizable images, which might not be the ones they like best. Make sure their favorite pieces get prominent display. Try to discourage displaying artwork other adults (like babysitters or well-meaning aunts and uncles) make for them; instead, emphasize that the fridge (or wall or wherever) is a place for their artwork, not the babysitters'!
Following these tips might require a shift in your expectations of what it will be like to make art with your child. But if you give your child the right environment, you might be surprised at what they will be able to express.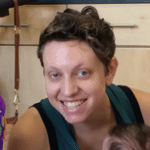 Robin Sheldon is an artist and therapist, currently staying at home full time with her big kid twins, new baby, and two cats while her husband hunts and gathers. According to her children, her job is making breakfast and packing lunches, what makes her happy is hugs, and her favorite food is cookies. Pretty accurate! For articles by Robin on Twiniversity, click here.
---
THIS CONTEST HAS ENDED