Last updated on August 4th, 2023 at 09:15 am
The name "non-stress test" is deceiving. It's stressful. For the mom, dad, physicians, technicians, and anyone else involved or watching, the process of getting hooked up for the test, finding the babies' heartbeats, anticipating hearing the heartbeats, and waiting the duration of the test can all be stressful.
Even though the name of the non-stress test (NST) is deceiving, the name was likely chosen because when testing babies' heartbeats, the desire is for them not to be in distress. Logical. But more officially, according to Baby Center, a non-stress test is "done during pregnancy to evaluate your baby's condition. During the test, your healthcare practitioner or a technician monitors your baby's heartbeat, first while the baby is resting and then while he's moving."
The first time an NST is performed, as a mom, you may feel like a car on a hoist being hooked up, plugged in, strapped on, and told to be still. Thankfully though, this is one of the most pain-free things to endure with a twin pregnancy. Just like all things in pregnancy, and parenthood for that matter, it's for the good of your children. Whether you're required to have this non-invasive test performed once every couple of weeks for "just in case" monitoring, or if you're on hospital bed rest with a high risk multiple pregnancy and require this test multiple times a day, the slight inconvenience is more than worth it to hear the condition of your babies' heartbeats.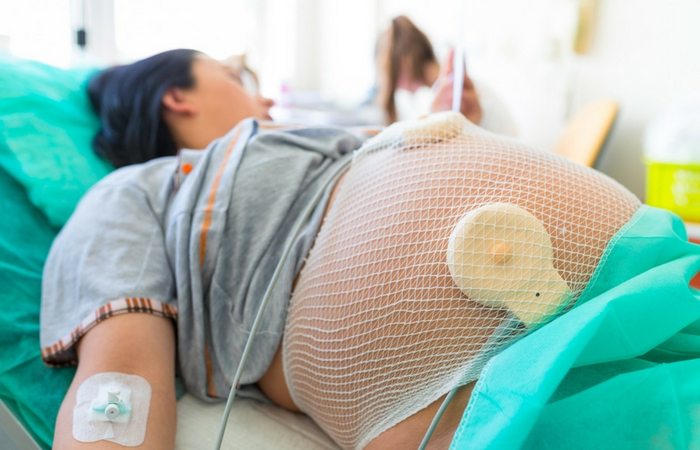 The most important thing to expect and keep in mind for the logistical side of NSTs is patience. The more babies you're carrying, naturally the longer it will take to find and consistently hear their heartbeats. So, get comfortable. (This is the first of years of extra patience required for multiples.) Make sure you have pillows in all the right places, a good show or movie ready (or some like to listen to the precious sound of those little heartbeats instead) and most importantly, make sure you don't have to use the ladies room during the test – that'll be sure to make an extra long test!
Once you're comfortable, monitors will be non-invasively temporarily attached to your belly; typically wrapped around from your back with elastic bands or held on with a mesh band. No matter the method of keeping the monitors in place, it's your job as the mama to stay still to keep them in place. Oh, and don't mind all the ewwey, gooey, gel. If you're a good patient, the technician/nurse will warm the gel for you. This gel acts as a lubricant to allow the monitors to move freely on your belly skin to find the babies and helps conduct sound. Similar to why gel is used for an ultrasound. It gets messy.
Then, the searching, wiggling, searching, maneuvering, searching, and waiting begin. Yes, there's lots of searching involved. Remember – patience. Once all the searching results in finding those wiggly little ones, listen. Just stop and listen. Those fast little heartbeats are one of your first audible connections with your babies. Take in the moment.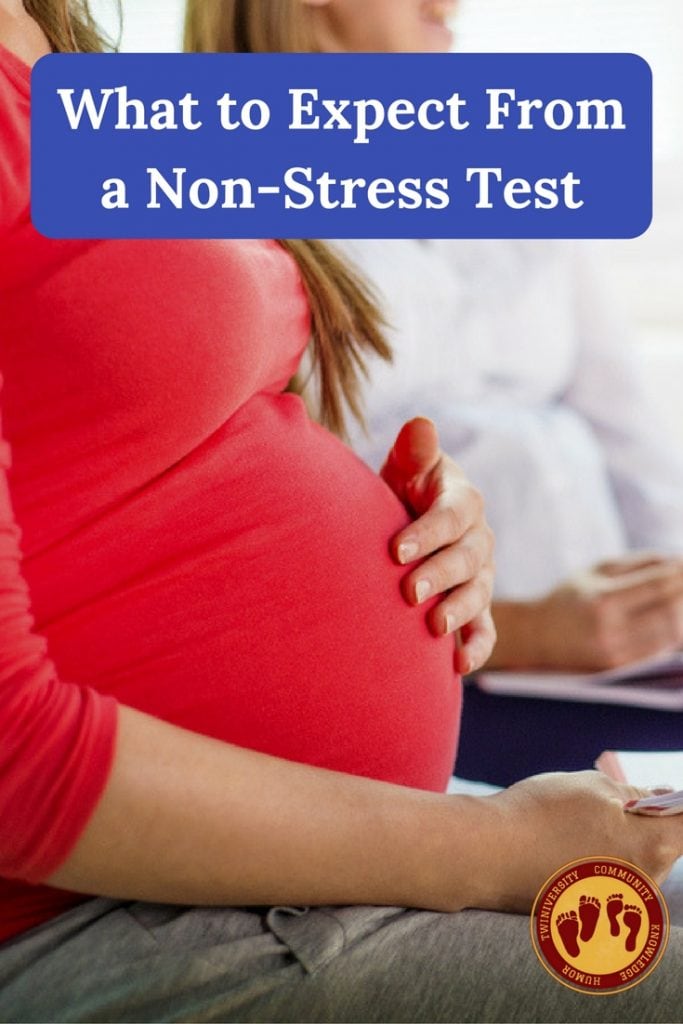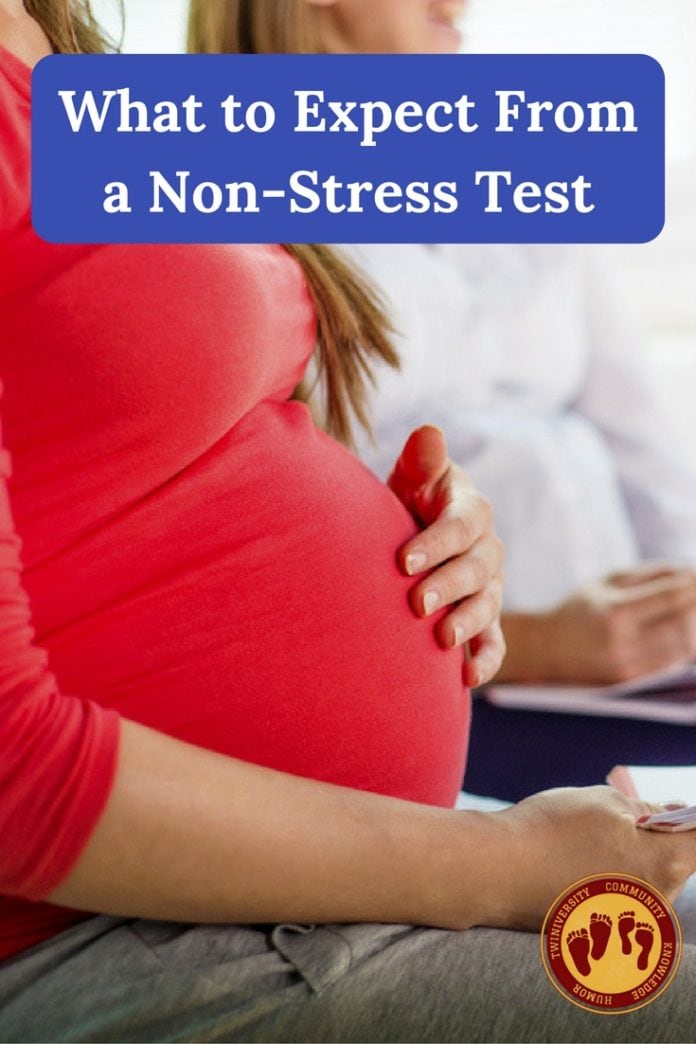 From here, the technician/nurse will monitor and likely continue to search for the wiggle worms for the duration of the monitoring session because they'll probably move in and out of range from the monitors. Don't feel rushed. Remember to be patient and take in the precious times you get to spend listening to your little ones. Before you know it, you'll be the one chasing them…around the house. So, enjoy a professional chasing them for you while you sit back and relax. After all, it's a non-stress test.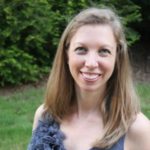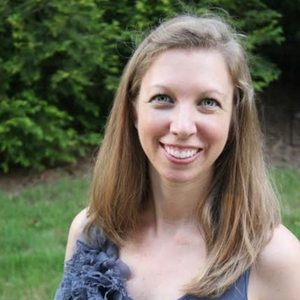 Liza Mead is a stay-at-home-mama to fraternal twin boys and has a background in interior design and marketing, both of which she works in second to her favorite titles as Wife and Mommy. In Raleigh, North Carolina, when her twins are content or sleeping, she spends time organizing, being involved in church events, and event planning. She's thankful for the blessing of each day's new memories created. Read more articles by Liza on Twiniversity.
---
Related Articles
---
Are You a New Twin Parent?
Check out Natalie Diaz's book:
"What To Do When You're Having Two
The Twin Survival Guide From Pregnancy Through the First Year"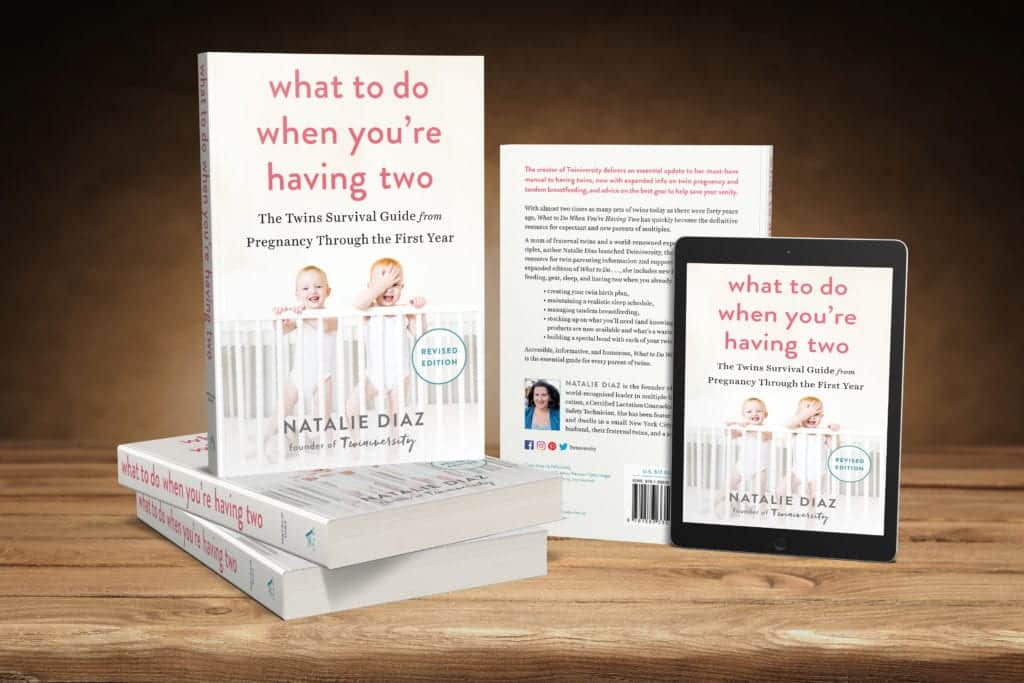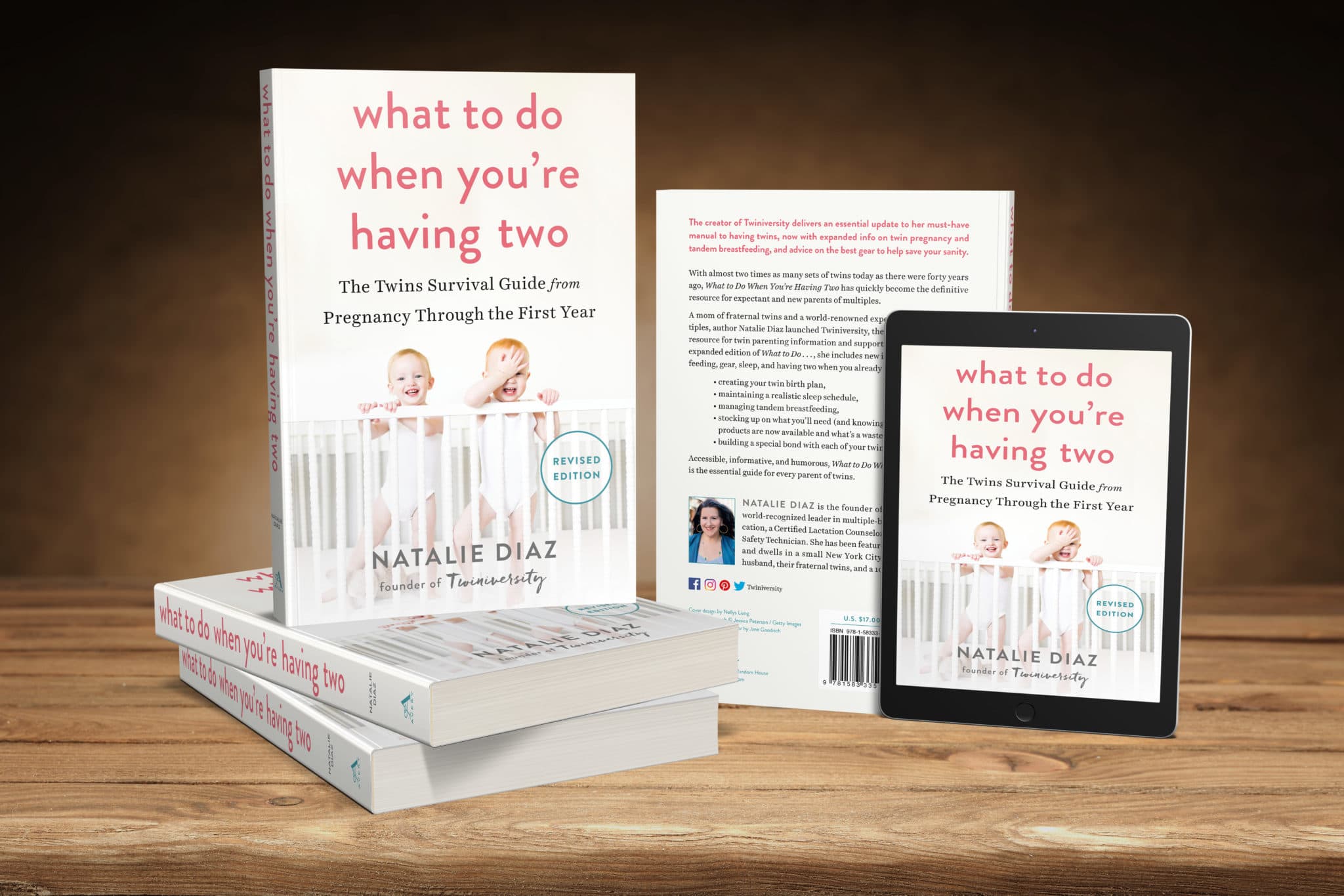 In What to Do When You're Having Two: The Twins Survival Guide from Pregnancy Through the First Year, national twins guru and founder of Twiniversity (and twin mom herself!) Natalie Diaz provides a no-holds-barred resource about life with twins, from pregnancy and birth all the way through your duo's first year of life.
---
Have you taken your expecting twins class yet? We offer a great class on demand so you can take it on your own schedule! There are so many video modules covering everything from your twins' baby registry to your first week at home with twins! Sign up today to get started before your twins arrive.
---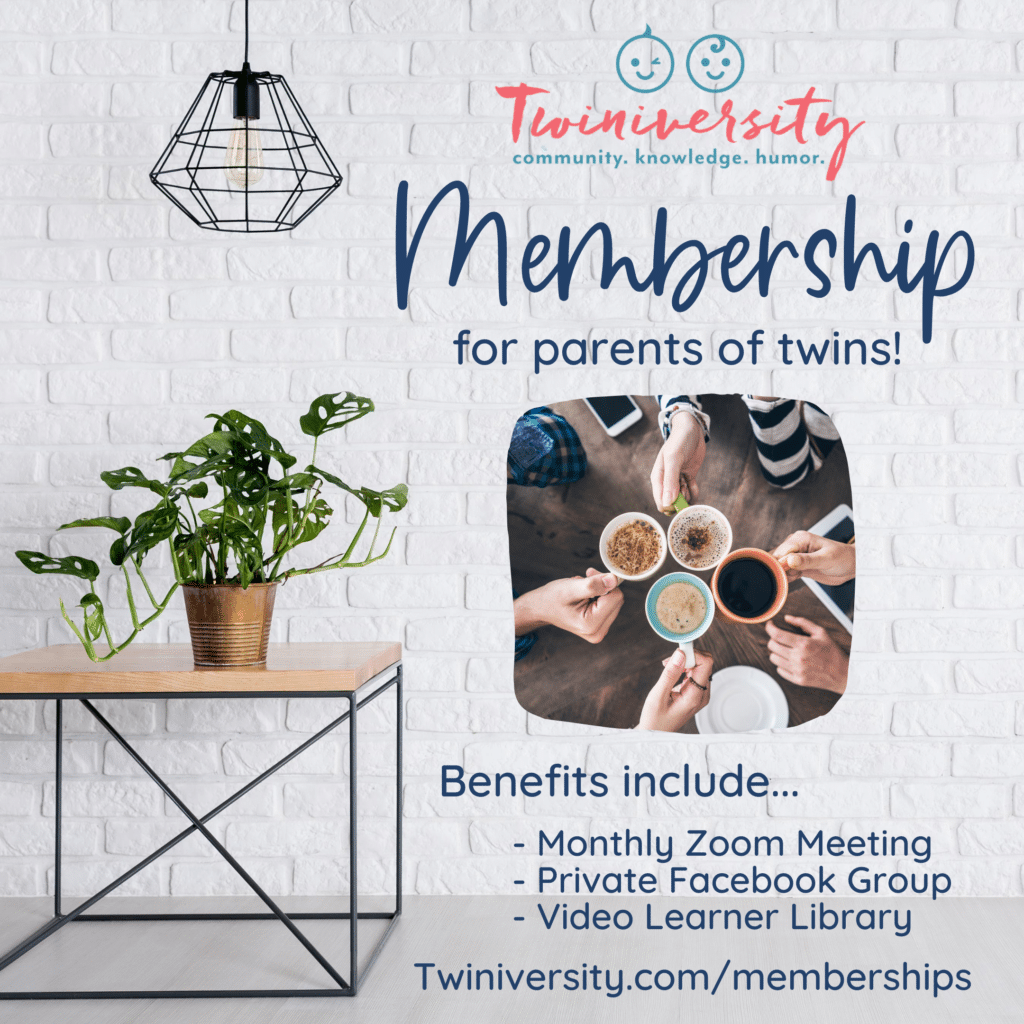 Need some twin parent friends? Get the support you need with a Twiniversity Membership. Benefits include a monthly twin parent club meeting on Zoom, access to a private Facebook group just for twin parents, and a video library of twin parenting lessons. Visit Twiniversity.com/membership to join today!
---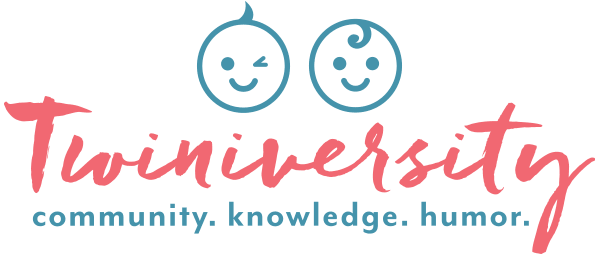 Twiniversity is the #1 source for parents of
multiples, and we are growing faster every day!
Find us all over the web:
Or contact us by email at community@twiniversity.com