Last updated on October 8th, 2023 at 11:10 pm
Diaper bag backpacks are a game-changer for parents of twins (how else can you also carry 2 car seats at the same time?). But honestly, no matter how many kids you have, diaper bag backpacks are a trend we should all follow. The main reason? A diaper backpack offers more room for all the goods and leaves you hands-free for carrying babies or holding little hands. But best of all, they don't slip off your shoulder every few feet like typical diaper bags.
Of course, when you think of a backpack, you might instantly think of a black Jansport (so cool in the 90s) but trust me, these diaper bag backpacks are so much more stylish than your basic Jansport backpack!
Being a parent means you already have your hands full; pushing strollers, carrying babies, holding all the stuff you told your kids they could only bring if they carried it. Free up your hands (or at least one) with a diaper bag backpack.
Benefits of Diaper Bag Backpacks for Parents
Besides being stylish and trendy, diaper bag backpacks have a slight edge over their messenger bag counterparts. Backpack diaper bags are very beneficial to your health, sanity, and are dad-approved! Backpacks evenly distribute the weight of the contents, making it easier and more comfortable to carry for long periods of time (this is why people backpack through Europe and don't messenger bag it).
Diaper bag backpacks for parents make the impossible possible: a busy mom with two free hands (a free hand to carry a fresh hot cup of coffee is a recurring dream of mine). Not to mention the amount of storage space a backpack provides. But when designed specifically as a diaper bag, it comes complete with compartments and pockets for organized chaos.
Check out Twiniversity's best diaper bag backpacks for parents of twins:
Best Diaper Bag Backpacks
Skip Hop Mainframe Diaper Backpack
The Skip Hop Mainframe diaper backpack offers plenty of space to stash everything you need. Plus, it has 10 pockets! This sporty, lightweight backpack features a large main compartment with zip closure, an easy-access tech pocket, and two insulated side bottle pockets. The Mainframe diaper bag backpack includes a machine-washable cushioned changing pad and makes a perfect bag for life beyond baby.
Pros: The Skip Hop Mainframe diaper bag backpack has a wide-open frame allowing the bag to stay open without falling over. This large open-mouth top makes for easy access to items and has excellent shortage capacity and deep side drink pockets.
Cons: The carrying straps are only 1.5 inches wide, making them uncomfortable after minimum wear. The zipper is impossible to open or close just with one hand and although this bag has a large capacity, it doesn't feel clunky. Plus it is spot clean only.
To purchase, click here
Petunia Pickle Bottom Boxy Bag
The Boxy Diaper Bag Backpack for parents of twins is full of great features! It has a built-in changing station, a wide zip-open top for quick access, internal organization pockets, multiple carrying options (backpack and cross-body / shoulder), and a felt-lined zippered pocket that is easy to reach while the bag is on your back.
Pros: The carrying straps are thick and made of high-quality material. The Boxy has plenty of pockets to keep the biggest neat freak organized. This diaper backpack is waterproof and comes with stroller straps. Has great style ​and doesn't look like a diaper bag.
Cons: Does not have thermal pockets for bottles. The backpack straps are skinny, and the messenger strap isn't detectable. The fold-out changing station is a good idea but a bit unsanitary when used in public spaces. The size can feel bulky when packed full.
To purchase, click here
Itzy Ritzy Boss Backpack Diaper Bag
The Itzy Ritzy Boss Backpack features a roomy main compartment with an easy-access opening and comfortable shoulder straps. Storage is not an issue with this diaper bag backpack. The Boss has 17 pockets total (10 internal and 7 external, including two insulated bottle pockets) and a felt-lined, water-resistant valuables pocket. Each Itzy Ritzy backpack diaper bag includes coordinating stroller clips and an easy-wipe changing pad with "head" and "toes" printed on the inside. The changing pad has its own zippered pocket on the back of the bag, providing an extra cushion when wearing.
Pros: The Boss diaper bag backpack has magnetic external pockets for quick access to keys and phones. So many pockets and space, giving you more than enough room to pack everything you might need. Stylish and features rubber feet on the bottom to help keep the backpack upright and the bottom of the bag clean.
Cons: Zippers tend to get caught on the excess hem in the main compartment, making it a two-hand zip. Front magnetic pockets do not stay closed if you have bulky keychains. Made of "vegan" leather, which may produce a foul smell when new in a box.
To purchase, click here
Ju-Ju-Be Million Pockets Backpack
The Ju-Ju-Be Million Pockets diaper bag backpack for parents of twins is beautiful, durable, easy to clean, and made of machine washable "leather." It features 25 pockets (8 exterior pockets w/ a mommy pocket, two bottle pockets, changing pad pocket, plus an easy-access pocket on top and a sleek hidden pocket in front; also has 17 interior pockets, including a padded laptop pocket). This backpack has a dual-compartment design, keeping feeding and changing supplies separate inside the backpack. Other incredible features include comfortable straps, D-rings for your favorite stroller straps, an empty hand sanitizer bottle with a matching storage case, durable all-metal hardware, and a memory foam changing pad.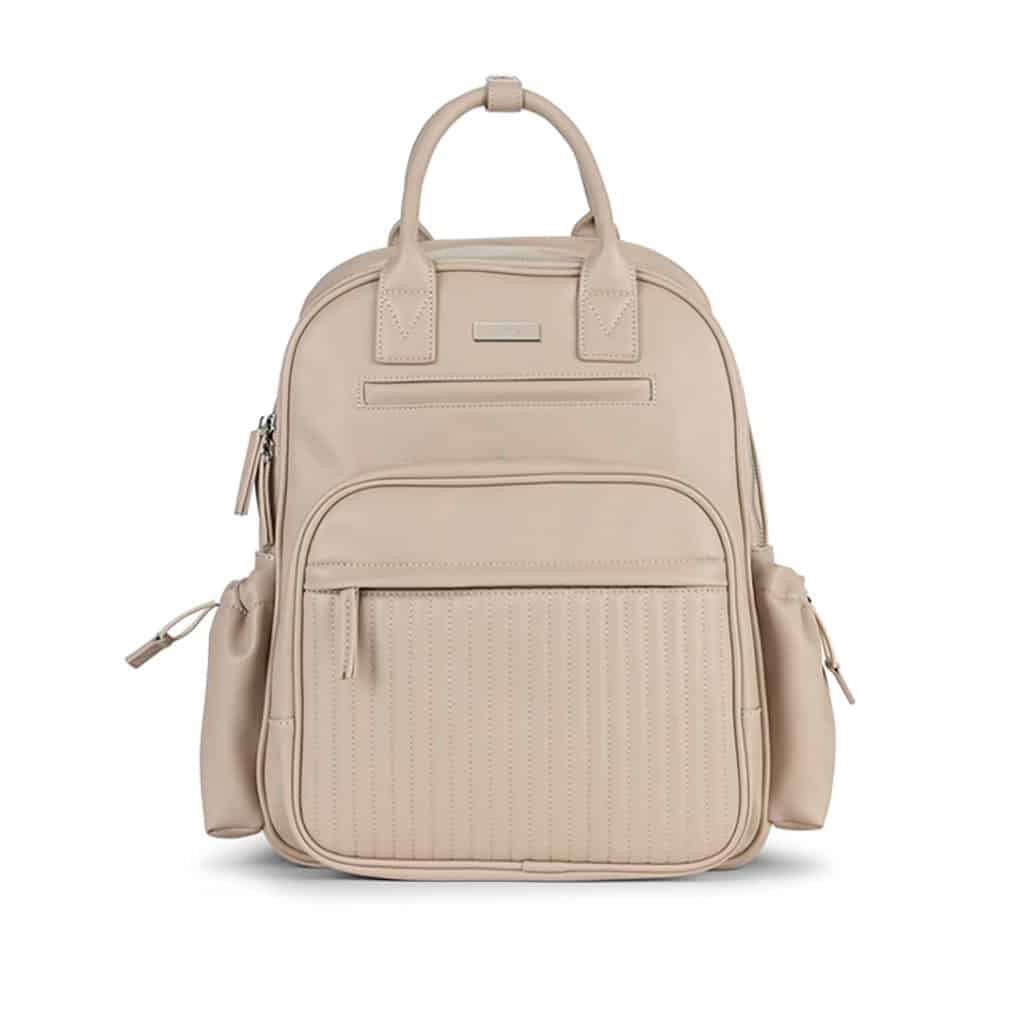 Pros: The best thing about Ju-Ju-Be is the MACHINE WASHABLE "leather." This diaper bag backpack is practical, sleek, and super soft to the touch. The zippers are so smooth that you can operate them with one hand!
Cons: The Ju-Ju-Be Million Pocket diaper backpack is available in very limited color choices. When not in use, the straps get in the way, and there is nowhere to tuck them in when not in use. Hard to access the main compartment when pockets are full.
To purchase, click here
Storksak St. James Convertible Diaper Bag
The Storksak St. James diaper bag backpack is durable, water-resistant and can be worn as a shoulder bag, crossbody, or backpack. A machine washable changing mat with luxurious padding + pocket storage is included. Features 7 internal and external pockets, positioned just where you need them. Easily convertible from backpack to shoulder bag with one pull. Has a double layer webbing for durability and comfort when worn as a backpack.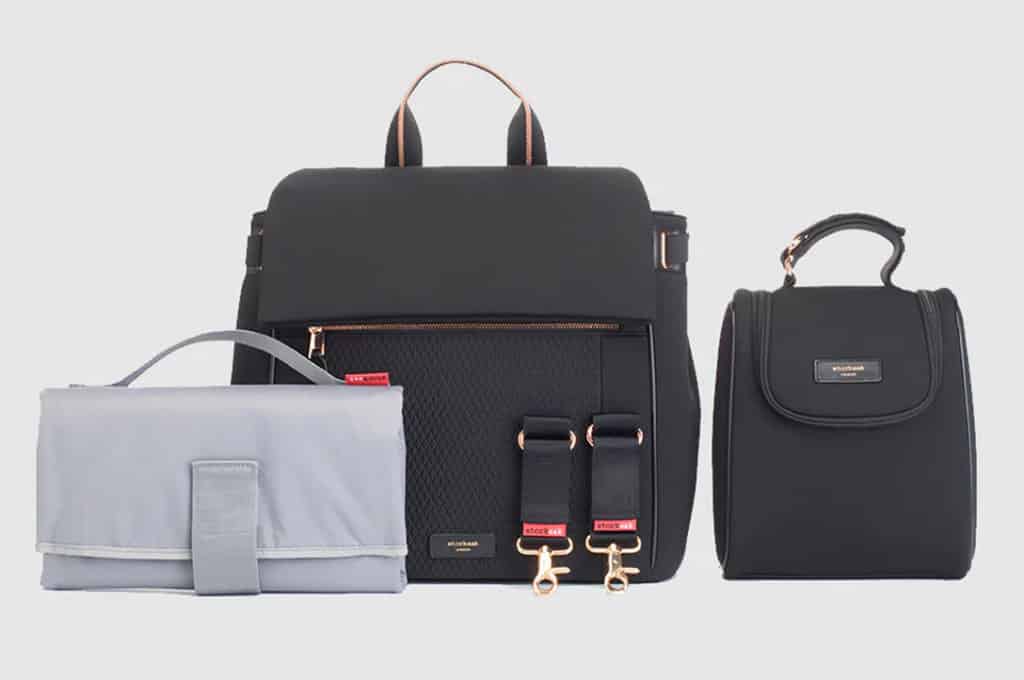 Pros: The St. James backpack is the perfect mix between functionality and stylishness. The Storksak diaper bag backpack opens completely, making all pockets and contents accessible. The included changing mat is great quality and machine washable. Easily wipes clean.
Cons: The St. James is definitely on the compact side of backpack diaper bags. The straps tend to get twisted and are uncomfortable when used as a backpack. The bag has large gaps on either side of the zip, so it is not secure.
To purchase, click here
Babymel George Canvas Diaper Backpack
The Babymel George Diaper Bag Backpack features a water-resistant fabric made from old plastic bottles, keeping them out of landfills and oceans. This diaper bag has a place for everything; an Easy-Wipes side pocket, a discreet back zipped phone pocket, and a padded tech pocket for a tablet or laptop. The George backpack has 7 internal and external pockets, including 2 insulated bottle pockets that keep bottles upright and warm/cool for up to 4 hours.
Pros: The Babymel George diaper bag backpack is lightweight and comfortable to wear. This bag is not too big or too small, it's just the right size. The shoulder straps are wide and padded, making carrying effortless. This backpack also has a discrete, safe pocket at the back and a handy wipes pouch. Dad approved.
Cons: If this backpack is full, the stroller strap Velcro does not hold. It's deep, making some things hard to find. Due to its size, you may hit your knees on it when walking with it attached to your stroller.
To purchase, click here
The Best Extra Large Diaper Bag Backpacks for Parents
Parker Baby Co Birch Bag XL Diaper Backpack
The Parker Baby Co Birch extra-large backpack makes your diaper bag both stylish and practical. This diaper bag backpack for parents of twins is made of high-quality, durable materials, including water-resistant canvas with vegan leather accents on the outside and water-resistant polyester on the inside. The Birch bag includes 10 functional pockets: Insulated bottle pockets, mesh organizer pockets for diapers and wipes, a mommy pocket with a key ring, a padded laptop/tablet sleeve, and changing pad and stroller straps. Made with twins in mind, by parents of twins!
Pros: This diaper bag backpack is very large inside and out, which makes it functional and spacious. Plus it looks good! The organization is easy and customizable and has ample space. Plus, it's easy to access in this extra-large diaper bag backpack. There is a pocket for everything, so nothing is lost in the bottom of the bag. Very popular with families of multiples.
Cons: Insulated pockets are too small to accommodate a standard 8 oz bottle. The changing pad is only 18 inches in length. No padding in the straps, which could be a problem if wearing this bag for an extended period of time.
To purchase, click here
Babymoov Le Sancy XL Diaper Backpack
The Babymoov Le Sancy extra-large diaper bag backpack keeps the frequently used contents right up front and easy to access: a changing pocket and insulated compartment are on the front of the bag. The Le Sancy has an organized interior, complete with zip, mesh, elastic, and parent pockets to keep the essentials stored neatly and easy to find. Elastic straps on the side of the bag secure bottles. And a removable and waterproof changing mat makes diaper changes a cinch. This diaper backpack has an adjustable roll-top, increasing the size of the bag.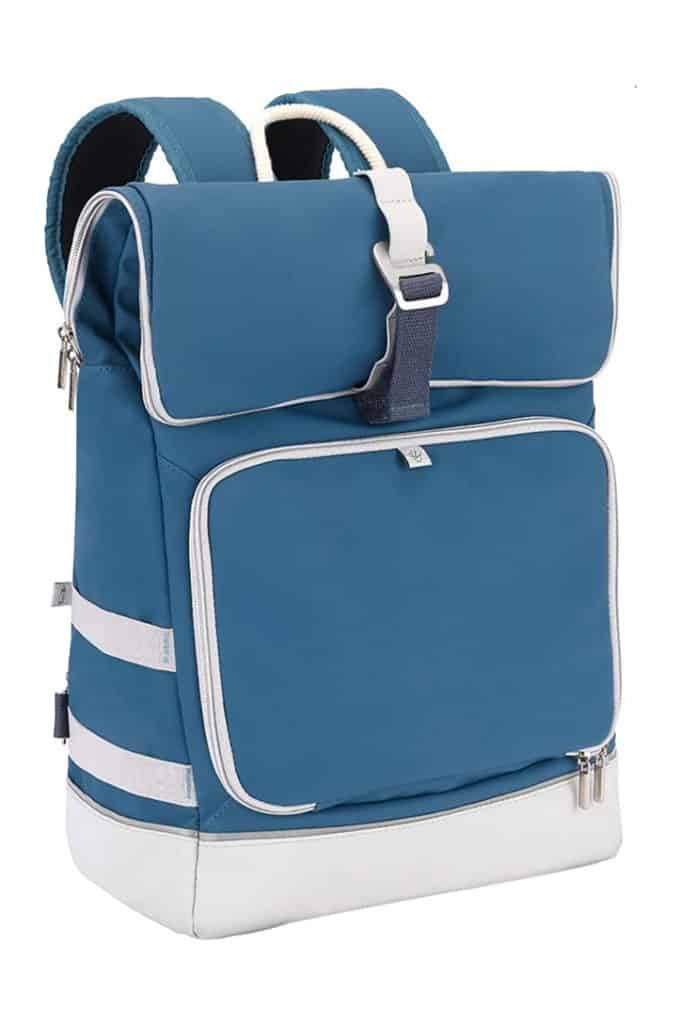 Pros: The Babymoov Le Sancy comes with some wonderful accessories like a pacifier holder and terry towel for all the likely messes. The integrated snack cooler is genius, and the padded strap and handles make carrying easy and comfortable. Modern design with zippers that are quick to open and close.
Cons: The changing pad is narrow and does not accommodate older babies. The diaper pockets are a bit small, good for size 1 diapers only.
To purchase, click here
Freshly Picked Minimal Faux Leather XL Backpack
This spacious and durable water-resistant diaper bag has plenty of pockets: 7 interior pockets and 4 exterior pockets, including a back tech pocket for a laptop or tablet. The Freshly Picked Minimal backpack features a functional design that will get you through the baby years and beyond. The metal feet on the bottom of the bag help it stand up, making for easy accessibility.
Pros: The Freshly Picked Minimal backpack looks like a purse but functions as a diaper bag. This backpack holds a lot without feeling bulky. Easily fits a 32 oz tumbler in the side pocket.
Cons: The "vegan" leather scratches easily and does not buff out. The straps are a bit stiff and thin, which makes it a bit uncomfortable to wear for an extended amount of time.
To purchase, click here
KeaBabies Original XL Diaper Backpack
The KeaBabies Original extra-large diaper bag backpack features large storage compartments and multifunctional pockets. The wide top zipper opening and the back zipper access give you easy access to any parts of the bag. Includes a removable diaper changing pad.
Pros: The KeaBabies Original extra large backpack is lightweight and can fit a lot inside. Stylish and functional. The rear access zipper and wide top opening are super convenient.
Cons: The zippers are hard to work with, especially with one hand. The material is stiff, not soft at all like the other diaper bags. The straps on this bag are very loose and constantly need to be tightened. There is a lack of support along the sides of the bag, allowing it to sag and fall over.
To purchase, click here
As we all know, infants and toddlers require an obscene amount of stuff, and the right diaper bag can make all the difference. That's why we love diaper bag backpacks as an option — they are perfect for holding and transporting all of that stuff! Diaper bag backpacks for parents of twins is a MUST!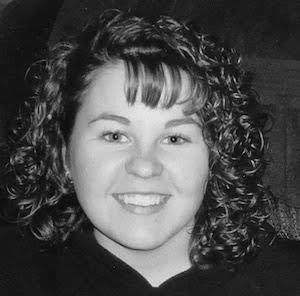 Latest Twiniversity Articles