Last updated on September 30th, 2021 at 10:14 am
When I was leaving the hospital with my twins (aka Double Trouble) the discharge packet came with a pamphlet stating that they did come with instructions! I don't know how helpful it was, as they are seven months old now and I still have yet to get past page two. I know one thing I wasn't expecting was the prices. Let's just say Facebook groups, flea markets, and yard sales have become my best friends, and Pinterest my third love. So getting to the nitty-gritty of the article, these are some (hopefully) helpful little tips and tricks that I have put to use to save some money with baby twins.
1. Diaper Genie Magic
I'm going to kick it off with a great trick I figured out about 4 months ago. A Diaper Genie is becoming a nursery must. Little did I know, despite the bags inside that the diapers fall into, the inside of the Genie pail itself gets to smelling like baby diapers. They sell the carbon filters to keep the smell from coming out which is fantastic… until you go to empty it. I had just purchased my first container of scent booster crystals (Purex Crystals) and figured it was worth a try. Just a shake or two and you are good to go! A few months has gone by and it still has the Diaper Genie smelling fantastic (I take a Clorox wipe to it once a week as well!) This also works on garbage cans too, but not as long.
2. Baby Wearing for Less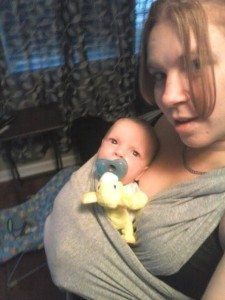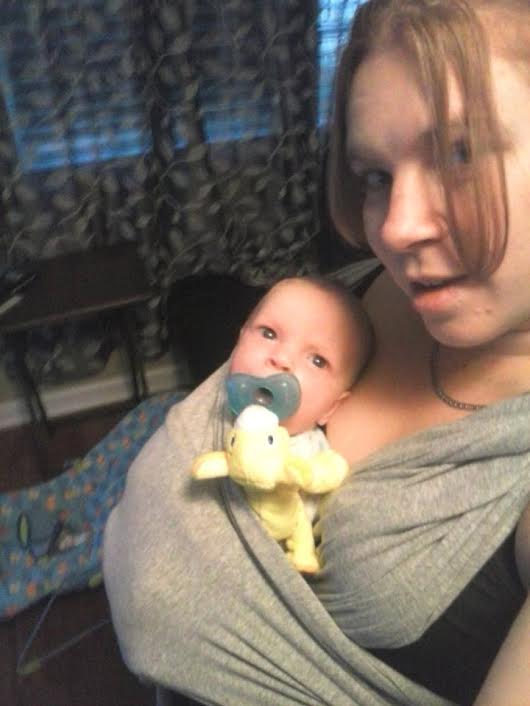 I'm still experimenting with different baby-wearing methods with Double Trouble, as the idea of two backpack-like carriers kind of boggles me. One thing I have tried is the wrap. I didn't go spend $60+ on one though. I actually spent $6 at Walmart for 2 yards of fabric and it made 2 wraps. Make sure it's a somewhat stretchy breathable piece of fabric, like jersey cotton. Wash and dry the fabric first so that it's good and clean (and shrunken). Mark the middle so you have two 2-yard panels and cut. You can also take an old stretched out t-shirt and cut straight across from one armpit to another to make a sling carrier. We are still experimenting with different wraps and carriers but "Trouble" wiggles a lot. "Double" is good just relaxing all cuddled up. If you Google "baby wearing" there are tons of tips and tricks.
3. Little Ones Medicine Shelf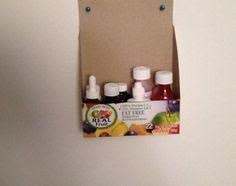 I don't know how many moms have a stock of things like gas drops and baby Tylenol, but I ended up stocking up on everything from nose spray to the expensive gripe water (which you can make at home; check Pinterest). With the array of essentials needed, plus "Trouble" needing some special care items, I came up with this silly but useful idea. A little medicine shelf made from a healthy snack box! Cut off the top flaps, trim the skinny sides at an angle, and then down to the front where you leave enough to make it sturdy and hold everything. I hung it up with thumbtacks and put the medicine dropper on a string with a loop on one end and slip knot on the other to hang it from one of the tacks. One day I will at least paint it (hopefully). This is also helpful for organizing mail — just don't cut the front so far down. So many uses for one little box!
4. Toy Tube (a little red-neckery never hurts)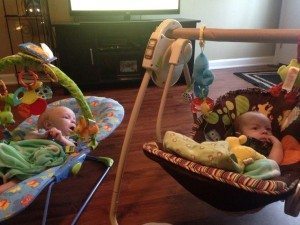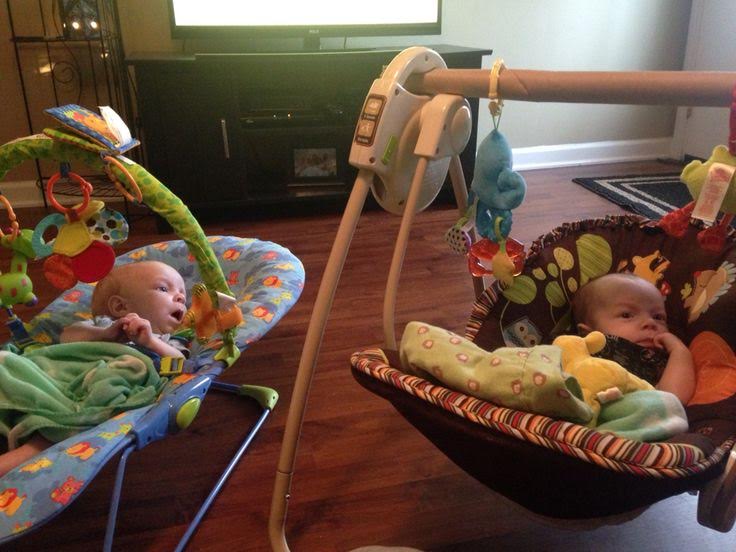 So I bought this awesome little portable swing for Double Trouble to share. It was only $5 and in great condition (score!) After we got settled in, one in the reclining bouncer and the other in the swing, I noticed that the baby in the swing was always looking at the toys hanging over the bouncer. There was no toy bar, nor a way to attach one, aside from purchasing a $20+ car seat bar. This got me thinking all MacGyver-like. I ended up taking an empty wrapping paper tube, cutting it down to the size of the swing, placing it through one side, added toys, and pushed it through the other handle. Of course, you can decorate it if you so choose. It definitely got used and they enjoyed it right up until they were pulling the toys a lot, at which point I took it off so they wouldn't get hurt.
5. Car Seat and Stroller Toy Loops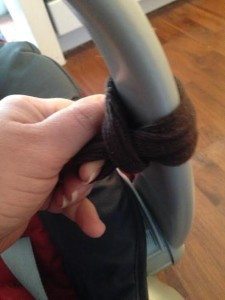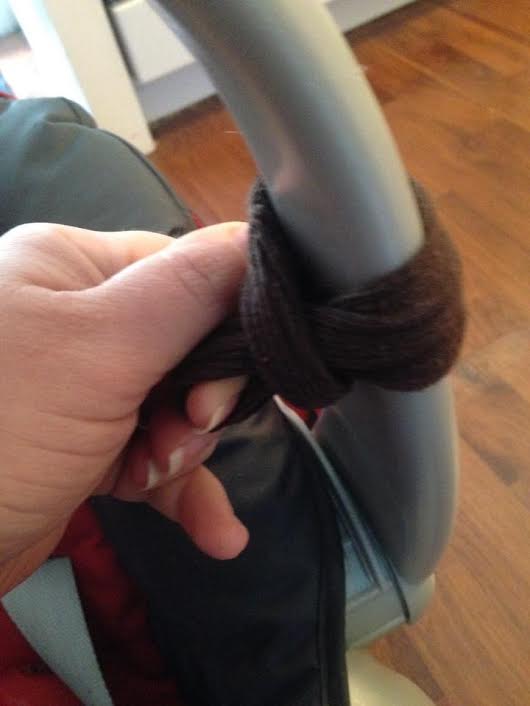 I have been able to find a decent amount of dangling toys but the price of the car seat toy bars is a tad pricey. As cute as it was watching them swat at the toys and try to play with them, I really wanted them to be able to pull the toys closer to actually play with them. One thing I like to do, so they can play with the toy, is loop a stretched-out scrunchie around the handle and use the toy clips to hook it. You can also just clip both sides to make it easier to reattach.
6. Fresh Food Feeder Storage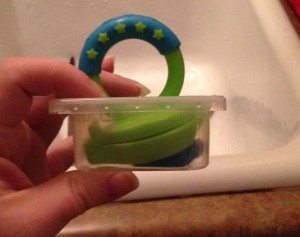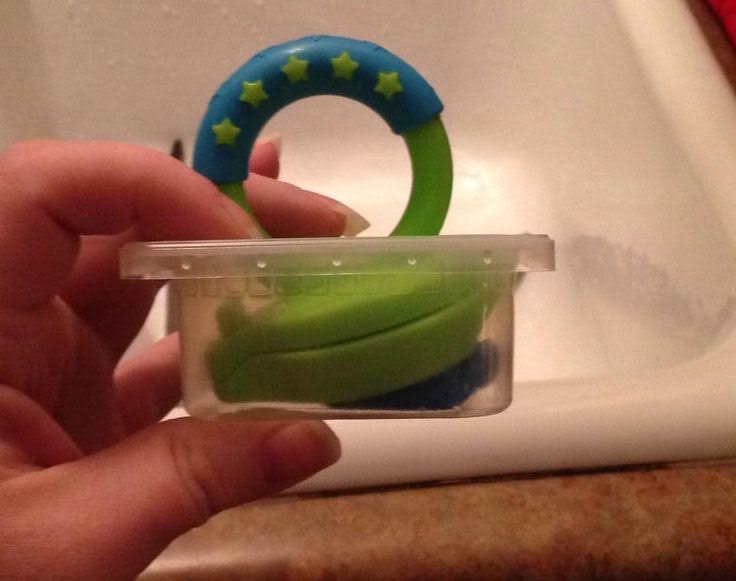 My twins are in teething mode and I'm going through the internal "pre-made baby food" vs making my own. I decided to take a step in the homemade direction and purchase two fresh food feeders. It makes for a fun time watching so far, and oh the moments! Bananas are super yummy, but super messy. One challenge was trying to find a good way to store them. The zip baggies were okay but I would hate to put it in there damp and risk mold. There goes the lightbulb again! These feeders fit great in the Stage 1 containers! Just cut the brand name off of the lid (I might have gone a little further to make it fit). Ta-daaa!!
7. For Those With Girls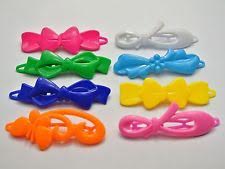 With summer upon us, there are some really cute sun dresses and I've noticed a lot of girls with straps that are too long. Try using some small barrettes in the back to clip the straps together, shortening them in an instant. It makes for a cute little accessory too! You can usually find them at the dollar stores for a good price.It also works for the spaghetti strap tank tops.
8. Change Bucket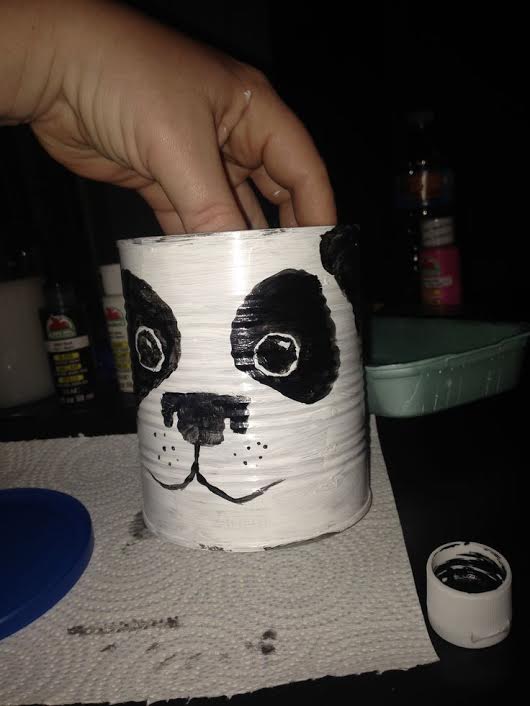 I decided that after my shopping trips I was going to save my change as an "in-case of emergency" fund. It was a matter of where to put it. I decided to turn a cleaned formula canister into a bank. You can paint them, put cheap contact paper on them, or if you want to splurge a bit, use the decorated Duck Tape! So far I've decorated one for myself, a few for my aunts, and I'm working on painting one for each of the DT team.
9. Miracle Ink Remover
I have a really bad habit of putting pens in my hair and sometimes they fall out. One day one fell into the washing machine. I was so mad, as it busted and made a mess. It ruined one of my favorite baby onesies. Before losing all hope I looked to the internet for answers. I was shocked to find the suggestion to use hand sanitizer and I had a huge container of it. Lo and behold, it worked! Soak the spot down with sanitizer and use a toothbrush to scrub. Let it sit a tad (don't let it dry) and add a little more if needed (remember to put it on a paper towel or something so you don't stain anything else). Scrub a little more, rinse, and wash. Even though I washed and dried the onesie multiple times before realizing there was an ink stain, it still worked.
10. Sticky Labels Remover
I enjoy doing crafts while Double Trouble are off in dreamland. One of my favorite things is repurposing. Turning that mason jar into a bank, using wine bottles for decorations — things like that. The biggest frustration is the sticky adhesive. A little soaking and that label comes right off, but a sticky residue is left behind. The secret… toothpaste! I like shopping at the "everything is $1" store because, well, everything is $1. Best part is most of them take coupons (I wasn't kidding when I said I'm cheap.) I've been able to get Colgate toothpaste for 25 cents! Make sure to pick up a toothbrush. I get a 10 pack there (10 cents each) and use them for so many projects. If you scrub the toothpaste in little circles it works to remove the bottom layer of sticky stuff. The end result: a nice smooth surface to paint.
I know this was no Parenting 101 session, but hopefully it inspires someone to get creative and think outside the box. Being a good mom or dad doesn't have to be expensive.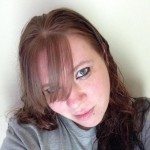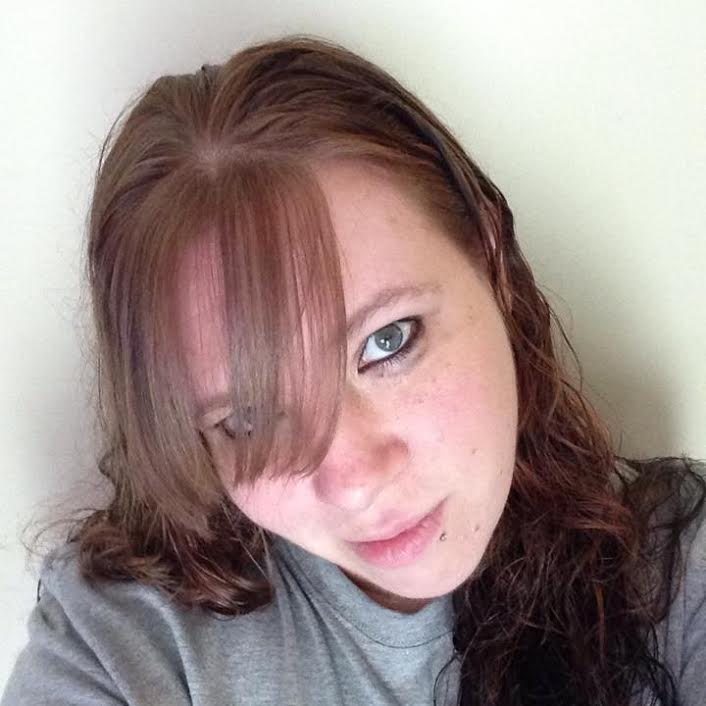 As a 32 year old single Mom of seven month old twin boys, a full-time college student, and a part-time Avon Independent Sales Rep., Jenn Fountain stays pretty busy. Going for her Bachelor's Degree in IT she is shooting for the stars and reaching for the moon. Having a creative streak, she loves coming up with new little projects to do and with Double Trouble being mobile she has just the inspiration to do it. She hopes to start an online store with some of her repurposed items so that she can get back to paying off student loans and plan a fun-filled future with Double Trouble. Her favorite spare-time activities are looking for new project ideas on Pinterest, fixing computers, and trying to come up with the last half of her "101 uses for empty formula cans" challenge just to see if she can come up with all 101.
Related Articles