Are you thinking about potty training your twins? We at Twiniversity would like to help make this transition as easy as possible. So we created a list of 10 must have supplies for potty training twins. With the right supplies you and your twinnies are sure to say goodbye to those diapers soon!

1. BabyBjorn Potty Seat – This potty seat is sleek and has a simple design. It's easy to clean and doesn't have any annoying sounds or other bells/whistles. It's the perfect potty seat for your twinnies.

2. Pampers Easy Ups – These Easy Ups are really soft and fit like underwear. Their elastic waste band makes it easy for your twinnies to pull them up and down when they are learning to go to the potty by themselves.

3. Kandoo flushable wipes – When you need something a little stronger than regular toilet paper to wipe your twinnies tushies these are the perfect solution! They are super convenient to keep right next to the potty, as well as in your bag while out and about.

4. BabyBjorn Step Stool – This step stool is the perfect height for you twinnies to climb on to the toilet seat by themselves or to stand on while washing their hands. It's sturdy and non-slip makes you confident that your child will be safe when using it.

5. Underwear – These Paw Patrol underwear and/or Disney Minnie Mouse underwear will make your twinnies so happy and proud of themselves and their potty training success. Diapers will be a thing of the past once they try these on!

6. Clorox Disinfecting Wipes – Cleaning up potty accidents around the house can be daunting, but with Clorox Disinfecting wipes is it so easy! These convenient wipes give you the confidence that you have eliminated the bacteria on surfaces.

7. Laundry Detergent – With lots of potty training accidents you will definitely need to stock up on laundry detergent. These Free and Gentle Tide pods are fabulous. No measuring needed, so you can throw a load of laundry in the washer super quick and get back to potty training.

8. BabyBjorn Toilet trainer – Perfect for when you want your twinnies to start using your regular toilet, this toilet trainer fits perfectly over your regular toilet. They will feel so much more in control and become excited to go on it all the time!

9. Crafts and activities for staying home – Whether it's finger paints or a new puzzle. You'll be home a lot so make sure to liven up the routine with some new activities that can be done at home.

10. Potty Chart – If your stumped on how to get your twinnies started potty training this is the perfect kit for you. It comes with a book that you can read to your twinnies to get them inspired to use the potty, as well as stickers to put on the chart to help track their progress.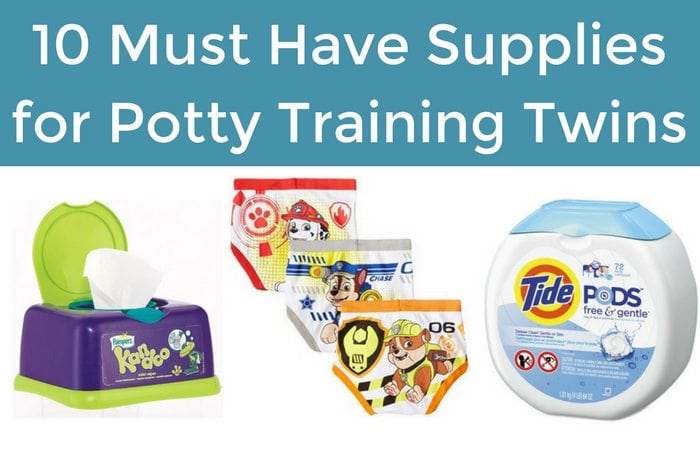 ---
Related Articles
---