Last updated on September 28th, 2021 at 01:58 pm
Recently the twins and I had the privilege of visiting Universal Orlando's newest destination, Volcano Bay. Spread out over 53 acres containing a total of 18 rides, this is the hottest ticket in town. Experiencing this park first-hand gave us the opportunity to provide you, our favorite Twiniversity readers, the inside scoop on all things Krakatau and Volcano Bay.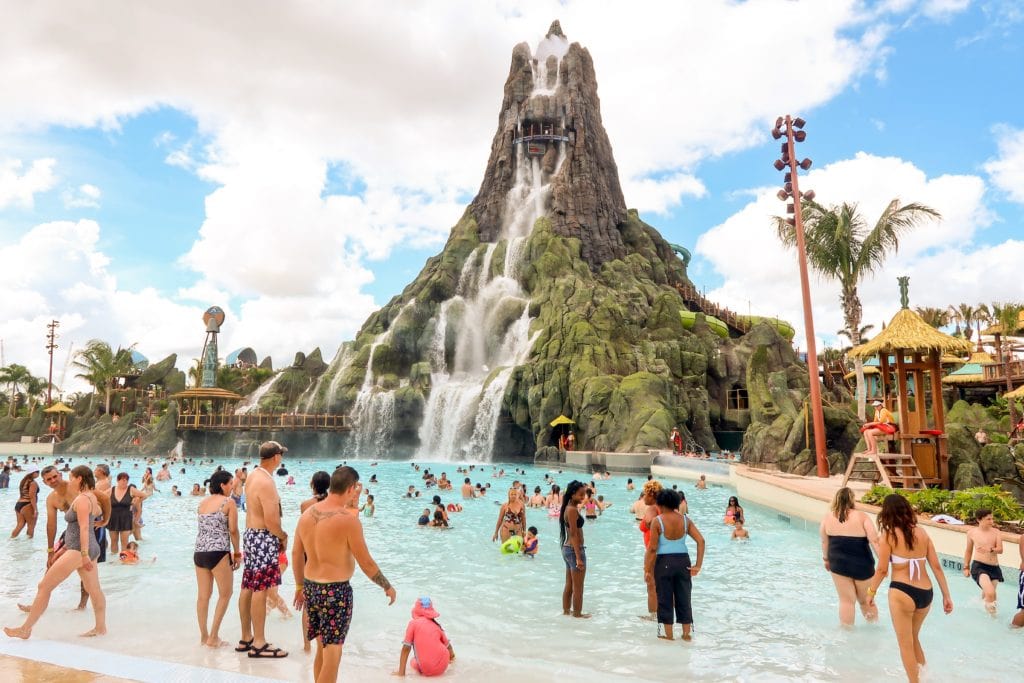 10 Tips For Visiting Volcano Bay at Universal's Orlando Resort
1. Get there early! I CANNOT STRESS THIS ENOUGH!!!! With Volcano Bay opening usually around 9 AM (always check the park times!), guests staying at one of Universal Orlando's on-site hotels have an opportunity to get to the park earlier than the general public. This is the #1 reason to stay on property (besides the resorts being awesome of course!) On this trip were able to get there 30 minutes BEFORE hotel guests and there was a line of at least a few hundred before Volcano Bay even opened to them. Take advantage of this. It's probably the biggest benefit of staying at a Universal Resort. By 10 am there will be a SEA (pun intended) of people flooding into Volcano Bay and the odds of you getting a seat under an umbrella in your ideal stop is slim to none. GET THERE EARLY, did I mention that?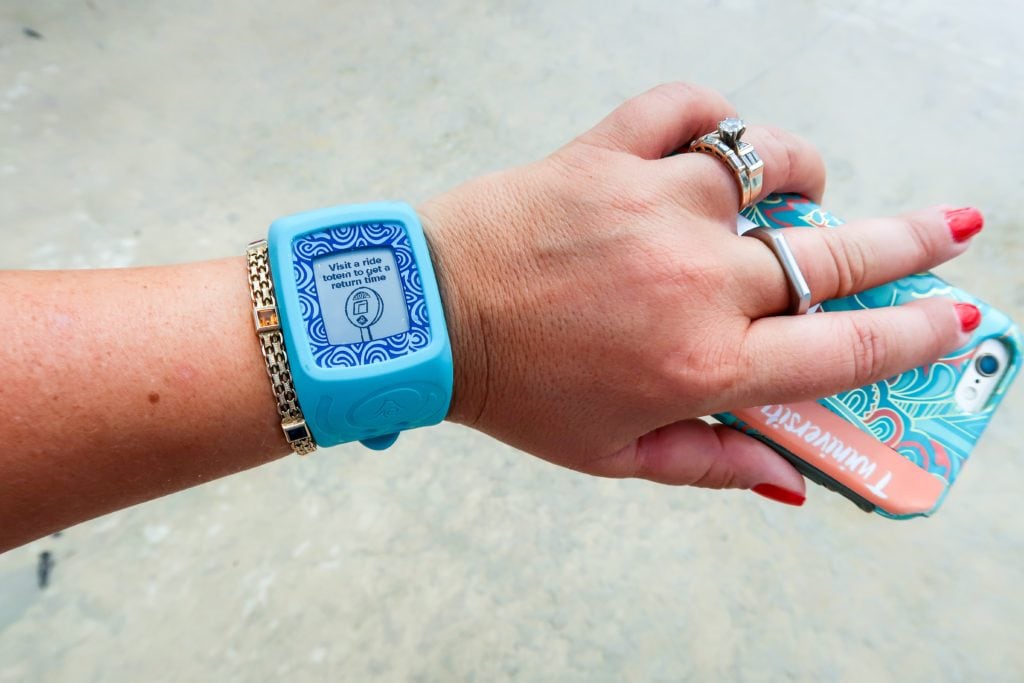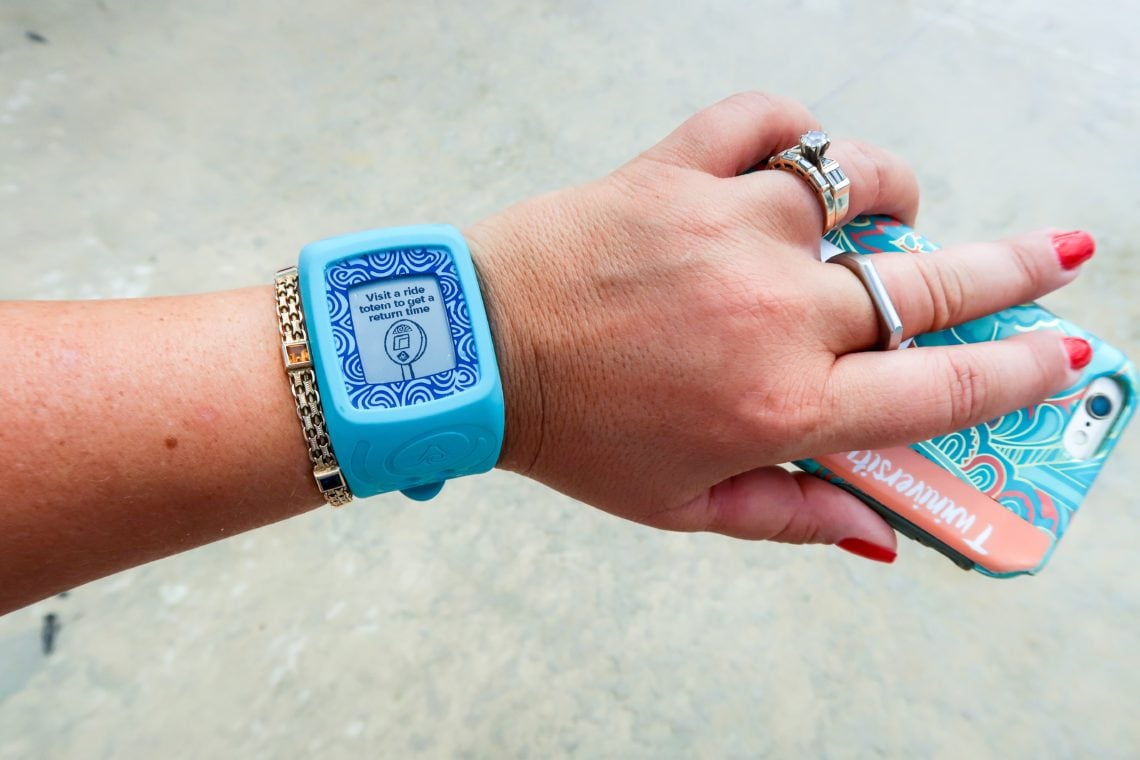 2. Before you arrive make sure you download the Universal Orlando App (Google and iOS) and add your Volcano Bay tickets to your virtual wallet. You can then add a credit card to the app as well for Volcano Bay. Doing this will make your entrance into Volcano Bay A LOT easier. Once you get there, your tickets (or app) are scanned and you will be given a waterproof wristband called a TapuTapu. This small device will connect with your ticket, which in turn connects to your credit card. You can set a safety code for purchases (I suggest you do!) since we saw a few TapuTapu's get lost in the waters around the park. This wristband is not just your payment system while at Volcano Bay, it is also the wearable technology that allows you to hold your place on the ride lines.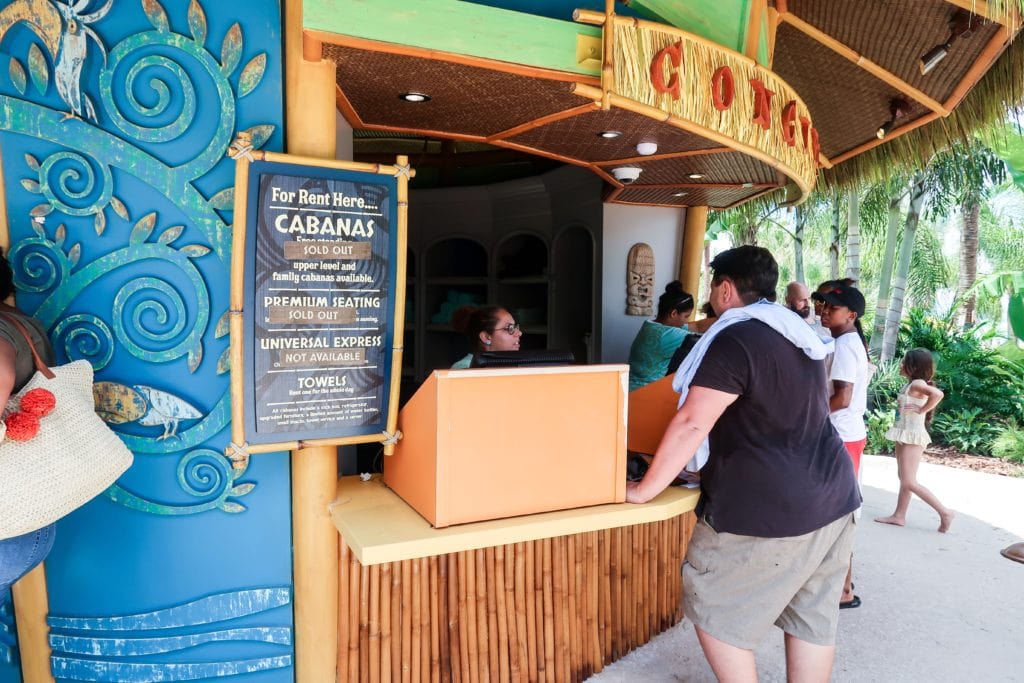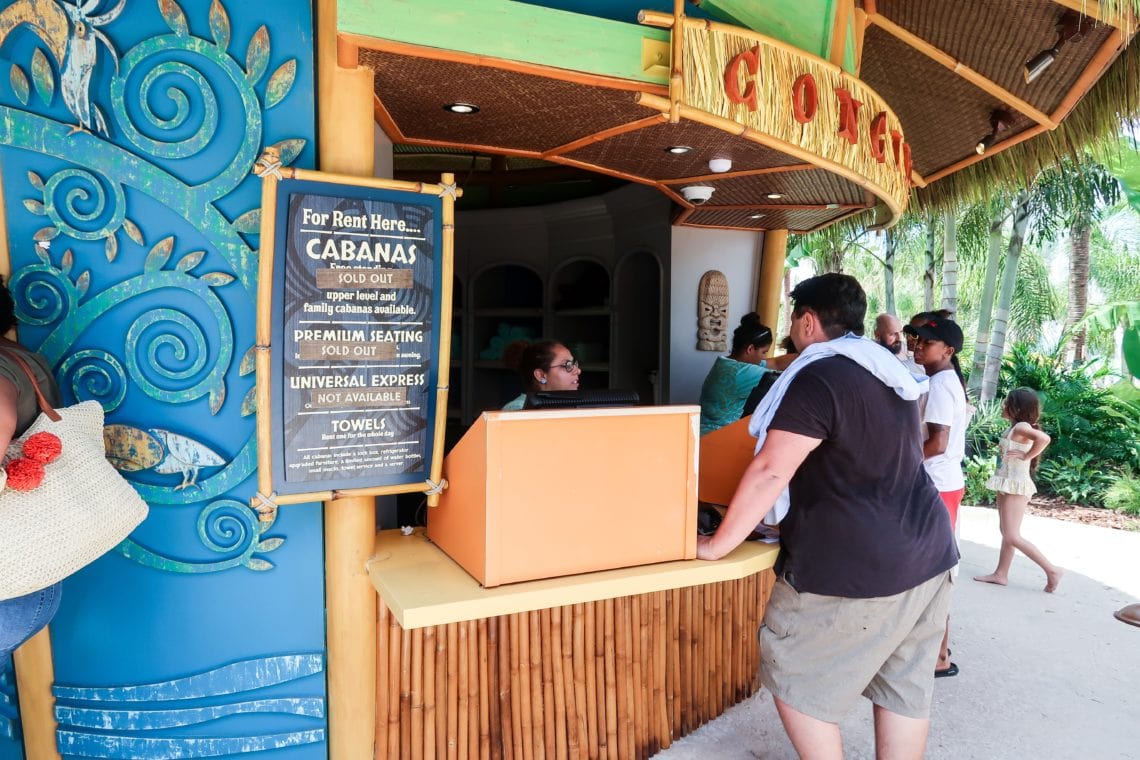 3. Bring your own towel from home to Volcano Bay. Sure, you could rent a towel for five dollars per towel per day at the park, but for a family of four, save yourself the $20 and splurge on a fancy momento from your trip. Also, bringing a towel from home will help distinguish your chairs from everyone else's at the park. Also note, YOU CAN'T BRING A TOWEL FROM THE HOTEL TO Volcano Bay. Yeah, we thought about doing that too.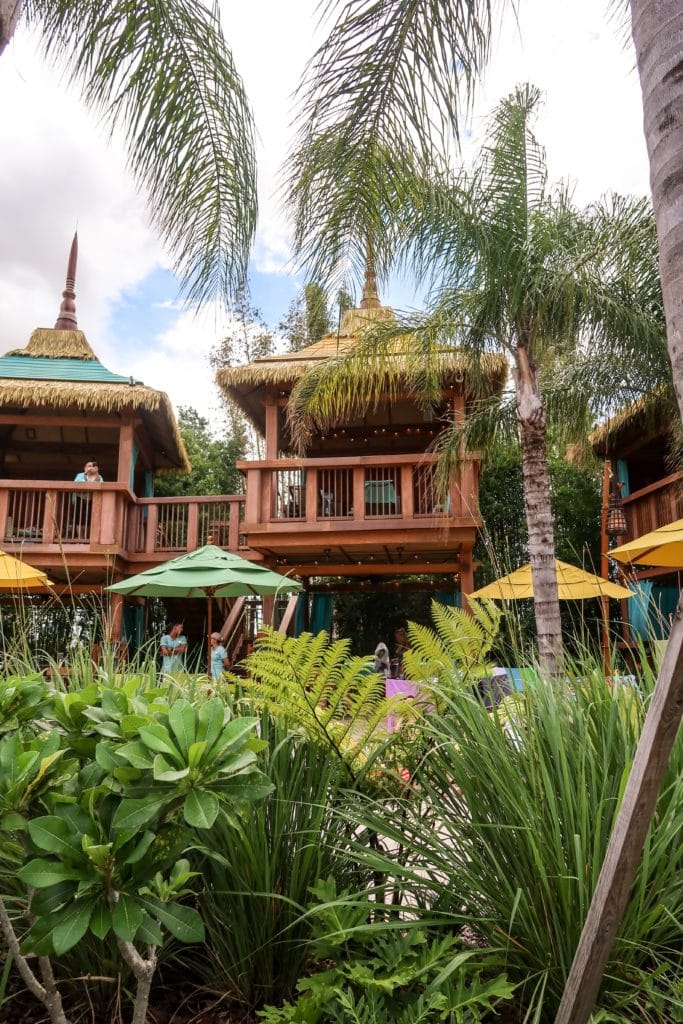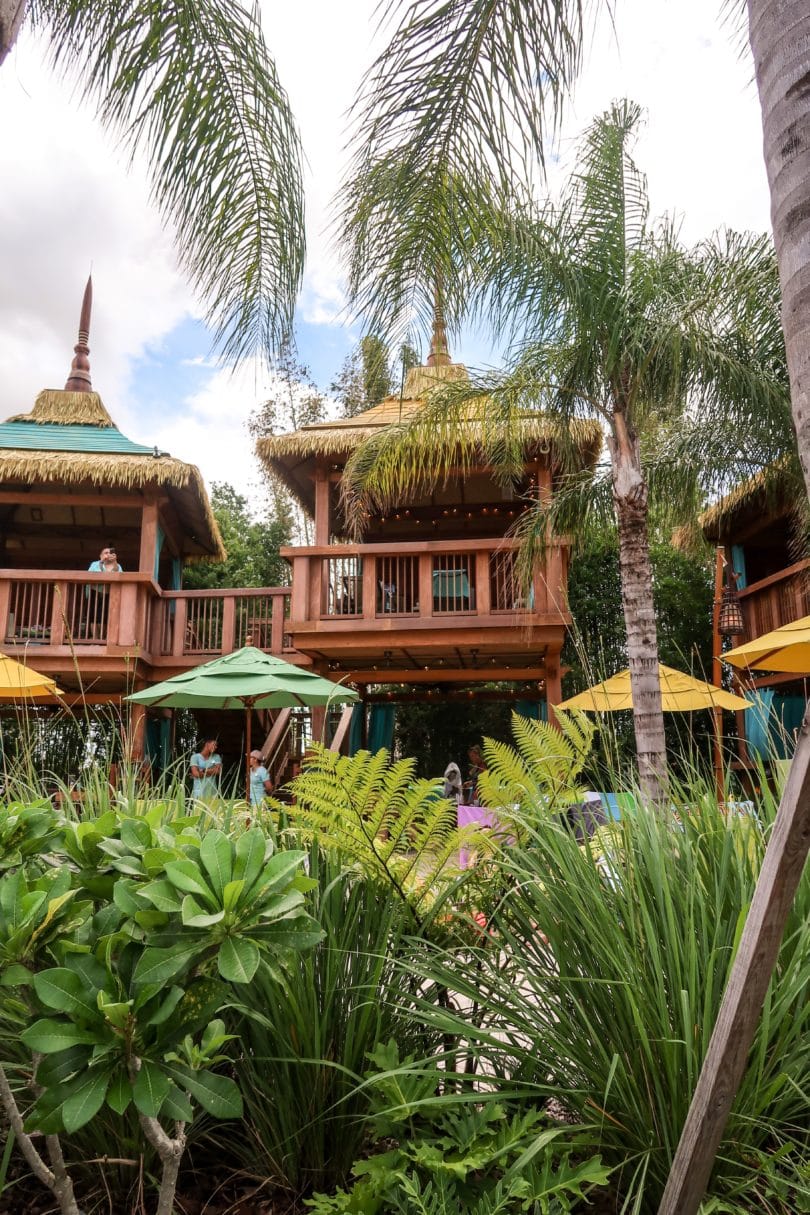 4. Speaking of splurging, something you may want to consider is a cabana rental or at least premium seating at Volcano Bay if you aren't willing to get up with the chickens. While there are umbrellas spread throughout the park, if you aren't one of the first hundred or so families that enter, you certainly cannot be guaranteed a seat with some shade. This is actually my biggest gripe with this park. There really just isn't enough sun coverage. BUT if you book a cabana ahead of time, you are guaranteed a shady spot, a safe place to keep your goodies, and (depending on the cabana you book) a dedicated TapuTapu kiosk so you don't have to run all over the park to secure your place in line at Volcano Bay.
A private cabana at Volcano Bay starts around $159 but there are also larger units going as high as a few hundred smackaroos. This really does seem to be a case of "you get what you pay for", so call ahead to see what's available during your stay AND BOOK IT. If you are watching your pennies but still want that guaranteed shade, you can book a "premium seat" which is a lounge chair with covered awning at Volcano Bay. Those seats start at $29 but don't include anything but a single lounge chair and a private locker. Remember, these prices are in addition to your park fee.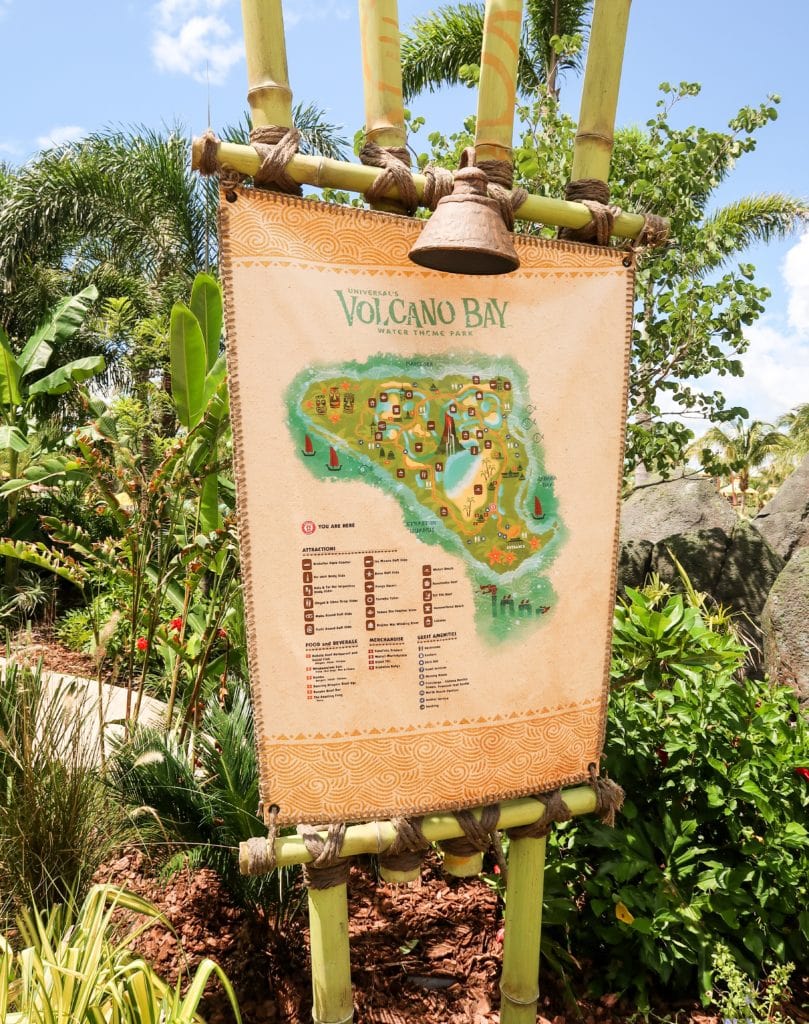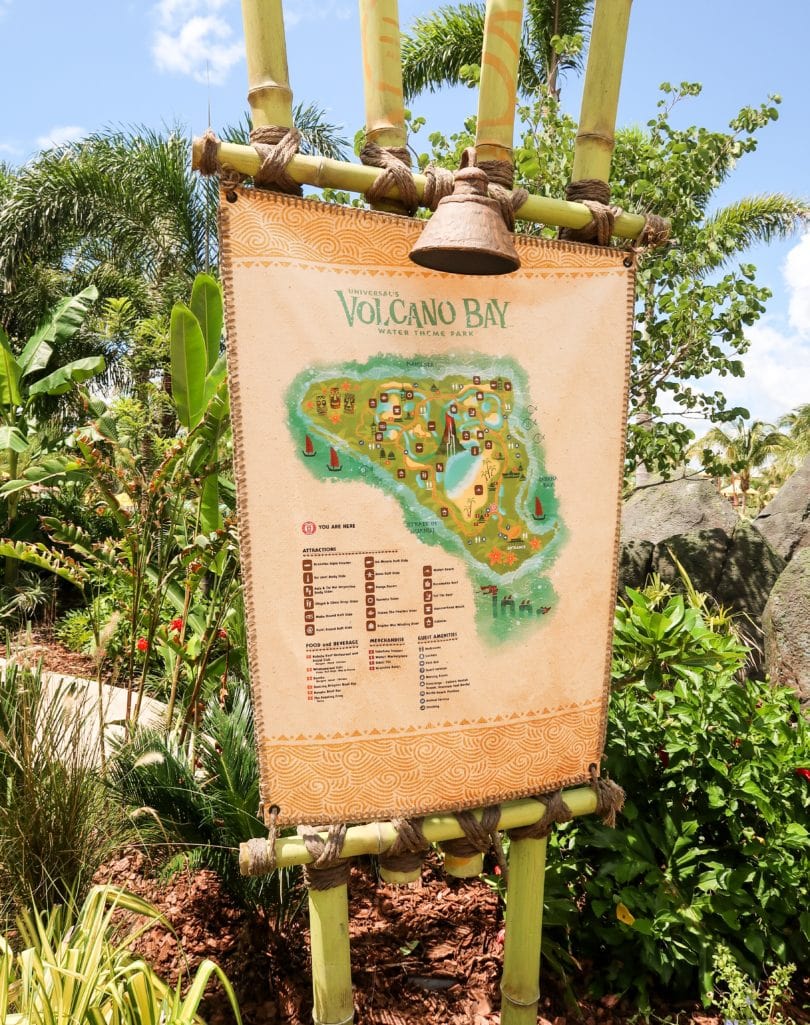 5. Choose your seats wisely at Volcano Bay. When you enter the park, go left! Many people instinctively go right so you should go left. And, don't just take the seats in front of your favorite water ride, you'll only be on those rides for a matter of minutes. Consider setting your spot at one of the many swimming pools or by the kiddie area if you have tiny tots with you. This will make the time you have to wait between rides a lot more fun. It seems many want to set up on beautiful Waturi Beach, but honestly, there are too many seats crowded into that Volcano Bay area and I didn't find it relaxing in the least and it felt like your neighbor was on top of you. There are MANY great options for seating at the park, you just need to know what you want to sit by. I found it surprising how many folks didn't explore the park and rushed in and plopped down.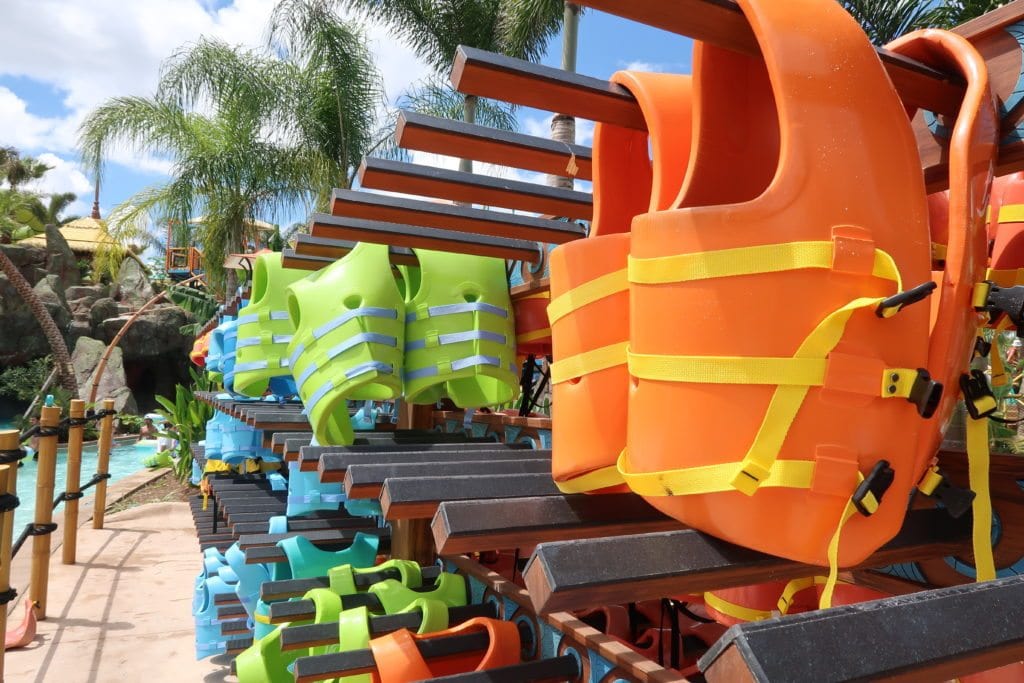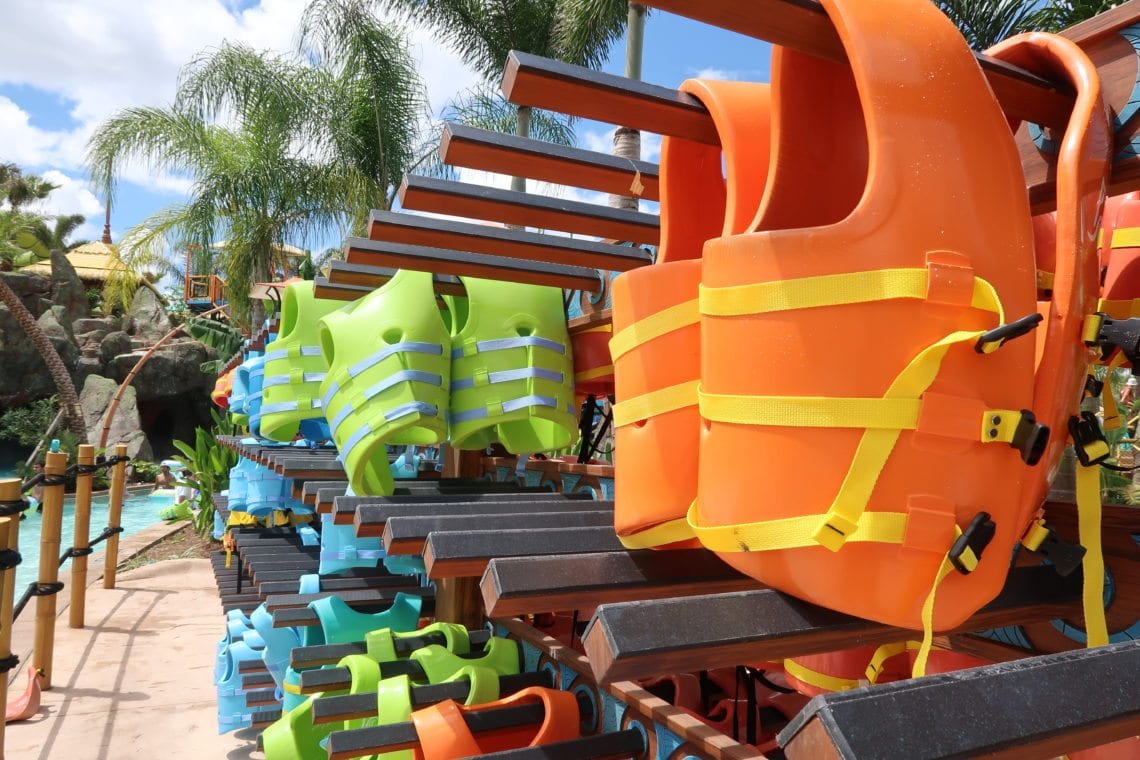 6. Know your kids' (and your own) limitations. While some slides are for everyone, others are legendary thrill rides. For example, the Volcano Bay Ko'okiri Body Plunge is an almost vertical speed slide. You stand on a trap door that immediately drops you at a 70 degree angle through the volcano, falling 125 feet. The slide also has a portion of it that literally passes through one of the pools at the base of the volcano where other guests are swimming. Thrilling enough for you? Yeah. I passed, but Little Red took the plunge and now water slides are ruined for her forever. How could any other slide compare? It can't.
Even some of the slides that are significantly more tame plunge you into a Volcano Baby pool that is over 10 feet deep. If your kids are not strong swimmers, please read the signs at the base of the ride to get specific information. The signs will literally tell her how deep the pools are and how strong of a swimmer you need to be. I could not count the times I watched the vigilant lifeguards jump into pools to save struggling kids. Kerri (of Raisingthreesavvyladies.com), Karen (of theproctorfam.com) and I watched countless children come off the slide, land with a big splash only to come up struggling, not see where they are going because their eyes were covered by their own hair. Kids would panic, the lifeguards would jump in and the process would repeat over and over. Moral of the story: just put your kids hair back in a ponytail please and make sure your kids are strong enough swimmers. OH and life jackets ARE available if/when you need em but you can't wear em on all the slides.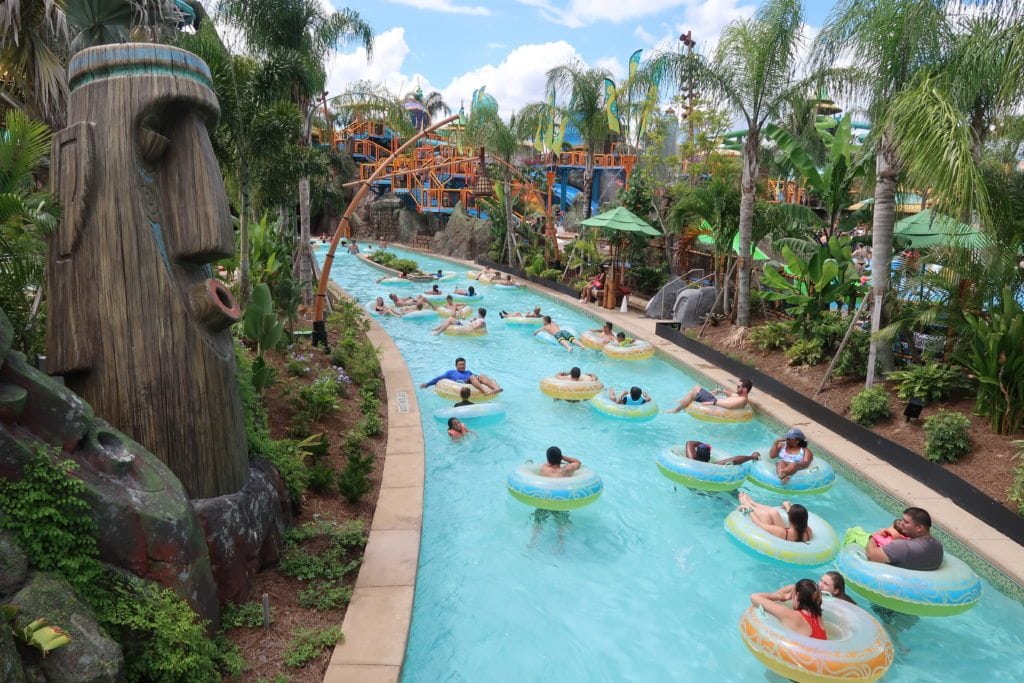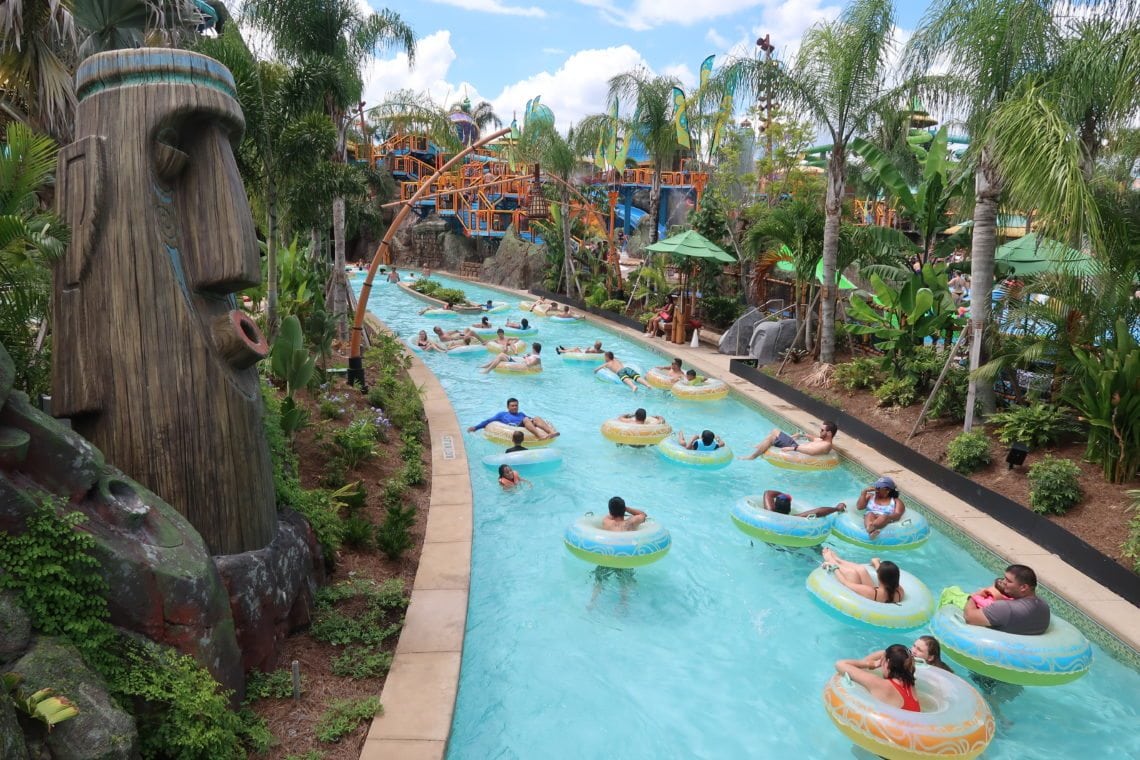 7. Be prepared to wait. THANK GOODNESS for the lazy river at Volcano Bay. Ah-hem, the "Winding River", is by no means "lazy". This river cranks you around at a fairly quick speed. Tubes are provided and it really is the ideal place to wait out the time till your TapuTapu tells you that you can ride the next ride you cued up. Besides my gripe about no shade, I'm also fairly disgruntled about some of the wait times. By 9:30 in the morning some of the wait times were almost over two hours. I think that if I had anticipated that earlier on in the day I would've hit the big rides first and saved the river for later. I had no idea that the park would get so full so fast. I found out that Volcano Bay has been closed down after hitting capacity a few times. So like I've said a few times, GET THERE EARLY.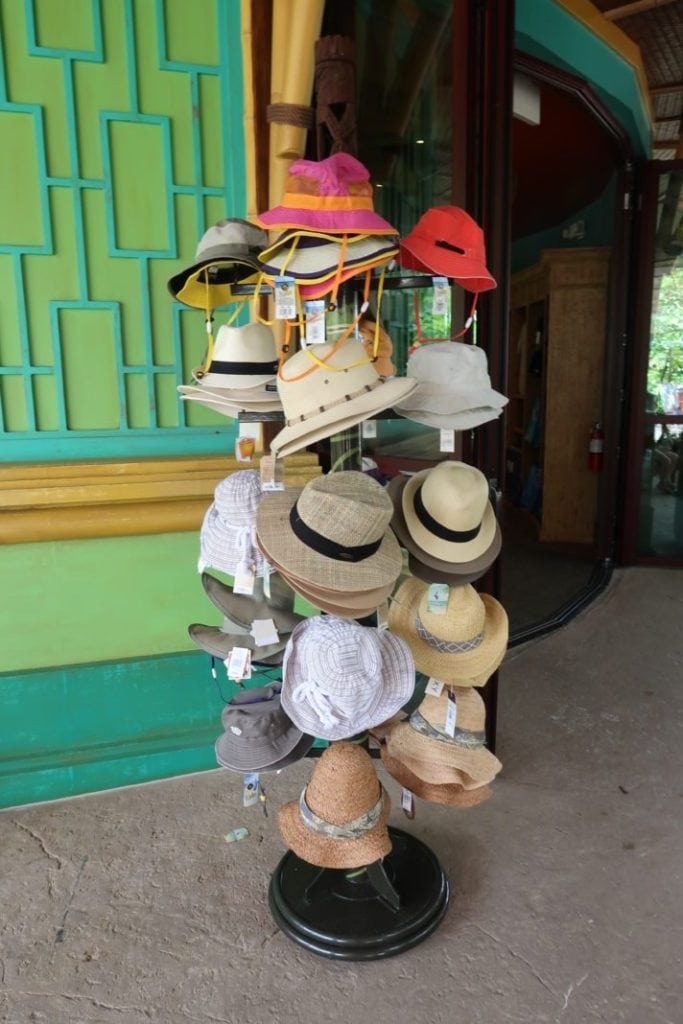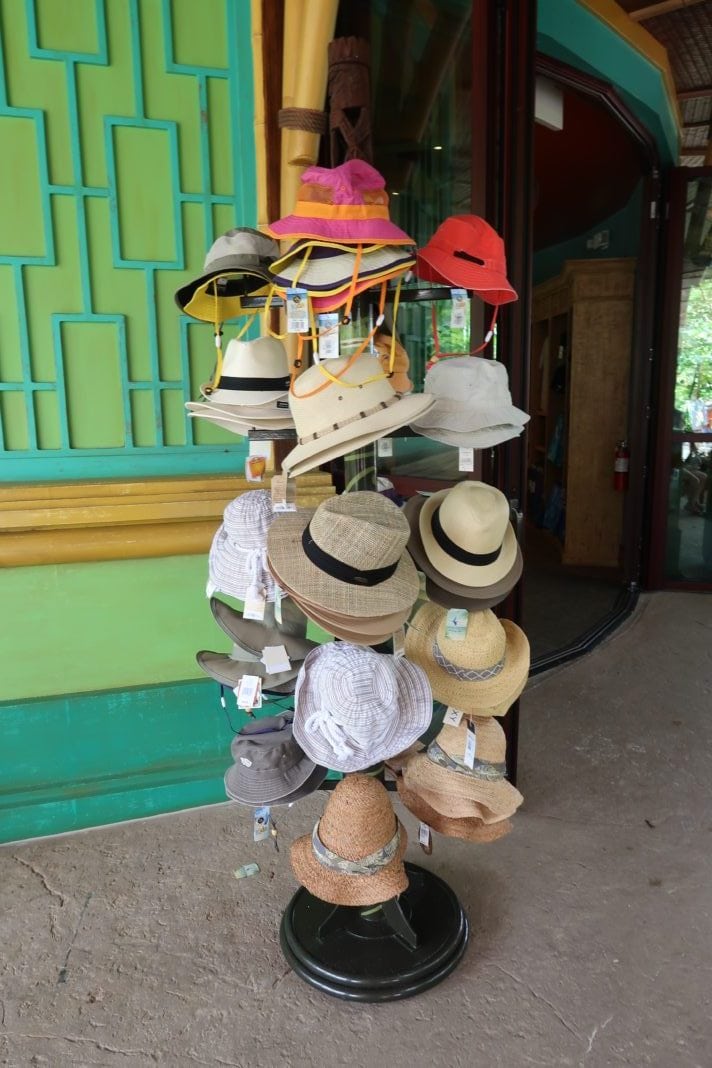 8. If you are in need of some retail therapy because the children are driving you insane, there is some shopping, but not too much at Volcano Bay. They have some pretty awesome souvenirs at Volcano Bay to be honest. They packed a lot into their stores. We also learned that the stores are FULL of necessities the you might have left at home like swim goggles, hats, sunscreen or even an Benadryl and Dramamine. Believe it or not, the stores even have swim diapers in a LARGE array of sizes and baby bottles if you left yours in the room. If you're shopping adventure gets a little wild and you don't feel like carrying bags all over the park, if you are staying on property, you could have your items sent directly to your room. That is also one of my favorite features of staying at a Universal Orlando Resort.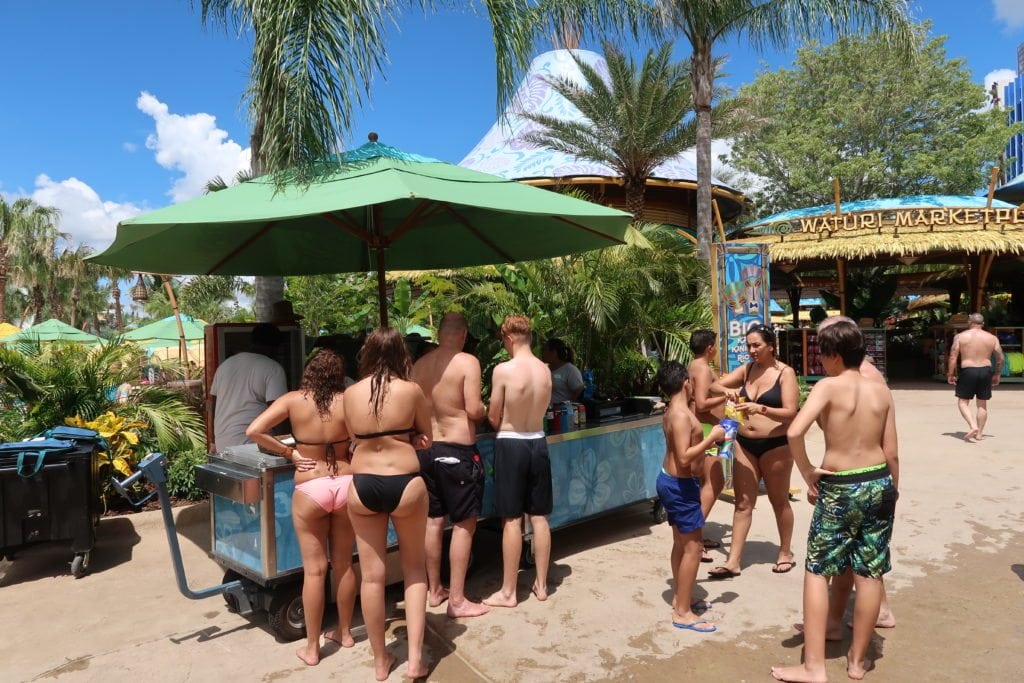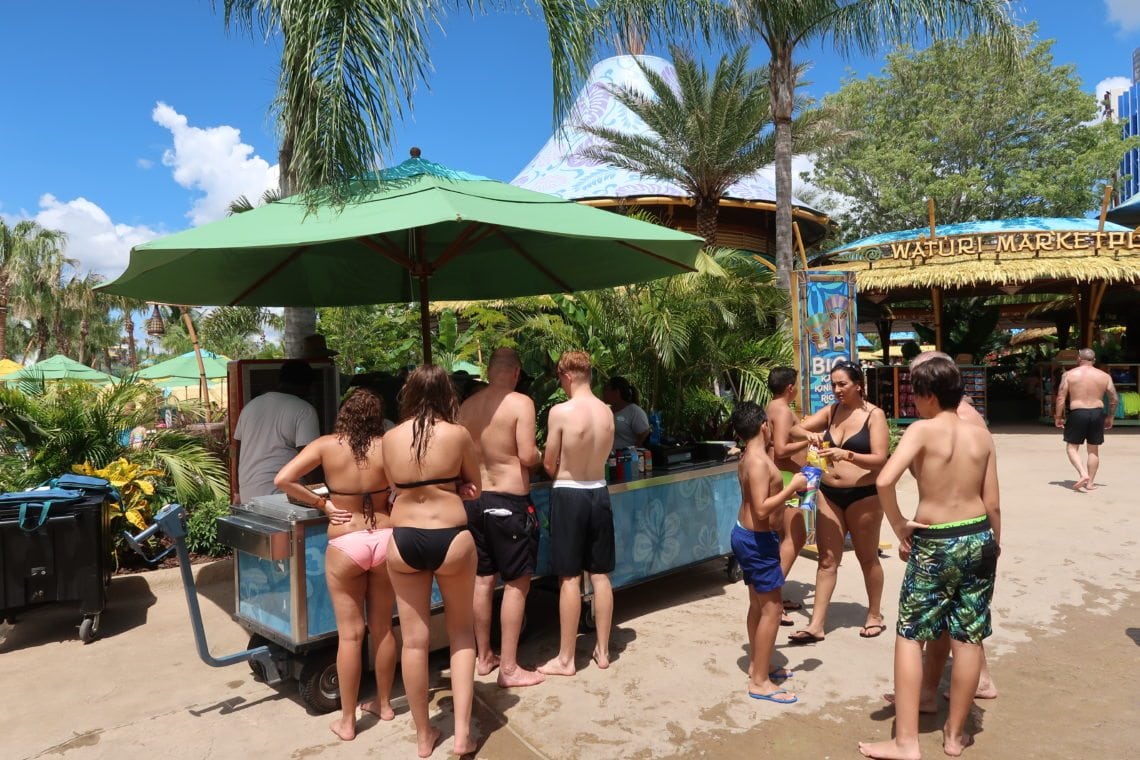 9. Eat off hours! Since you are allowed to bring snacks and beverages into Volcano Bay, consider bringing some oranges or bananas, maybe even some Goldfish and bottles of water. The lines get LONG around lunch time, so buy yourself some time and eat lunch after 2pm. From fish tacos to chicken fingers, you'll find a nice variety of eats. If you pack frozen bottles of water rolled into washcloths loaded into a waterproof bag, you'll always have some cold water and a clean cloth to wipe your face. Don't forget some basics like a waterproof phone case, a good sun hat!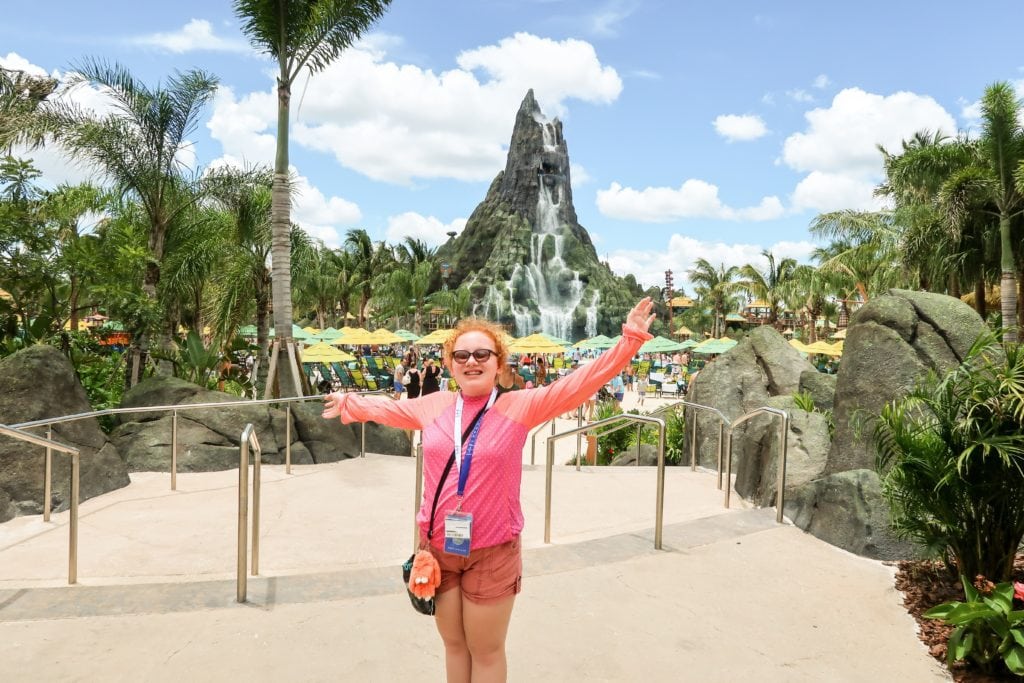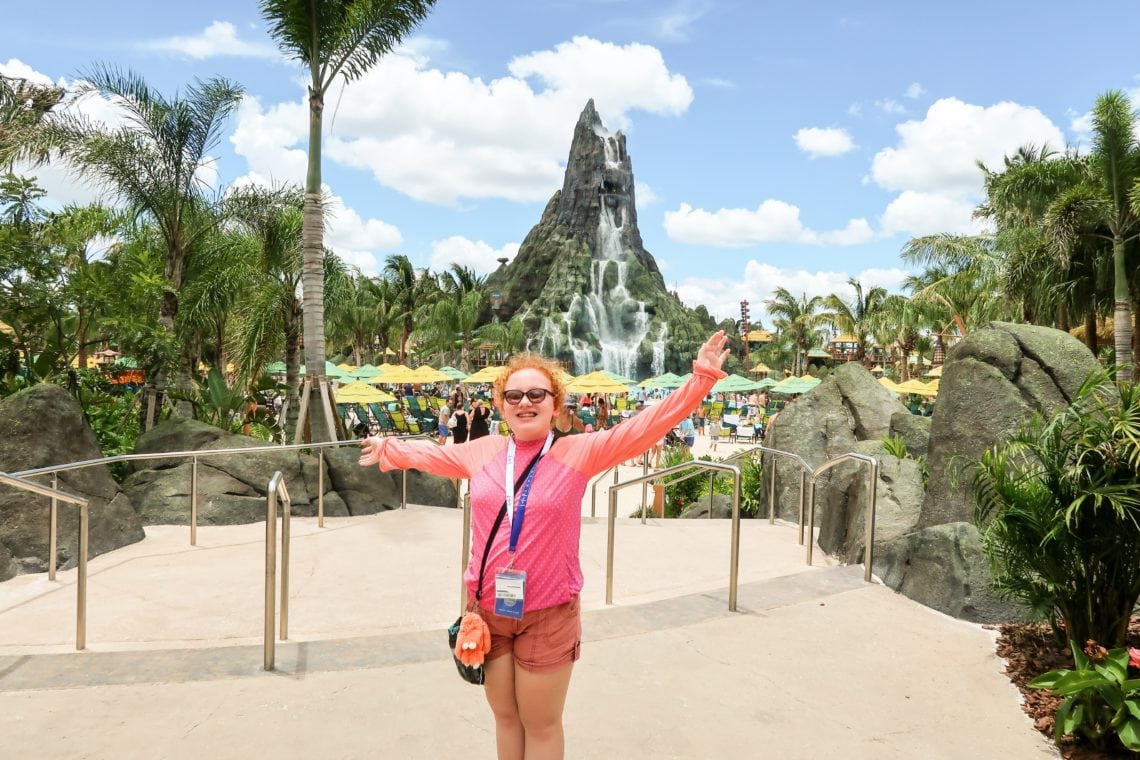 10. You made it to our final tip. Ready for it? Leave your self-consciousness at home! Sure you'll wear a cover up to get to Volcano Bay from the bus or car, but once you check in and get your TapuTapu, let it all hang out (well not literally please, get a good supportive bathing suit. LOL.) I saw so many parents not wanting to go into the water because they didn't want their thighs to show, or they didn't like the way their arms looked in a bathing suit. Seriously, guys! Don't miss out on the fun because you think you look a certain way. Leave that all behind in the town you came from and just focus on fun! When your kids get big, they won't say, "YIKES, I can't believe my mom wore that!" But they might think, "Why wouldn't my mom go in the water with me?". Don't let ANYTHING get in the way of your fun.
How much will it cost to get into volcano Bay?
These tips can set you up for a fabulous day at Volcano Bay. Just…(did we mention this already?)…GET THERE EARLY!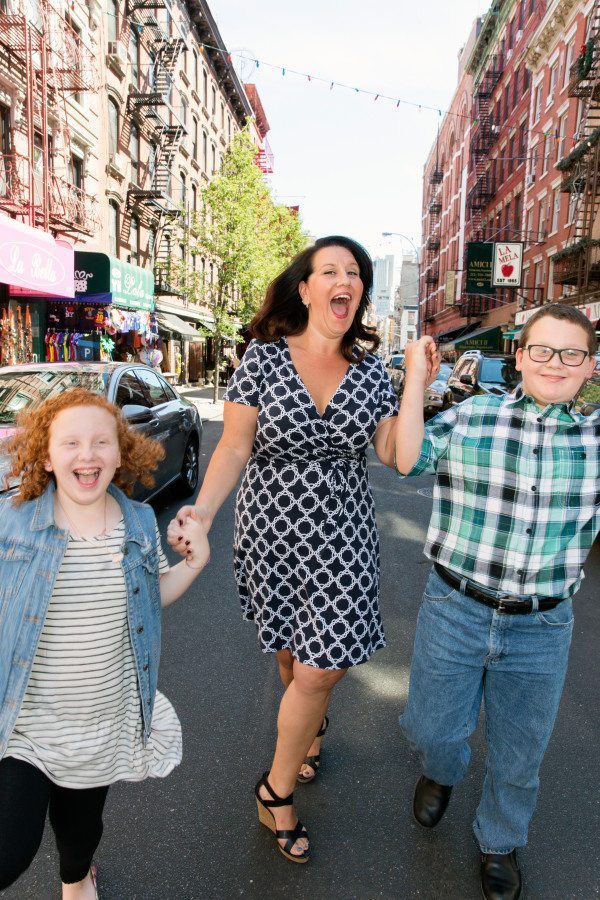 Natalie Diaz is the Pied Piper of twin families around the globe. Founding Twiniversity — the world's leading support network for multiple birth families — in 2009, she's become a global influencer for this small niche community. Reaching over a half a million families a week through Twiniversity's Facebook, Twitter, Pinterest, Instagram and YouTube channels, she takes her Women In Toys Wonder Woman Award Nomination for Social Media Influencer very seriously. Moms and dads of twins flock to Twiniversity's social media channels to find resources, ask questions, explore new products, and find community and support from other twin parents. Natalie is a true connector, bringing parents from all walks of life together, breaking past cultural differences, to share in the highs and lows of parenting twins.
Related Articles
11 Items You Must Have When Going to the Beach with Kids