Last updated on October 5th, 2021 at 12:47 pm
If you recently had twins, you are probably already starting to worry about the first time you will travel with them. Managing twins at home takes a lot of planning and prep work — so the thought of taking infant twins on a vacation with you can seem daunting. We have been there, done that, and we want to share with you some tips to make your next family trip with your infant twins more enjoyable and less scary.
Here are five tips for traveling with twins that will make your journey easier and more enjoyable.
1. Flying with infant twins on your lap
There are some specific rules on the airlines when it comes to traveling with infant twins. When two adults fly together with two lap infants, only one lap infant is allowed per row (this includes both sides of the row). This is due to oxygen mask allocation. The closest you can typically sit together is one row behind the other. Essentially the only way for two parents with lap twins to sit in the same row is to buy a seat for one of their infants. Lap infants are not allowed in the exit rows or the rows before and after the exit rows. Keep this in mind when choosing your seats.
A limit of two infants, less than two years old, per adult may travel together. So, if you are planning on flying alone with twins (you are my hero if you do), you will need to purchase a seat for one of them.
I highly recommend that you book your tickets over the phone with the airline if you're bringing two lap infants. That's the best way to make sure that the seats you are booking will be proper for bringing infant twins on the aircraft.
2. Some airlines have a stroller weight limit at gate check
Strollers can be checked at the gate so you are able to push your twins right up to the airplane and it will be waiting for you when you get off the plane. But be aware that some airlines (particularly American Airlines) have a 20 lb. weight limit for checking strollers at the gate. Plan ahead to bring 2 single strollers or bring a double stroller that weighs 20 lbs or less, such as the Mountain Buggy nano duo.
3. Bring two diaper bags
Bringing two diaper bags — one for you and one for your partner — is essential whether you're flying or driving with twins. This will allow the two of you to split up and each take a baby when needed, knowing that you'll both be stocked with everything you need at any moment. This is particularly helpful with flying. There's a good chance you'll be split up on the flight if it's too full and having two diaper bags will make diaper changes and feedings much easier.
4. Pack an overnight bag for 1-night hotel stays
Going on a long road trip and need to stop over for one night in a hotel? Instead of unpacking the whole car, make sure to pre-pack an overnight bag (or two) with the essentials for one night for the whole family. Then you only need to grab that one bag and you can leave the car completely packed. Just make sure to lock the car and put any valuables out of sight to avoid thieves.
5. Send supplies to your destination ahead of time
You can have supplies shipped to your destination ahead of time to save you the trouble of bringing everything in your luggage. This is super helpful for diapers, wipes, formula, snacks, water bottles, breakfast foods, and anything else you'll need. You can have the online store (Amazon, Target, Walmart, etc.) ship directly to your hotel and hold it for you at the desk to pick up when you arrive. Call the front desk to see if there is a fee involved with this, but it's typically minimal and so worth it for the hassle you'll save.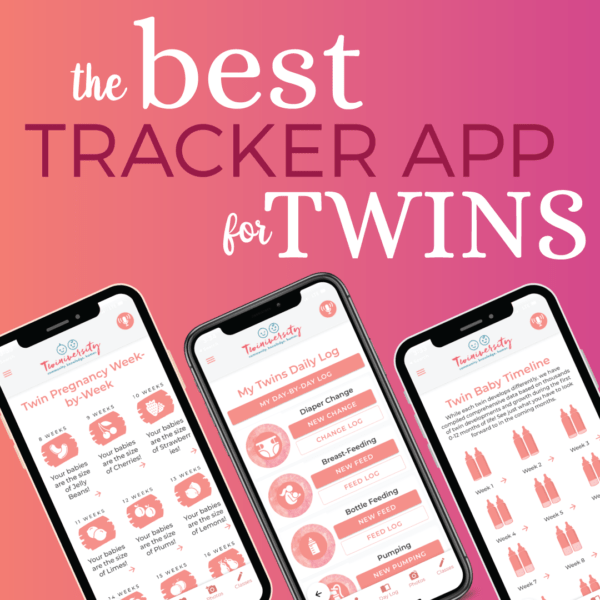 The good news is that traveling with infant twins doesn't have to be a nightmare. With some simple tips and tricks, you can make your trip as easy as possible and enjoyable for everyone involved.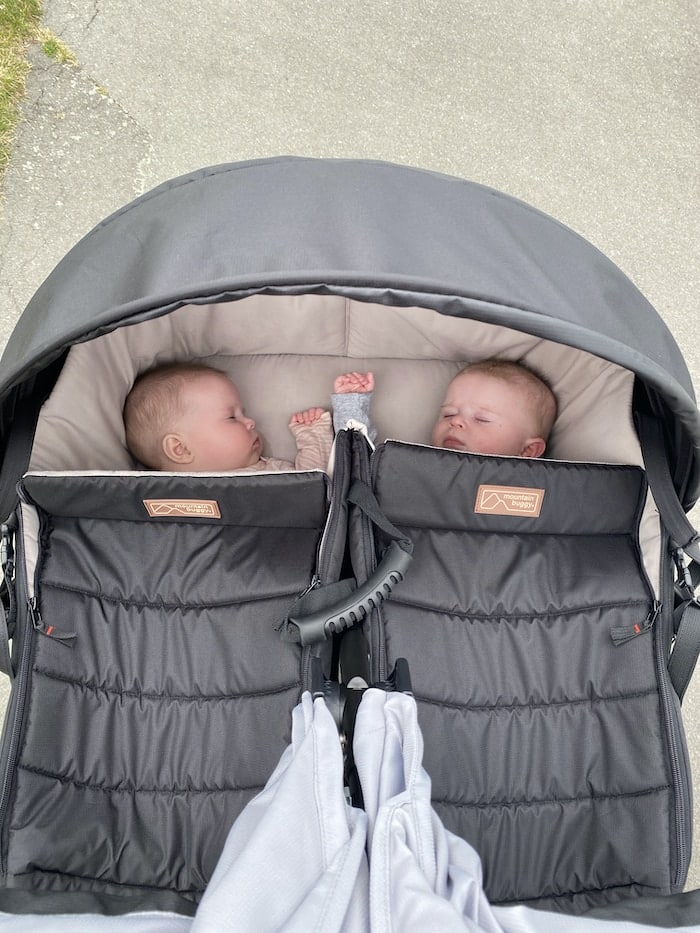 This article was brought to you by Mountain Buggy®. They make so many great products for twins! If you're looking for a great travel stroller for twins, you need to check out the Mountain Buggy® nano duo™ stroller plus a Mountain Buggy® cocoon™ for twins.
The Mountain Buggy® cocoon™ for twins is ultra-lightweight and compatible with the lightweight nano duo™ or the duet™ stroller and can be used from birth to 6 months old. cocoon™ for twins is one double-sized, yet lightweight bed to take two; providing a safe and cozy environment where twins can continue their unique bond and lie close together. It's perfect for parents wanting a lie-flat solution at a thoughtful price point.
designed for twins from newborn – 6 months, at a thoughtful price point
at only 7 Ibs (3 kg), cocoon™ for twins is the perfect on-the-go solution
secure carry handles and a firm base allow a safe and convenient transition on and off the buggy
providing a convenient and snug place for twins to sleep at home or away
included lid and sun hood provide protection and comfort for twins
pairs with nano duo™, duet™ and duet as a single™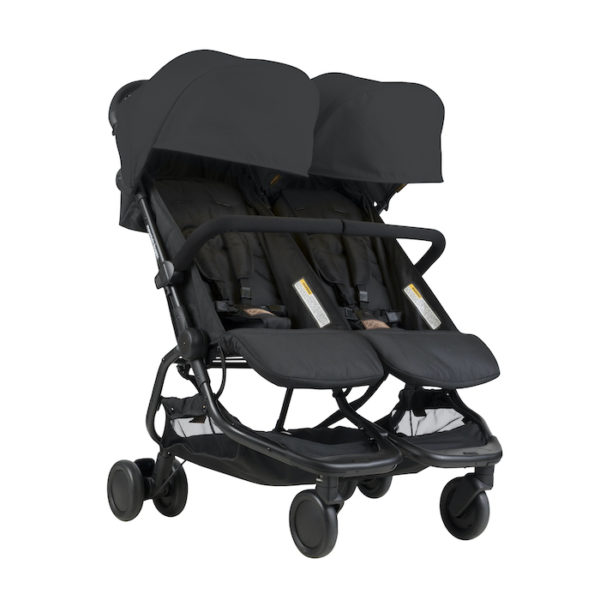 The Mountain Buggy® nano duo stroller is an incredibly lightweight side-by-side that delivers the perfect solution for city dwelling parents when storage is at a premium and pushing two children needs to be effortless. Featuring an ultra-compact fold and the ability to offer newborn solutions for siblings or twins with the additional cocoon™ for twins accessory, nano duo™ offers a true Mountain Buggy® experience for parents living life without limit™.
ULTRA LIGHTWEIGHT! Just a 20lbs double stroller to make pushing two that much easier!
ULTRA COMPACT FOLD! No double folds smaller! Perfect for travel and quick errands around town!
NEWBORN SOLUTIONS FOR ONE OR TWO! Compatible with the additional cocoon™ for twins accessory for lightweight newborn comfort
CAR SEAT COMPATIBLE with Mountain Buggy®, phil&teds, Graco, Peg Perego, Cybex, Nuna, and Maxi Cosi (with adaptor purchase)
EXTRA TALL SEAT WITH DEEP RECLINE! With two 26" seats, the nano duo™ can be used comfortably with your growing toddler and the deep recline on both seats is perfect for napping on the go
ADJUSTABLE LEG RESTS allow Duo to grow with your child
FULL COVERAGE SUN CANOPIES WITH FLICK OUT VISORS provide protection from harmful rays
EXTRA LARGE GEAR TRAY makes taking everything you need for two a breeze