Summer is here and if you are planning a vacation to the beach or are lucky enough to live close to beach, making sure you have everything you need to enjoy a day at the beach with kids is important.
Here are 11 items you must have when going to the beach with kids
1. Thinksport Kid's Safe Sunscreen – This zinc and mineral based sunscreen is easy to put on and you will be relieved to know it comes highly rated by the Environmental Working Group. For faces, we at Twiniversity love the Neutrogena Wet Skin Kids SunScreen Stick. It's easy to put on, keeps them safe from the sun's harmful UV rays and smells great!

2. Sand Free Beach Blanket – With the blanket you'll be able to sit and enjoy your time at the beach and not have sand on you. The sand literally blows/brushes/shakes right off of it.

3. Baby Powder – For the moments when your little ones decide to roll in the sand and become sand monsters you can just sprinkle baby powder on them and wipe away any sand stuck to them. Easy peasy!

4. Sun hat -These kids sun hats offer full coverage for your little ones. And the best part is they come in a 2 pack! Perfect for both of your twinnies!

5. Frogg Toggs Cooling Towel – Another Twiniversity MomSquad favorite, this is something that will help keep you and the kids comfortable and happy in the warm sun. All you do is wet the towel and it gets cold! It's versatile and can be used anywhere, at soccer games, theme parks or a backyard barbecue!

6. Igloo Cooler tote – Whether it's baby bottles, snacks or a salad you need chilled this roomie insulated tote is perfect for a day at the beach with kids. This tote will ensure you little ones will have fresh snacks all day long.

7. Tommy Bahama Beach chair – This comfy beach chair is a Twiniversity Mom Squad favorite. With its convenient straps this light-weight chair can be carried like a backpack. The side pocket by the arm rest is quite useful for carrying sunscreen, cell phone and keys as it zippers closed. The insulated pocket on the back is perfect to keep a few cold drinks or snacks in.

8. ZoLi On-the-Go Formula and Snack Dispenser – Whether its powder formula or some snacks you need to bring, this dual-purpose container is your best bet. Each section can be filled with whatever you want.

9. Easy Up Beach tent – This lightweight sun tent is so easy to set up. Your little ones will have a safe place to hang out and be protected by the sun within minutes of hitting the beach.

10. Solar phone charger – Whether you want to listen to your tunes on your wireless speaker or are just worried about your phone running out of battery life, this solar phone charger is perfect for you! It can be used anywhere as long as there is sun, and it's waterproof and shock proof!

11. Wonder Wheeler Beach Cart – Now that you have all of this stuff, how are your going to carry it all? With this awesome cart you will be able to bring your towels, cooler, sun tent, boogie boards, beach chairs, beach umbrella, beach blanket, beach toys, and anything else you might need at the beach!

Now that you have everything you need go to the beach with kids and get out there and enjoy!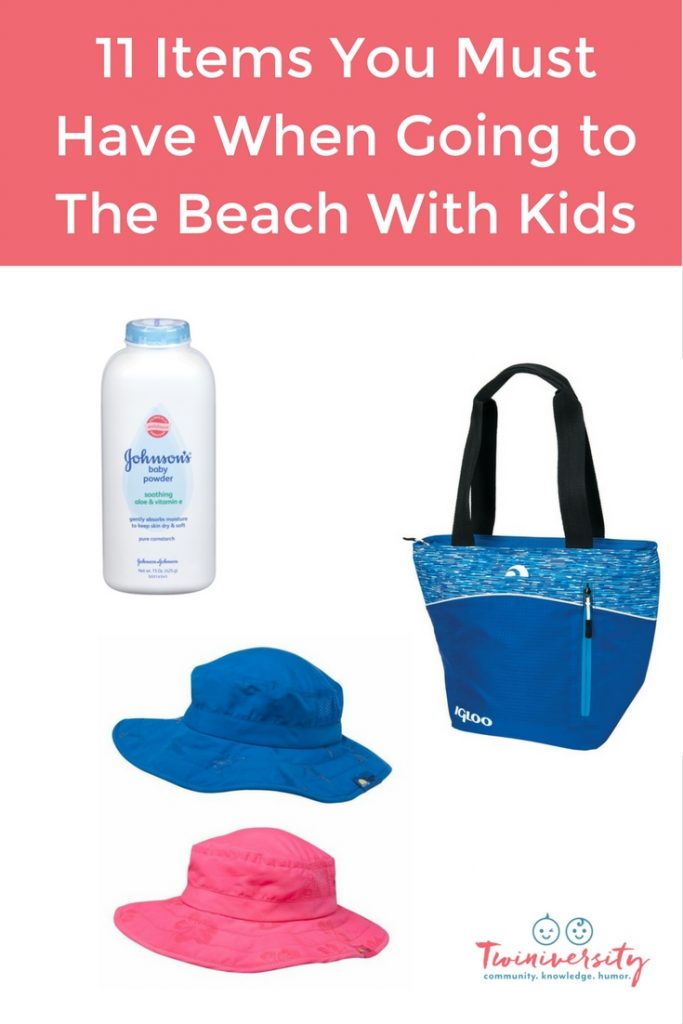 ---
Related Articles
Fourth of July Find for Twin Parents
15 Sanity Savers When Pregnant in The Summer
8 Awesome Board Books for Your Little Ones