Last updated on September 8th, 2023 at 03:27 pm
Traveling with twins is a challenge. If you're a parent of twins, there are certain things you ought to know about twin travel before your next trip. Here are ten tips for traveling with twins-from the type of stroller you should use to the best way to pack formula and more!
We have all the information you need about how to make your next trip easier on yourself and your little ones. Our ultimate guide will help prepare parents for their upcoming trips so they can enjoy themselves without worry or stress.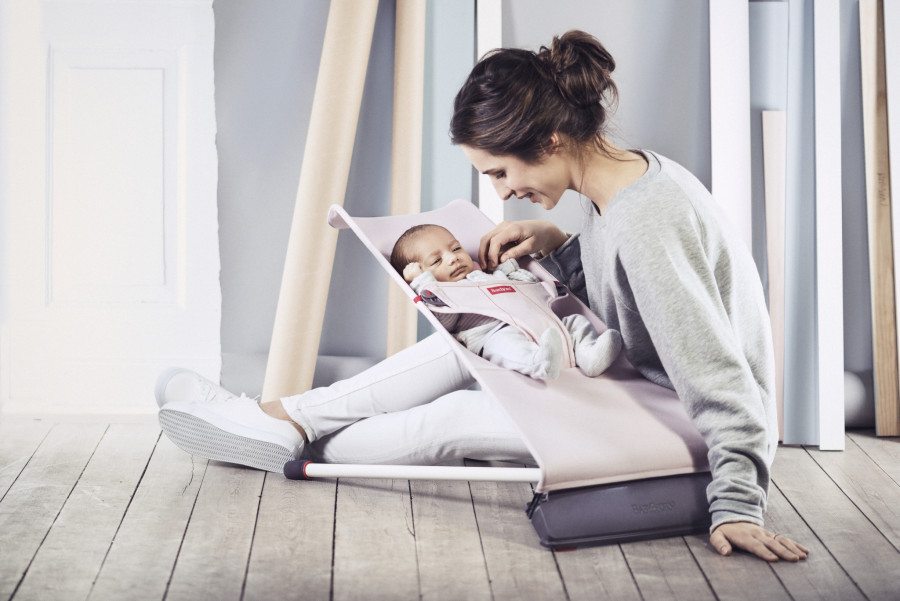 Our top 10 twin travel tips
There are so many different tips when it comes to travel with twins. How do you know which tips are really worth it? We put together a list of our own tips from twin parents like you! Check them out below
1. Pack Portable Options
If your children still sit in high chairs, trying to get them to sit still and eat without one can seem like an impossible task. Many restaurants, hotels, and condo rentals (especially in other countries) do not have high chairs, or if they do they only have one. The same can be said for when you are visiting family or friends. It is a good idea to pack a collapsible or tie-on high chair. Many options are small enough to fit in your diaper bag. When traveling, I have always kept 2 in my stroller or diaper bag so my twins could eat with us at the table in restaurants when we were out and about.
If your children still sleep in cribs, it is best to pack a pop-up travel crib. Many parents fret about traveling because their babies will only fall asleep in their bouncers and won't even go near a crib until they are fast asleep. Traditional bouncers are large, cumbersome, and impossible to break down into suitcase-sized components. A fold-flat portable bouncer that easily fits in your suitcase or the trunk of your car is a great idea.
2. Opt For A Smaller Travel Stroller
Skip the large double stroller that you normally use at home and opt for a sleek double umbrella stroller. I always went for a tandem style because I could count on it fitting through doorways and on sidewalks regardless of what country I was in. Check with the airline before you fly with a double stroller; some airlines have weight limits on strollers and many double strollers are way over the limit for gate-checking.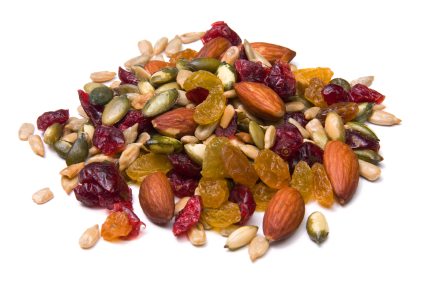 3. Avoid Sugar While in Route
While sweets are great at distracting kids on long car, train, or airplane rides you definitely do not want your kids on a sugar high when you roll into a strange city. Sugar always leads to an ants-in-the-pants syndrome which makes it really hard for them to sit still in their small uncomfortable seat. Extreme patience is also required to wait in long customs or rental car lines. Instead, pack only savory, fruit-based, or protein snacks like trail mix, string cheese, pretzels, and applesauce pouches.
4. Bring Portable Chargers
Portable chargers plug into your device to give you an extra charge when your device is running low on battery. It's perfect if you're not sure when you'll have the time or ability to charge up at a traditional outlet. We have several of these and take them when we travel, go camping, or even just when we know that we are going to be gone for a whole day. We charge them before we leave and they are usually good for a couple of charges for our mobile devices and cameras. On long-haul flights or road trips that last more than 3 hours, I let my kids play on their tablets. These batteries are great to help keep these devices charged while under heavy use over long periods of time.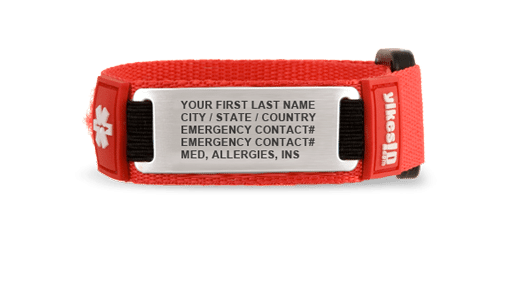 5. Buy ID Wrist Bands
When you're traveling with kiddos of walking age, it's important to have your contact info on them at all times. An ID wristband is a great way to make sure your kids can find their way back to you if you get separated. I have found that these give me peace of mind more than anything. No one ever thinks that they could possibly lose track of a child, but it happens. It only takes you looking away or being distracted for a fraction of a second. Wrist bands like these can have your child's name, your contact information, and even any important medical alerts and allergies. If your child wanders, the person who finds them has a way to contact you immediately.
6. Plan For Delays with Twin Travel
Pack a variety of games and activities to distract your children in case of a long delay. Planes get waylaid and roads get closed all the time. If you find yourself with a lot of time to kill, pulling out these items will save your sanity. Think coloring books, sticker books, and plenty of crayons and colored pencils.
7. Bring Your Own Medicine Stash
There is nothing worse than heading out in the middle of the night searching for an all-night pharmacy in a strange city. We always pack a thermometer, ibuprofen, Tylenol, Band-Aids and liquid allergy medication. We like to be prepared for any situation and want to be able to give our children the relief that they need immediately, rather than have them wait while we try and find the meds that they require.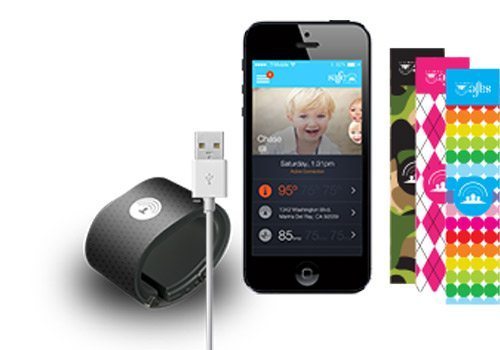 8. Get Good Wearable GPS Trackers for Your Kids
Like the I.D. bracelets, these help you find your children should they become lost. These bands or pocket devices sync with a smartphone app to alert you if your child wanders out of a set perimeter. The functions of different models vary from sounding a large beep once your child goes out of your preset range (ie. 50 ft. from you) to full GPS tracking abilities. They can pinpoint your child's location with complete accuracy.
9. Give Your Children Cameras
When my oldest was almost 4 we starting giving him a kids camera for his personal use when we would travel. He would get so much joy from taking pictures of things. Giving your child a camera also makes them more observant of their surroundings. They experience, see, and interact with more when they take pictures.
10. Have Them Carry Their Own Backpacks
Many toddler twins can carry their own backpack onto a plane, train, or when you are out touring a new city. We always pack a snack, water bottle, headphones, tablet, and a coloring or activity book, and a few toys in each of our children's backpacks.
Best Age to Travel with Twins
To have the best experience when you decide it's time for twin travel, you may want to wait until they are at least 5 or 6 years old. Waiting until your twins are a little older will make it easier for them to handle the experience, but even babies can travel in certain circumstances.
Before you decide to go on vacation with two young children, be sure that you have a stroller system that is suitable and easy for traveling. The last thing you want is your stroller to collapse during a trip while you are rushing through an airport.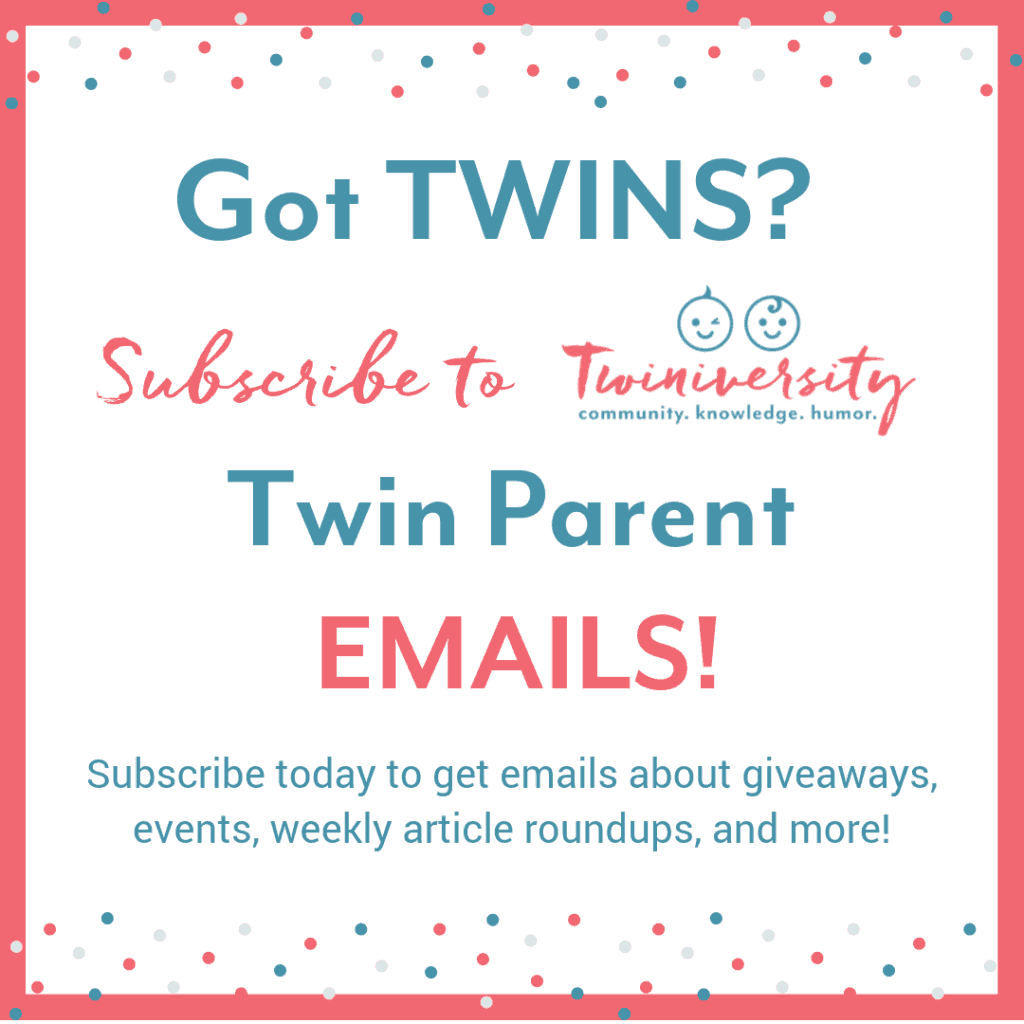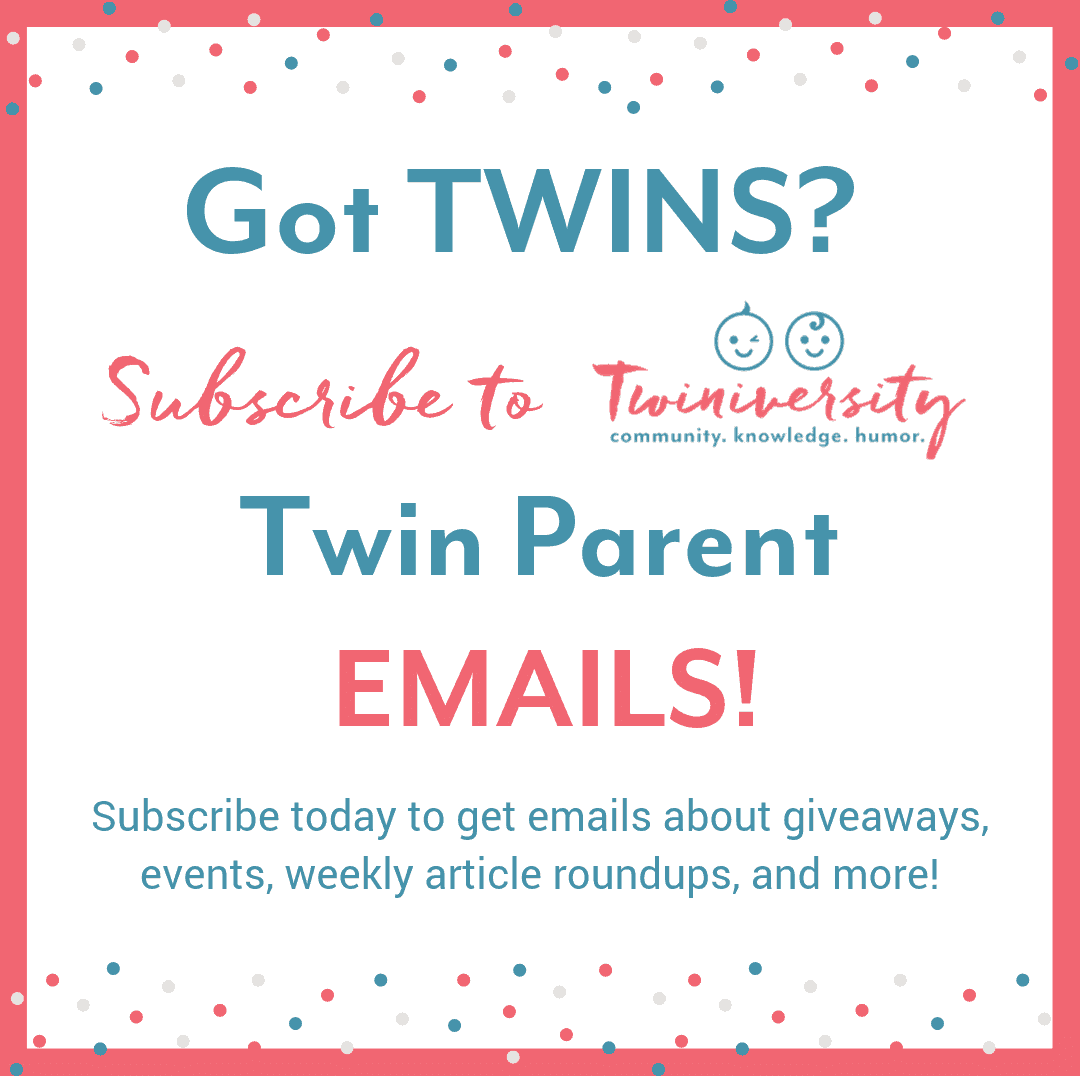 Want to be the first to know about giveaways, deals, and more just for twin parents? Sign up for the Twiniversity email list! Subscribe today to get emails about giveaways, events, weekly article roundups, and more! Pregnant with twins? We'll be sending you a weekly twin pregnancy email to keep you on track with your pregnancy to-do list! Click here to learn more… and while you're at it, check out our Complete Baby Safety Course and Twin Parent Memberships.
Picking the Right Seats when Flying with Twins
You have two options for air travel with twins. You can either keep both infants with you as lap babies, sometimes referred to as lap infants, or you can get them each their own seats.
If you are flying with twins in their own seats, one of your top priorities is to make sure that they are seated next to each other, and next to you. If you are flying with your partner, it may be helpful to divide and conquer. Have your partner sit in a window seat while you take aisle seats, with one child on each side of you. This just makes it easier for you to keep an eye on both children and make sure that they are comfortable. It's also nice because one parent can get up when they need to stretch while the other sits still and keeps them occupied.
Can one parent fly with twins?
It is certainly possible for one parent to fly alone with twin infants. However, it is going to be very stressful. A lot of people will probably look at you strangely if you are traveling with twins and only one parent. Trust us, make nice with your flight attendant!
If you are flying alone with twin infants it might be best to wear at least one baby and use a single stroller for the other. If you plan to use your double travel stroller check with your airline about gate checking this item.
A trip might be too much for one person alone with two kids. If you find that to be the case, it's best that the family does the trip as a group. Recruit Grandma or an Aunt or Uncle to come along if you can.
Best Twin Travel Gear for Infants and Toddlers
You may also need to pack a little extra for your twins, especially if they are newborns. You will want to bring along plenty of diapers, wipes, baby lotion or cream, baby food, pacifiers, bottles or sippy cups (if you plan on using those), formula, and breast milk if you are breastfeeding. Bring along plenty of extra clothes in case you have any accidents.
As your twins get a little older, they are able to walk on their own and do more things for themselves. This is great because it means that you don't have to carry them as much and can give them more freedom. They may not be able to do everything, but at least they are able to walk and can keep up while you're traveling.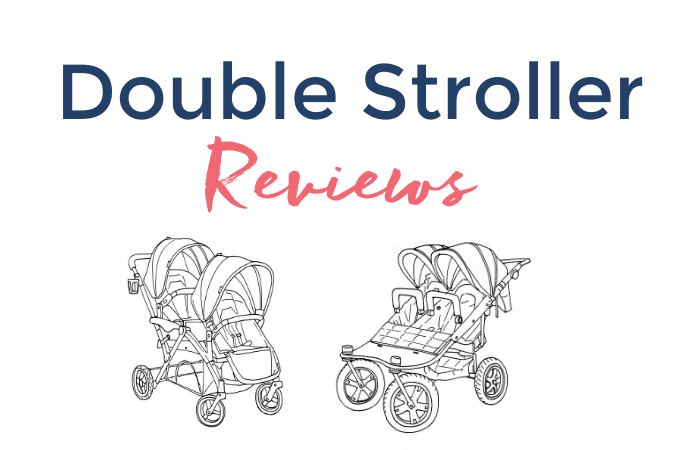 Are you looking for the best double stroller for twins? Not sure if you should go for a tandem stroller or a side-by-side stroller? And what about a Snap N' Go? We've got all the details for you in our double stroller resource. Click here to learn more… and while you're at it, check out our expecting twins classes and the Twiniversity shop!
Babywearing For Twin Travel
One of the best ways that you can make your trip easier with infant twins is by using a baby carrier. A sling or wrap may help to give you hands-free time so that you can get through airport security. Babywearing may really make your life easier with twins.
Traveling with Car Seats
If you are traveling with twins, it would be a good idea to make sure that both of your children's car seats have adequate padding and support. Seats typically come with instructions on how to install them correctly in the back of your vehicle. If you have a newer car, chances are that you have LATCH (Lower Anchors and Tethers for Children) hooks which may make installing easier. It is important to make sure that the straps or harnesses are tight enough.
Car Rental Tips for Traveling
If you decide to rent a car while you are traveling, you are going to need a car seat for each of your children. You can either bring along your own car seats and install them in the rental vehicles, or you can rent the convertible seats. Convertible car seats will typically have a 5-point harness that you connect to a narrow base so that it is easy to install in small cars.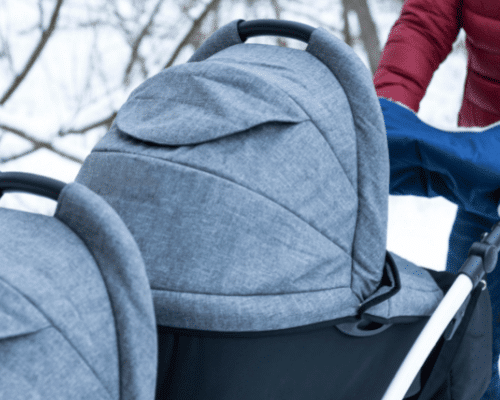 Best Twin Travel Stroller
If you are going to be traveling with twins, it is a good idea to get a stroller that has the ability to accommodate both of your children. A side-by-side double travel stroller would work best if you have twins or little ones who are close in age. Another option is a travel system that will allow you to snap the car seat into the stroller. If you have an infant car seat, this will allow you to be able to take your twins from the car into the stroller without having to wake them up.
If you are going on a trip with one or both of your children in toddler seats, then it is best that you look for a double umbrella stroller which are typically smaller and lightweight. These strollers are easy to fold up and will fit nicely in your trunk or in the overhead compartment on an airplane. You don't need to spend a lot. Cheap umbrella strollers work just fine.
The Best Twin Travel Bags for Parents with Infants and Toddlers
If you are traveling with twins, you will need to bring along a lot of stuff. It's best to choose bags that are different colors because this will help you sort through things quickly and easily in case your babies have doubled up the items you have packed.
It is also important when choosing a bag to look for one that has lots of pockets. You can put snacks, diapers, a changing pad, and any other items you need to have easy access to the inside of these pockets.
A great place for both of your children's belongings is in packing cubes. These will allow you to keep things organized which is important when you are dealing with infant twins who quickly become bored on the road.
Formula Feeding Travel Tips for Twin Travel
If you are formula feeding your twins, then it can be a bit more challenging when you are traveling. You might think about bringing along pre-measured packages of formula so that making up bottles will be easier. This will also help you to save space in your carry-on bags.
Twin travel is hard. It's not just the logistics of getting two babies to and from the airport, it's also all the extra gear you need for them.
With a little planning and preparation, traveling with your twin babies can be easy-peasy! Here are ten tips for making travel easier when you're bringing along your infant twins-from babywearing while on the go-to packing cubes that will keep things organized. We hope these travel tips help make your next trip as enjoyable as possible.
Latest Twiniversity Articles