Looking for digital twins pregnancy announcement ideas? Look no further! Your twins will be announced in style and will be the envy of all the other twinnies waiting to be born! Check below to see our cute and unique ideas for digital twins announcements for your pregnancy.
A fun and creative pregnancy announcement is almost required these days, but when you are having twins I think it is necessary! Thankfully technology, social media, and ETSY have made announcing to the world that you successfully executed the biblical reason for sex easy. Digital twin pregnancy announcements are your chance to technologically scream from the rooftops that you have exciting news, without a lot of work involved!
Don't know where to begin? No problem, we've gathered the newest, most creative, adorable, and funny twin pregnancy announcements that ESTY has to offer. Here are 15 of our favorite digital twin pregnancy announcements:
(links contain affiliate links)
Gender Neutral Digital Twins Pregnancy Announcements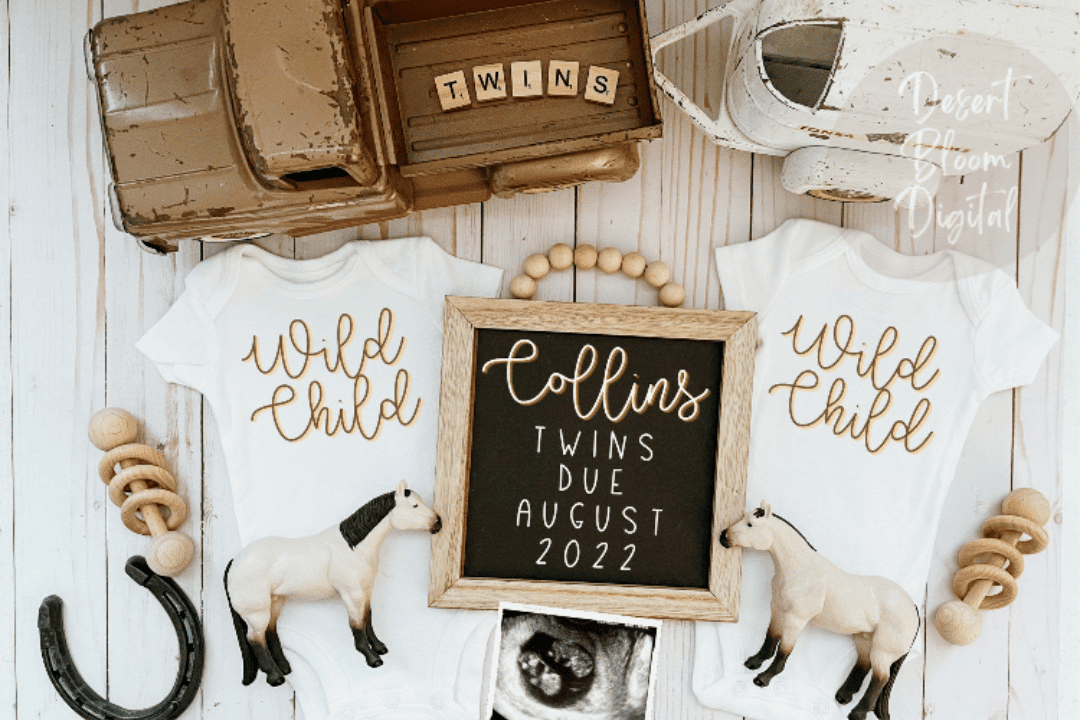 What is wilder than finding out you are having TWO babies (probably finding out you're having THREE babies)? Besides being absolutely adorable, this digital announcement is spot on….2 babies that will someday soon be two crazy toddlers, is WILD!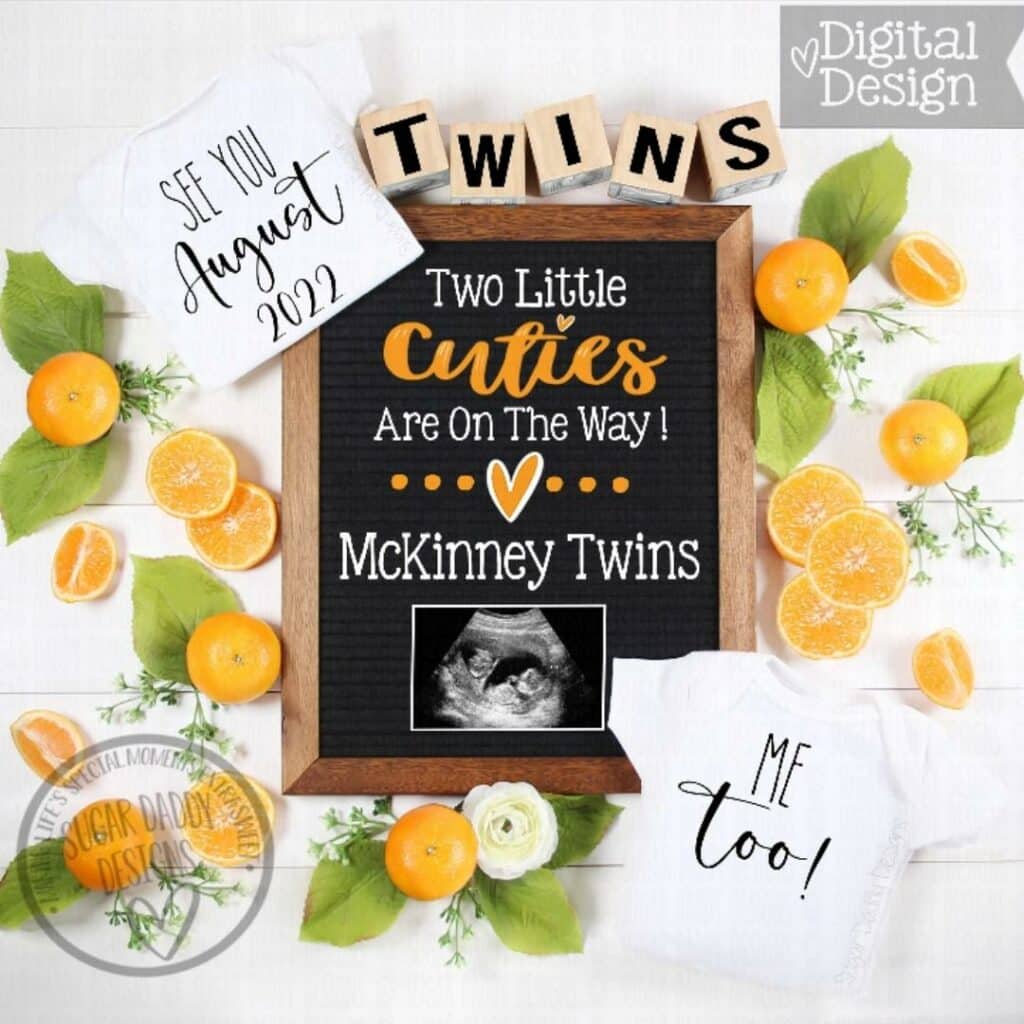 Almost anything miniature is unbelievably cute, including babies. It seems completely natural and clever to refer to your soon-to-be twins as your little cuties while using Cuties (mandarin oranges) as photo props. So if you are about to announce that you will soon be bringing two little "cuties" into the world, this cute announcement is for you!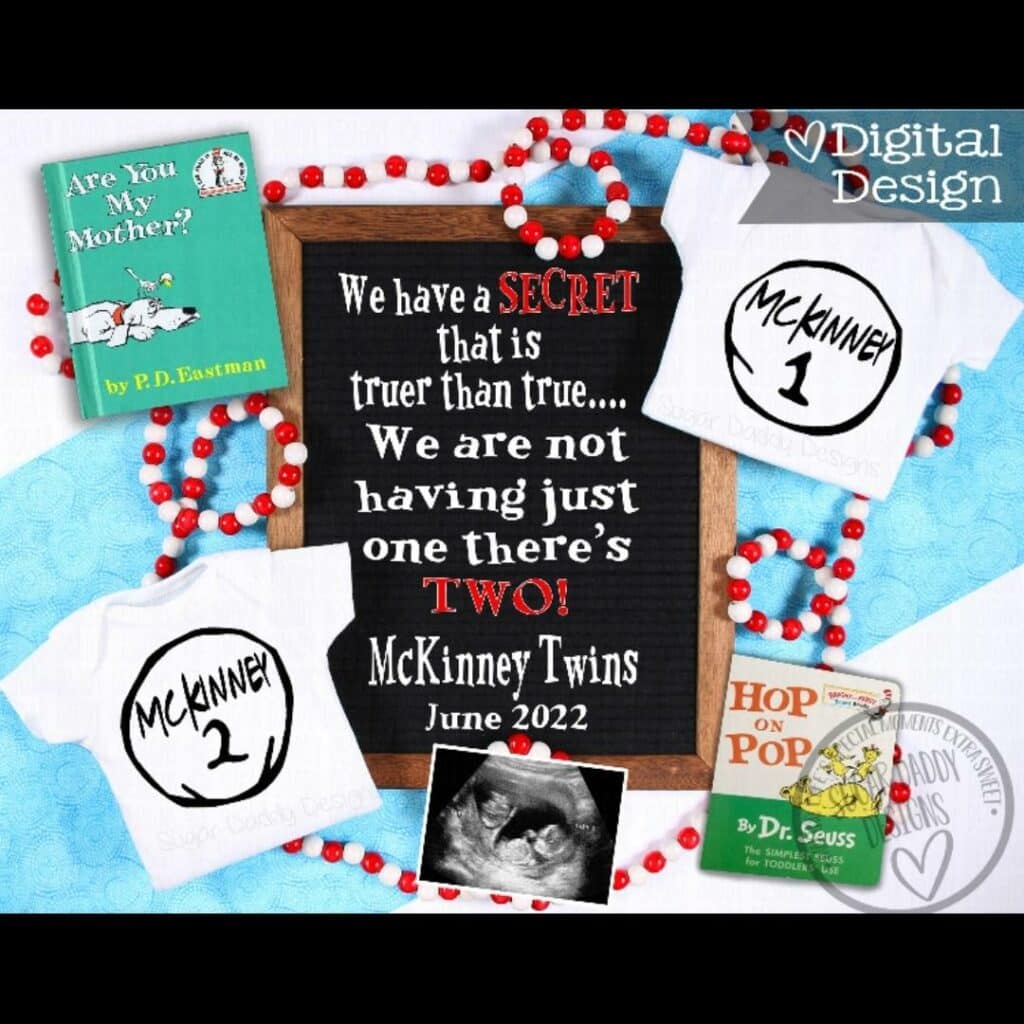 There is something about a rhyming pregnancy announcement. And, when I think of rhyming, I think of Dr. Seuss. So naturally, a Dr. Seuss announcement is perfect for announcing you are having twins. I love the details in this announcement with "Hop on Pop" and "Are You My Mother" books in the background. In my opinion, you can't go wrong when using Dr. Suess for anything twin related.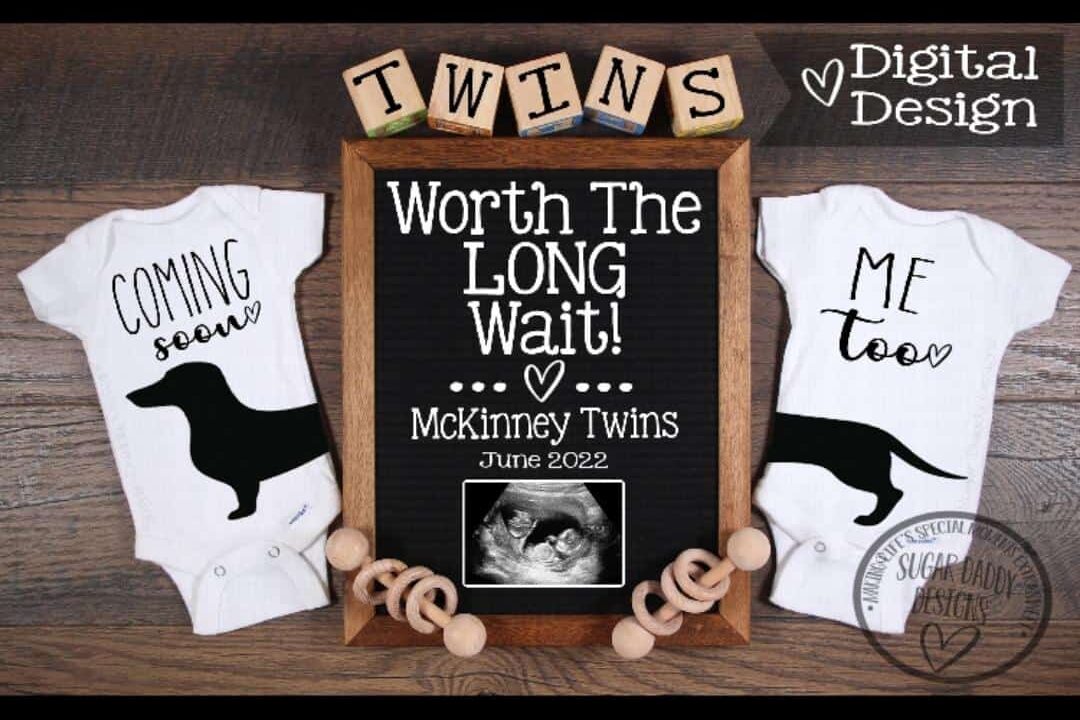 It is not uncommon that most people have a fur baby, before a human baby. That is partially why this digital announcement is so cute. Plus, if you have been attempting pregnancy for a while or you have just dreamed of being a parent from a very young age, the Dachshund (wiener dog) with the phrase LONG WAIT is not just clever, it's an ode to your first baby.
Funny Digital Twins Pregnancy Announcements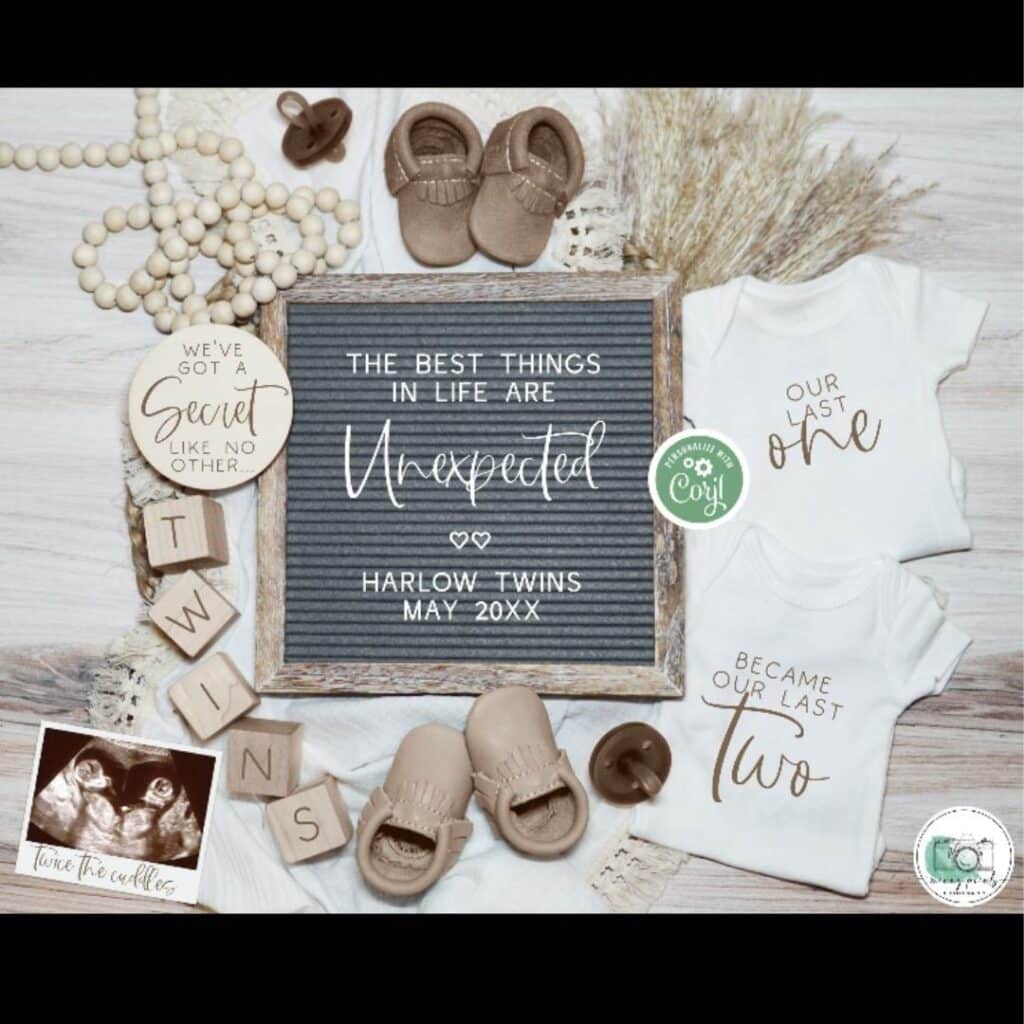 If your last baby turned into your last BABIES, this announcement is for you! It's simple and subtly shares your newfound secret!
Our new digital twin pregnancy journal is up for sale on the Twiniversity Etsy store! This is the first and only digital journal exclusively for twin pregnancy. It's the perfect way to record your precious twin pregnancy memories to cherish for years to come. Click here to learn more… and while you're at it, check out our expecting twins classes and Twiniversity Shop!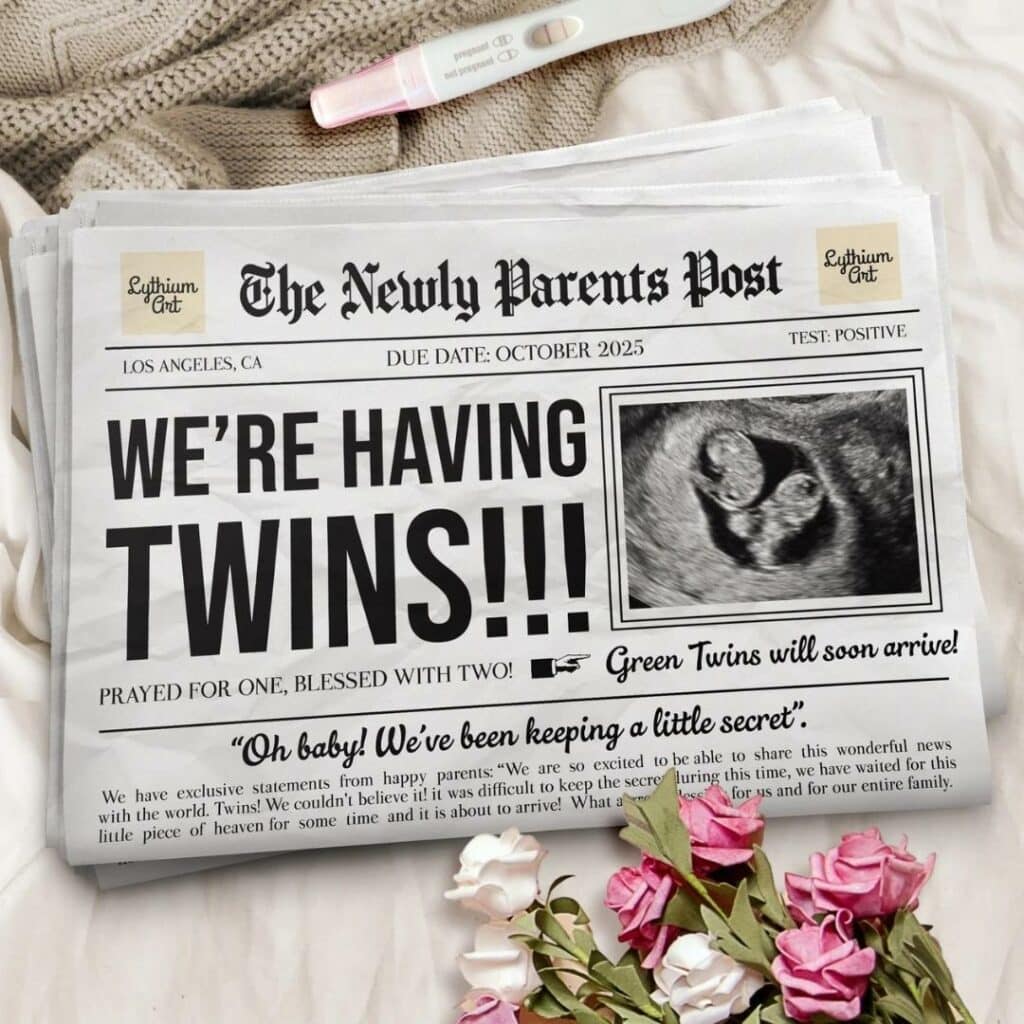 Extra Extra, Read all about it….The Biggest News is always on the front page of the newspaper. So, why wouldn't you have your twin pregnancy announcement look like a front-page story? Plus, this announcement is unique and different from most other digital announcements. Why not do something original?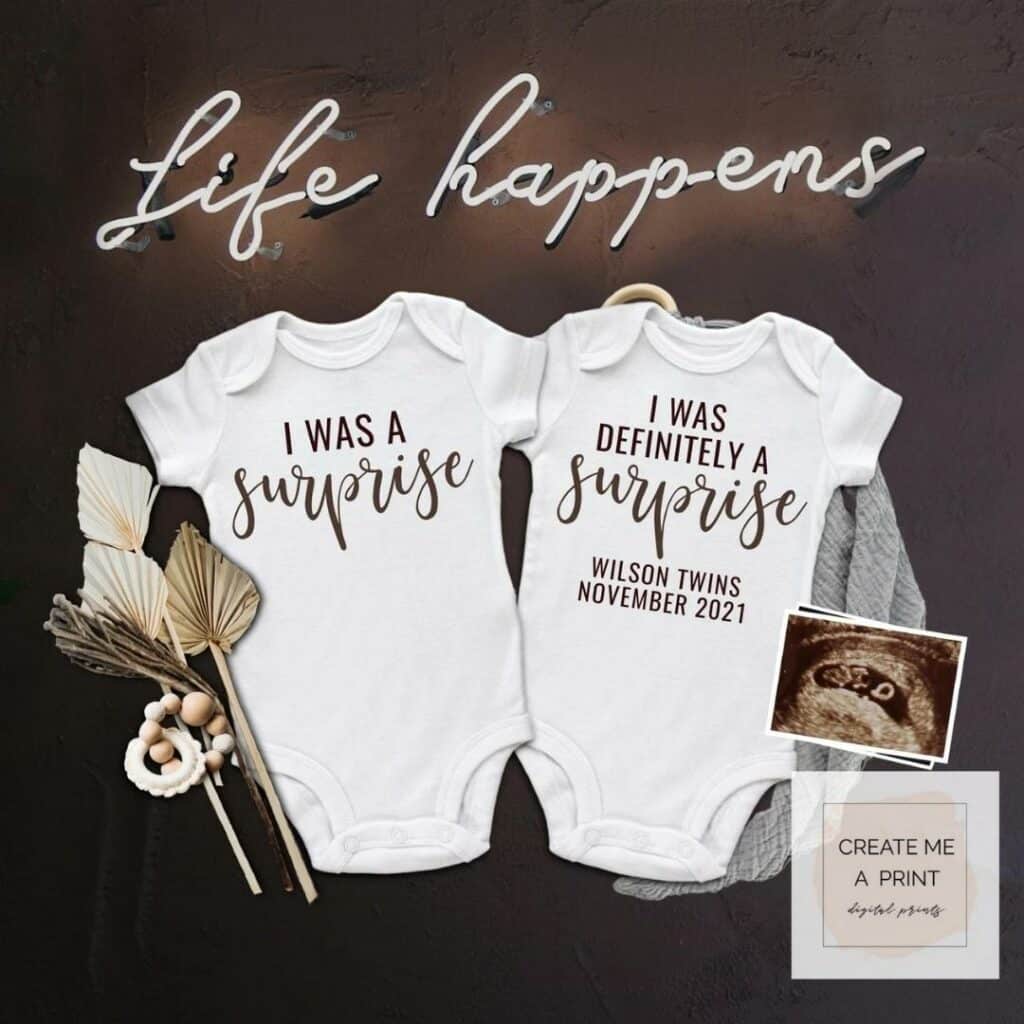 I feel like this should say "Shit Happens"….because it does. As a mom of twins where both babies were completely unplanned, this announcement makes me giggle. If you are like me, then this is your announcement.
Digital Twins Pregnancy Announcements For Girls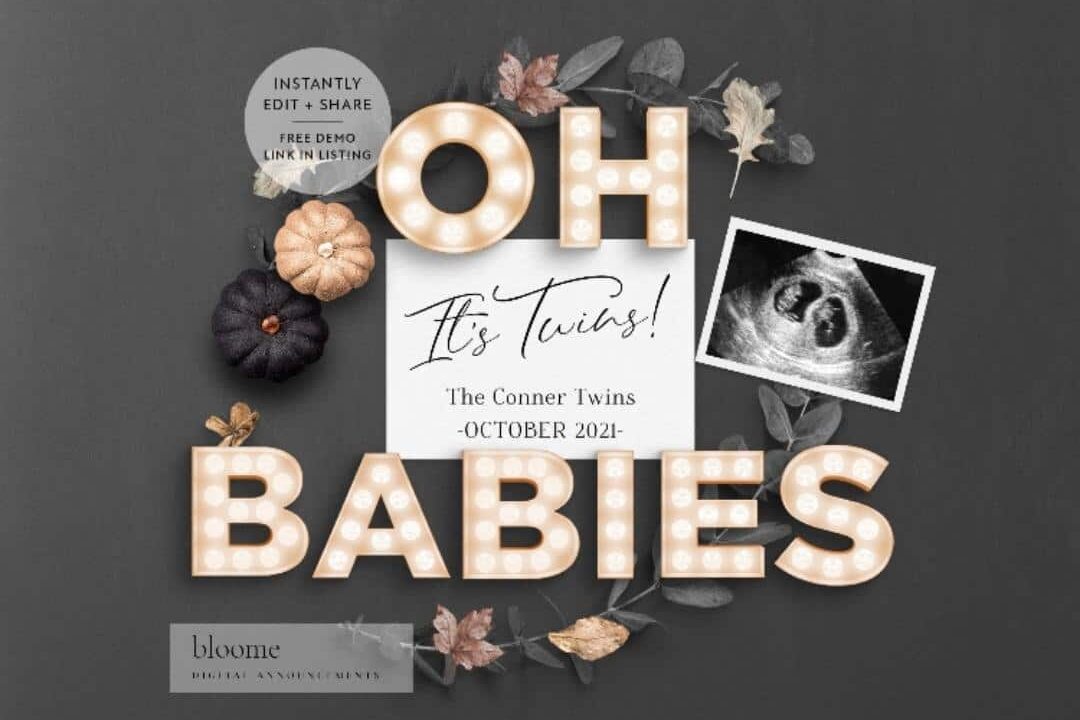 I LOVE MARQUEE LETTERS! These in particular have a bit of a feminine vibe to me (it is probably the white color) so I think it is a MUST when expecting two little girls! Remember, digital announcements can be changed, so feel free to add a touch of pink or red or whatever color you want. Although labeled as a Halloween announcement, I would consider this appropriate for a fall announcement.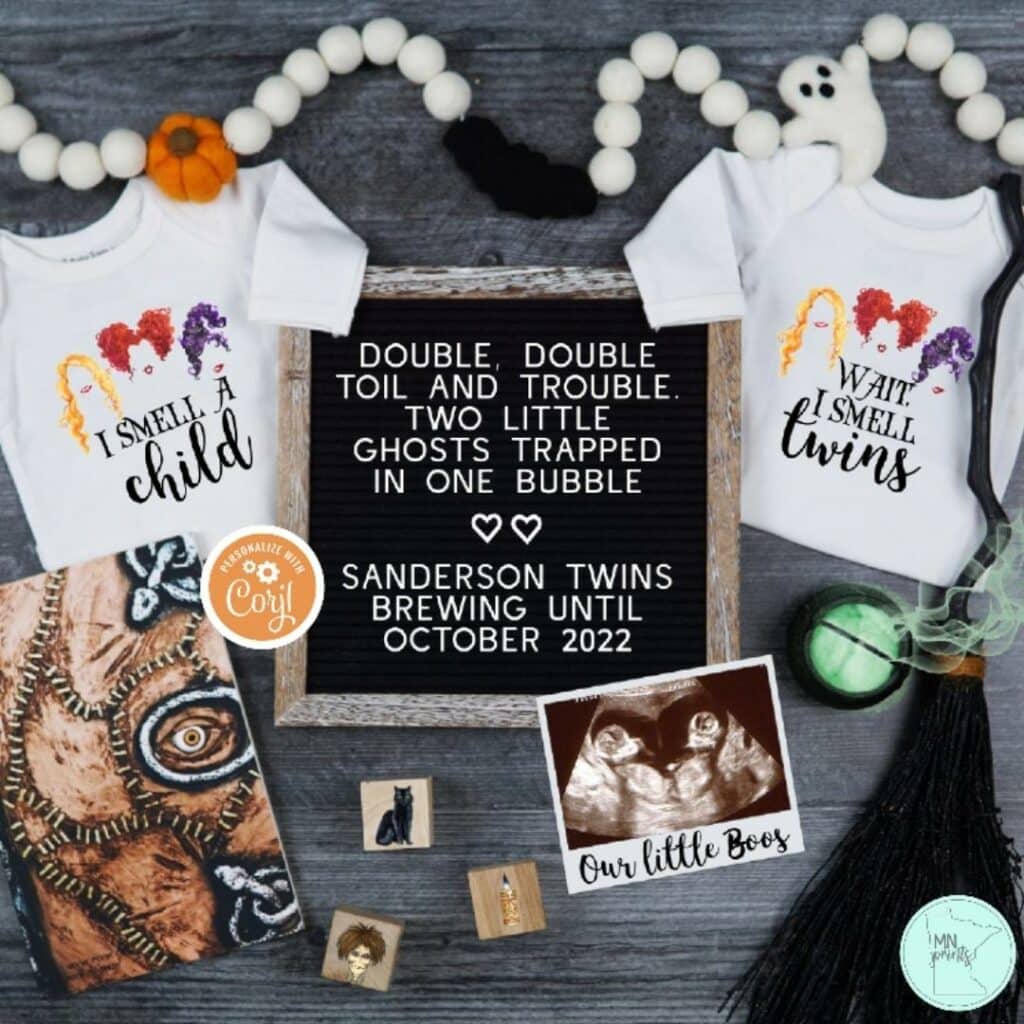 If you are expecting twin girls in the month of October (or if you are just announcing your pregnancy in October), I demand you use this announcement! The spell, the props, the onesies….it is pure magic!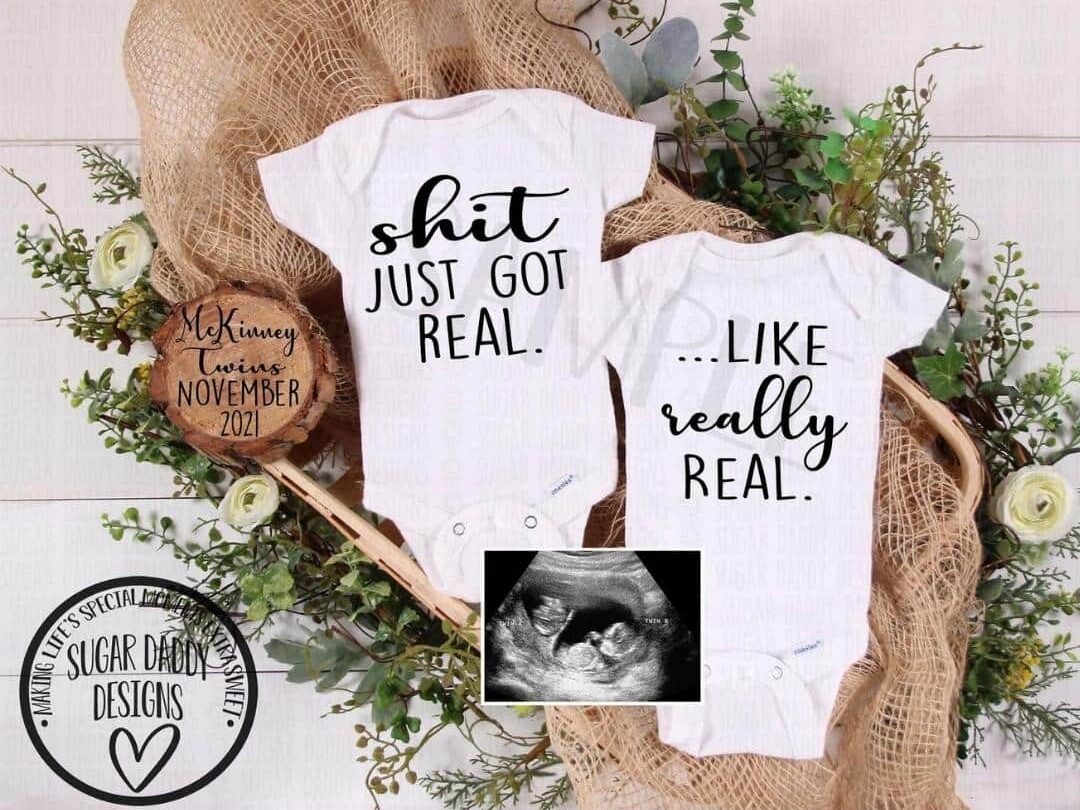 The burlap, and vines with flowers mixed in, and then the whisper of "SHIT Just got real". The perfect mix of sugar and spice, just like twin girls!
Digital Twins Pregnancy Announcements For Boys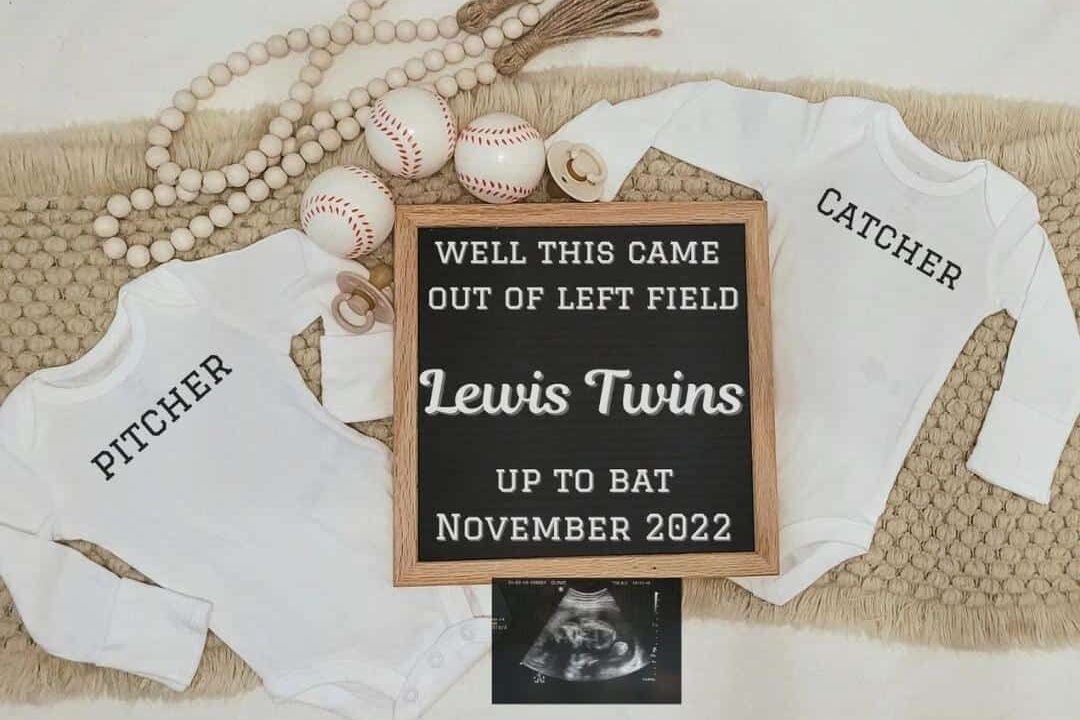 I'm a sucker for a cute baseball analogy! This announcement will make a baseball fan out of everyone who sees it! Such a creative idea to write "Catcher' and "Pitcher", after all, you are supplying your twins with a lifelong partner to play catch with.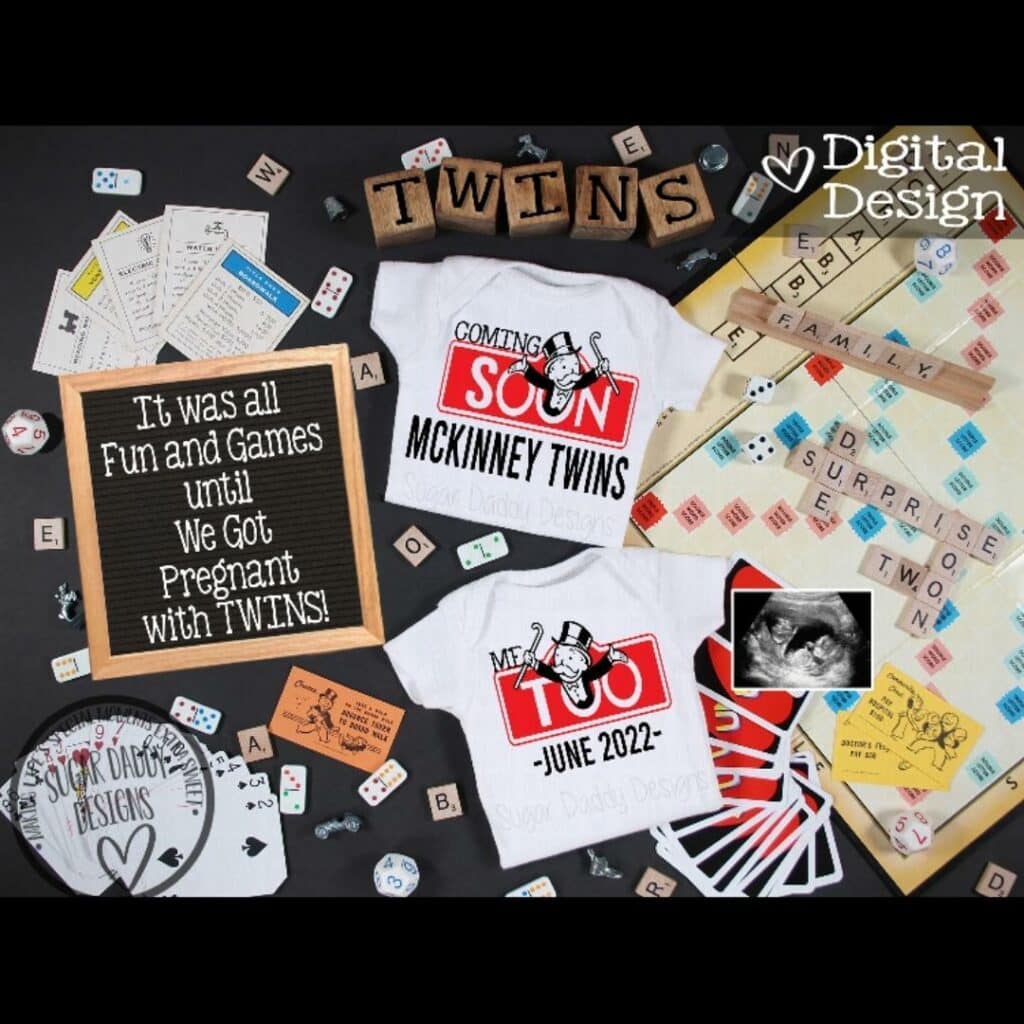 The Letterboard says it all, "It was all fun and games until we got pregnant with twins"!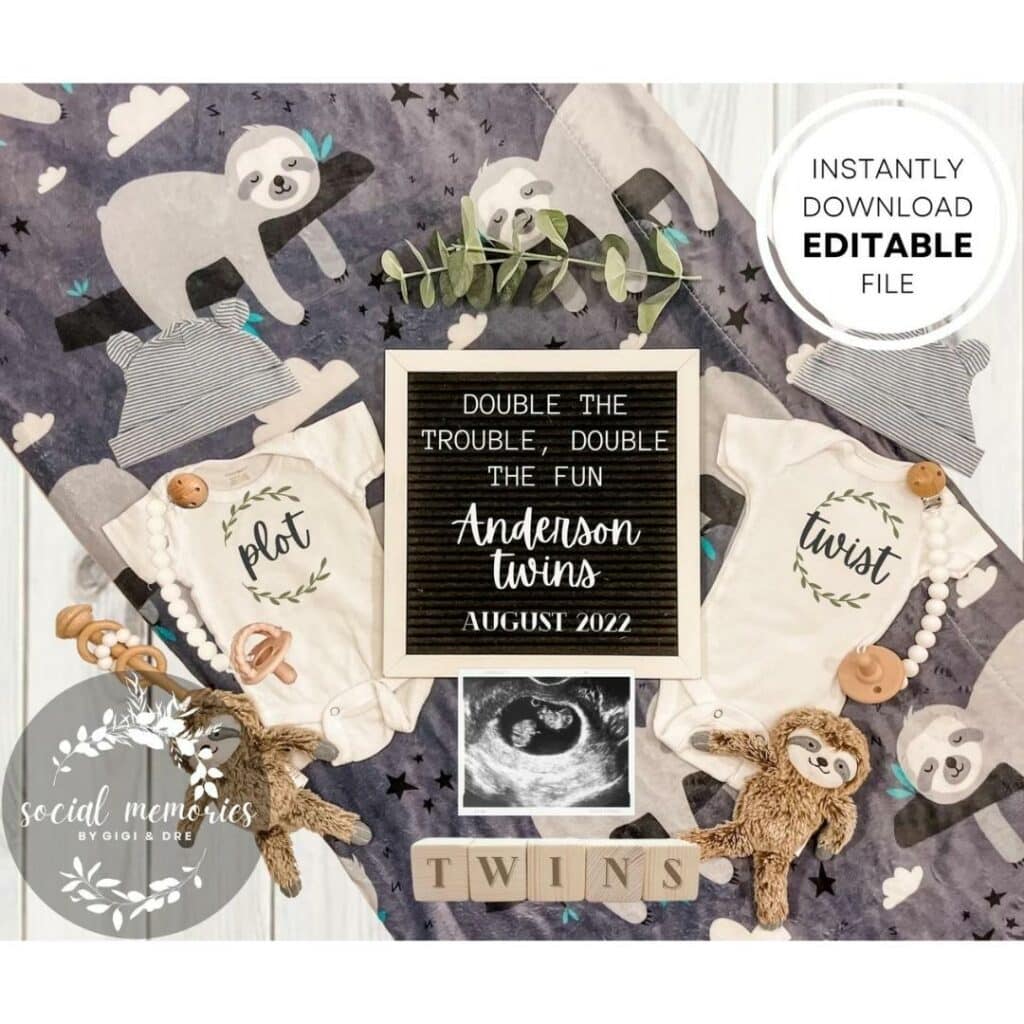 Holiday Announcements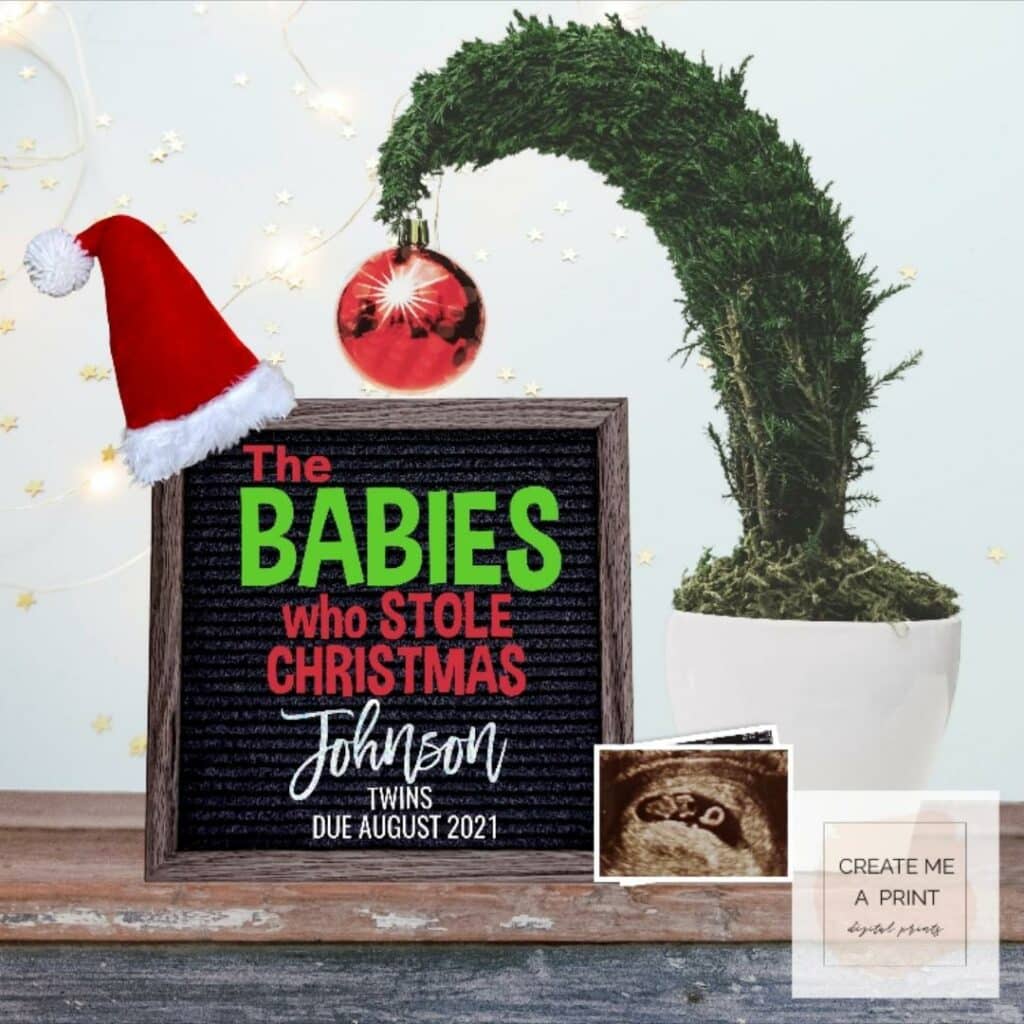 We love to announce BIG news around the holidays, so why not just stick with the theme? If you are expecting twins, you truly will steal Christmas with this digital announcement.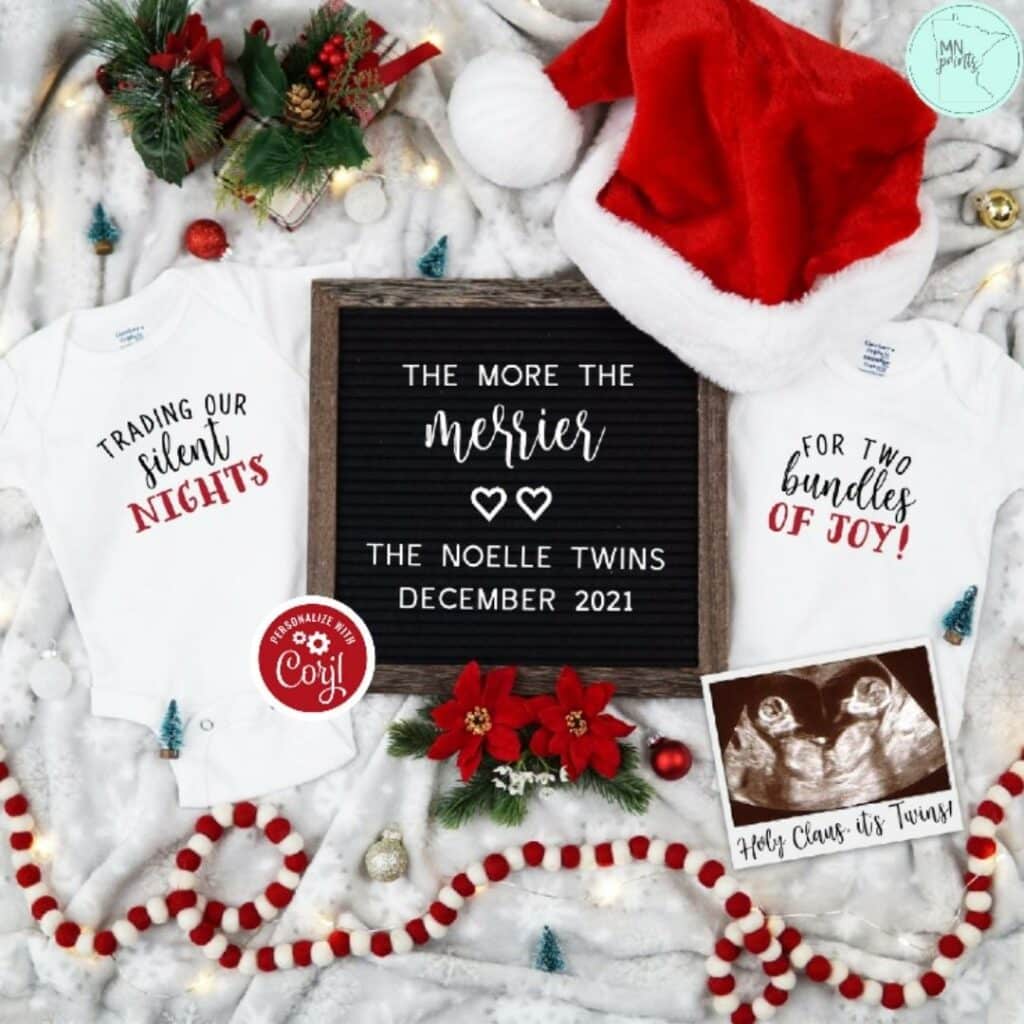 Staying with the holiday theme, you are sure to spread holiday cheer when you announce that you are expecting twins with this digital announcement. It's a good thing that it's the merrier cause you are bringing a noisy crew to the holiday party next year!
Latest Twiniversity Articles