We asked our Twiniversity fans to list their favorite baby products for twins! You don't need ALL of the things on this list, by any means. But this is a great place to start to get your twin registry going! Here's what they had to say…
---
---
– We couldn't live without the Halo Swaddle Sleepsacks. Buy 2 for each baby in micro-fleece (newborn size) if it's cold out and the cotton kind when it's warm out. The fleece ones make a really tight swaddle that's hard to get out of and it really helped them sleep. Our boys were in these pretty much 24/7 for their first few months.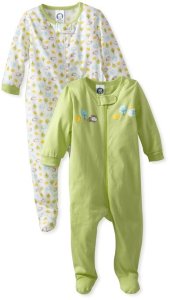 – Pajamas, aka "sleep n' plays". I kind of wished I had returned a lot of those newborn outfits people got us (onesies and pants) because they lived in zip-up pajamas for a long time. It was just easier than having to pull something over their heads or up their legs, since the babies are like jello for the first few months. And definitely get zip-up. All those snaps and buttons just take a really long time when you have two babies to dress or change. Get more newborn size than you think you'll need. It might be a while before they are in 3 month size.
– Really good butt cream. Extra strength Desitin (purple tube) worked great for us, but every baby butt is different. Use a little after every diaper change as a preventative.
– If you're having boys and they're being circumsized, have plenty of Vaseline in a tube (not the big jar — it's more sanitary) and small 2″x2″ gauze squares handy (the hospital will provide some but once we were home we ran out in 2 days). Use more Vaseline than you think you need (really glop it on there) so the cotton gauze doesn't stick to their incisions. 🙁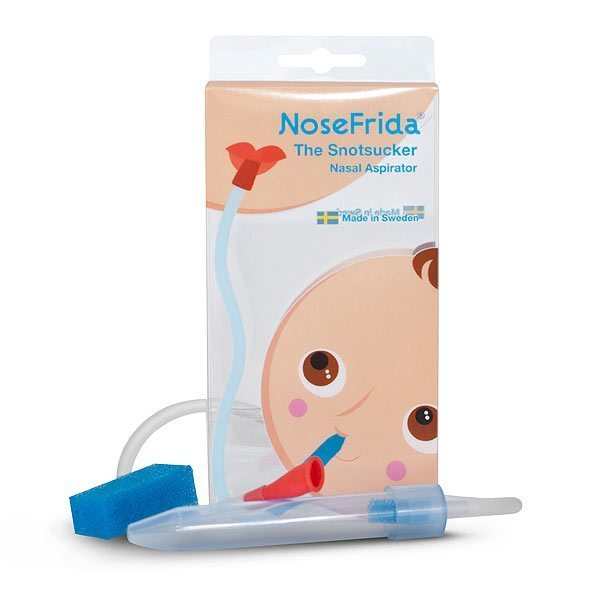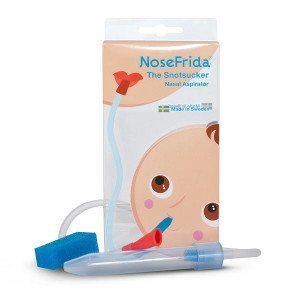 – NoseFrida snot sucker. Trust me on this one. Get two.
– White noise machine — we still use ours and probably always will. We love the Munchkin one with projector.
– A good swing. Don't bother with those "space saver" models if you have a small house. They don't swing for shit. Get a plug-in one so you don't have to change the batteries.
– Pacifiers. The Avent soothie brand. My mother in law is a retired NICU nurse and she said these are the best for oral development. They come in blue, green, pink, and purple — lots of choices so you can color code for each baby.
– Love our IKEA Gulliver crib. $99 each. They are shorter so they are perfect for shorties like me. It also converts to a day bed for later on.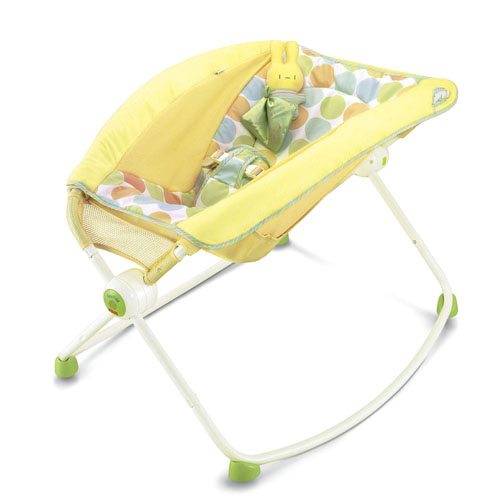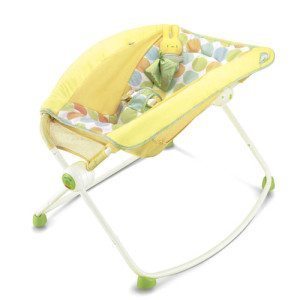 – Our babies slept in a Rock N' Play and the Snugabunny bouncy chair for a couple months. The Rock n' Play is great because it's on an angle and it helps with reflux. It's higher up like a bassinet so it's easy to reach down and pick the baby up, and you can rock it with your foot while you're feeding another baby, so that helps! They also have ones with vibration that are pricier but they are probably worth it!
– If you hope to breastfeed and/or pump, get two good hands-free pumping bras. It's a strapless bra that zips in front so you can pump without having to hold the cups up. Get 2 because they get really dirty and you'll use it like 5-6 times a day if you're pumping.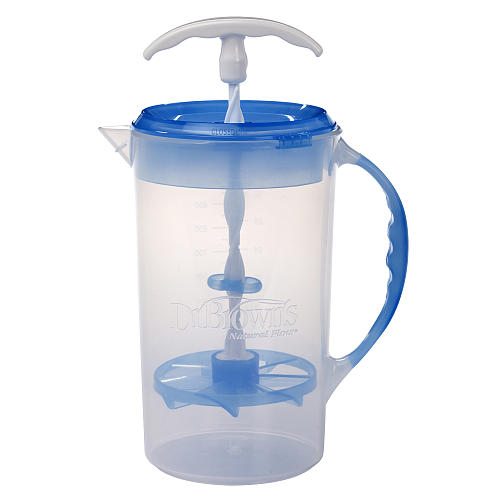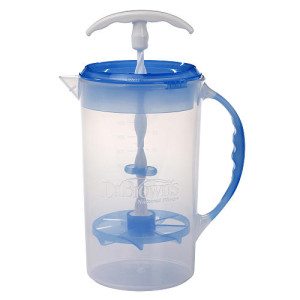 – The Dr. Browns bottles are the best. They really help with gas. If you buy them, buy the dishwasher baskets made for the bottles. There are a lot of parts to wash! Start with the preemie or Level 1 sized nipple — there are many sizes to grow into. The bottles all come with Level 2 nipples but the flow might be too fast for a newborn. Dr. Browns also makes a great pitcher for mixing big batches of formula.

– Gas drops. Stock up now! So much infant fussiness can be helped with this. Mylecon is the brand name, and Little Remedies makes one, but Walgreens/Target/CVS have generic versions called "infant gas drops".
– A Pack N' Play. We got by with just one but if you're going to be traveling a lot, get two. It's also helpful if your twins are struggling with napping in the same room. We split up our twins with the help of the pack n' play in our master bedroom for a while.
– Diaper Champ pail. Doesn't require special bags. Just buy the Febreze scented Glad trash bags and you're good. The Diaper Dekor Plus extra large diaper pail is also a good one.
– Basic cotton diapers to use as burp cloths. But not the thin ones. Make sure it's the heavyweight and absorbent. This is a good one: Gerber 5 Count Heavyweight Gauze Prefold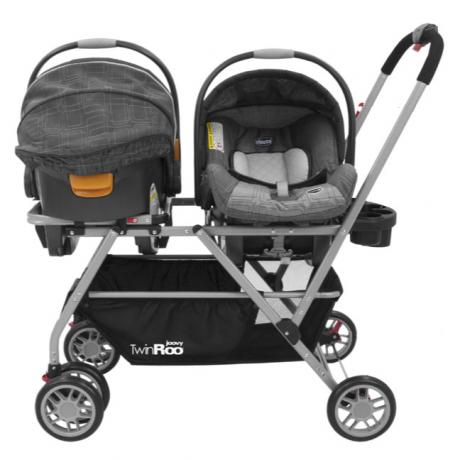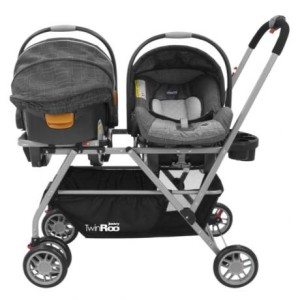 – A "snap n' go" lightweight double stroller frame. It weighs less than 20 lbs. and you just snap in the car seats and "go"! This is a type of stroller that is sold by many brand names. Joovy has a good one where you can put the car seat carriers in sideways.
– Aden and Anais swaddle blankets are great for warmer weather. When it's cold out if you want a blanket that's good for swaddling try the Gerber thermal blankets.

– Sleep Sheep by Cloud b is so perfect to help babies fall asleep anywhere.

– Munchkin dishwasher baskets for bottle parts. Even after the bottle stage is over we still use these for sippy cup parts and pacifiers.
– A good dishwasher that has an option for sanitize and a 3rd rack for bottle and sippy cup parts.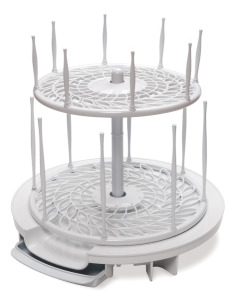 – Drying racks for bottles, parts, sippy cups, bowls, etc. We have the spinning rack and the grass rack — both are great.
– The book "Healthy Sleep Habits, Happy Twins"
– Twin Z Pillow for tandem breastfeeding
– Table for Two – you can feed two babies at once by yourself!
– A Fisher-Price Jumperoo and an Exersaucer for when they are a wee bit bigger. When they start getting bored, switch!

– Leachco Podster Sling-Style Infant Seat Lounger
– Boppy pillows for breastfeeding and Boppy newborn loungers for bottle feedings
– Dry shampoo… For mom!!
– Wubbanubs to hold the pacis in place!
– Baby Jogger City Select stroller with extra seat and infant carrier adapters (click here for a video review by Nat!)

– Dura Bibs! Perfect for starting solids and beyond.
– A great big Lazy Boy style rocker or glider

– Baby Bjorn bouncy chair. Great to travel with. Folds down. Their travel crib is great too.
– One bouncer and one swing works for me!
And we would be remiss if we didn't mention "What To Do When You're Having Two", the must-have twins survival guide from pregnancy through the first year, written by our very own Twiniversity founder, Natalie Diaz!
What did our fans miss? Tell us your registry "must haves" in the comments below!
Related Articles