Any mom with some experience under her belt will know which items she used and loved with her singleton. When expecting twins after a having a singleton she might also know what she needs additional of (like more bottles, a 2nd crib, more burp cloths, etc) versus items that need to be outright replaced (like a double stroller instead of a single, the Hadley double rocker instead of a single glider).
Here are 4 items you need to reconsider if you are expecting twins after having a singleton.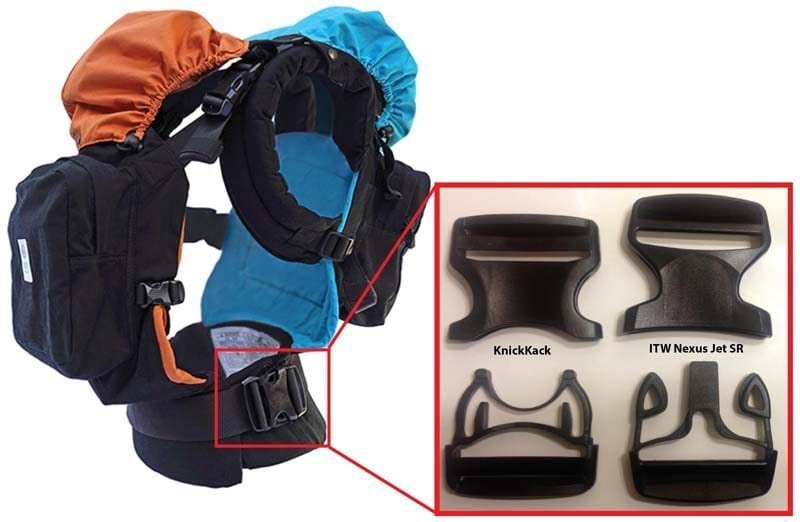 Babywearing
Tandem babywearing that can be pulled off easily is crucial when you have an older child to keep up with. Parents of twins with an older kid have to routinely do things that aren't double stroller friendly, like spotting an older child while she climbs on the playground, filing into a crowded theater to watch a dance recital, or going into an attraction at an amusement park after having to park the stroller. The Weego is the simplest way to tandem babywear 2 newborns, but babies will outgrow it within the first 4-6 months. It's still well worth it to buy one for the early months (especially because it can be used with preemies) but to save money you can easily buy one used from any Tandem Babywearing Facebook group.
The TwinGo is the next simplest twin carrier for older babies or toddlers, but one of the twins needs to be able to sit unassisted before you can do the required back carry for tandem wearing (it can be worn as two separate forward facing carriers before that).
For that interim period where the babies may have outgrown the Weego but aren't ready for the TwinGo, it's easy to pair a ring sling with whatever soft structured carrier you already own from your singleton. I like the Beco Ring Sling because it's easy for beginners. You can either wear each baby simultaneously in a hip carry or off centered forward carries. You can also tandem wear with two ring slings or one wrap, but that's more advanced babywearing skill. (Twiniversity Note: Use extreme caution when carrying two babies in two ring slings. Make sure you're totally confident with this arrangement before heading out of the house.)


Stroller
We opted to get the Baby Jogger City Select Double stroller to replace our single stroller because with adapters it can be used with car seats, then later on with the seats it comes with. But another reason for getting a real workhorse stroller from the beginning (versus a double Snap N Go) was because we needed the option to make it a triple as necessary. Since our singleton was 3.5 years old when the twins arrived, we didn't need a true triple stroller, just a method to give her a seat on days with lots of walking. Enter the Englacha Cozy X Rider-A Way to add a seat for a child up to 50 lbs to any stroller in just a few seconds. You can technically add this to even a lightweight umbrella stroller- but when you're adding an additional 42 lbs of kid it handles better on a stroller meant to haul. If you're using a seat like this, I recommend adding it to a tandem stroller (not a side by side stroller) because then you still have full access to the under basket storage from the side of the stroller.
Car seats
If you don't have a car with a 3rd row or aren't ready to upgrade to one (more on that below) your options for car seats when you need to fit 3 across are limited. But we managed to do this with two Chicco Keyfit 30 infant seats and a Diono Radian RXT convertible seat. Newborns can actually go in a rear facing Radian as well, but you'd lose the utility of being able to click them in and out from car to stroller. You have to do a seat belt install in most cars for all 3 seats to fit across, as most cars don't have 3 sets of LATCH anchors in one row anyway. The Car Crash Detective has an excellent write up on this topic.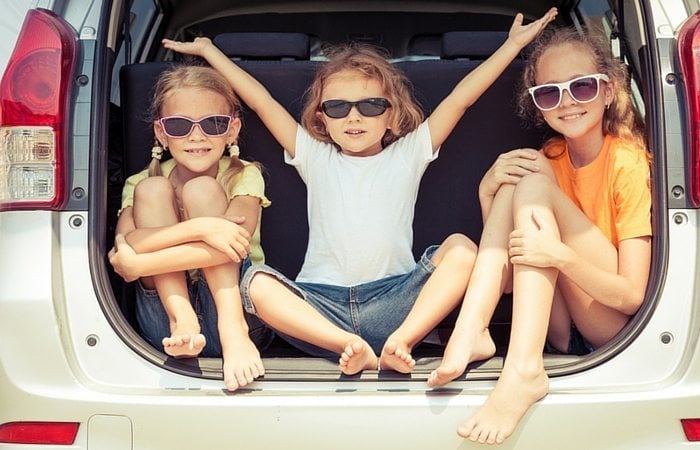 Minivan
If you're a mom of 1 or more plus twins, the question of whether or not to get a minivan is more of a "when" than an "if." Technically any car with 3 rows will make your life easier but there are several reasons why minivans are better suited to families with 3 or more in car seats compared to 3rd row SUVs. These include automatic sliding doors (so you can load everyone in even the narrowest parking spot or your garage), more trunk space even when the 3rd row is in use (to hold that triple stroller), and most importantly, easier access for adults to reach all 3 car seats when buckling in the kids. We have the twins rear facing in the captain's chairs in the 2nd row, and our singleton forward facing in the middle of the 3rd row, with the 40 side of the 60/40 split of the 3rd row seat folded into the floor. This way, we can actually access each twin directly from a sliding door, and the singleton directly by entering from the folded down part of the trunk. Because minivans are lower to the ground than SUVs, we can comfortably climb in that way. There are other configurations you can try, but we found this way involves the least amount of bending and lifting for the adults. I love my Toyota Sienna but any minivan on the market is an awesome choice for families of 5 or more.
These are just some basic ideas for you to reconsider if you are expecting twins after having a singleton.
For more Twiniversity recommended twin gear click here.
Written by Meredith Devine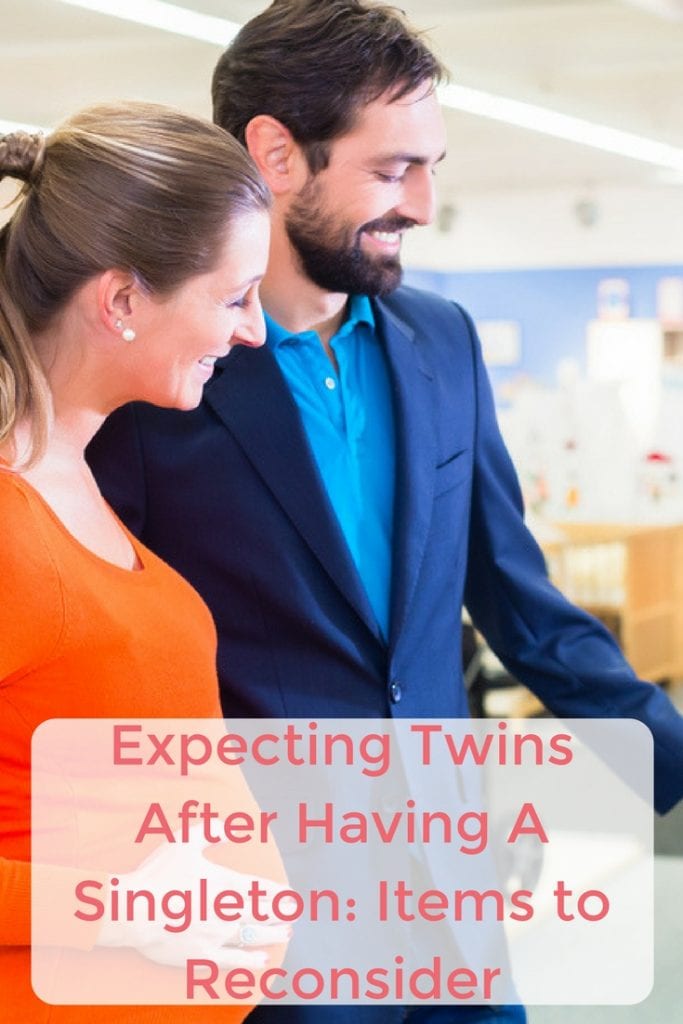 ---
Related Articles
---
Sign up for the Twiniversity Mailing List to be the first to hear about product giveaways, contests, and special offers exclusively for twins and higher order multiples!
---
 
Expecting twins? START HERE! Check out our ultimate list of the most important articles for expecting twins and managing your newborns!
---
The rate of twin births has risen 79 percent over the last three decades, and continues to increase. A mom of fraternal twins and a national guru on having two, Natalie Diaz launched Twiniversity, a supportive website with advice from the twin-trenches.
What to Do When You're Having Two is the definitive how-to guide to parenting twins, covering how to make a Birth Plan checklist, sticking to one sleep schedule, managing double-duty breastfeeding, stocking up on all the necessary gear, building one-on-one relationships with each child, and more.
Accessible and informative, What to Do When You're Having Two is the must-have manual for all parents of twins.
---
Whether you're a twin parent in the big city surrounded by scores of resources, or a triplet parent out in the country with no one around for miles — our multiples parenting forums are for YOU! Sign up for FREE and connect with people who are just like you — parents of multiples looking for advice, parenting tips, or even just people to chat with who will understand what you're going through. Our forums are open to people all over the world and we offer scads of specialty rooms to find others who are going through the exact same thing as you. Check it out today!
---
Twiniversity is the #1 source for parents of multiples and we are growing faster every day!
Find us all over the web: