Twins need a lot of room and a lot of supervision. Turning one of our spare bedrooms into a playroom has turned into one of our most brilliant ideas and our go to room. Here are some must haves and some useful tips when you want to create a perfect playroom for twins.
Carpet
Get thick padded carpet. It's perfect for your "Wobblers." When your twins are in that crawling/walking stage and every second is a fall you'll fall in love with your carpet again and again. As any parent of multiples knows it is impossible to prevent every wipeout. We do not have the luxury of helicoptering over our child as they learn how to navigate the world. We choose the one in the least current danger but with padded carpet you can be a little more at ease with each thud.
Tip: If the playroom is on the second floor make sure your subfloor is in tip top shape, we didn't. We rushed to get the carpet in and now we hear every step from down below and they are only 15 months old!
Use your ceiling to keep the room clear
If you're doing a full room remodel add some bright dimmable lighting and a fan to the ceiling. It will help prevent having to use plug in lighting, keeping the floor clear for more activities. The ability to dim the lights can help set the mood for the twins if you're trying to wind them down for sleep.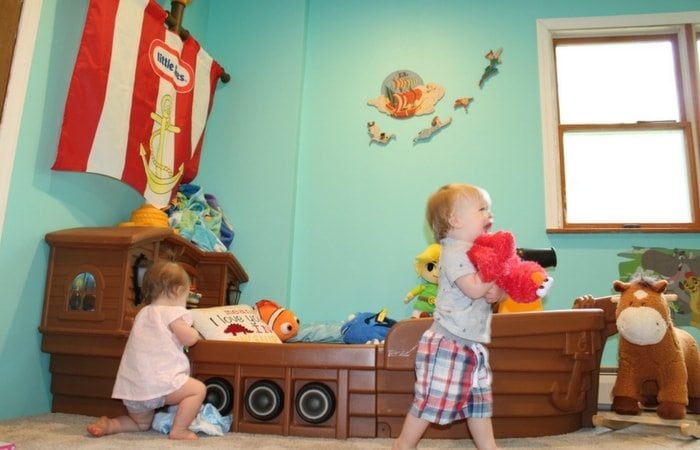 Provide different levels for climbing
We found a good deal on two baby sofa chairs. The ability for the kids to climb to a different level and sit on their own cannot be understated. Down in our living room they cannot join us on our couch without assistance but now in the playroom they have their own thrones. Even a child's bed could be made into a fun reading nook/makeshift jungle gym. We snagged a pirate ship toddler bed a neighbor was getting rid of. Ahoy Matey.
Wall decals
After we slapped on a new coat of paint the room looked bright and fun but boring at the same time. We bought some removable wall decals of characters from their favorite shows and stuck them on the lower walls throughout the room. Now they run around the room pointing at the characters and attempting to grunt their names helping develop their recognition skills. We topped it off with some Disney wall quotes that hopefully they come to appreciate when they get older and start to read.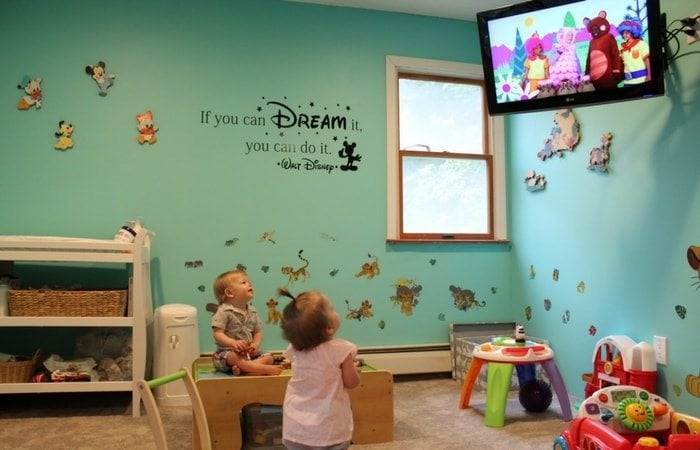 TV
A must for any playroom is a TV. Although my twins aren't big on TV there are peaceful moments where they will stare at the TV for 30 seconds. That in itself is totally worth the price. Get a streaming device for your TV or if you have the extra coin, a Smart TV. You'll have access to endless free and paid content giving you repeatability. Watching the same thing over and over sounds mind numbing but the kids will love it. Even if you are not into having your twins watch TV you will still have access to music. So get those lullabies rocking.
Tip: Mounting the TV on the wall not only frees up space, but it's built-in child safety.
Pop-up play tunnel
Besides all the typical toys and books you want to deck out the room with, one fixture the twins love is the tunnel. It folds up when not in use and is a super cheap pot of gold. The tunnel provides our twins with endless amounts of baby chasing baby and also gives them a place to hide from each other and you.
Tip: Hang a towel over the ends and make it like a secret cave the kids will love this twist.
You still need some basic room staples at least early on
Put a changing table with a diaper genie in the room. Yes it will take up room but this way you don't have to leave a kid alone just to go change the other. Worried about them climbing in it or on it? Make sure you mount it to the wall so it can't be pulled down.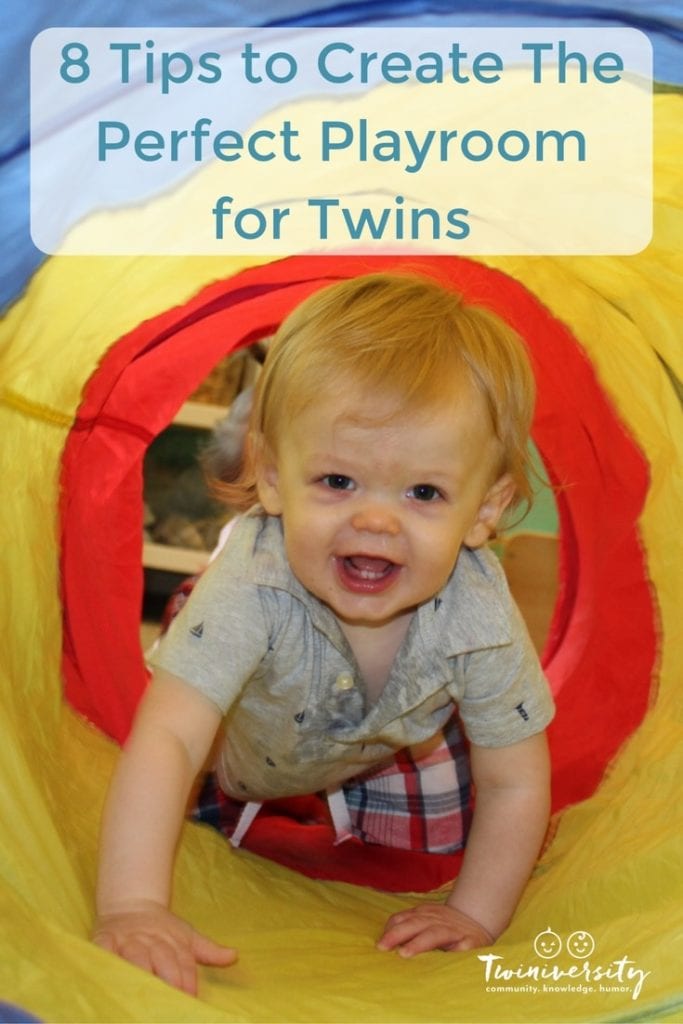 Heating concerns
With the twins being at the age where "NO" is a game, the baseboard heating in the winter gave us concerns. Maybe you have radiators or something similar, and like us, worried about how hot they get to the touch. Since it's (hopefully) only going to be a few winters we bought a folding gate panel set. We just used the panel to cover the area close to the baseboard to help keep the kids away from the hot surface.
By no means is our playroom perfect, we are constantly adapting it as the kids grow. It's a lot of trial by fire but it's a great feeling watching them run around together in a baby proofed room set up just for them.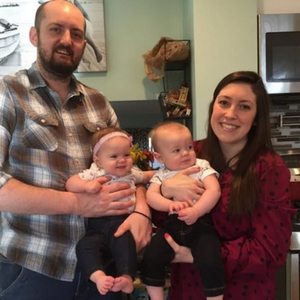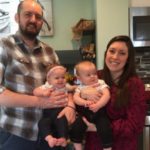 Michael Ackerman is married to a loving, hard working momma bear and has 1 year old twin boy/girl cubs. He works full time as a Gas Leak/ Boiler Technician in NYC schools. He has a love for sports, video games, and chimichanga's. He spends most of his time now chasing around his two maniac children and his two dogs Link and Sabre. You can follow him on Twitter.
---
Related Articles
3 Ways to Support Infant Development Through Play