The first time you bottle feed your twins alone can be very intimidating. Anything you do for the first time can bring on a little anxiety, but when you have two hungry babies demanding to eat NOW, it's a whole other ballgame!
Just remember to breathe, give yourself a LOT of grace, and take it one step at a time. Learning to bottle feed twins simultaneously will save you a lot of time, allowing you to have more breaks and time to get things done in your day. It's a skill that you and your babies will be learning together and it's definitely a skill worth mastering if you are going to be alone with them often.
Keep in mind that when your babies are newborns it will be difficult to feed them simultaneously because their necks aren't strong enough to hold up their heads yet. Wedging a rolled up blanket behind their necks will help to prop them up better for tandem feedings. As they get older this will not be an issue anymore, and all three of you will have mastered the duo feed! In the meantime, here are some tips to get you started: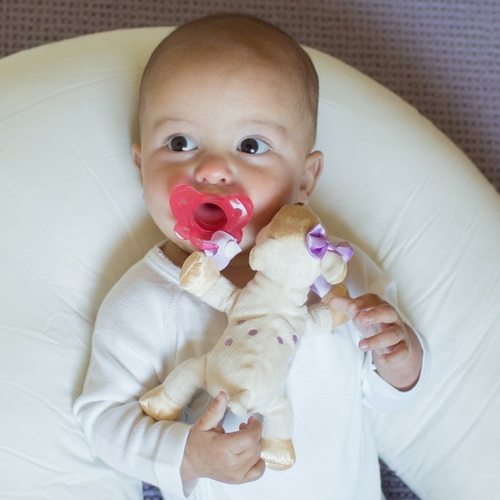 5 Tips for Bottle Feeding Your Twins Alone
1. Change diapers before you start your feeding. This will make the babies as comfortable as possible and avoid leaks and blowouts, which would interrupt the feeding.
2. Set up their seats. There are several different configurations you can try out. Try placing two bouncer seats or car seats on the floor in front of the couch and sit in between them — on the floor — with your back against the couch. Another option is to place them in two Rock N' Plays while you sit on the couch or on a chair in between them. If your highchair seats recline, you can put the babies in them reclined back and sit in a chair or on a stool. The Table for Two is a great seat that allows both babies to sit very close together so check that item out if you're going to be alone with them a lot.
3. Prepare your feeding station in advance with all of your supplies. Have the bottles prepared and burp clothes and pacifiers handy. Make sure everything is within arm's reach so you don't have to get up and leave an angry baby because they aren't being fed.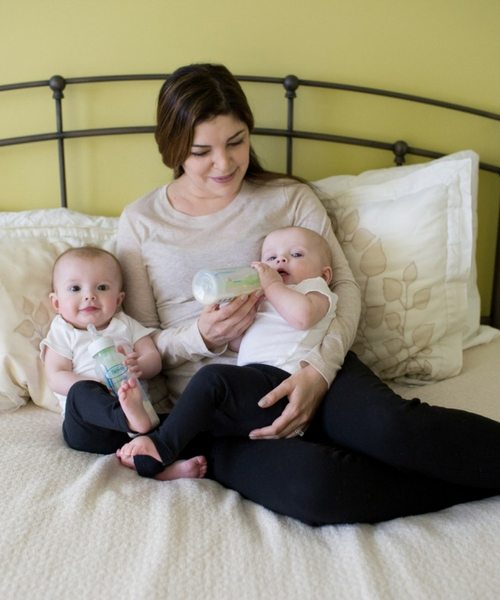 4. Avoid bottle propping. We do not recommend this. Propping bottles runs the risk of suffocation. Make sure you are present throughout the entire feeding. If you need to take a break you can put the bottles down and give the babies their pacifiers to keep them calm for a few minutes.
5. Don't forget to breathe! It may take time to get the hang of it. Once you do you are going to rock it!
It may feel a little hectic and out of control the first time you do this. The more you do it the more it will become rote. It will become a lot easier and the babies will also get used to it. They will then understand how this all works. As time goes on they will learn to be a bit more patient with the bottles, and with YOU! Feeding both babies at the same time will help you to maximize your time, and in turn, will allow you to have more free time and more sanity.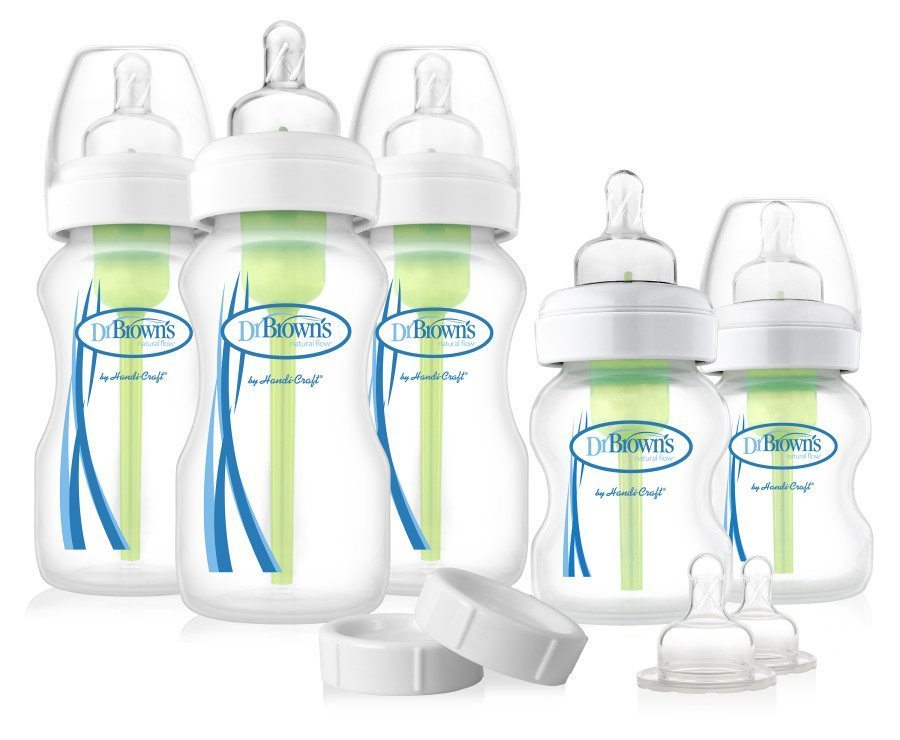 We adore Dr. Brown's bottles for their incredible ability to reduce gas and fussiness in newborns, and now with their Options bottles you can remove the vent after your babies are past the gassy phase. Dr. Brown's Options grows with the needs of your babies and offers healthy benefits whether your little ones are experiencing feeding challenges or not. Options gives you the power of choice.
Related Articles
Bottle Feeding Basics All New Parents Need to Know
How Can I Bottle Feed My Twins at The Same Time?
Getting Over The Guilt of Bottle Feeding Twins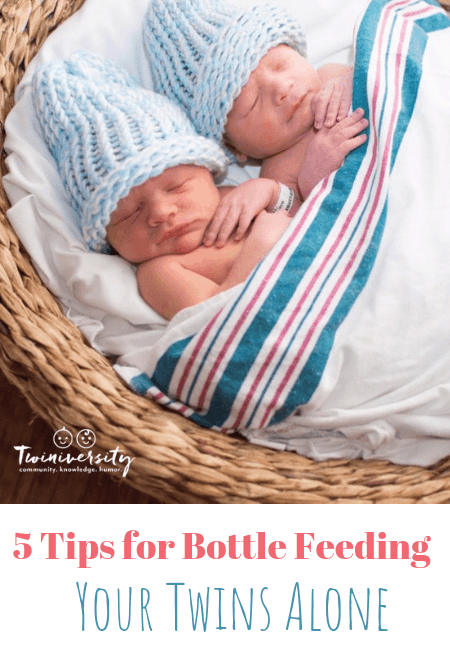 ---

Got twins? Us too! The Twiniversity Podcast with Natalie Diaz is created by parents of twins FOR parents of twins, from expecting times through the teenage years and everything in between. This podcast is all about parenting twins, offering plenty of tips, parenting hacks, and of course, humor. Just know that we are laughing WITH you every step of the way.
---

Are you looking to connect with an experienced parent of multiples who has been in your shoes? Do you want to feel supported, guided, and heard as a new parent of multiples*?
Or, do you love offering advice and tips to new parents of multiples*? Would you love to support, guide and listen to a soon-to-be or new parent the way you wish someone was there for you?
If you said, "YES!" to any of those questions, then the Twiniversity Parent-to-Parent Mentorship Program is perfect for YOU!
We are looking for parents of multiples from around the globe who want to be matched up with a parent mentor, or who want to BE a parent mentor. We'll be matching up moms with moms and dads with dads from all over the world to get personal support in this crazy life of multiples parenting!! All you have to do is complete a simple application form and we'll do the matchmaking! And the best part? The program is totally FREE! There are no fees to take part in this program.
---

The rate of twin births has risen 79 percent over the last three decades, and continues to increase. A mom of fraternal twins and a national guru on having two, Natalie Diaz launched Twiniversity, a supportive website with advice from the twin-trenches.
What to Do When You're Having Two is the definitive how-to guide to parenting twins, covering how to make a Birth Plan checklist, sticking to one sleep schedule, managing double-duty breastfeeding, stocking up on all the necessary gear, building one-on-one relationships with each child, and more.
Accessible and informative, What to Do When You're Having Two is the must-have manual for all parents of twins.