Nat got her hands on the new Contours Element Stroller and takes to the streets of New York City for a full stroller review.
This one-plus-one double stroller can convert into over 35+ configurations including a double car seat carrier (when used with car seat adapters), a double pram (additional accessories needed), or into a traditional side-by-side stroller with the ability to face forward, backward, or even both!
We asked and asked and finally, Contours created a TWIN BUNDLE just for us! Order the Contours Element with two seats and two bassinets here on Amazon.
Newer to the Contours family, the Element Stroller is the first side by side from our friends over there. They have been rocking it out with their Contours Options Elite, one of our favorite tandem double strollers, and finally, they created a pretty magnificent side by side.
Let's go over some basics first. When you make your initial base purchase, you'll find that the only configuration you can buy is the Contours Element Convertible Stroller with ONE seat, the parent organizer and the tote. That's all. You can't buy ONE item that is already configured for twins. We've actually been asking for this, and hopefully you'll be able to go to their website and purchase a bundle soon that is specifically made for our multiple birth community.
To make this stroller fit our universe, you'll need to purchase AT LEAST one additional seat that would take the place of the tote. However, you can go all out and purchase two car seat adapters, two pram/bassinets, one additional bassinet holder (one comes with the base model for the tote), and the rain shields.
Out of all of the one-plus-one strollers out there, this is a TOP pick for twin families. Typically I find there isn't enough space for each Twinnie, however being that these seats are side by side, your leg room is limitless!
Let's make a quick Pro's and Con's list for you (obviously some of these might not seem important to you, or others might see critical and that's why you'll need see Twiniversity ever say "this is the only stroller for any twin family". It's really a very subjective decision, we just want to try to help you make the best one for YOU.
The Pros of Contours Element
Great flexibility. The ease of going from a single seat and tote to double seats takes a matter of seconds.
Size matters! Lol. It really does when it comes to strollers. Even with BOTH bassinets on the element stroller, the width did go up to 28.9 inches, but I was still able to fit through MOST standard doorways.
Begin at the beginning. This is a stroller that you can take with you to the hospital to be used with over 25 different car seat modes. Seats from Britax, Chicco, Cybex, Graco, Maxi-Cosi, and Nuna can fit when you purchase the specific adaptor.
PackMule on wheels! This stroller has the most amount of usable square-inch storage I've seen in forever. The fact that the basket can actually extend blows my mind. This is one of the most thoughtful features on this stroller. You'll be able to stay out a whole day with all the goodies to go with ya, including a to-go potty seat down the line.
Decadent. The leather-like handle, trim, and parent tray features along with the cotton-like canopies and scuba seats (that's what I call that neoprene-like fabric) make you realize why this stroller comes with such a steep price tag.
Heavy Duty! This stroller has a max weight of 40lbs per Childs seat in addition to its 42.5lb base, it's going to be difficult to get upstairs assembled, but it also drives like a Lexus and takes the bumps on the road in a smooth style.
The Cons of Contours Element
Price is right? The price, while totally understandable starts to add up the more you add to this stroller. With a retail price of $899, that's not including the prams, additional seat, additional pram holder or car seat adapters or Car seats for that matter. BUT. BUT. BUT. Compared to another versatile side by side luxury stroller on the market. This takes the cake because of all those above Pro's!
It's too bright. The canopy of the seats has a zipper that can expand the shaded area provided to your kiddos, however it's mesh and won't provide shade or wind protection in the cold winter months.
Not as much fun to travel with. In order for this stroller to close, you have to get it naked! That means, no seats, no adapters, no tote, nada. You can keep some stuff In the basket, but you might risk it falling out in the truck depending on how you toss it in.
It's HEAVY! Grandma and grandpa will love the way this pushes (it's like you're on a cloud) but if they need to get it in and out of trunk, you might want to get something a lot easier like their Options Elite.
The full details on Contours Element Stroller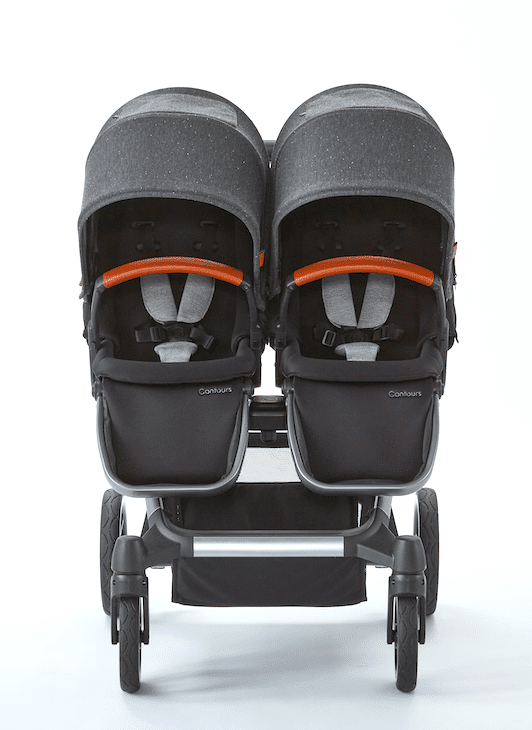 The Contours Element convertible double stroller (click to buy) can easily switch from a single to a double stroller just when you need it. The Contours Element has options for two infant car seats, two bassinets, and/or two stroller seats (all sold separately). You can start using it from the moment you leave the hospital with your twins.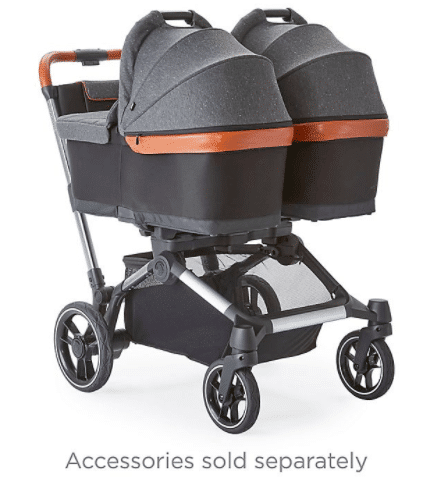 The Contours Element base model includes the stroller, one seat (holds up to 40 lbs), parent organizer, and tote. If you're having twins, you'll need to add on the second reversible seat (supports a child from 6 months up to 40 lbs). This reversible stroller with bassinet attachment option gives you so many choices for how you want to stroll with your twins.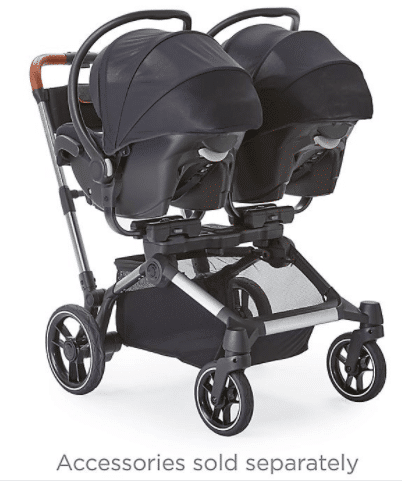 If you want to use the stroller from birth with twins, you'll need to order either two infant car seat adapters or two bassinets. Or you can order both for total flexibility. If you order two bassinets, make sure to add on one bassinet adapter (one is included with the base model.)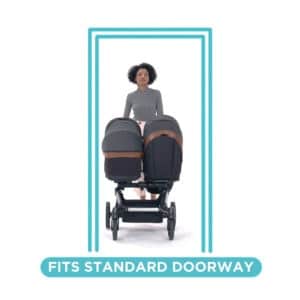 The side-by-side double fits through most doorways and makes maneuvering a breeze.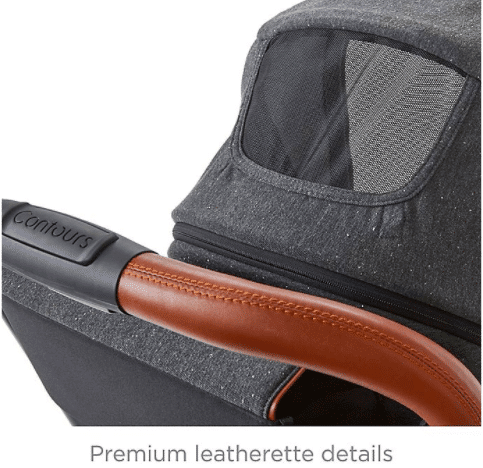 The bassinet on the Contours Element attaches with the bassinet/tote adapter (included with base model). Use two bassinets with an additional bassinet adapter (sold separately). The removable bassinets can be used on-the-go or as overnight sleeping for your little one.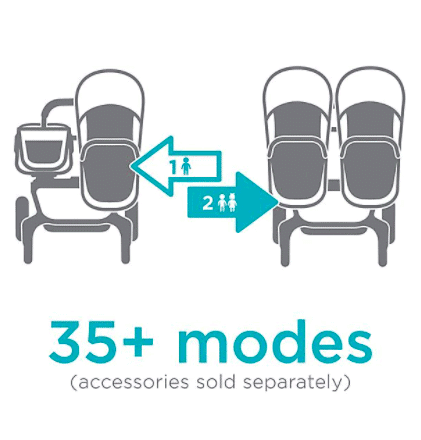 Want to have a 1-on-1 baby date? This is a single to double stroller! Convert the Contours Element into a Contours single stroller and snap on the handy storage tote to keep everything you need close at hand while you and your one baby enjoy a fun day on the town. This is a very handy feature for bringing just one child to a doctor's appointment.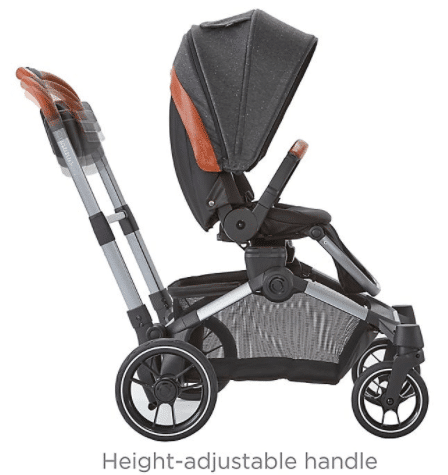 Let's talk about storage! The expandable under-seat storage basket provides tons of space. The side storage tote (included with base model) carries your essentials and the spacious organizer to keep your personal items handy. The Contours Element self-standing fold makes it easier to handle before and after use, plus it makes for easier storage.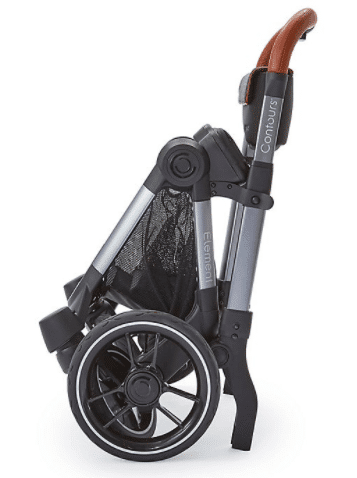 The Element Universal Car Seat Adapter fits 25+ different car seats (sold separately). Brand-specific car seat adapters available (sold separately) —include Britax, Chicco, Cybex, Graco, Maxi-Cosi, and Nuna.
Items sold separately include:
Oder the Contours Element Twin Bundle available here on Amazon to get 2 seats and 2 bassinets included.
To learn more about the Contours Element convertible stroller, click here.
Looking for more Contours double stroller reviews? Click here.