We got our hands on a Contours Options Elite Double Stroller and we are LOVING IT! Nat will take you step-by-step through all of the stroller's awesome features to help you determine if it's right for your twinnies. Check out our video below and learn all about why Nat thinks the Contours double stroller is a fantastic option for your twins!
Contours Options Elite Tandem Stroller
2020 UPDATE: The price for this stroller is now $399 and it does NOT come with any car seat adapters – those are sold separately.
What is a tandem stroller?
The contours options elite is a tandem stroller. A tandem stroller is made to fit two or more children, with one child in front and the other in back. Imagine a bicycle built for two. A tandem stroller is typically as narrow as a single stroller and easy to fit through most doorways.
What is the best double stroller?
The contours options elite is a good choice for a double stroller, but it's impossible for us to determine what is the best double stroller because every family's needs are different. What's most important is determining which is the best double stroller for YOU. However, the Contours Options Elite has a long list of incredible features for a tandem stroller and you should definitely consider it in your shortlist of options.
Which is better tandem or side by side stroller?
A double stroller all depends on your needs. Families who live in a city tend to favor a tandem because it is easier to fit on narrow sidewalks and through doorways of old buildings. Families who live in the suburbs and rural areas often like a side by side stroller better because they have plenty of roomy sidewalks and wide-open spaces. Think about how you're going to be using your stroller and that will help you determine the primary stroller that will be best for your family, although the truth is that most twin families have more than one stroller.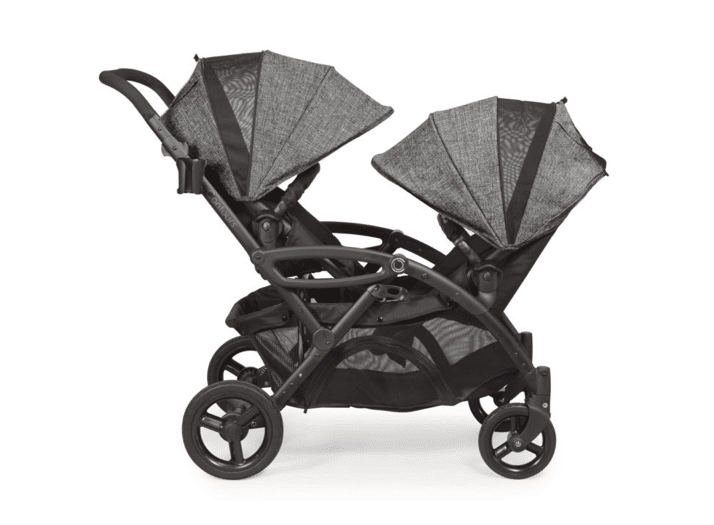 The Contours Options Elite stroller is great for children from birth and up. Birth – when you're using the infant car seats, and then up – when it's time to get rid of those infant car seats.
The Contours Options Elite tandem stroller only comes with one infant car seat adapter in the box. If you're having twins, make sure that while you're at the store you register for the second additional infant car seat adapter. The Contours Options holds most infant car seats on the market but of course, if you're registering for both, you want to make sure that your car seat is going to fit these stroller's adapters.
The contours options elite comes in weighing in at 38 pounds heavy, 26 inches wide, and almost 50 inches long, you'll want to make sure that you measure all components of your house – from your entry way, to an elevator if you have one – to be extra positive that this stroller is going to make it into your home.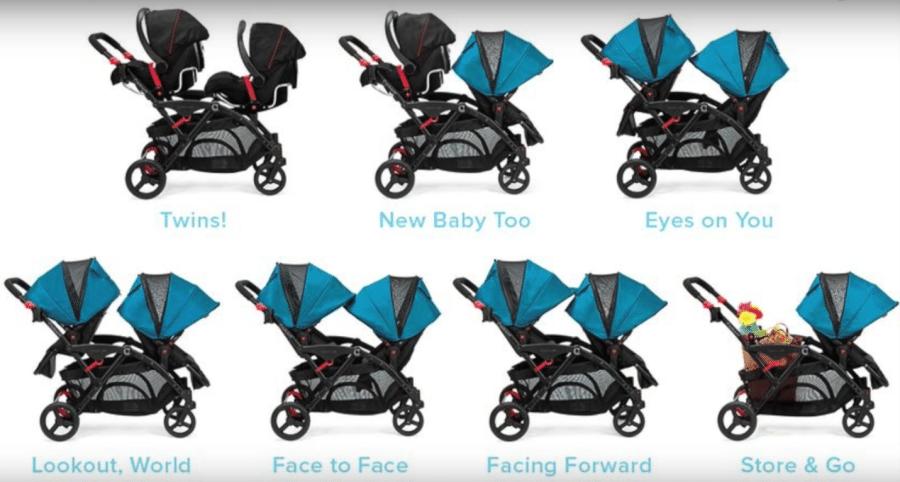 Contours Double Stroller
The Contours Options Elite has seven different configurations with two infant car seats, with the seats facing this way, with the seats facing another way – we have seven different configurations in all so that your twinnies could be the most comfortable.
The Contours Options Elite canopies are awesomely humongous, made with SPF 50. The expanding canopies – okay look, so it's already super long then it gets extra-long. But then what I love so much is that there's a little Peek-a-Boo window on the back. Peek-a-Boo! So I could see if everybody is up or who's sleeping or what the case may be.
Let's take a look at these harnesses. It has a five-point harness system and it has a belly bar. The belly bar does not have to be used. While the kids are tiny and they don't necessarily need this, feel free to chuck this aside.
Now here's another feature that I really can't understand why every double stroller on the market doesn't have. Look at this little child pocket. I think this is so awesomely cool. Your kid could put their cup of coffee here or their keys to the car or whatever they need to make sure that they don't lose it throughout the day. But genuinely, all jokes aside, I think this is a fantastic feature and I wish it was on every stroller on the market.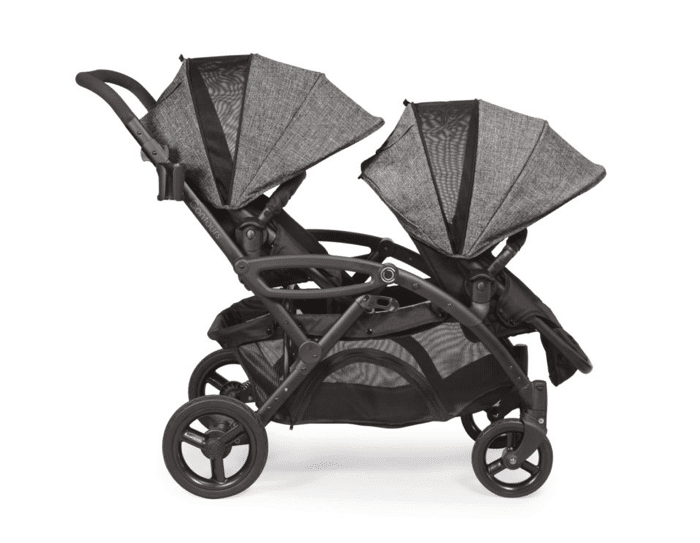 This is one of those things that separates the men from the boys. When you're looking at tandem strollers on the market, a lot of strollers that are twin strollers are actually singleton strollers that you could buy an additional adapter to make it a twin stroller. This is a true twin stroller. It was meant to carry two, and because it was meant to carry two it has an extra-large storage basket.
Here's another thing that I love, love, love. Instead of trying to figure out "Oh my gosh, where are those sippy cups?" "I can't find my Cheerios." Contours Options Elite went the additional mile and they put a zipper on the side of their basket so I have quick, easy access.
The EVA tires are shock-absorbing tires and are going to give you that extra bit of ease when strolling. Because each of these seats holds your kiddies until they're 38 pounds, we need a lot of shock-absorbing here.
Walking around, kids getting tired – no problem, just recline their Lazy-boy seats. Three different configurations for a recline: You have a full-operate, a little bit of a recline, and then full on nap mode. Awesome. With the easy-to-configure seats, you could just pop them out and they pop right back in. Really look, seriously, all done in real-time. It took me a matter of seconds.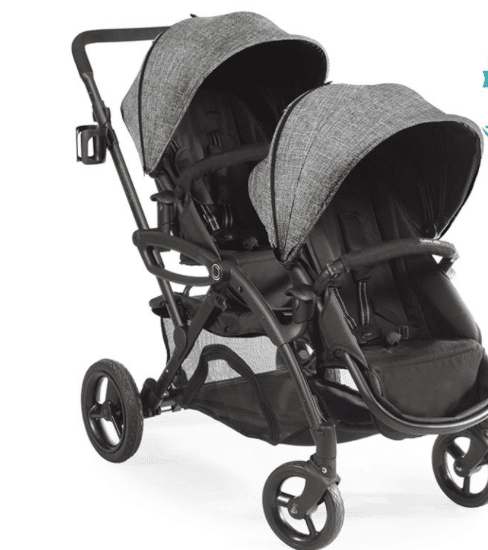 This Contours double stroller is going to grow with you. The adjustable footrests are going to make sure that your kids are going to have the support that they need when they need it. When they're little, they don't need much. As they get bigger, it's fantastic. But here's another thing that I love. When you go to the playground and everybody has shoes full of sand, to clean up the footrest you just pop it out. It's all movable, it's not a solid piece.
It's time to close this puppy up. With a flip-flop friendly brake, we lock it into place. We're going to move it a little bit. We pull these two little handles up on the side, press, and voila! It's folded a hundred percent, fully-operate folding. I did not have to remove the second seat. That rocks my world. Time to open this puppy back up. It has a little safety down here so all I have to do is undo the safety – and I'm done, ready to go shopping.
The Contours Options Elite tandem stroller is budget-friendly and can be found at most major retailers. But for full information, you want to check out Contoursbaby.com.
What car seats are compatible with Contour stroller?
The Universal Car Seat Adapter that fits over 10 different car seats can be purchased separately. The Universal Adapter fits the following Infant Car Seats (this list is current as of February 2020; check the Contours website for the most up to date list):
Baby Trend® Inertia
Baby Trend® Flex Lock
Chicco® KeyFit® 30
Cybex Aton Q & PlatinumTM
Evenflo® EmbraceTM
Evenflo® LiteMaxTM
Graco® SnugRide® Classic ConnectTM, Classic ConnectTM 30, and Classic ConnectTM 35
Maxi-Cosi Mico 30
Maxi-Cosi® MicoTM AP
Maxi-Cosi Mico Max 30
Orbit Baby G2
Peg Pérego® Primo Viaggio SIP 30/30, and Primo Viaggio 4-35TM
Safety 1st® onBoardTM 35, onBoardTM 35 AIR, and Comfy Carry Elite
Brand-specific adapters are also available for Graco, Chicco, Maxi-Cosi/Nuna and Britax car seats.
How do you open the Contours Elite double stroller?
It can be tricky to open the Contours Options Elite double stroller. Stand behind the handlebars and look to the right side for the release clip. Pull that clip up and push down on the stroller frame where it comes to a point. It may also help to pull up on the handlebar while you push down on the stroller frame.
How do you clean a double contour stroller?
Clean any metal or plastic parts (under storage and child snack trays too!) with a damp cloth and some baby-friendly cleaner. Be sure to wipe dry with a soft cloth to prevent rusting! We recommend cleaning woven fabric or vinyl parts with a damp cloth along with a mild soap and water solution. Do not use any harsh chemicals. This can damage the fabric and leave behind harsh residues that you don't want on your child's skin. Make sure the stroller is fully dry before storing it away to prevent mold.
urs Double Stroller