Last updated on March 21st, 2022 at 03:54 pm
These pregnancy quotes will make you laugh and inspire you to thrive through the 9 months of glorious change. You will relate now, or you will soon!
Funny pregnancy quotes may be the only thing that you are laughing about when you're pregnant with twins. You may not be able to see your ankles or pickup what you drop but you are creating two humans!
It is tough being pregnant, and twice as tough when you're pregnant with twins. It can be hard on your body to carry twins. What makes misery more enjoyable? Company and laughter.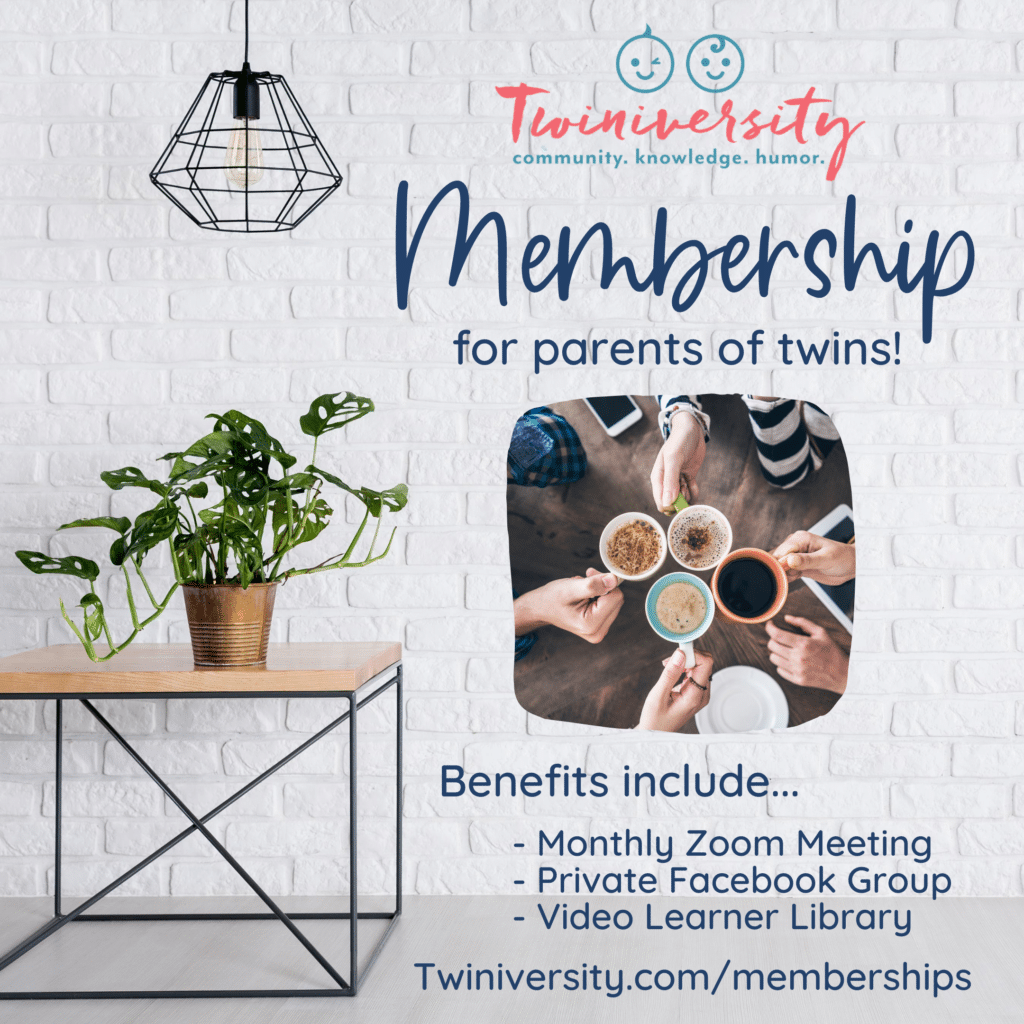 Need some twin parent friends? Get the support you need with a Twiniversity Membership. Benefits include a monthly twin parent club meeting on Zoom, access to a private Facebook group just for twin parents, and a video library of twin parenting lessons. Visit Twiniversity.com/membership to join today!
Laughter can go a long way to helping you feel better. It relieves stress, soothes tension, improves your mood and immune system. Humor has a way of bringing people together and giving us the opportunity to make light of uncomfortable or embarrassing situations.
You deserve a good laugh and some inspiration to get you through these 9(ish) months! But, empty your bladder before proceeding. You've been warned!
If you can't laugh at yourself, at least you can laugh at others. So, check out this list of 45 awesome pregnancy quotes that are relatable, encouraging, inspiring and hilarious.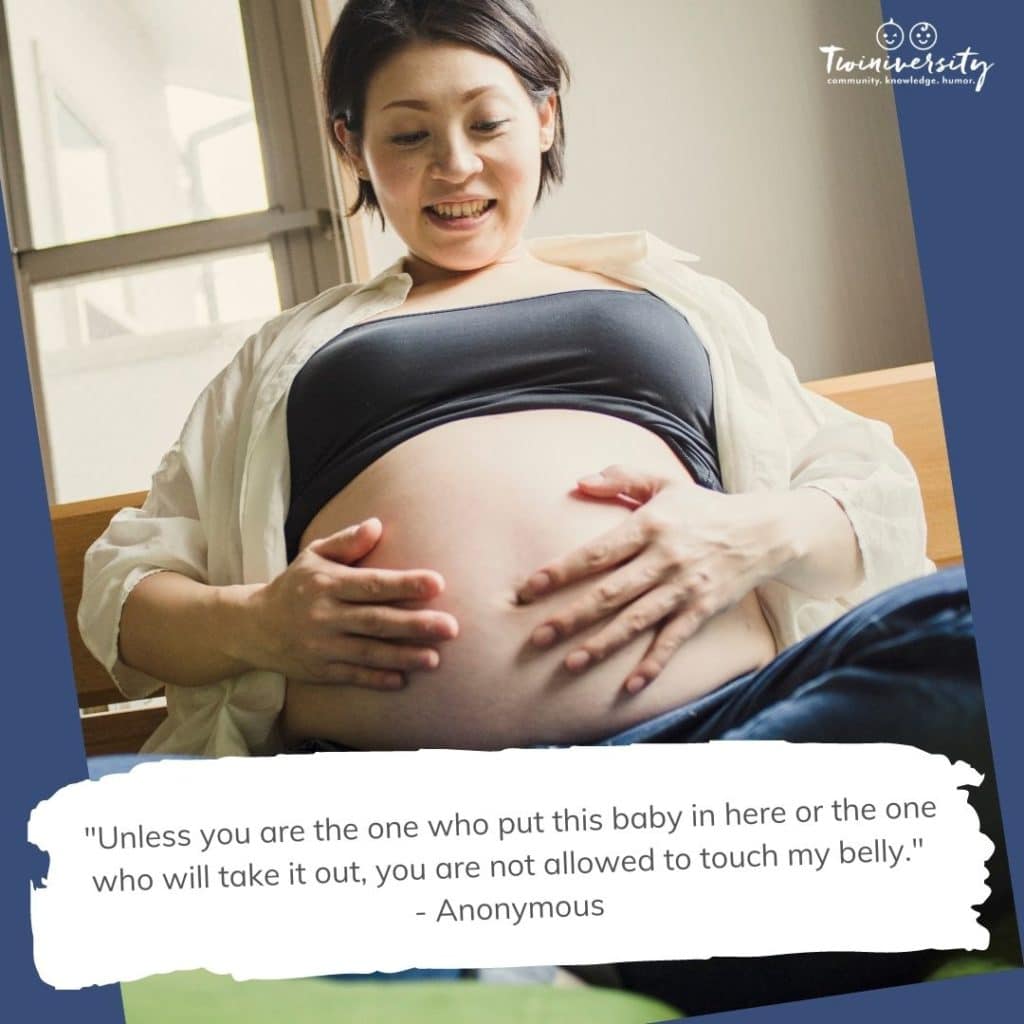 What should I caption my maternity photos?
"Bra off. Hair up. Belly out." – Anonymous
"Ask me my due date one more time…"- Anonymous
"Does this baby make me look fat?" —Amy Shumer
"Unless you are the one who put this baby in here or the one who will take it out, you are not allowed to touch my belly." – Anonymous
"Hormones and no alcohol. Interact at your own risk." – Anonymous
"I told my husband to put the oreos somewhere I couldn't get them. So he put them on the floor." -@mamerwin
"Being pregnant finally helped me understand what my true relationship was with my body–meaning that it wasn't put on this earth to look good in a swimsuit." – Amy Adams
"I'm proof birth control is 99% effective." -Anonymous
"For all of us who are so over the questions here's one for you. "Yes I'm positive there's just one baby in there. Can I throat punch you now?" -Anonymous
"Peezing; sneezing and peeing at the same time. Enough said" -Anonymous
"Everybody leave me alone. I've had a busy day being pregnant and I have to do it again tomorrow." – Anonymous
"I have two brains in my body. I've never felt so dumb." -Gloria, Modern Family
"Danger, due to the influence of pregnancy hormones I could burst into tears or kill you in the next five minutes." – Anonymous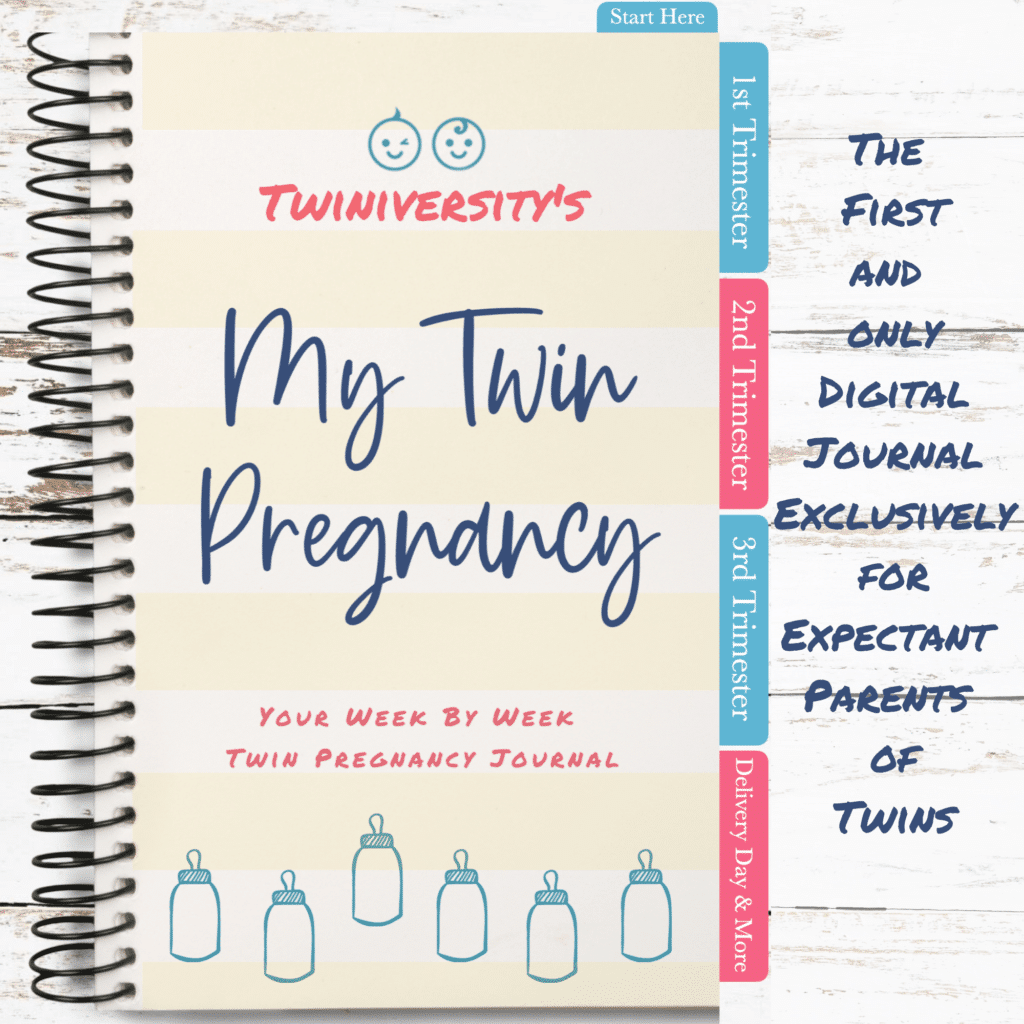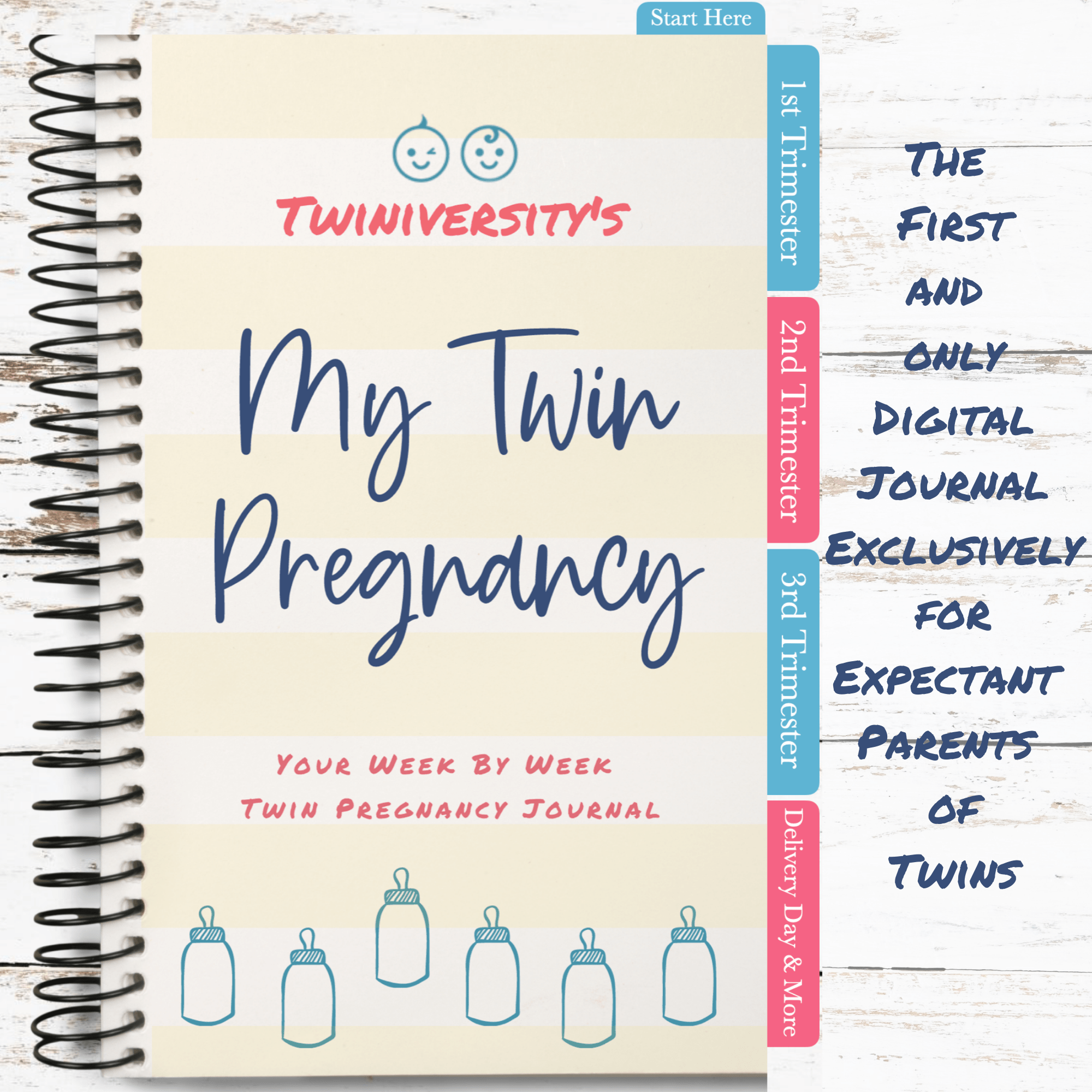 Our new digital twin pregnancy journal is up for sale on the Twiniversity Etsy store! This is the first and only digital journal exclusively for twin pregnancy. It's the perfect way to record your precious twin pregnancy memories to cherish for years to come. Click here to learn more… and while you're at it, check out our expecting twins classes and Twiniversity Shop!
What are happy pregnancy quotes?
"I'm at the stage in my pregnancy where people don't know whether to congratulate me or buy me a gym membership" -Anonymous
"What do a toddler, a preschooler and a pregnant lady all have in common? We all pee our pants in public" -@fullmetalmommy
"When people congratulate you, say, "For what?" and watch them panic." – Anonymous
"Having a baby changes the way you view your in-laws, I love it when they come to visit now. They can hold the baby, and I can go out" -Matthew Broderick
"For the nine months I am pregnant with a boy, shouldn't I be paid 1.78x my pay?" – Anonymous
"Yes, I have gently placed my hand on my tummy and faked discomfort to get a seat on the subway." – Anonymous
"Stop saying, 'We're pregnant'. You're not pregnant! Do you have to squeeze a watermelon-sized person out of your lady-hole? No. Are you crying alone in your car listening to a stupid Bette Midler song? No. When you wake up and throw up, is it because you're nurturing a human life? No. It's because you had too many shots of tequila." -Mila Kunis
"I've been to war. I've raised twins. If I had a choice, I'd rather go to war." ― George W. Bush
"Motherhood: The only place you can experience heaven and hell at the same time." – Anonymous
"A baby will make love stronger, days shorter, nights longer, bankroll smaller, home happier, clothes shabbier, the past forgotten and the future worth living for." – Anonymous
"When we encourage new parents to 'treasure these moments because they don't last forever,' we need to remember to also reassure them that they will survive these moments because they don't last forever." — L.R. Knost
"Ah, babies! They're more than just adorable little creatures on whom you can blame your farts." — Tina Fey
"A good way to prepare yourself for parenthood is to talk to rocks because they have similar listening habits." — Rodney Lacroix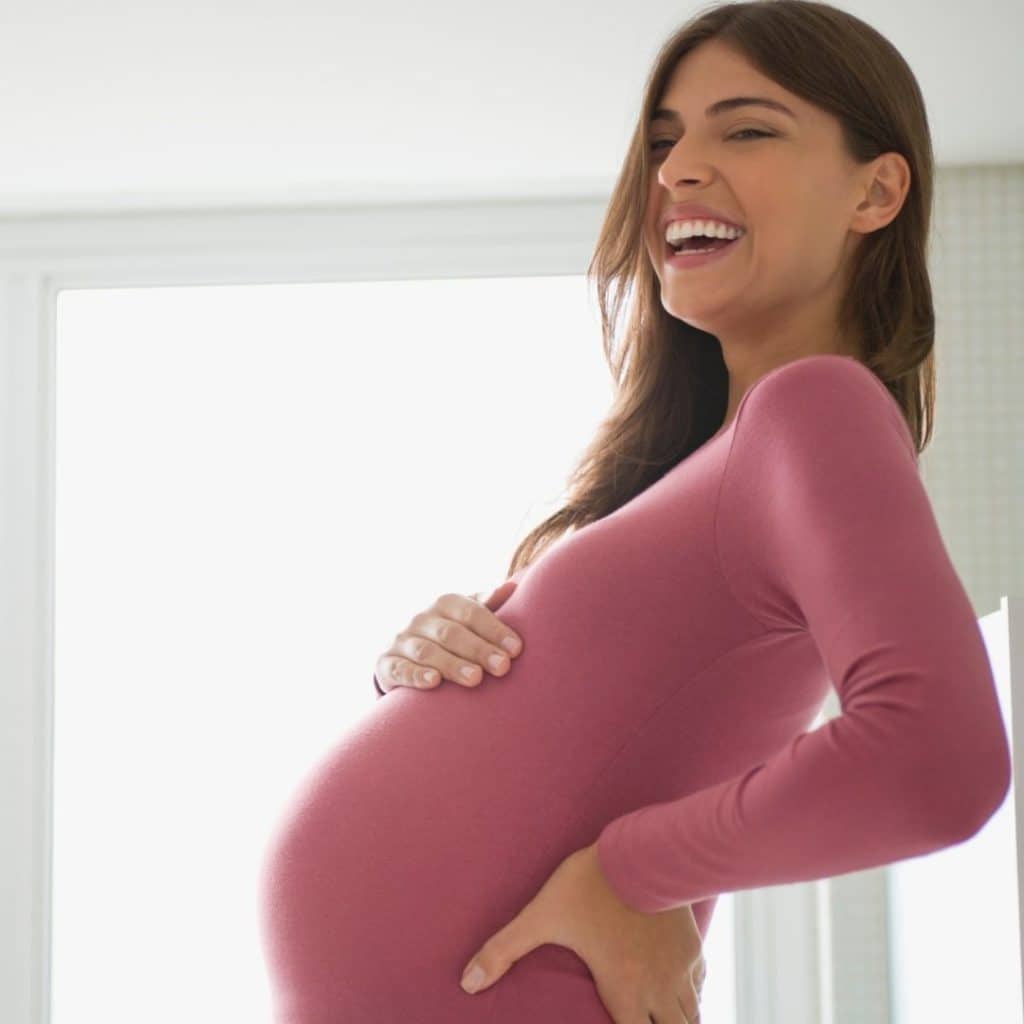 What are inspirational pregnancy quotes?
"Life doesn't come with a manual, it comes with a Mother." -Anonymous
"Speak to your children as if they are the wisest, kindest, most beautiful and magical humans on earth, for what they believe is what they will become." — Brooke Hampton
"A baby is something you carry inside you for nine months, in your arms for three years, and in your heart until the day you die." — Mary Mason
"A grand adventure is about to begin." — Winnie the Pooh
"Of all the rights of women, the greatest is to be a mother." — Lin Yutang
"Whether your pregnancy was meticulously planned, medically coaxed, or happened by surprise, one thing is certain—your life will never be the same." — Catherine Jones
"A baby is a wishing well. Everyone puts their hopes, their fears, their pasts, their two cents in." — Elizabeth Bard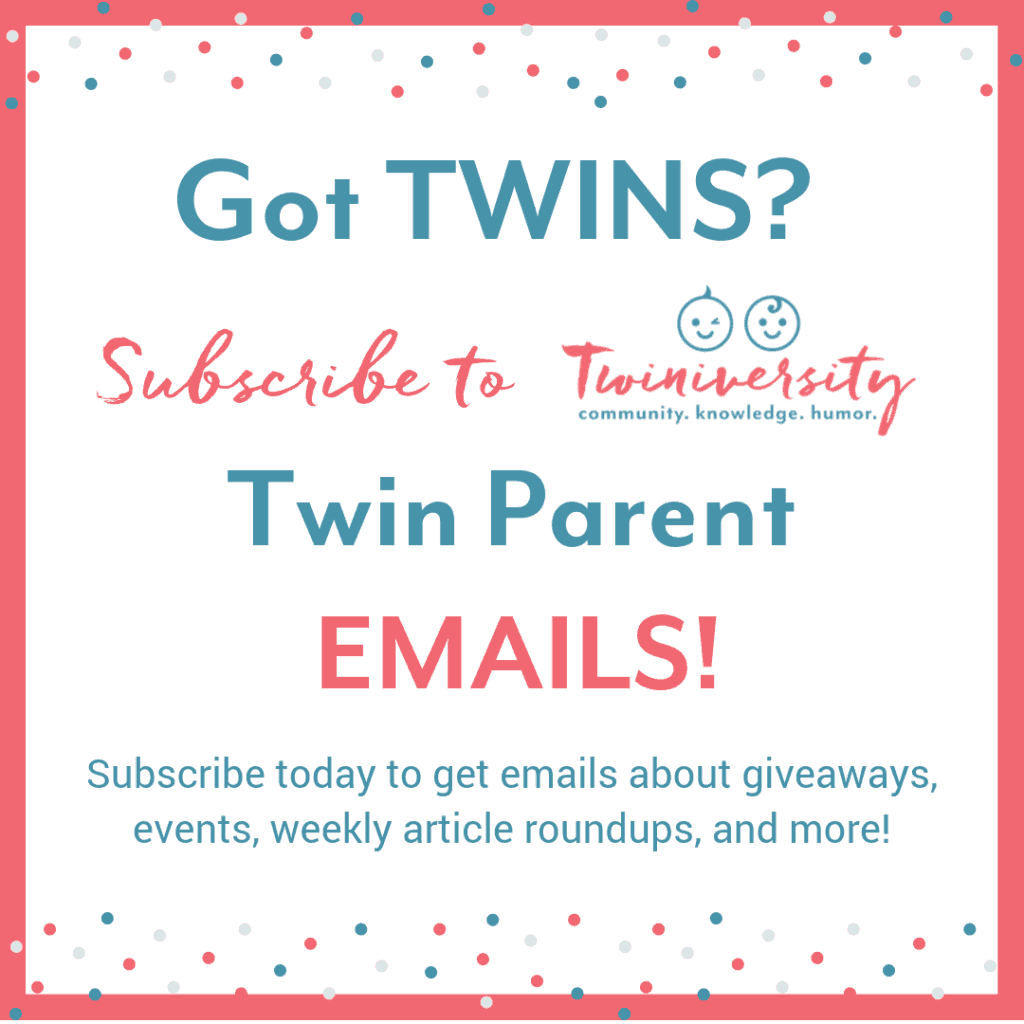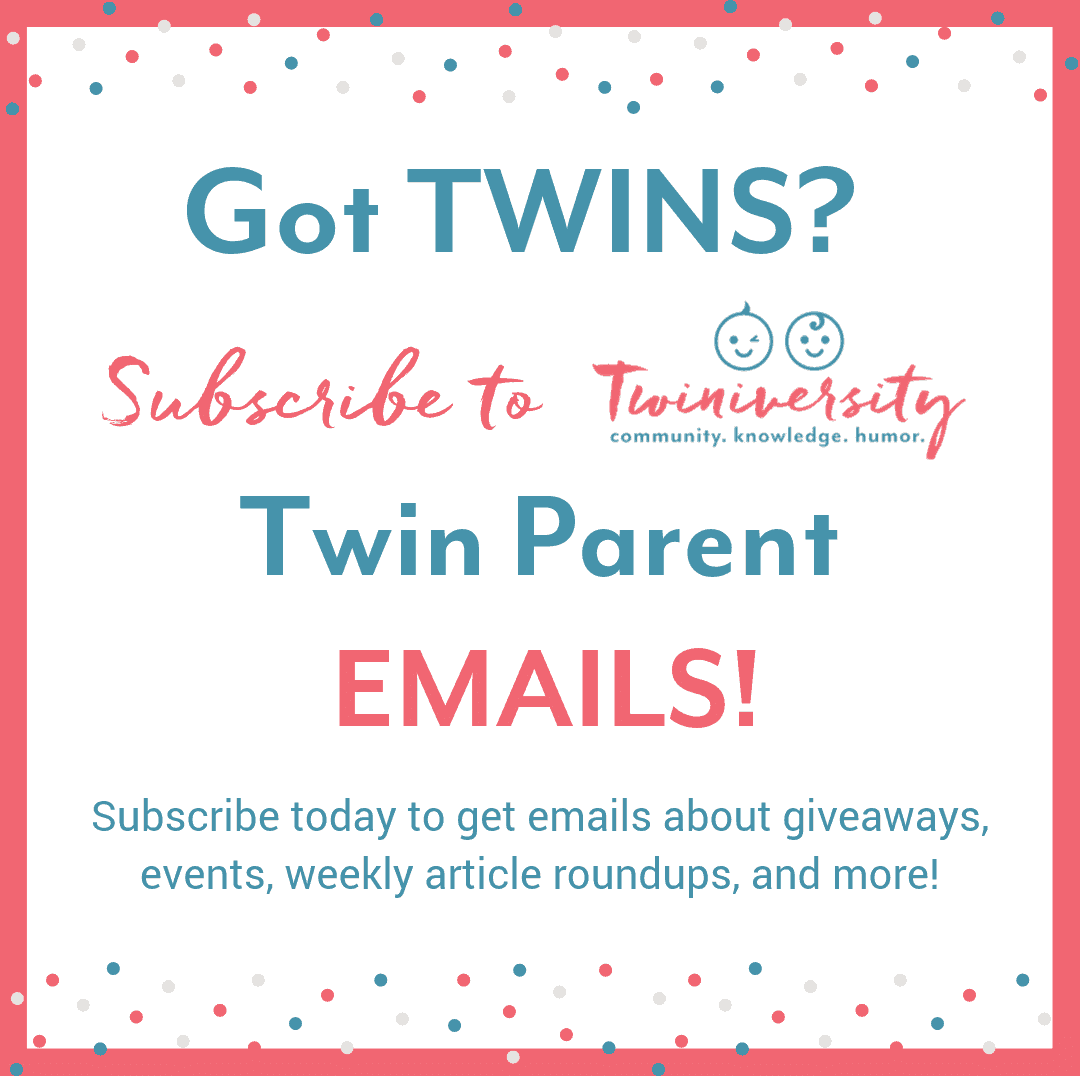 Want to be the first to know about giveaways, deals, and more just for twin parents? Sign up for the Twiniversity email list! Subscribe today to get emails about giveaways, events, weekly article roundups, and more! Pregnant with twins? We'll be sending you a weekly twin pregnancy email to keep you on track with your pregnancy to-do list! Click here to learn more… and while you're at it, check out our Complete Baby Safety Course and Twin Parent Memberships.
Twin pregnancy quotes
"There are two things in life for which we are never truly prepared: twins." ― Josh Billings
"I had twins, so it was really uncomfortable [to sleep], because you lay on one side, and there's a baby, and you lay on the other side and there's a baby. So I had a really hard time with it." -Jennifer Lopez
"Twins. Twice the love, half the sleep!" – Anonymous
"Twins. God's way of saying "Buy one get one free." -Anonymous
"I figure if the twins are alive at the end of the day, I've done my job!" -Anonymous
"No, your closely spaced children are nothing like having twins. But thanks for trying to relate." – Anonymous
"A twin sister is like a good BRA. Supportive, comfortable, there to lift you up, and always close to your heart." -Anonymous
"Twins are more than just friends. They are more like a very small gang." – Anonymous
"God gives us only what we can handle. Apparently God thinks I'm a badass." -Anonymous
"Oh, you say having twins will be hard? Good thing you said something, I was under the impression it would be super easy." -Anonymous
"I make humans two at a time. What's your superpower?" – Anonymous
"I'm pregnant with twins. I'm a classic overachiever." -Anonymous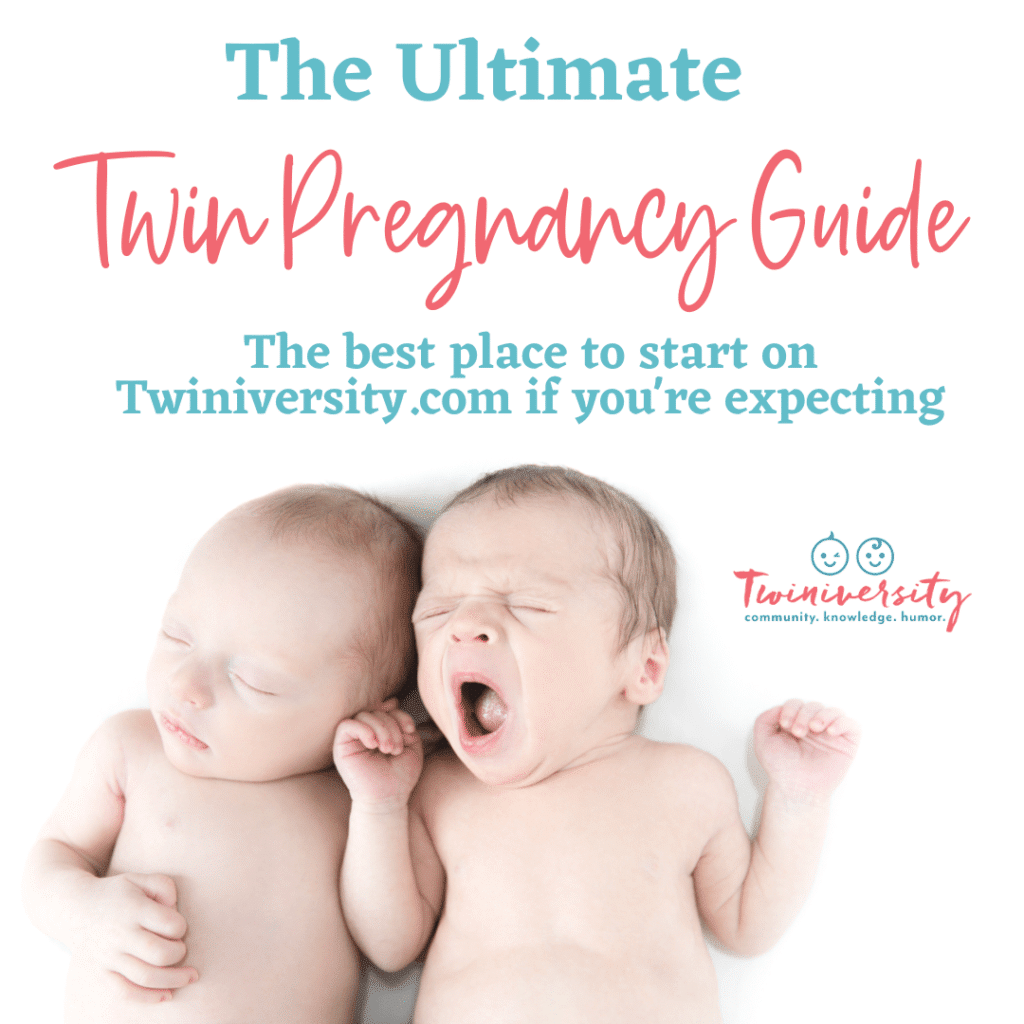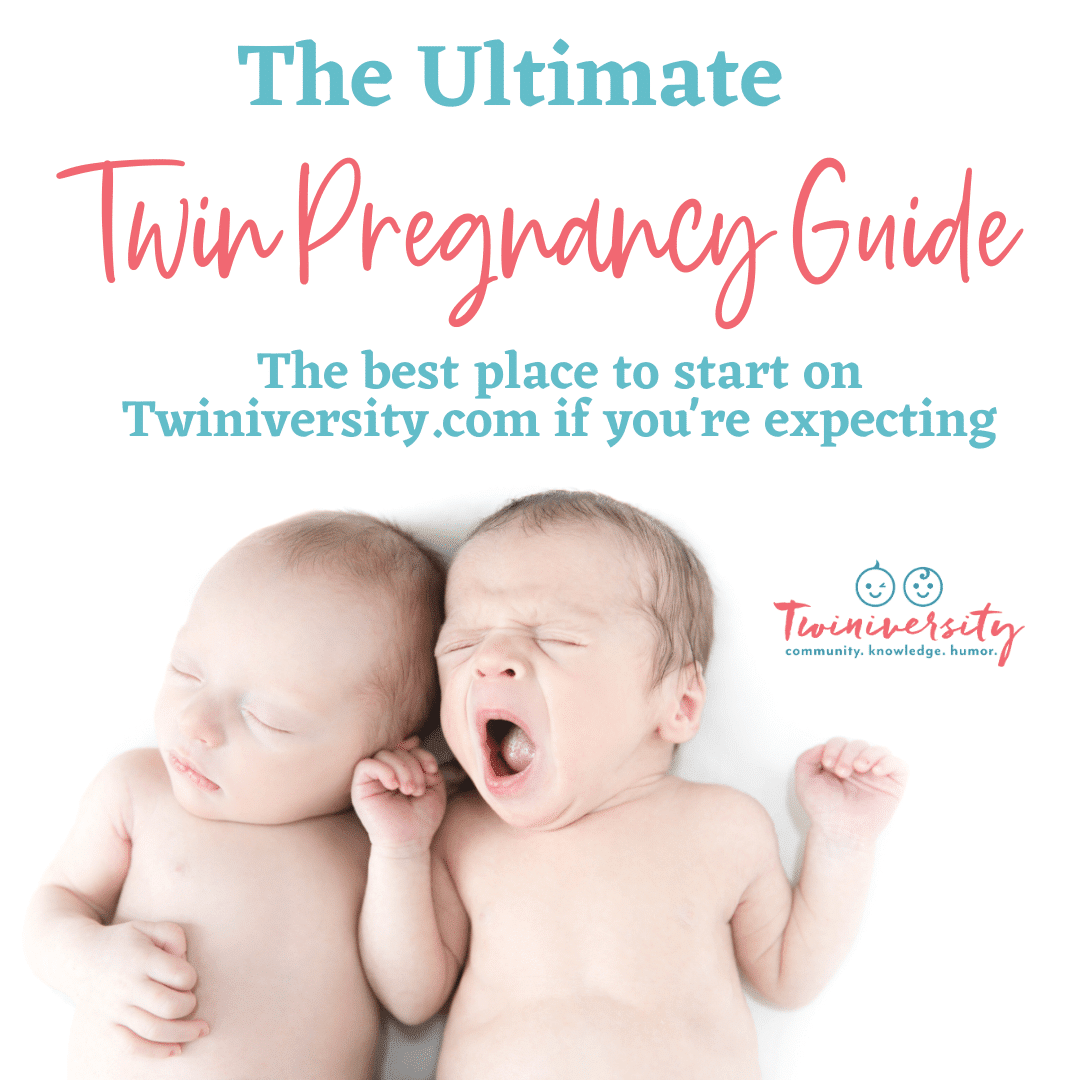 Pregnant with twins and not sure where to start? Visit the Ultimate Twin Pregnancy Guide to find all the top articles and resources to get you ready for twins. While you're at it, check out our expecting twin classes and Twiniversity shop!
Pregnancy is hard. But you got this!
Us twin moms need to stick together! We know there may be days when you just want to cry from exhaustion, or because you are out of ice cream (equally worth crying over in my opinion!). It can be so overwhelming to be pregnant with twins. We know you've got this, because we've been there too. Hopefully a few of these pregnancy quotes made you laugh or at least gave you motivation to keep moving forward; one swollen ankle at a time!
Welcome to the big, wide, wonderful world of moms of multiples! You're in for a wild ride and we're so glad you're bringing us along for it.
Recent Posts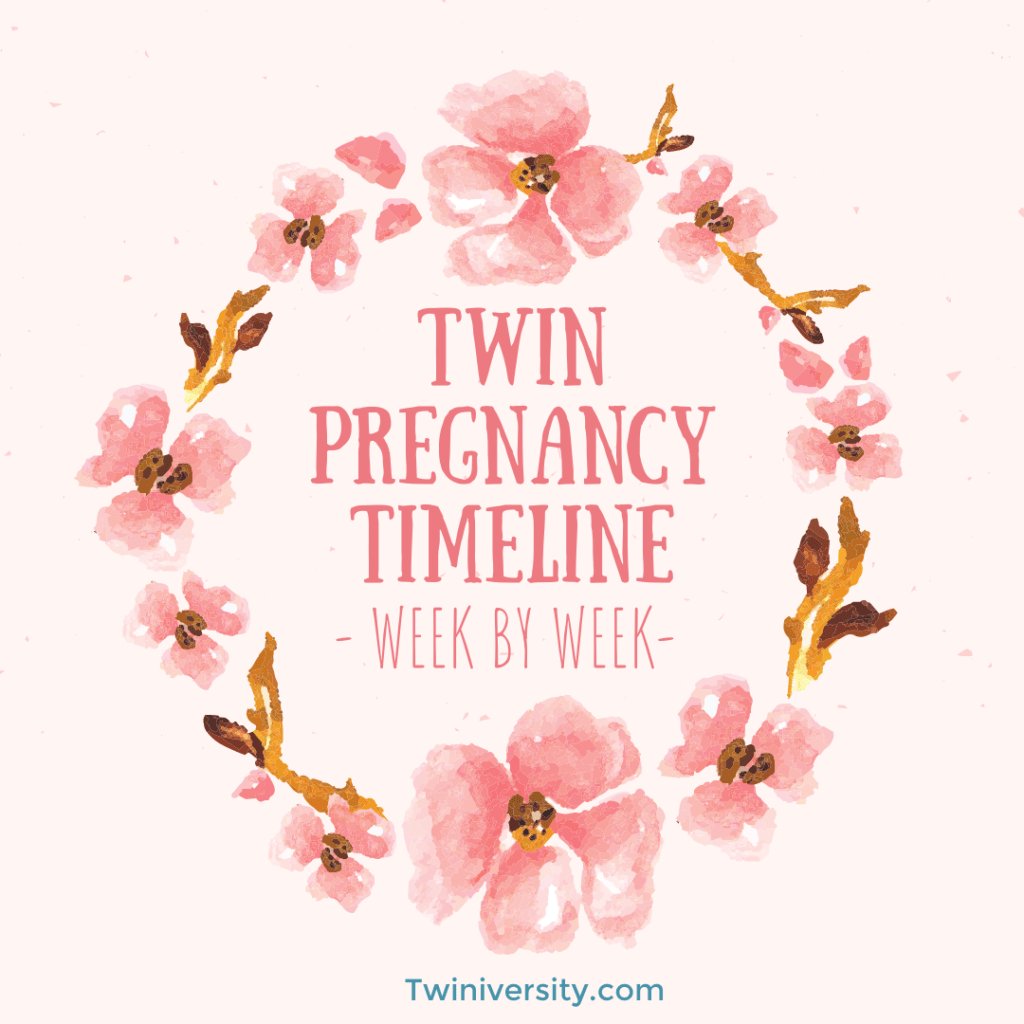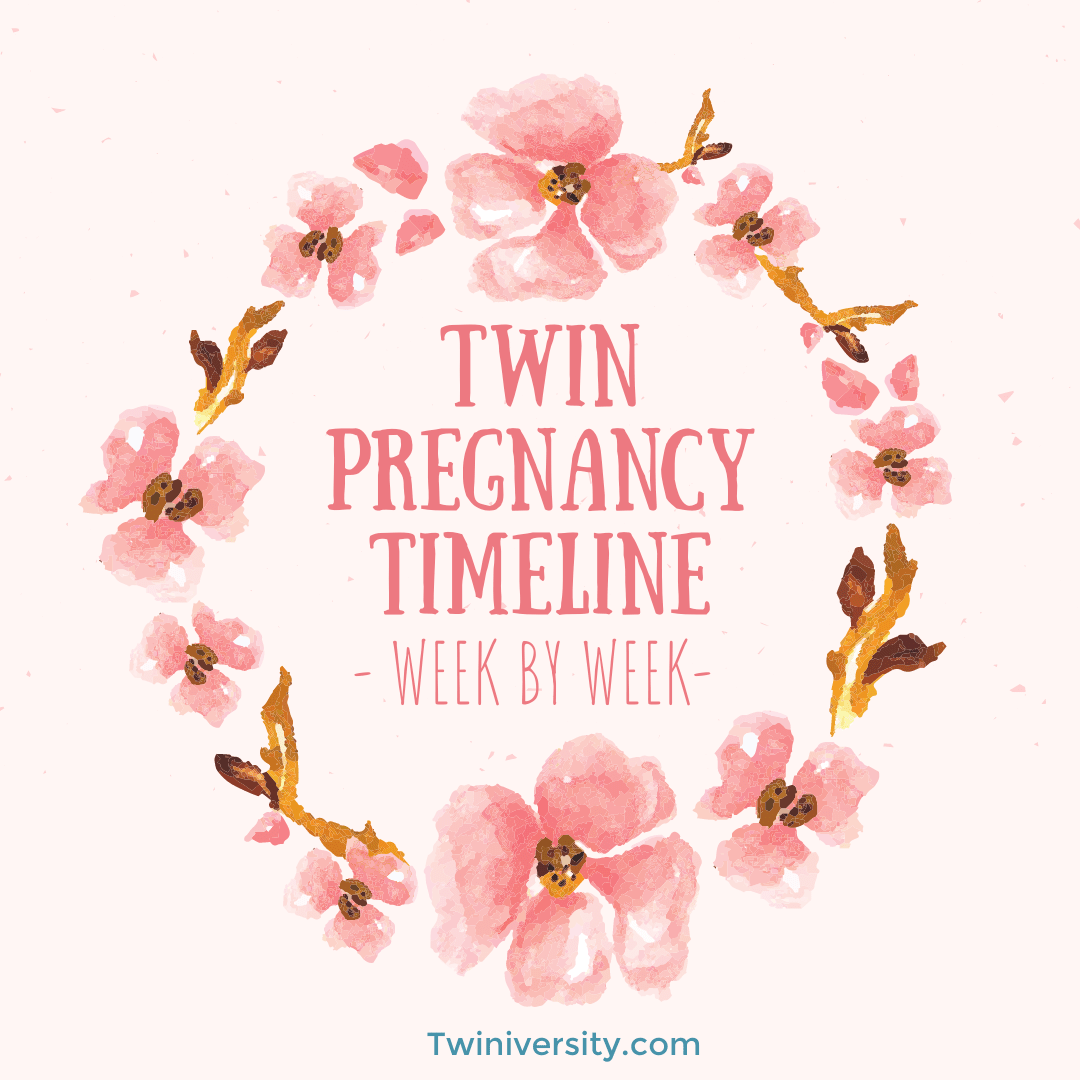 If you just heard that second heartbeat for the first time, or you know it's been two for a while, you need to read our twin pregnancy week by week timeline to help you learn what happens week by week with twins. Click here to learn more… and while you're at it, check out our expecting twins classes and twin parent coaching services.