Last updated on August 13th, 2023 at 11:11 am
I was rummaging through our pantry in search of the turmeric spice that I needed for our chicken and rice crock-pot prepared dinner that evening when I heard a loud piercing screech. Followed by more screaming from my twins fighting. Leaping out of the kitchen, I dashed down the hall, and flung open the door to our two-year-old twins daughters bedroom, frightened at the scene I'd discover. And there they were wresting in their pink and white polka dot dresses each one fist clenched tight holding onto the same Barbie doll.
"That's my Rapunzel Barbie!" screamed Katie.
"No, it's mine!" Lauren hollered back.
"I had it first."
"My Rapunzel has a dress."
"Okay stop, give me the Barbie," I said reaching for the doll, tiring of this petulant argument.
Then I recalled that yesterday afternoon when I was playing with the girls, Lauren had asked me to change her doll from the pink and purple lace ball gown into denim shorts and a yellow t-shirt. This Barbie was in fact Lauren's. I handed it back to her, Katie scowling at me. I walked over to the toy bin and tossed aside a teddy bear, a light up cell phone and a puzzle set. Buried underneath the toys was the other Rapunzel doll. I walked over and placed the doll in Katie's hands. Huge smiles now adorned both their identical faces.
I took a minute to catch my breath. Thankful that in this instance we had two of the same toy so all was right again in their play world again. In the instances where there is not a duplicate toy I have a few tactics for dealing with the fighting matches.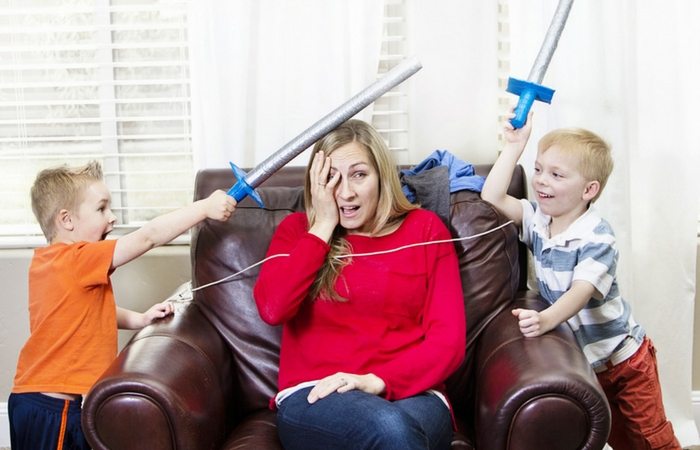 Stay Calm
When I walk into a chaotic situation with the girls fighting I try not to freak out and start yelling. Research shows that one of the most important things parents can do to help their kids learn to manage emotions is to stay calm themselves. Kids need to experience their parents being calm. I step away momentarily and find a way to calm down by either listening to music, writing in my journal or playing with our dog. These things always help shift my mood. If I can stay calm and model that for my children, then they will eventually learn to calm themselves and manage their feelings.
Figure out the problem
After I've calmed down, it's time to get to business. I need to figure out what the problem is. Even if I can't solve all of it, I start by solving a piece of it. Last week, the lone Ken doll went missing creating havoc in the household. Instead, I offered the girls an opportunity to play with Daddy's Star Wars toys, a novelty for them and it saved me from having to go out and purchase a new Ken doll.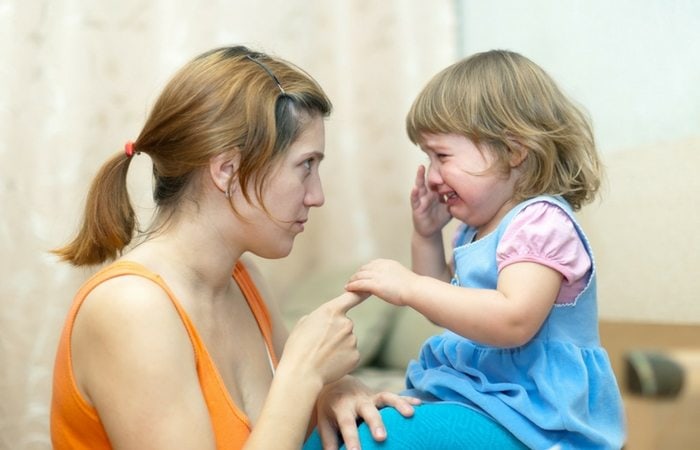 Give them a warning
My job as Mommy is to help my girls learn the social skills for handling conflict. My daughters are inseparable they always want to play together, they just get stuck in these conflicts and don't know how to resolve them. If the girls beg to continue to play, I warn them that if I have to intervene again, they will be separated for a "cool-off" period. This usually motivates them to 'use their words' when they become flustered.
Negotiate
The negotiation tactic of win/win has worked wonders in our household. For instance, they take turns dividing a treat. One girl gets to do the dividing and the other girl gets to pick the first piece. Another helpful tactic is trading by sweetening the deal. One girl gets to decide the game they play first, but then they agree to play the other girl's game for longer. These negotiations with guided help from Mommy keeps the playing balanced and ensures they take turns.
One-on-one time is good
I've learned that a good way to prevent the majority of these fights and disagreements is to give each of my girls individual attention. I have found that the sibling rivalry diminishes when I commit "special time" with each of my girls. Whether it's completing a puzzle, reading a book or working on an art project—they flourish with the attention. On weekends when my husband is home this is easier as we will divide and each spend one-on-one time with the girls on a specific activity and then switch.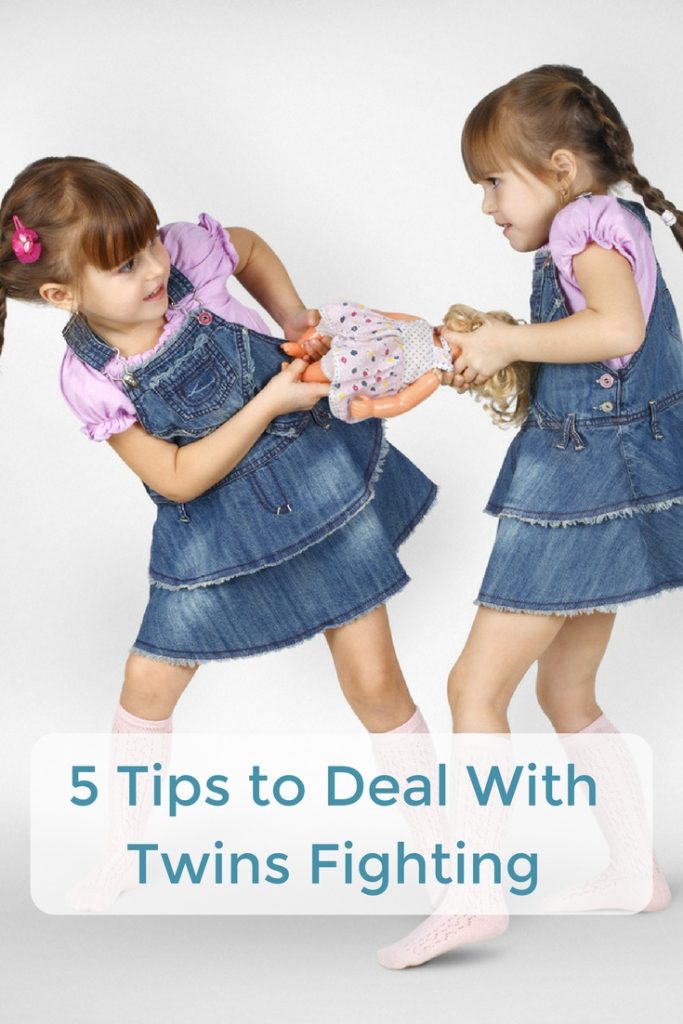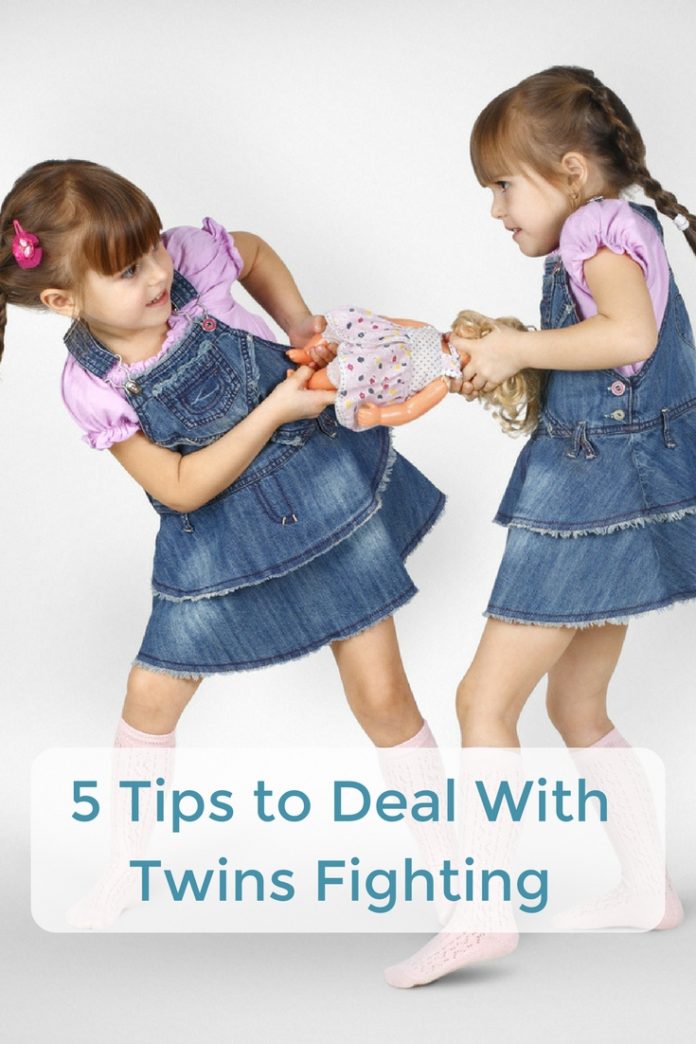 At the end of a long day, I pour myself a glass of wine and remember that they're just kids. Just because one of the twins kicks her sister doesn't mean she's criminal. I would never permit bad behavior but I understand that I need to instill the confidence in my children so they will one day learn how to work things out without me intervening.
I'll toast to that.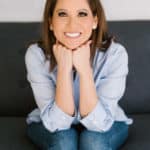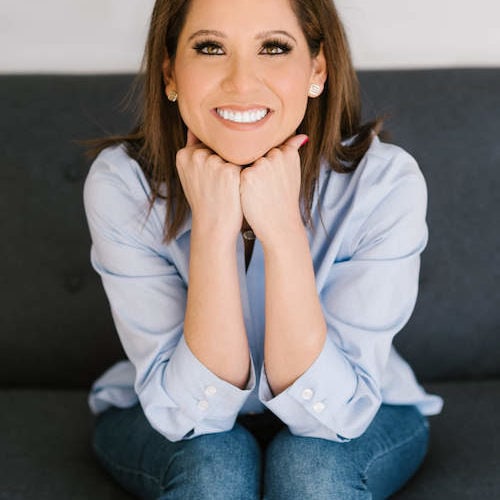 Crystal Duffy lives in Houston with her husband, three little girls, and a yappy little Yorkie. Her writing has appeared in Twins Magazine and Mamapedia. She's currently working on her memoir Twin to Twin which details her high-risk twin pregnancy. Connect with her on her blog.
---
Related Articles
---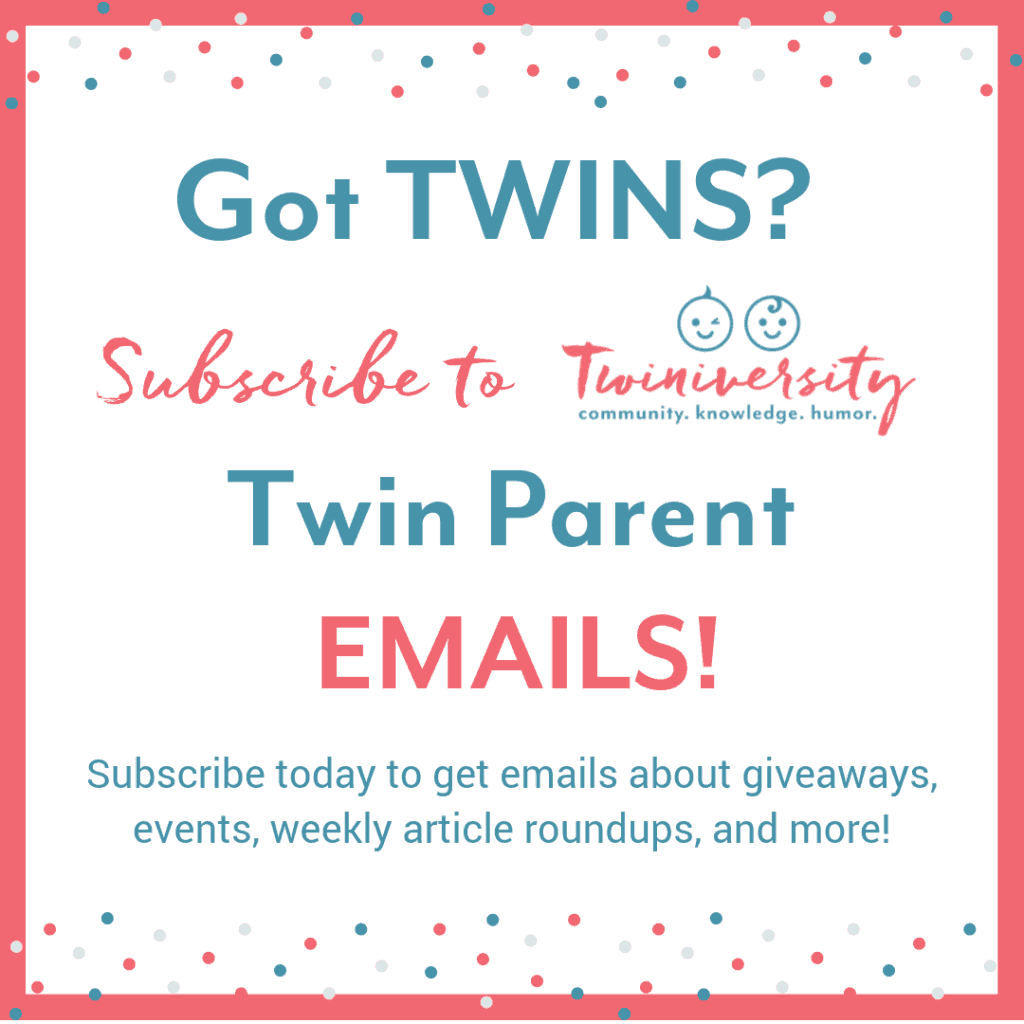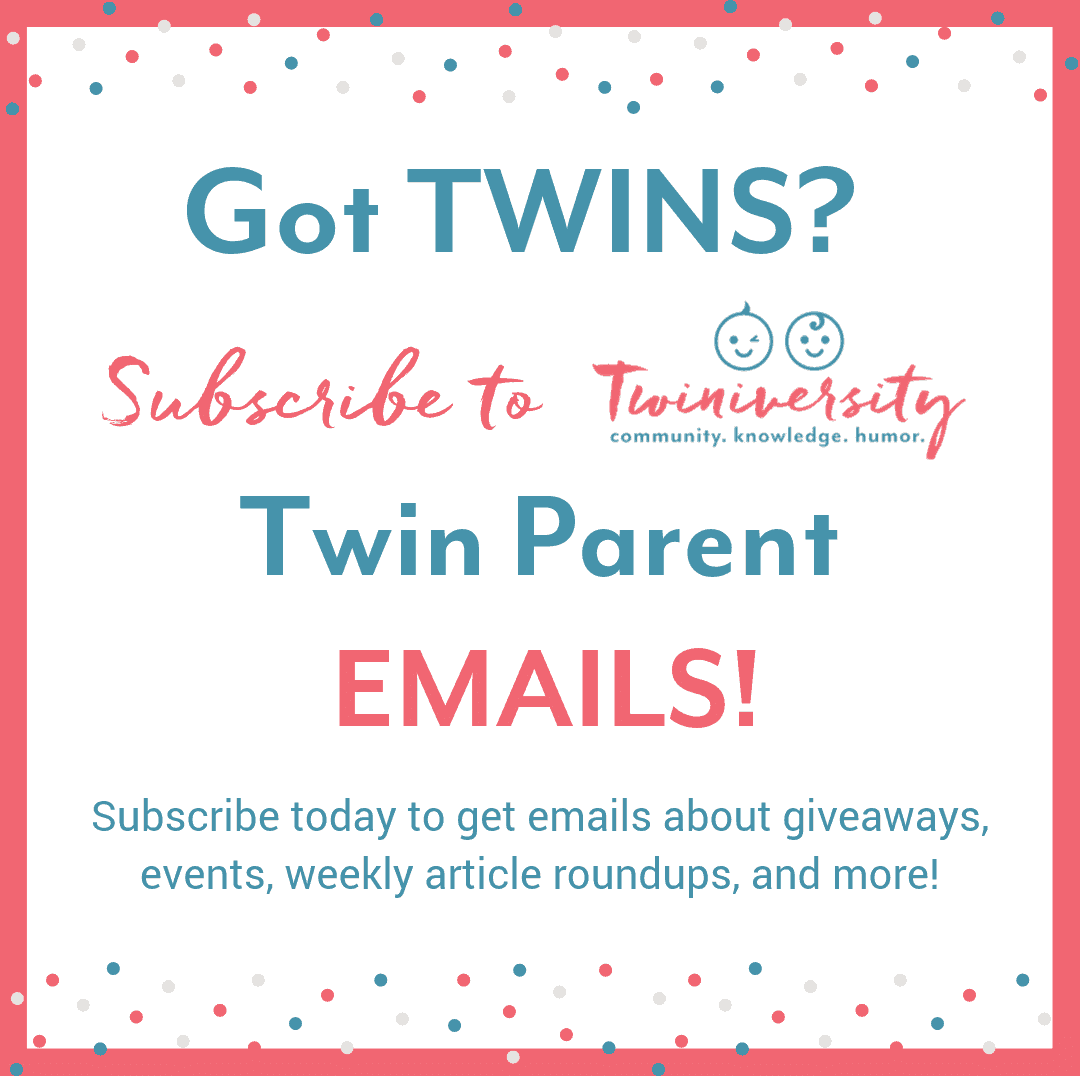 Want to be the first to know about giveaways, deals, and more just for twin parents? Sign up for the Twiniversity email list! Subscribe today to get emails about giveaways, events, weekly article roundups, and more! Pregnant with twins? We'll be sending you a weekly twin pregnancy email to keep you on track with your pregnancy to-do list! Click here to learn more… and while you're at it, check out our Complete Baby Safety Course and Twin Parent Memberships.
---
Check out our ultimate list of the most important articles for expecting twins
and managing your newborns!
---
Are You a New Twin Parent?
Check out Natalie Diaz's book:
"What To Do When You're Having Two
The Twin Survival Guide From Pregnancy Through the First Year"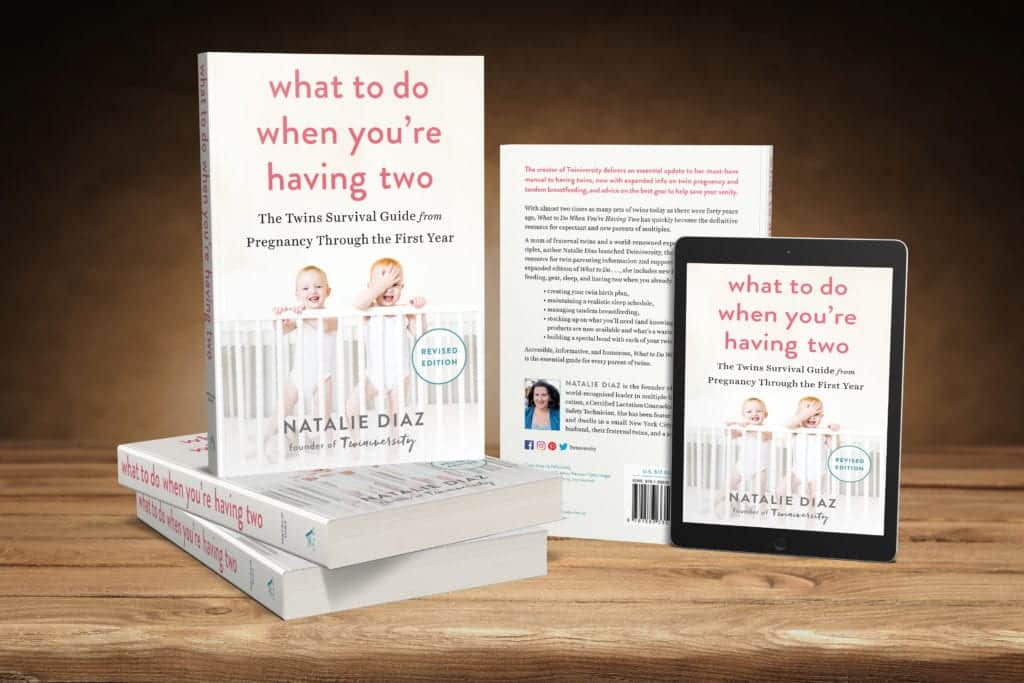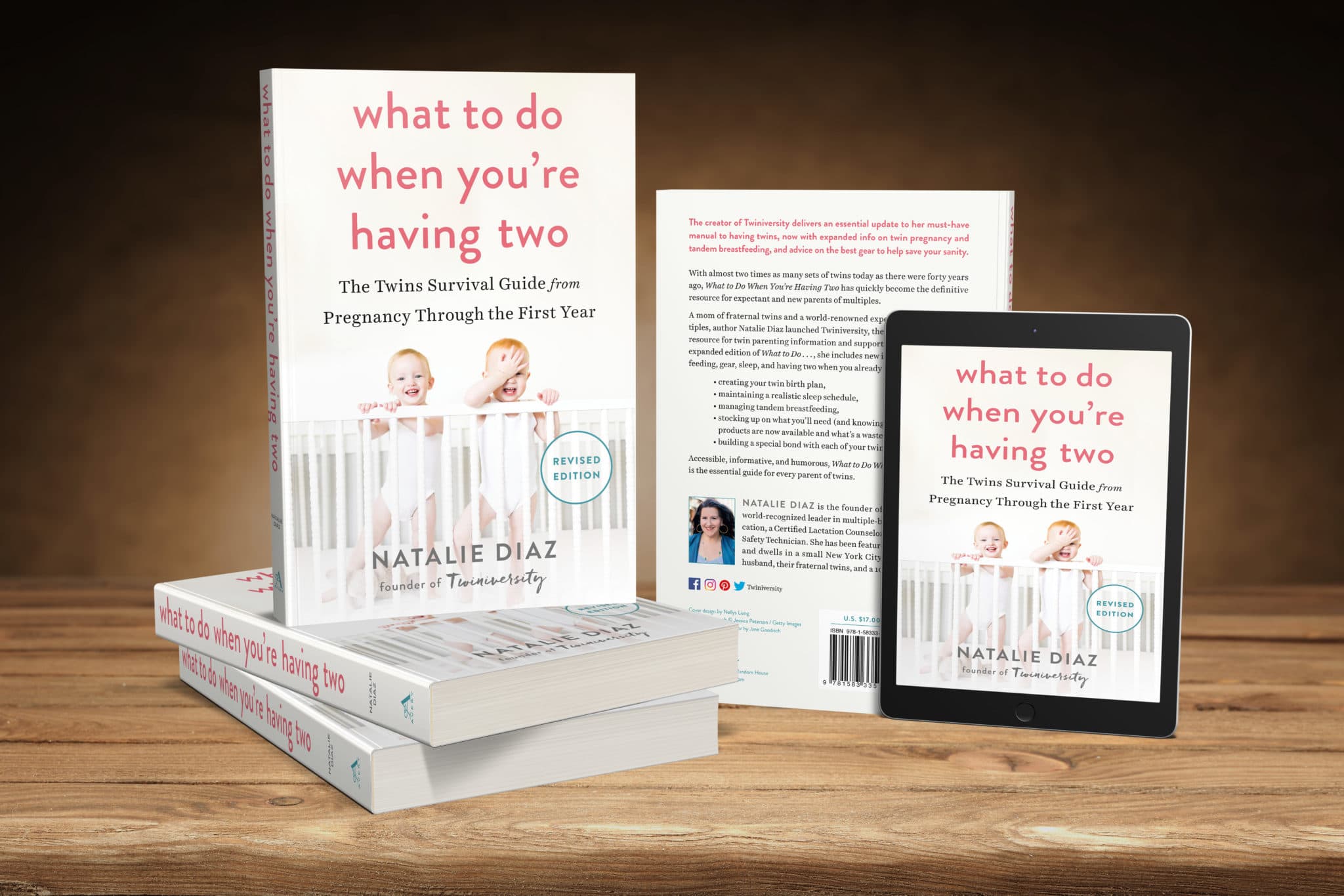 In What to Do When You're Having Two: The Twins Survival Guide from Pregnancy Through the First Year, national twins guru and founder of Twiniversity (and twin mom herself!) Natalie Diaz provides a no-holds-barred resource about life with twins, from pregnancy and birth all the way through your duo's first year of life.
---
Have you taken your expecting twins class yet? We offer a great class on demand so you can take it on your own schedule! There are so many video modules covering everything from your twins' baby registry to your first week at home with twins! Sign up today to get started before your twins arrive.
---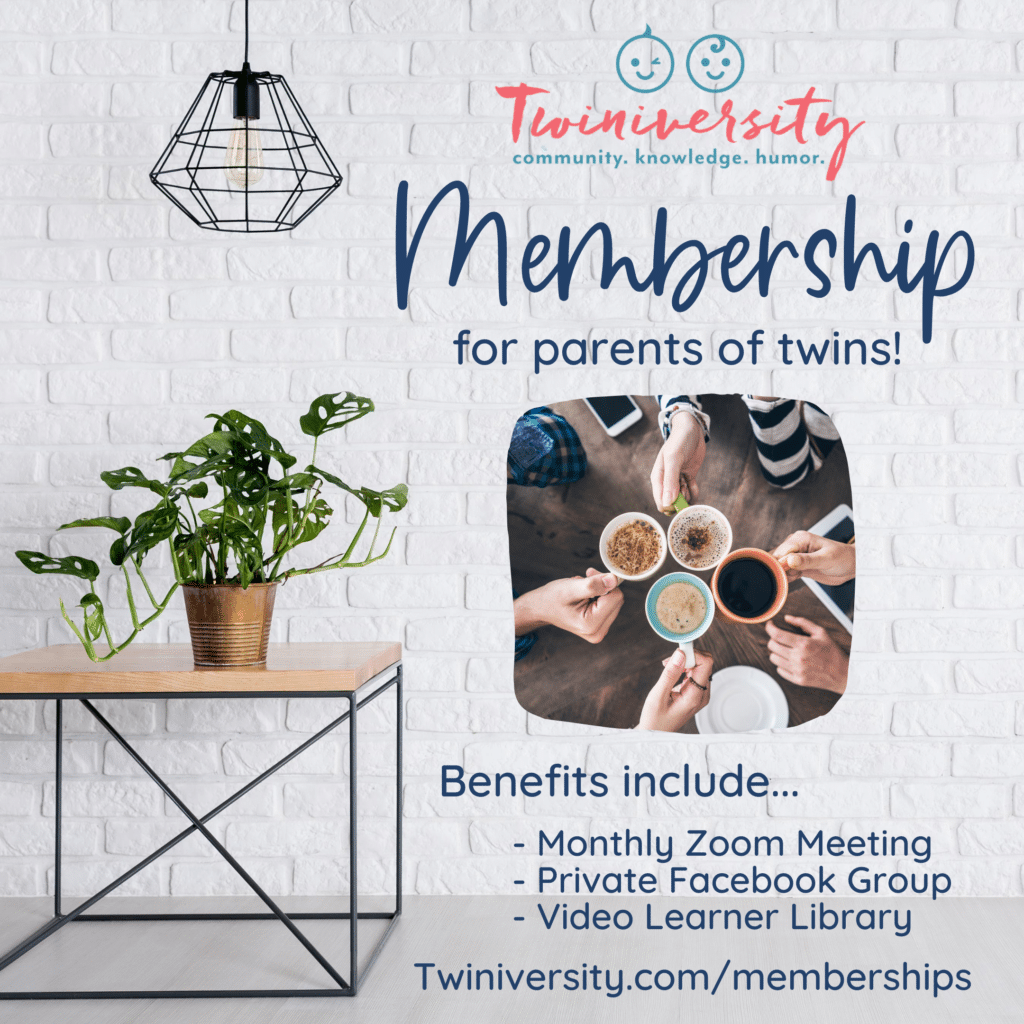 Need some twin parent friends? Get the support you need with a Twiniversity Membership. Benefits include a monthly twin parent club meeting on Zoom, access to a private Facebook group just for twin parents, and a video library of twin parenting lessons. Visit Twiniversity.com/membership to join today!
---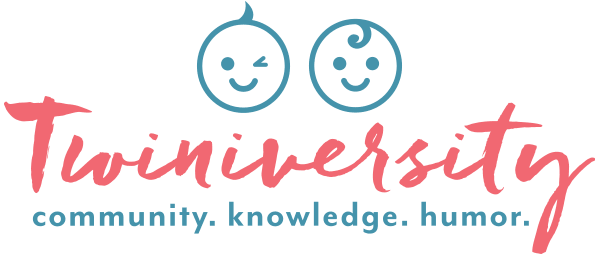 Twiniversity is the #1 source for parents of
multiples, and we are growing faster every day!
Find us all over the web:
Or contact us by email at community@twiniversity.com