Last updated on September 21st, 2023 at 02:55 pm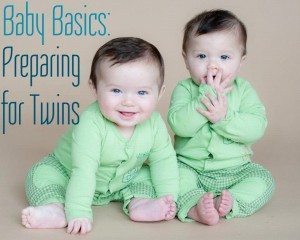 After the shock of being pregnant with twins sets in, the shock of "HOLY CRAP I HAVE TO BUY TWO OF EVERYTHING" takes a nice, cozy seat.
The first thing I did when I found out I was pregnant was to reach out to all my mommy friends and get their opinions on what worked, what didn't, what they loved and what they hated. The list I gathered, while geared towards a singleton, helped me compile my own master list.
I am now due with my second set of twins and I'm not stressed out at all about what I need. With that said, however, each baby is an individual and what worked the first time around might not work this time.
Below are categories that I broke down into what I recommend two of, one of, more than you imagine you need, take it for a test drive first and something to think about.
Two Things
There is much controversy about giving each twin their own crib or sharing. We chose to get 2 cribs. I believe it is safer and as they grew they would need their own space anyway.

High chairs

Umbrella strollers – in case you need to only take one somewhere or need to divide and conquer

Diaper bags – we had one big main one but we also had a little one with just a few items for running quick errands. It's also great to leave a spare in the car just in case.
One Thing
Double stroller

Changing table (or dresser top)

Bassinet

Pack-n-play

Journal to track feeding and diaper changes. These days you can find tons of great apps.
More-Than-You-Can-Count Things
Diapers

Wipes

Butt paste or other ointment

Baby wash

Detergent

Bibs

Burp cloths

Bottles

Nursing pads

Onesies

Get-One-to-Try-Before-You-Buy-Two Things
Johnny jumpers

Papasans

Swings

If you can borrow, then BORROW!
Food for Thought
Use onesies that zipper or close magnetically. It is impossible and annoying trying to line up snaps in the middle of a sleep-deprived night.

Get a wipe warmer. Last thing you want is to startle a sleepy baby in the middle of the night (especially if it's winter time) with a cold wipe.

Don't over-spoil. We never heated up their bottles for mainly one reason, waste. If your babies go to daycare, once the bottle is warmed up, the center must toss any leftover away. That gets expensive if your child, like mine, is on a special formula. Not to mention if you worked hard to pump that breast milk!

Stick with a sleep routine. You will never regret it.
That is just a bit of my two cents and you will quickly find, if you haven't already, that EVERYONE has an opinion. Listen and do what you want with it — you never know when it might come in handy one day.
Lastly I leave you with this. Having twins is NOT double the work. Don't let people scare you. It is definitely more work but it is also more love and that will always win.
Kerry Bergeman is a full-time stay at home mother of 4-year-old twin girls with another set, identical girls this time, due in December. She teaches part-time at the local community college and blogs at New2Two about life with twins, dealing with infertility and a daughter with a severe intolerance to dairy.
* * *
* * *