Last updated on September 1st, 2023 at 10:44 pm
A baby swing for your twins is going to save your sanity. Trust us. Of course, there is nothing better than snuggling your twins, but sometimes you need a few minutes to pee! A baby swing is a great way to keep your little ones content while you catch a much-needed restroom break or a second to steal a quick bite to eat! Let's take a look at some of the most trustworthy baby swings for twins we could find.
You may be wondering if you absolutely need a swing, or if you can skip it altogether. I personally found it so useful! Not only did it rock my daughter to sleep when my arms felt like they were going to fall off, but it also allowed me to put her in there to do the occasional dish or two.
With twins, it's always a good idea to have somewhere that you can set one (or both) down. It not only rocks them, but essentially all swings have music that will lull them to sleep. A mobile also hangs so they can look curiously up at the toys above.
Choosing the right swing for you and your babies may seem stressful, but don't worry. We rounded up some of the best baby swings out there designed to keep your twins swinging and happy as can be.
Bright Starts Baby Swing
This swing is lightweight weighing in at only 4.08 pounds, and has a 20-pound weight limit! The item dimensions once assembled are 28.5 x 22.5 x 23 inches making it a pretty compact swing, but definitely packs a punch in features! Easily foldable, and uses specialized technology so that the only noise you will be able to hear is the happy coos from your sweet baby. This is perfect as sometimes a loud humming can keep the baby awake. The Bright Starts swing has a removable bar that has toys hanging that can be tugged on and played with for entertainment!
To Purchase, click here.
Graco Simple Sway Swing
Weighing in at 17.2 pounds, this swing has the capacity to sway in a gentle side-by-side motion to relax any fussy baby. Once assembled, it is 30 x 31 x 38 inches. The Graco Sway Swing has 6 different swinging speeds and a variety of soothing songs and sounds! Babies should weigh within the 5.5-30 pound range for this swing. What's great about this swing is that it has a plug-in option, or can use batteries if you are on the go! Furthermore, it's small frame makes it perfect to fit almost anywhere in your home.
To purchase, click here.
Ingenuity Swing 'n Go
The Ingenuity baby swing is a picture-perfect example of lightweight and foldability. The swing weighs 6.7 pounds and is 6.8 x 14.5 x 22.2 inches once assembled. Folding the swing up is so easy that you can do it one-handed, which is important because a baby is probably in the other! The fabrics for the swing are gender-neutral making it an easy decision no matter what genders your twins are! It also has an automatic timer to shut the swing off if you forget to power it down.
To purchase, click here.
Graco Soothe 'n Sway LX Baby Swing with Portable Bouncer
This baby swing seems to have all the bells and whistles! The Graco Soothe 'n Sway LX Swing with Bouncer is a multi-use swing that offers 2-in-1 features for twice the fun.
The baby swing seat doubles as a portable baby bouncer and has carry handles to keep your child happy by your side throughout the home. The multi-direction seat means the baby can face right, front, or left to enjoy side-to-side or front-to-back swinging.
The adjustable swing speeds allow you to find just the right pace, and the 3-position recline will ensure baby's comfort. Furthermore, the swing also features 2 soothing vibration settings, 6 songs, and sounds, and an adjustable toy bar with two soft toys.
Additionally, there's an AC adapter provides added convenience, while a five-point harness keeps your baby cozy and secure. It weighs 17.9 pounds in total and is 29.5 x 36.5 x 36.5 inches once assembled. Something that isn't common in most swings is that it can hold your little one up to 30 pounds!
To purchase, click here.
Munchkin Bluetooth Enabled Lightweight Baby Swing
Have you ever wanted to have music play close to your baby while they're being rocked? This baby swing does both! Its BlueTooth functionality allows you to pair a device to the swing and babies can listen to whatever tunes they like. My daughter had a Spotify list of Disney songs played on the piano. Or, there are always the sounds that come with the swing. The Munchkin Bluetooth-enabled baby swing only weighs 10.8 pounds and has dimensions of 25.82 x 6.87 x 28.35. It can be folded and placed in between as well as placed under furniture for quick storage. Not to mention, it also has a digital touch display, and a remote to help you pick your settings so you don't have to leave the couch each time you want to adjust the setting.
To purchase, click here.
Graco Sense2Soothe Baby Swing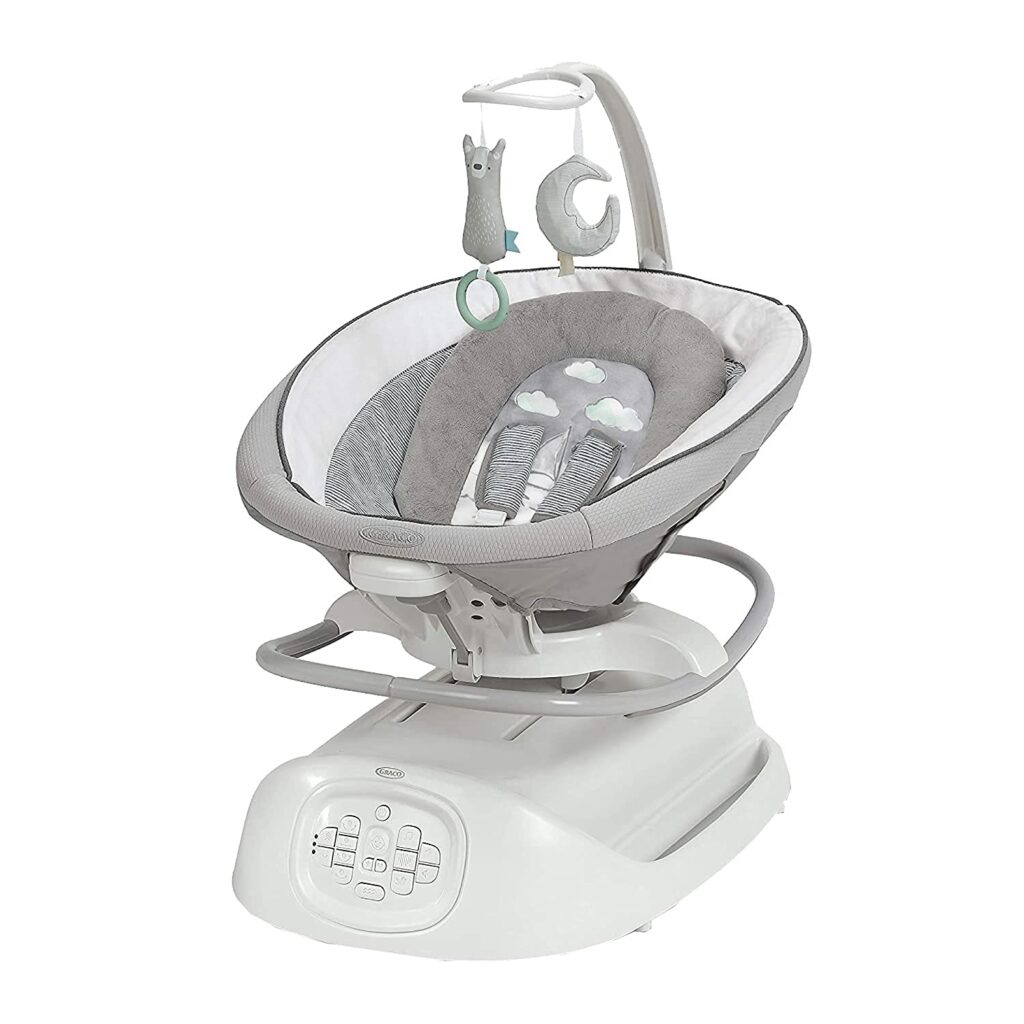 This high-tech baby swing has a built-in microphone that can detect your baby's crying. In response, it adjusts the motion, speed, vibration, and sounds, making it a "smart" swing! Its dimensions are 18.9 x 28.35 x 32.38 inches and a total weight of 25 pounds. Additionally, it has the capability to save the combination of motion and sounds that you and your baby prefer. Another key point is that it also doubles as a portable rocker that you can carry around the house!
To purchase, click here.
4moms MamaRoo Multi-Motion Baby Swing
The 4moms MamaRoo Multi-Motion Baby Swing is the only swing that moves as you do! The Mamaroo's motions mimics your natural rhythms and movements making it feel like a familiar space to your little ones. The MamaRoo features five motions, five speeds, and four sounds, to keep your baby entertained and content, whatever their mood. Has an adjustable recline and toy mobile with toy balls that include a rattle, mirror, and crinkle ball. The 4moms MamaRoo Multi-Motion Baby Swing also has Smart Connectivity, with a dedicated space 4moms app and Wi-Fi smart home integration. This is the Tesla of baby swings.
To purchase, click here.
In the end, the most important part is that you are picking a baby swing that is going to serve you and your baby. Not everyone wants a high-tech swing, and that's okay! I used a simple swing for my little one and she was none the wiser. Fun features like BlueTooth and vibration can definitely make it easier to calm your baby down but are not a necessity. Make sure you shop for the best features that work for you and of course the best bang for your buck!
Latest Twiniversity Articles