Finally, companies are thinking of us and creating some amazing twin bassinets. Once upon a time, you had to get two separate bassinets for your twins which cost twice the money and typically took up twice the space.
Today, we are going to give you the rundown on the best twin bassinets on sale today.
Little Folks Twin Bassinet – BUY HERE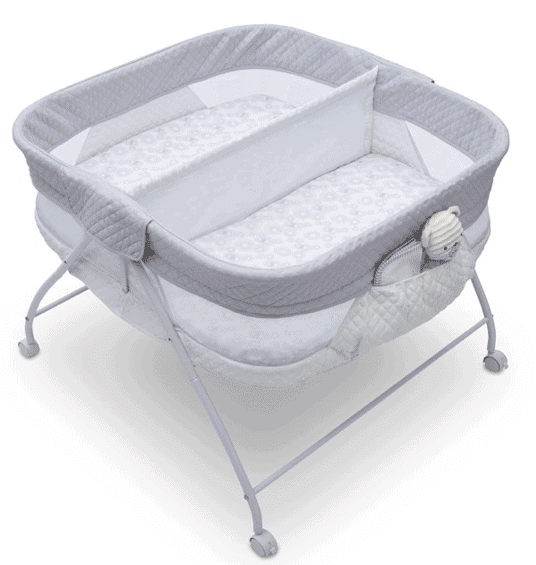 The Little Folks twin bassinet made by Delta is only found at Walmart at this time. Recommended to hold 15lbs on each side (30lbs in total) this super portable bassinet also can be folded up into an ultra compact size to take up less room when not in use. Assembled it measures 2.75in Deep x 33.5 inWide x 25.75in High. Weighing just 17lbs this can even be taken up and down the stairs easily. Great for grandma's house, split level homes and any type of travel. Retails for $139.00, it can often be found on sale. Click here for current price.
Simmons Kids By The Bed City Sleeper Twin Bassinet – BUY HERE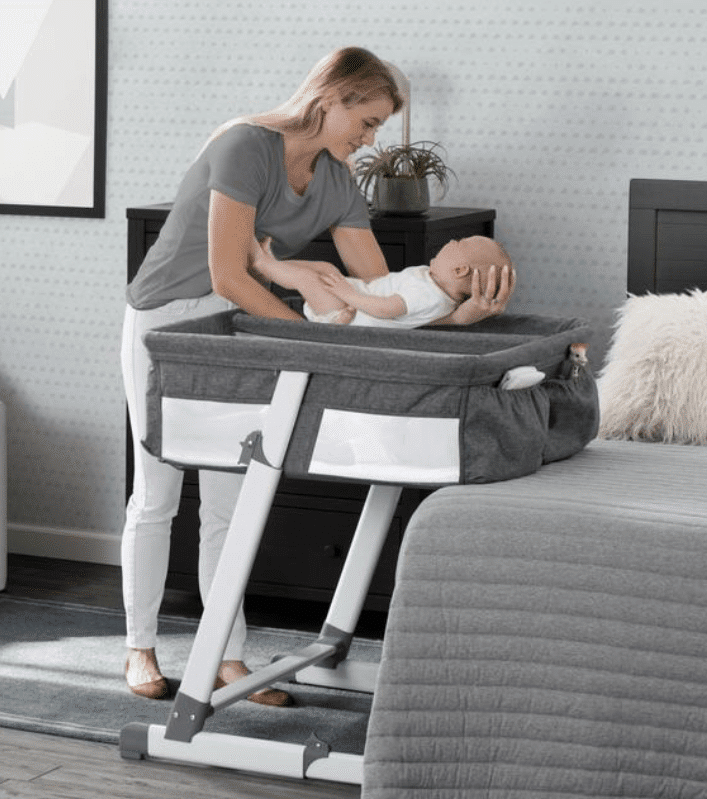 This twin bassinet made by Simmons works best next to your bed at night. With five adjustable lights and ample storage around, this can easily be an all in one sleeping place for your twins after they come home from the hospital. Each side holds 15lbs for a combined baby weight of 30lbs. When together it measures 33in Deep x 21in Wide x 47in High. Retails for $199 but can also be found often on sale. Click here for current price.
Twin Bassinet and Nursery Center from Baby Trend – BUY HERE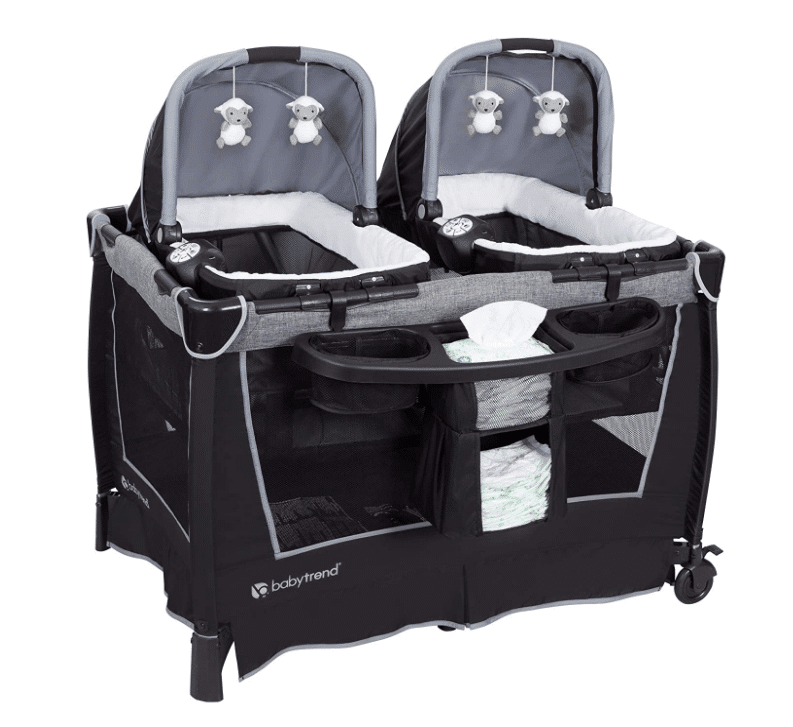 This twin bassinet is not ONLY can be used as two bassinets, but has the most bells and whistles on the market. With soothing sounds, a diaper store area, and independent canopy and mobiles, this is one of Twiniversity's top picks in the twin bassinet category. As with the others, this can be used from birth through 15lbs per twin (combined weight of 30lbs). The biggest benefit of this twin bassinet is that it can be used as a conventional pack and play after the bassinet stage. While we don't recommend that both twinnies sleep in this as a pack and play, and only both sleep in it when in the bassinet configuration, it still gives you the biggest bang for your buck. Larger than the others, the Baby Trend twin bassinet measures 40.75in Deep x 29.25in Wide x 28.75in High. Retailing for $179, this is harder to find on sale, but you can find the most recent price here.
Graco® Pack 'n Play Playard with Twins Bassinet – BUY HERE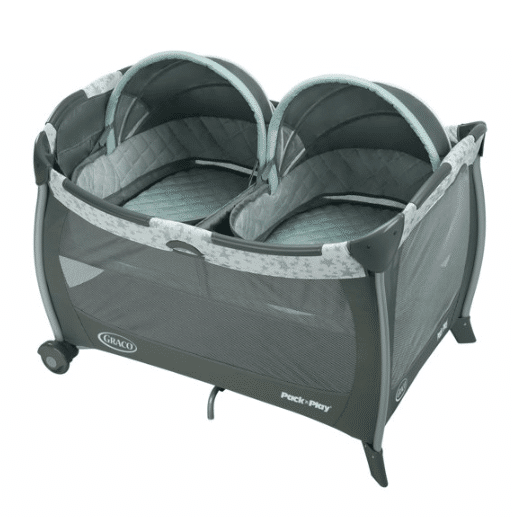 The Graco Twin Bassinet features quilted sides which we aren't thrilled with. When looking for a sleeping area for your babies, it's always best to have mesh/breathable sides, however we did want to list all the twin bassinets that are on the market. This one also features independent canopies and can convert into a tradition pack n' play which Graco has originated. Also holding 15lbs each side, for a total of 30lbs, this one measures 35in Deep x 46in Wide x 34in High. With complaints on being difficult to use, this one retails for $279 and can be purchased or researched further here.
Joovy Room2 Twin Nursery Center–Buy Here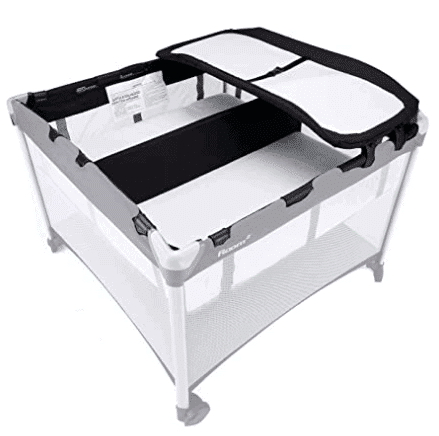 The Joovy Room2 Twin Bassinet Nursery Center is becoming more and more popular. The actual nursery center sits on top of the already amazing Joovy Room2. The twin bassinet has to be purchased separately for an additional $89.99 in addition to purchasing the actual Room2 for $149.99. Still not the most expensive of the twin bassinets, this one might give you the longest use time. The bassinets also only hold 15lbs per side for a total of 30lbs but this one also features a changing table which can hold 25lbs independently. No available storage, you'll need to take up a little more floor room for diapers etc. But overall, a great idea if you want to have the flexibility to have a large pack and play after your bassinet days are over. Measuring larger than the rest at 39.75in Deep x 39.75in Wide x 31in High. The size is what makes this an amazing choice overall, but perhaps more difficult to have bedside in the beginning. To learn more or buy today click here.
HALO BassiNest Twin Sleeper – BUY HERE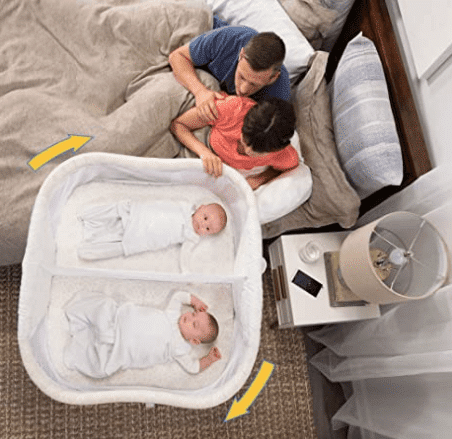 Halo was one of the first to come to market with a twins bassinet. Discovering it at a trade show with the Twiniversity team many moons ago, it's still a popular pick. The most expensive of them all at over $400, this twin bassinet has the unique feature of being able to rotate so that you can place the twin in need closest to you. Also, featuring collapsable sides, this makes it great for breast-feeding moms who may have to liberate a baby many times each night and won't have to get up. This twins bassinet also features a "soothing center" which includes two levels of vibration, three different lullabies with an auto shut off and a nightlight. The halo twin bassinest also comes with two 100% cotton fitted cheats making it easy for quick changes in the middle of the night. Adjustable for different size beds, this twin bassinet can reach as high as 34inches tall. You can read more about it or purchase one here.
Baby Trend® Twin Nursery Playard in Circle Tech™– BUY HERE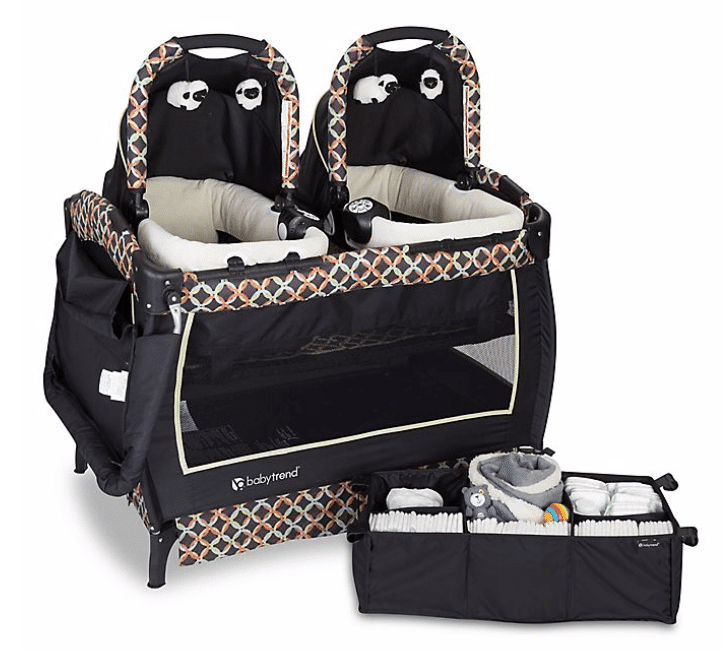 Baby Trend does it again and created an additional Twin Bassinet. This version is full of entertainment features as well as sleeping space. Two removable rock-a-bye bassinets are joined by a flip away changing table and a deluxe parent organizer. Oh! And a travel bag, making this the most portable of all the twin bassinet play yards. Like the others, this twin bassinet can hold 15lbs each side for a total of 30lbs. Measuring 49.2in Deep x 30.30in Wide x 46in High, this will last you years as a conventional play yard as well. Even with all these features, it's still only $279. To read about even more features and to buy one today, click here.
To check out our other gear articles visit our Twins Gear page.
Twin Strollers: What Stroller is Best for Twins?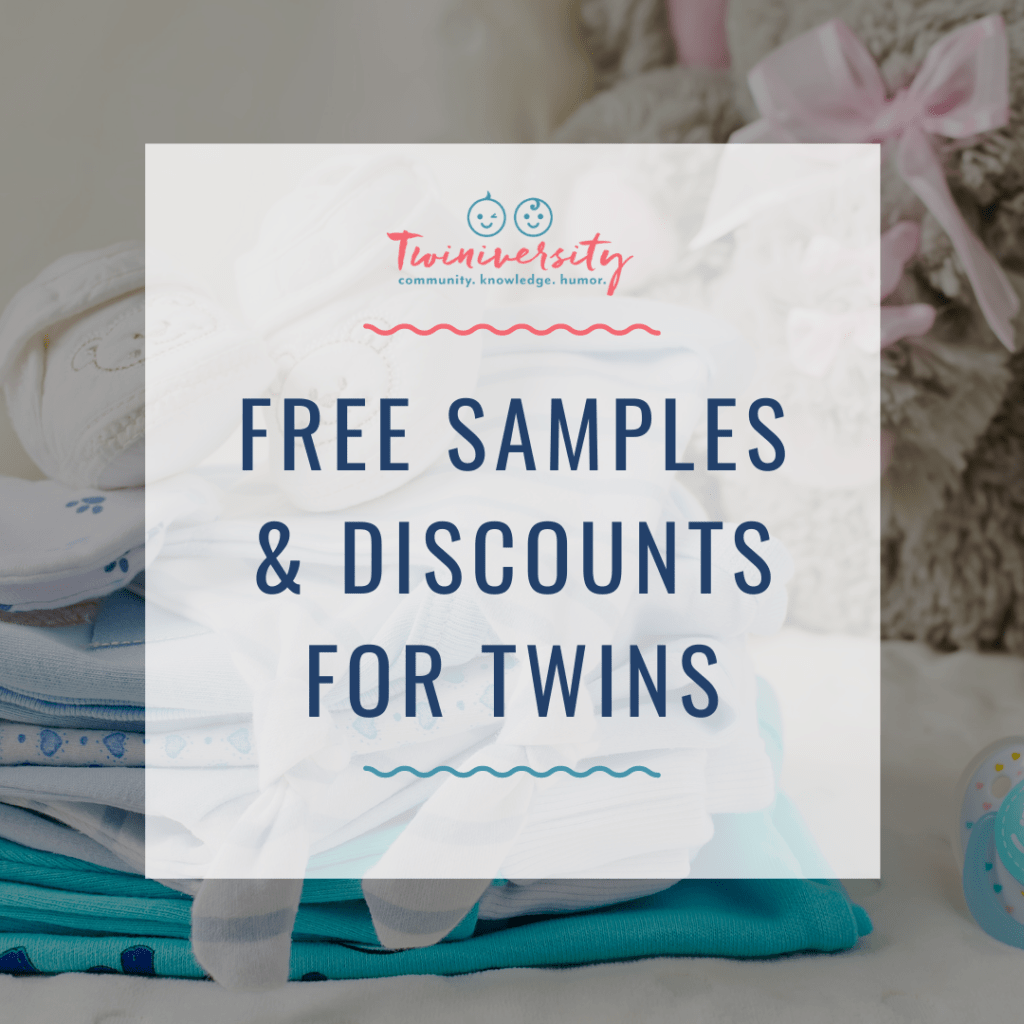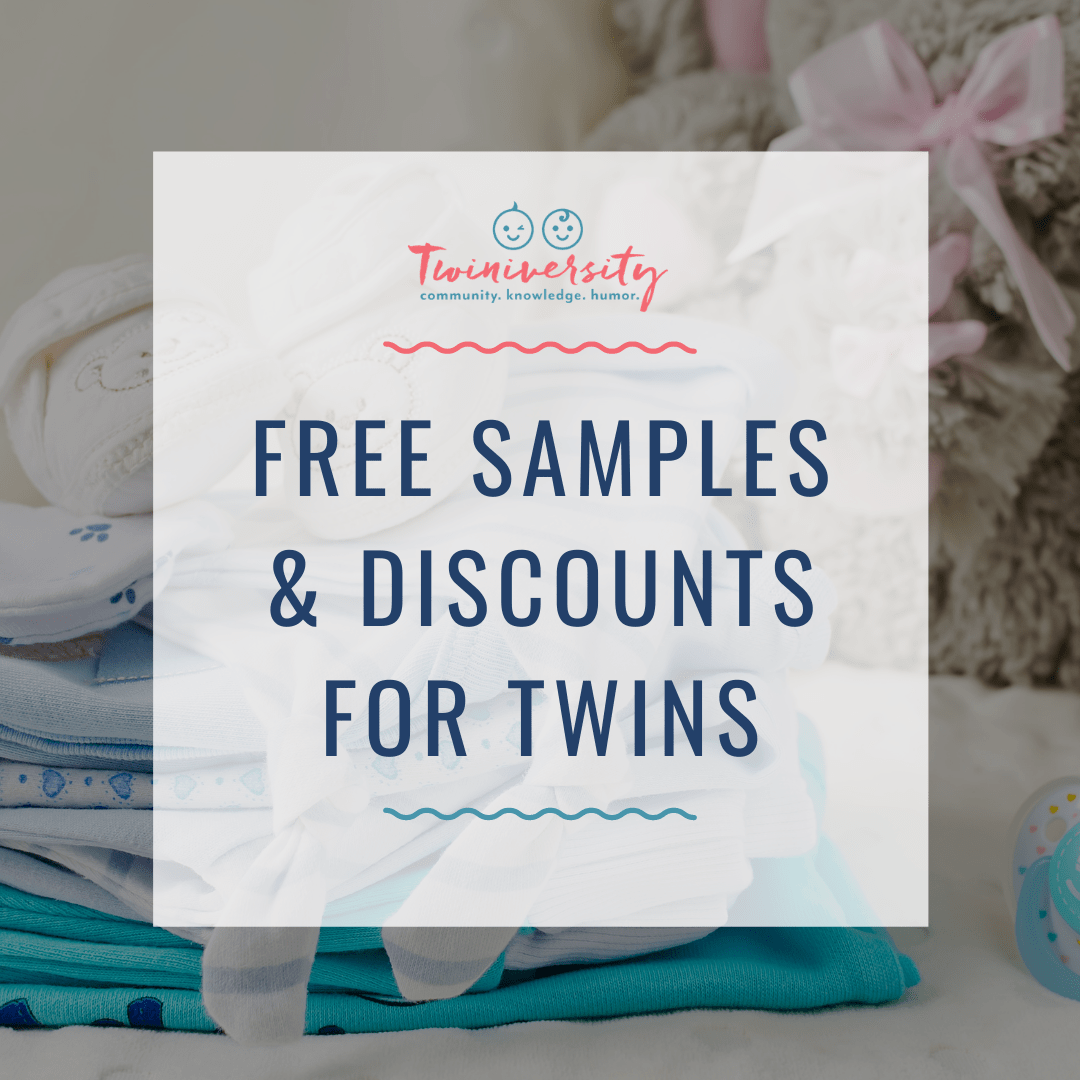 Check out our Multiple Birth Discounts! This is the most up-to-date list of discounts, freebies, and coupon codes for twins and multiples on the internet. Click here to start saving! While you're at it, make sure to check out our expecting twins classes and membership programs…