Last updated on November 2nd, 2023 at 12:21 pm
Learn about all the bells and whistles of the Bumbleride Indie Twin 2021 stroller to determine if this is the perfect stroller for you and your twins. Make sure to watch Nat's video review below!
How much does the Bumbleride Indie Twin weigh?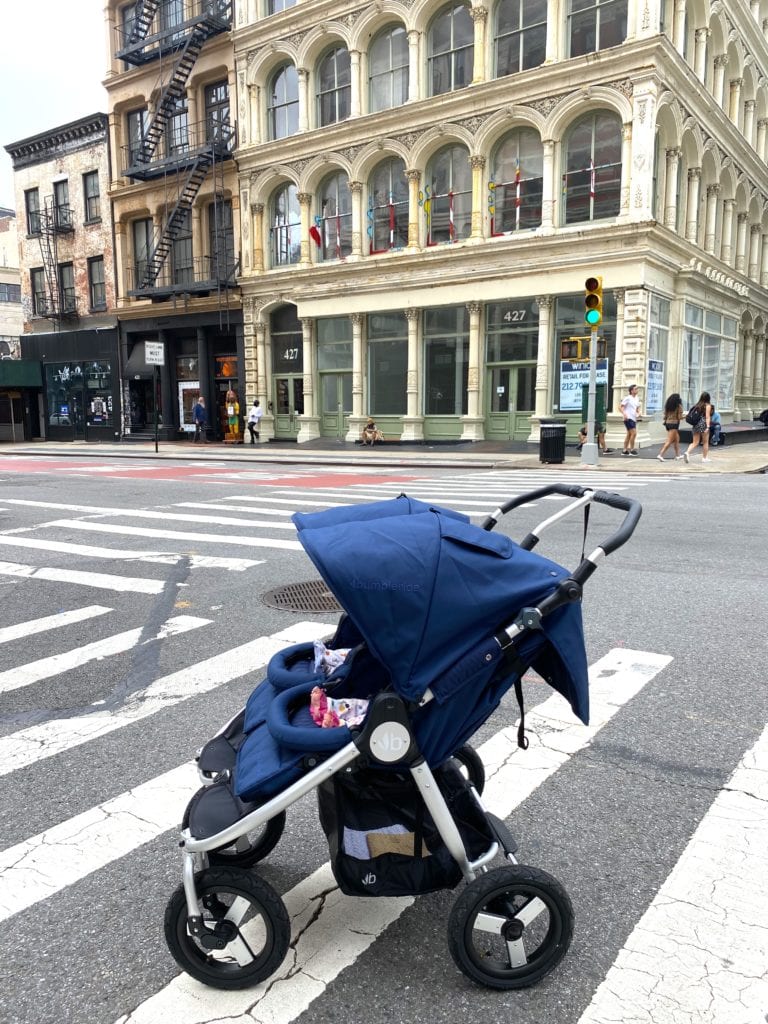 Bumbleride Indie Twin Dimensions
If you're wondering about the dimensions, I can assure you that it's pretty standard — 47 inches long by 29.5 inches wide. One of the main things that you have to do is always measure all of your doorways, your elevators, anywhere you're going to be taking the stroller into that is narrow, to make sure it will fit.
Bumbleride Twin Features
One of the best features of the Indie Twin? It accommodates two infant car seats or two infant bassinets or you can put your newborns straight into the seats laying flat on the infant inserts (sold separately) with the footrests up. That is a game-changer for parents of twins. This makes it a perfect stroller to use from leaving the hospital all the way up to preschool. You really will not need another stroller in your life. The stroller is very narrow — only 29 inches wide — making it one of the narrowest side-by-side strollers on the market.
The canopies open independently of each other, which is a very important feature to have. Each canopy has a mesh peekaboo window that can be secured open with a little strap or keep it closed with magnet holds that are silent (unlike Velcro holds that may wake up your twins while napping.) The canopy fabric has sun coverage of UPF 45+
The Bumbleride Twin stroller has all air tires. It actually comes with a pump for you to fill your tires with air. This is really a big deal especially when you have twins because you're always going to veer to the side of the heavier twin if you have twins that are of different weight. But if you have air tires you can adjust the tire pressure to make sure it will always push straight. That is a huge bonus for twins.
Another great feature — it has all-wheel suspension. This is so fantastic when your twins are taking a nap because the little bumps and cracks on the sidewalk aren't going to wake them up. If you ever push a stroller without all-wheel suspension you will really be able to tell the difference.
The Bumbleride Indie Twin double stroller has an adjustable handlebar that goes from 26.5 inches low to 45.5 inches high. That means that everybody in your family — from your 6'4" husband to your 5'2" mom — can take the twins out for a walk and be super comfortable. Just push the button on the outside of the handlebar and you can adjust it up and down to the exact position that is best for your height.
The soft, padded backrest that has a five-point harness with beautiful padded shoulder straps which are great to keep your kids skin from getting chafed from the straps.
We love that the Indie Twin can also be an all-terrain / jogging stroller. The front wheels can lock straight and the handlebar has a safety strap to make sure the stroller never gets away from you. Check with your doctor to make sure your babies are developmentally ready for a jogging stroller.
Got older kids? Add on the mini-board for your toddler to ride on behind. Weeeee!!!!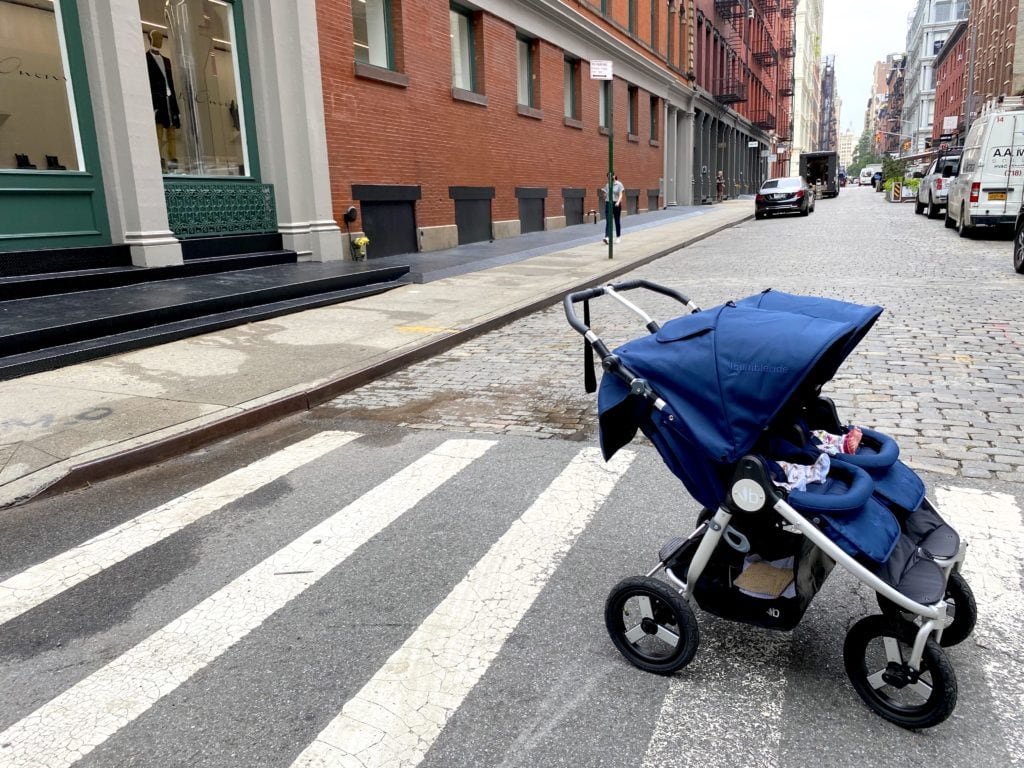 Bumbleride Indie Twin Storage
Each seat has built-in storage pockets so you could put their sippy cup in here or a snack container. At the bottom of the stroller, there's a large basket with a lot of space. You will find more storage behind each seat, including pouches behind each seat and a little zipper pocket on the back of each canopy to store your phone, keys, or whatever else you need to stash.
Each seat has an independent one-handed full-flat recline. You push the lever, pull it down, and it releases the seat. Pull it all the way down to a 180 degree flat recline and your infants can take a nap safely. Put the footrests up for even more safety and comfort.
How to fold the Bumbleride Indie Twin Stroller
Here's how to fold the stroller closed. Look for the release on the right side of the stroller. Lift up the release and grab the stroller on both sides, then fold it down like you're closing a book. Push it down until you hear a snap and you'll see it has this little safety catch on the side to make sure it doesn't pop open. The stroller can stand when folded so you don't have to worry about leaning it up against something. To open the Indie Twin, lift the safety release and the stroller snaps right back open.
What we would improve about the stroller
One thing about the stroller that is a negative is that you can't store a lot of stuff in the basket when you're not using it. If you fold the stroller while the basket is filled it's kind of going to spill out, so you have to be really selective about what's stored in there full-time.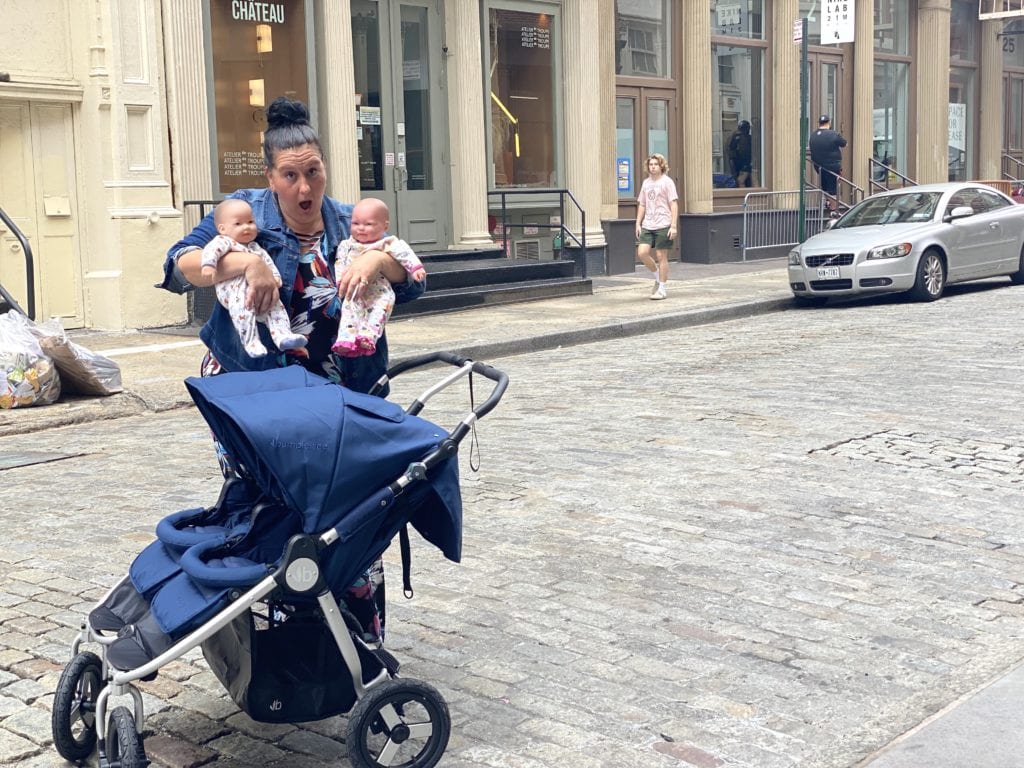 Indie Twin Specs
Weight: 36 lbs. (16 kgs.)
Recommended Use: Infant ready from birth with lowest recline seat settings (no other attachments required), Bassinet or Car Seat.
Weight Cap: 90 lbs. (41 kgs.)
No Age/Weight minimum on lowest recline settings.
Standing/Unfolded: 47"L x 29.5"W x 26.5-45.5" H (119.5cm L x 75cm W x 67.3-115.5cm H)
Folded:

with wheels 32.5"L x 29.5"W x 13.5"H (83cm L x 75cm W x 34cm H)
w/o rear wheels 32.5"L x 29.5"W x 12"H (83cm L x 75cm W x 30cm H)

Seat: 12"W x 9"L (30cm W x 23cm L)
Backrest (seat to top of backrest): 19"L x 12"W (48cm L x 30cm W)
Canopy (seat to top of canopy): 23" L (58cm L)
Footwell: 12"W x 11"L (30cm W x 28cm L)
Adjustable Handle Height: 26.5"-45.5"H (67.3-115.5cm H)
Shoulder Width: 12.5"W (32cm W)
Seat to Knee: 9"L (23cm L)
Knee to Footwell: 11"L (28cm L)
Width at Knee: 12"W (30cm W)
Upright Fold Height: 30.5"H x 13.5″ W (77cm H x 34cm W)
What's Included
Adjustable bumper bars
Air Pump
Wrist strap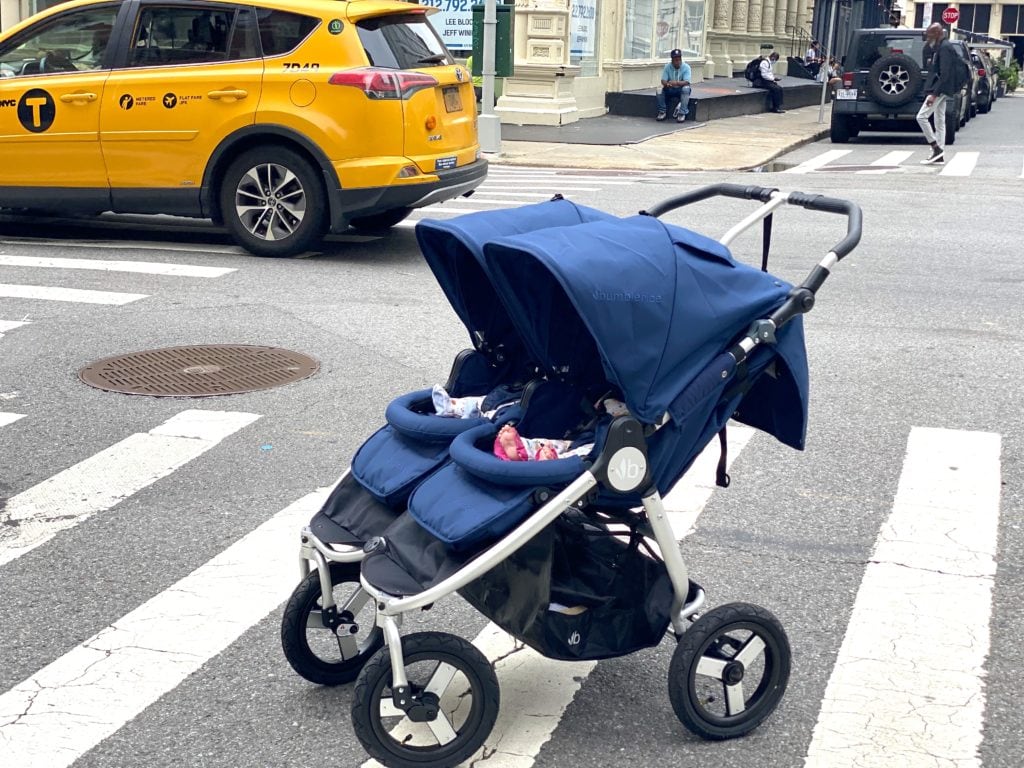 Car Seat Adapters (specific to car seat models, see car seat compatibility list)
Cold Weather Footmuff
Seat Liner
Organic Cotton Seat Liner
Organic Cotton Bassinet Mattress Cover
Bumbleride Indie Twin Car Seat Compatibility
Click here to find the list of car seat compatibility for the Bumbleride Indie Twin stroller.
Check out our Double Stroller Resource to learn more about our favorite strollers for twins!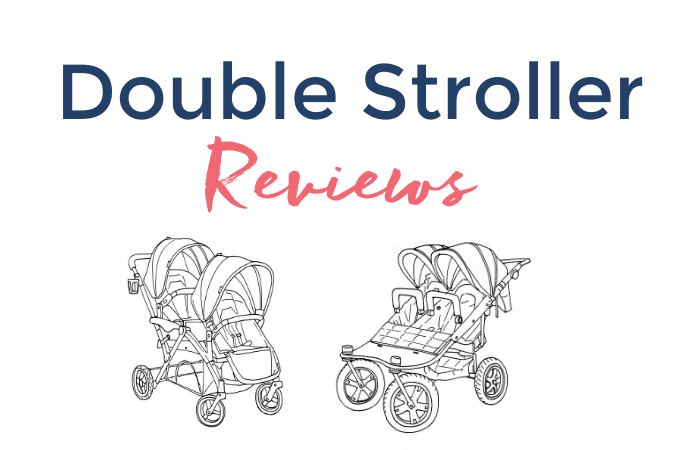 Are you looking for the best double stroller for twins? Not sure if you should go for a tandem stroller or a side-by-side stroller? And what about a Snap N' Go? We've got all the details for you in our double stroller resource. Click here to learn more… and while you're at it, check out our expecting twins classes and the Twiniversity shop!