Last updated on September 8th, 2023 at 04:04 pm
Hey gang, listen up! We've got a great article on cooking with your little ones, plus a fantastic giveaway from our friends at Step2! One lucky family will take home the new Step2 Grand Luxe Kitchen, available exclusively at Toys R Us.
The Grand Luxe Kitchen by Step2 will leave you envious of your little ones' play kitchen. This modern kid's play kitchen features all of the amenities any junior chef would want. Toddlers can whip up a delicious pretend meal with the over-sized oven and stove with upscale, extra-large range controls. Kiddos can cook up some pretend play fun with the dual-electronic features and life-like appliances. This extra-large kitchen is the ideal playset for multi-child play to enhance little sous chef's imaginative and social skills.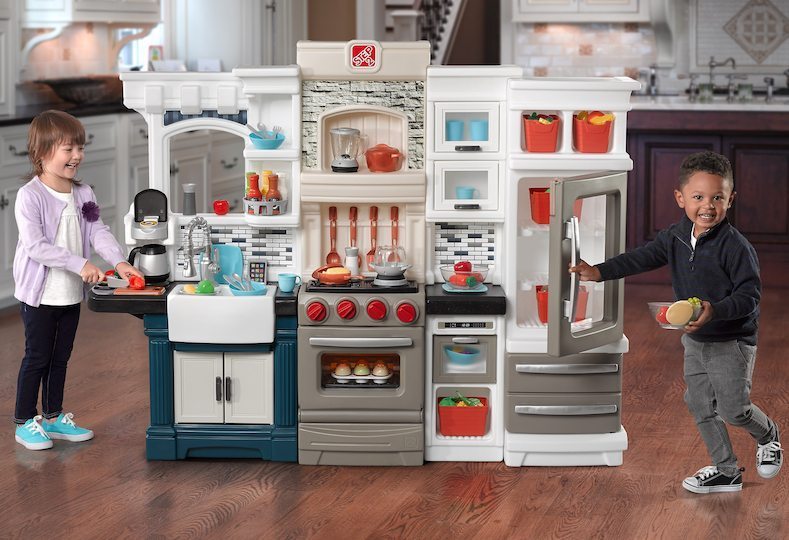 Cooking With Kids 7 and Under
We have a lot of play dates and other kid get-togethers at our house. Oftentimes during the winter we will do a baking project while friends are over to pass the time. Parents sometimes ask me how I could possibly accomplish cooking in the kitchen with 6-8 kids aged 2-7. I always tell them that it all comes down to the preparation.
Preparation
When I bake with kids who are 7 and under I like to pre-measure out each and every ingredient before I ask them to come to the kitchen. I place each item in small bowls or measuring cups. If multiple cups are required of a single ingredient (like flour) I separate them out. This way everyone gets multiple turns to participate. This same method of separation and preparation works for anything else you would like to make in the kitchen. Prepare what you can before you ask them to come in and help you. If you are trying to measure out each and every item, while stirring and heating things up the experience can go south pretty quickly. Your kids will start to whine about how long things are taking, you will try to move quicker which will cause your temper to shorten and the kids will likely start to fight. Prepping and separating will save you all this stress and allow you to enjoy yourself.
Baked Goods that you can make with your kids
Cookies – This one is the most simple and quickest item that you can bake with your kids. I let my 6 year old portion out and make dough balls after we have mixed the batter and then I let my almost 4 year olds flatten them a little on the pan before baking.
Banana Bread – In addition to pouring in measured out ingredients my kids absolutely love to smash the bananas. It will keep them busy for a good ten minutes.
Fruit Pies – Instead of doing a regular solid top crust, roll out the top crust dough and let your children use mini cookie cutters to cut out shapes and let them arrange them on the top of the filling however they like. My boys love to use tiny animal cookie cutters or their Star Wars ones that imprint the face in the dough. We have had some very interesting pies in this house. If you want to make it more fun (and more tasty) let them sprinkle the rolled out dough with colored decorating sugar or sparkle decorating sugar and pat it into the dough before they cut out their shapes.
Bars, Squares and Brownies – These are the easiest. They pour all the ingredients in the mixer and then they take turns helping me scoop it out and level the mixture in the pan.

Dinner items that your children can help you with
Grilled Cheese/Quesadillas – You can use a cheese slicer and let them slice the cheese themselves or you can pre-slice it. You can assign them the job of assembling all the sandwiches/tortillas to go in the pan or on the griddle. When it is ready to flip let them assist you in turning it over.
Side Salad – Tomatoes, cucumbers, and bell peppers are things that you can cut with a plastic knife and are therefore safe for children to chop themselves without the danger of being cut. If they get to cut it I promise that they will eat it. I like to lay out some additional toppings options like cheese, croutons and nuts and let them throw in whatever sounds good that day.
Pizza – We make our pizza crust from scratch at home so the kids first get to put all the ingredients in the mixer. Once the crusts are ready for sauce and toppings we give each child a tray with the proper amount of sauce, cheese and their favorite toppings and let them assemble it how they like. If you don't have time to make your own crust, pita bread is an excellent tasting alternative that is the perfect size for a personal pizza and as a bonus it contains protein.
Lasagna – Kids love to layer stuff and sprinkle ingredients. Let your sauce and meat cool beforehand and your kids will love to help you put in all the layers.
Children naturally want to be both useful and helpful. Allowing them to help you in the kitchen will not only make them eat more (and a wider variety of foods), but will bring them so much joy, forming some wonderful and lasting memories for all involved.
THIS CONTEST HAS ENDED