Day trips with kids can be super fun if you plan ahead and pack correctly. Read our tips for a fun day that's just a short trip from home. Sponsored by our friends at Larktale.
COUPON CODE ALERT! Use the code TWINS20 to get 20% off any purchase on the Larktale site. Click here to buy!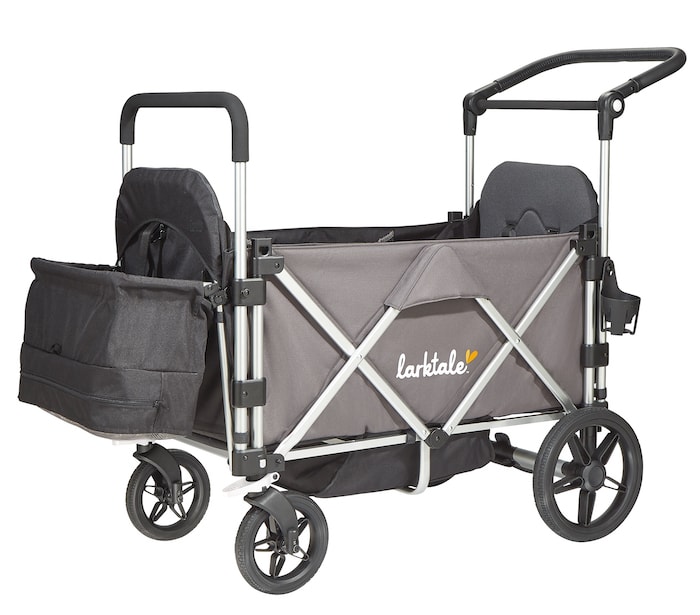 We love the Larktale Caravan stroller/wagon for family day trips with kids! It's got plenty of room for your twins, it's easy to push and pull, and it keeps your kiddos safe while still being able to enjoy the view.
Designed for growing kids with places to go, the Larktale Caravan has interior seating roomy enough for two passengers, making it perfect for twins. The easy maneuverability puts even more activities in play such as sporting events, outdoor festivals, camping, and the beach. And when your twins are tuckered out, only the caravan™ offers unique patent-pending reclining seats. You can also flip one seat forward into a flat base position to haul even more essentials on your outing or let your little ones stretch their legs.
Your little Larktale riders can weather it all with the included multi-purpose sun canopies for the Larktale Caravan stroller/wagon. This set of two sun canopies attach to protect each seat individually with a UPF50+ rating. Each sun canopy set features built-in protective rain and bug covers that extend over the entire caravan™ but cleverly stow away when not in use. But wait — there's more!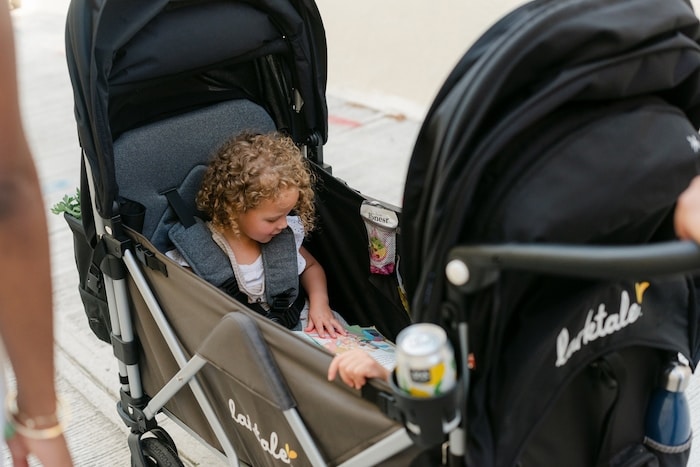 Larktale Caravan features
Suitable for children 6 months and up (50 lbs per seat)
Comfortable padded seats individually recline for each passenger's preference and comfort
Adjustable 5-point safety harnesses with comfortable shoulder pads on both seats
Drop-down footwell allows children a more natural seating position while the easy-clean footwell zipper quickly releases dirt and debris from the footwell area
Convenient flip-down seat provides a supportive flat base inside the stroller/wagon, perfect for hauling cargo or provide a comfy flat seating position for your little one to stretch out.
Folds in seconds using just one hand, belt lock to keep caravan folded during transportation or storage
Adjustable handlebar with leatherette details suits users of all heights
Accessible front pull bar so the stroller/wagon to be pushed or pulled with ease
Large puncture-proof all-terrain tires with lockable swivel front wheels
Front-wheel suspension system soaks up road bumps
Large storage basket with a separate vented zippered compartment holds all your outdoor essentials. Folds away when not in use.
Rear storage organizer with zippered pockets for personal items
Interior pocket organizer keeps passengers' toys, books, drinks and more, close at hand
Flip-flop friendly brake
Cup holder included
Sold Separately: Sun-canopy set with built-in rain and bug covers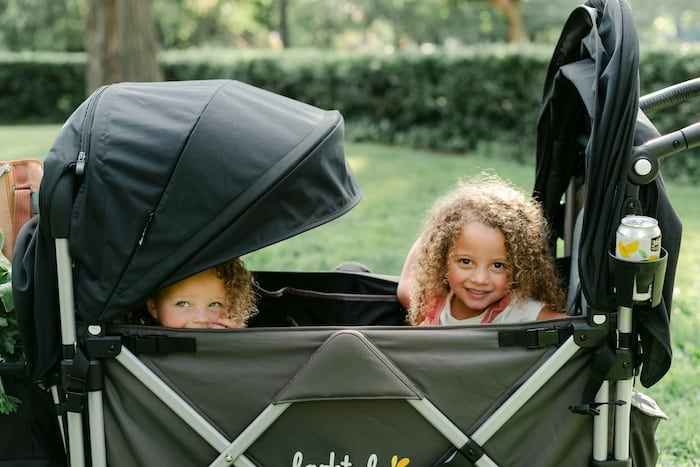 Day Trips with Kids
Some of my best memories of childhood revolved around family vacations. I appreciate my parents' (pre-internet) planning even more now that I have my own family and a growing bucket list of places to show them; most locations are based off places my husband and I visited with our parents. But sometimes budget, time, or kids' age can squash the dream of hiking the Grand Canyon or a week at Disney World.
But who says you have to travel far from home to have a blast? Day trips are a great way to take a break from reality, explore some new sites, and feel like you got out of town without having to spend much money. The glorious part about taking day trips is the ability to head home whenever you want and not waste money on canceled plans or spend time in an airport waiting to get home. Because you stuck close to home, you have all the power!
Worried about a road trip? Read this… 3 Hacks to Survive Road Trips with Twins
Do your research for day trips with kids
Use the internet and social media to get ideas. Maybe a friend posted pictures of a recent trip that they'd recommend, or a co-worker who has lived in the area for a long time knows all the nearby must-sees. If you're lucky to live in the same area you grew up in, you can draw ideas from your childhood. As a kid, we made a day trip of finding the historical marker signs on the side of highways and interstates in our area (in Kansas, they're brown.) Inspiration can come from anywhere. Figure out how far you're willing to travel and narrow it down from there.
Make car rides easier with baby twins with this… 10 Must Have Items for Infants When Traveling In A Car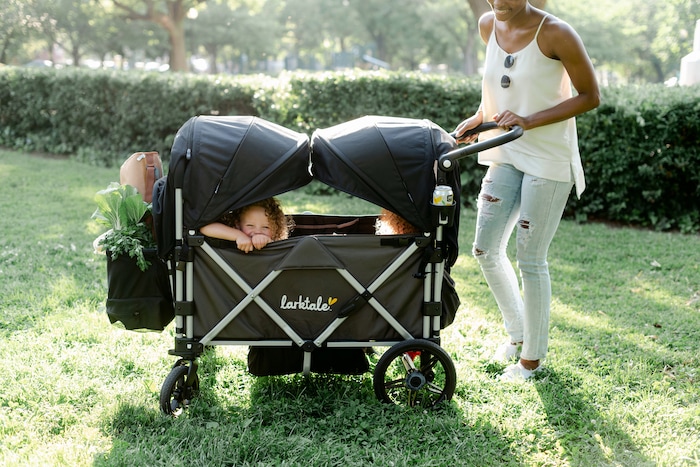 Prepare the kids for the adventure
Once our trip is roughly planned, I make it a point to show our kids pictures of where we're going and what we'll be doing. This includes them in the process and gives them something to look forward to. I also show them the route we're taking and tell them how long it'll take us to get there: we'll be able to listen to 15 songs or you'll be able to take a nap in the car and then we'll be there. This hopefully cuts down on the 'are we there yet?' questions that every kid is in the habit of asking and makes day trips with kids a lot less stressful.
Stock up before you hit the road! Read this… 11 Must-Have Supplies for Road Trips With Twins
Balance out the plan for your day trips with kids
It's impossible to please everyone 100% of the time; our parent powers just aren't that good. The trick to a successful family trip that's appealing to adults and children alike is balance. Spending five hours in a kid's museum or zoo isn't an outrageous idea, but maybe have lunch at a place that serves something besides Happy Meals. Vice versa, if we're spending a good chunk of time in a museum where very little is geared towards kids, I'll ask around for a cool park or nature center that will allow the kids to get some energy out. Any trip is a give-and-take situation but with a day trip with kids, you don't want to spend precious time arguing or being miserable.
Need more tips for a road trip with twins? Read this… Taking A Road Trip With Your Twins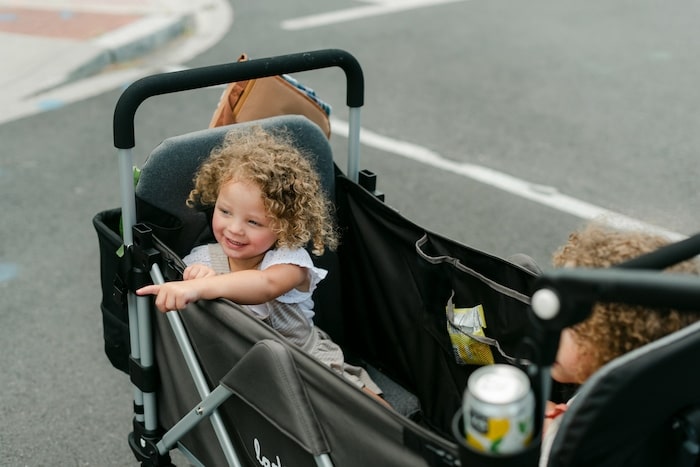 Add in fun activities to keep the kids interested
While most locations take pint-sized visitors into consideration when constructing their sites, nothing is guaranteed that it'll be perfect for your little ones. If you're concerned you'll hear "I'm bored" during your day trips with kids, take some time before your trip to have kid-friendly activities or games that'll interest your children. On our last family trip, we gave our 7-year-old twins an old digital camera and let them take pictures. It gave them pride in their creativity and it was very interesting for us adults to see it all over again from their vantage point. I've seen parents whip out scavenger hunt pages for their kids to use while touring a zoo (find a printable one here). Even handing the kids a map of the grounds and letting them pick which direction you go is exciting for kids. Use whatever you think would work best for your kiddos.
Wondering how to manage your baby twins away from home? You'll want to check out this article… Hit the Road with Travel-friendly Baby Gear
What to pack for day trips with kids
Make sure to pack these must have items on your day trips with kids:
your photo ID
extra cash
face masks
hand sanitizer and sanitizing wipes (at least 70% alcohol)
pain relief meds (for kids and adults)
Benadryl Kids, just in case someone has an allergic reaction
Insulated water bottles
Car snacks
Trunk snacks — this is your stash for using in the wagon and for the return trip home
Bonus clothes for kids and parents
Gallon Ziploc bags, in case there's any poopy diapers or accidents (to contain the smell)
Blankets to encourage a nap on the ride home (make sure this goes over the car seat harness — learn more car seat tips here)
A variety of books and toys to keep them busy in the car and in the wagon. Let the kids pick out their favorites to make sure they'll stay interested. Here's some ideas for car toys!
Scavenger hunt pages! For the beach, zoo, and a reading one for your older kiddo. If they're still on the hunt when they get home, here's an indoor scavenger hunt.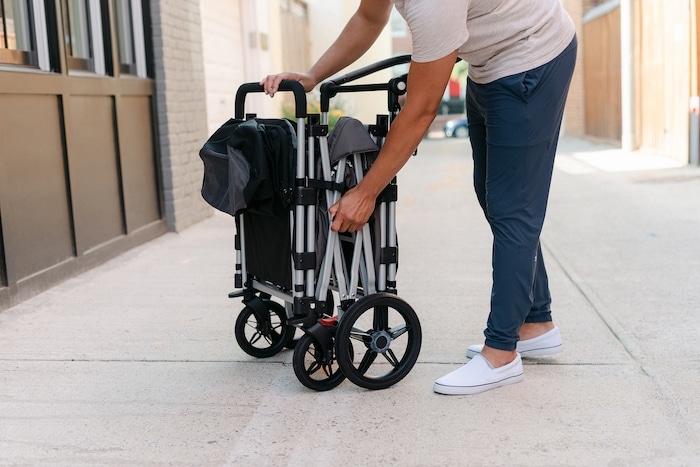 Whether the trip goes perfectly or has a few bumps, there are bound to be a few funny stories and endless memories made. I couldn't even type this article without grinning at our own family antics: from our 5-year-old son being 'horrified' during a flight simulation to my own mother getting the attention of the Governor of Kansas in a very embarrassing way. Good or bad, it's an experience — so soak it all in!
Written with Leah Bryant