If you're anything like I was after having twins, you didn't travel much in the early months. My girls were 8 weeks early, and born in November, the start of cold and flu season. We didn't make it past the front door till spring!
Before having our girls though, my husband and I enjoyed a very exciting life of travel. We drove cross country over a dozen times, and were 'that couple' that would make out of state visits. Spring break with family in Florida? Road trip! Weekend in Connecticut? We showed up. Concerts, dinner in the city — you name it, we jumped at it.
As you can imagine, being homebound for several months was a tremendous adjustment for us. Once the snow started melting, I wondered what adventuring would be like with our new family. In the spring after the twins arrival, we got our feet wet with a weekend trip to Connecticut, and that summer we spent a week in New Hampshire. What I realized though, was whether we were going away for a weekend or a week, we packed the same way. And in both cases, it was way too much stuff! I quickly went on the hunt for travel-friendly baby gear.
These were some of our essentials.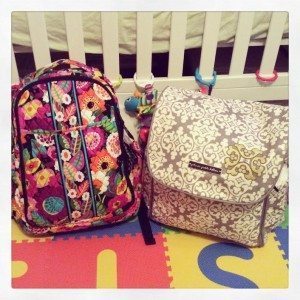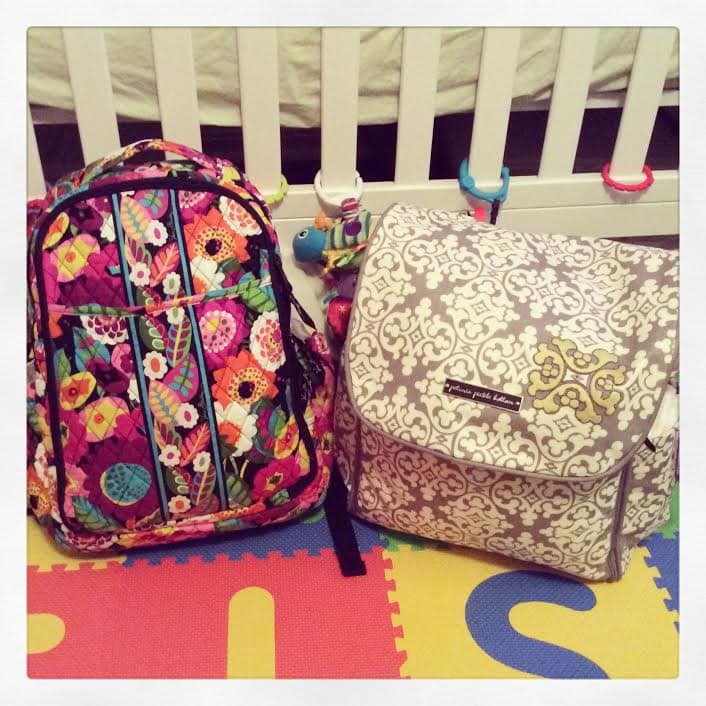 Backpack style diaper bag – This was a must for us. Our hands were full and having our baby items securely on our backs and not dangling from a shoulder, freed up our hands to manage the girls, especially if we wanted to take an impromptu walk or hike.
Pack n Play – this essential travel crib doubles as a secure play area when converted to a play yard. We have a hand me downs-one of the Pack and Play which includes a lock-in changing station. That's a bonus.
MAM pacifiers with the large opening around the mouth to prevent drool rash, and the sanitizing travel case. If there is a microwave wherever you're going, you can sanitize those pacifiers right in the travel case. This tucks nicely in the diaper bag.
Boogin Head pacifier clip – No more playing "where's the pacifier?" in the packed out car! Perfect for keeping the pacifier off the floor at the airport, rest stops….pretty much anywhere!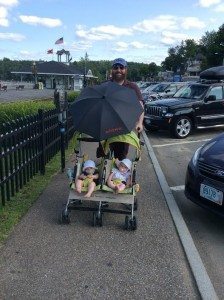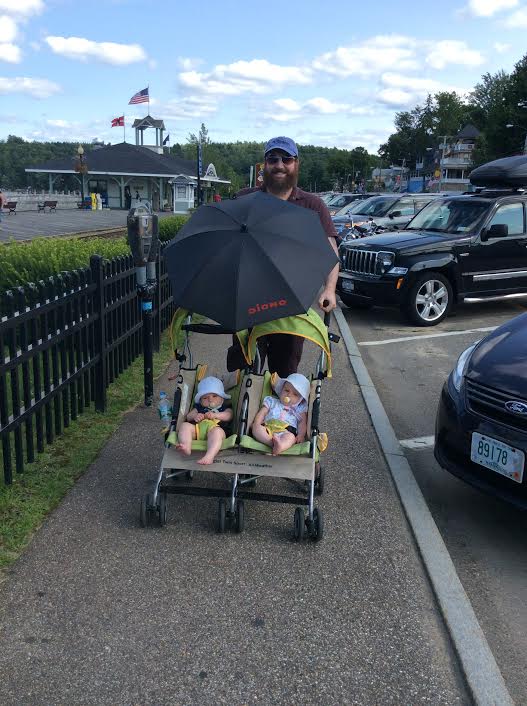 Double Umbrella Stroller – We have the Jeep Wrangler Double Umbrella Stroller. It was actually a hand me down. I've read reviews on this stroller, and it gets slammed for its lack of features. I guess you need to consider what you're using the stroller for. This model lacks under the stroller storage, so if you are venturing far from your car or vacation quarters, and don't want to wear your diaper bag on your back, then you may need a place to stash your baby items. We found that the compact design and simple versatility of the Jeep stroller outweighed our need for bells and whistles. We were fine carrying our diaper bag or retrieving items from our car or room. This is a quick, easy set-up-and-get-around kind of stroller.
Ciao Baby Portable High Chairs – These are great for restaurants, rest stops, and campgrounds. They collapse like camping chairs and slide into a carry sleeve with a shoulder strap. The wipeable vinyl tray with a built in cup holder is easy to clean.
Boogin Head Sippigrip (sippy cup straps) – We love anything that keeps things that go in our mouth off of the floor. You can use these sippy cup straps around toys and teethers too and securely velcro them to highchairs and seats.
Boon Collapsible Bath Tub – We bathed both of our girls in this until they were about 16 months old. My favorite thing about this bathtub is it's collapsible design, and hidden hanging hook for convenient drying and storage. This could hang neatly from a door hook or be tucked away in a closet or under a piece of furniture.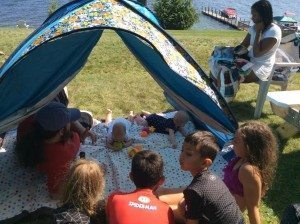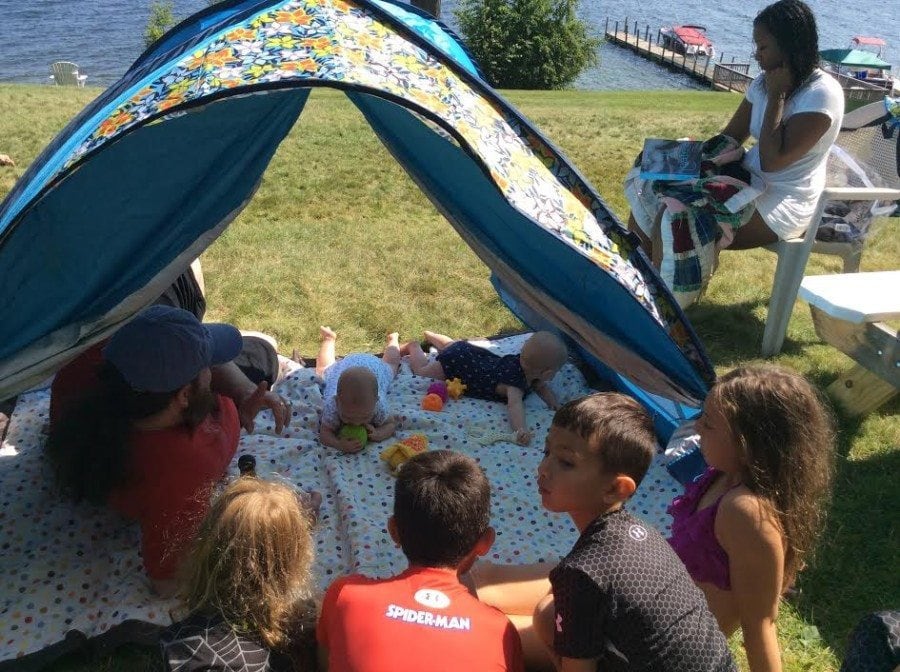 One Step Ahead Sun Smarties Family Beach Cabana Tent – This pop up tent was so fun to set up. You unzip the circular backpack-style carry case, and it practically comes to life, unfolding on its own into a tent shape. The bottom of the tent is open, so you may want to consider a model with a floor, depending on what you use it for. This paired perfectly for us with the Tuffo Outdoor Blanket.
Travel containers with pre-packed meals. We used bowls with three divided areas and packed them ahead with powdered cereal, fruit, and baby food. These were easy to pull out and use when we were on our way to way we were going, or if we day tripped once we arrived at our destination.
Tuffo Outdoor Blanket – This water resistent, nylon backed, quilt-like blanket, added the right amount of cushion on the lawn for our girls and worked so well in the One Step Ahead Sun Smarties Family Beach Cabana Tent. It comes with its own handled carrying case and can be stuffed into the nooks and crannies of the car, or packed flat in a suitcase.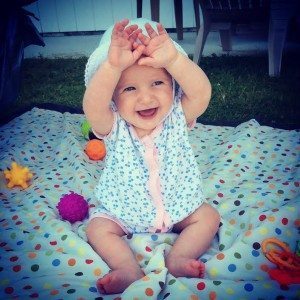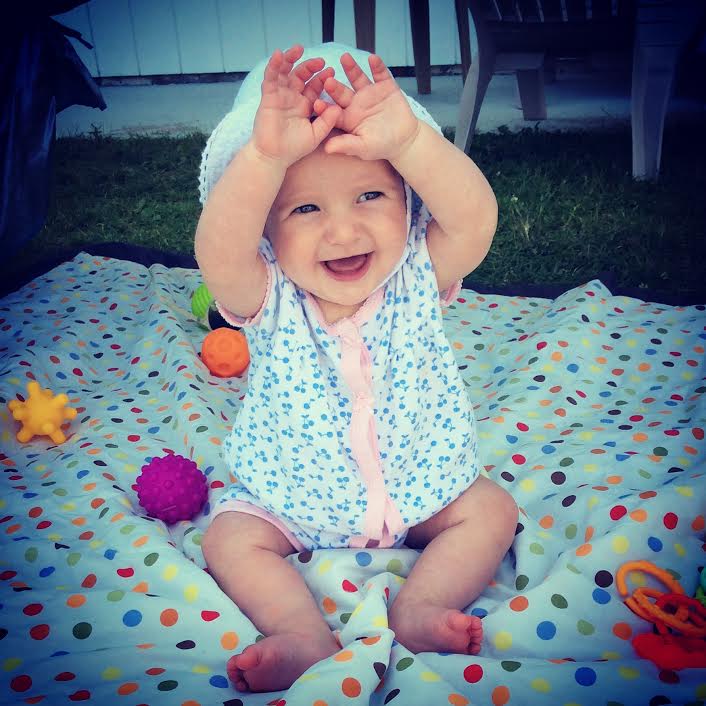 EZPZ Fun Less Mess Happy Mat – There is also a EZPZ bowl now too! The EZPZ products are favorites in our household, and come with us when we travel too! They are made of food grade silicone, are dishwasher and microwave safe, and suction to any flat, smooth, clean surface. The Happy Mat works well now that our twins are older and want to join everyone at the table during family gatherings. Sometimes we stick them to our Ciao Baby high chairs to keep the bigger finger foods from rolling around too.
Baby Carriers! I loved the Ergo baby carrier for its easy on and off design and the comfort and support around my lower back, and my husband liked the Moby wrap. The Moby wrap packed very easily and took up less space, but sometimes required too much time and space to wrap properly when our girls were on the move.
Fisher-Price Learning Table – Or any compact activity center. This was great for us because all four legs could be removed so our twins could play with this when they were sitting up in the early months, and then the legs could be added for standing babies. The removable legs also made it a great toy for the play yard and easy to pack. With an activity on each side of the activity center, both girls could be kept busy.
Diaper bag essentials for travel: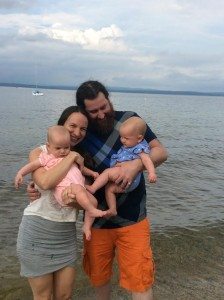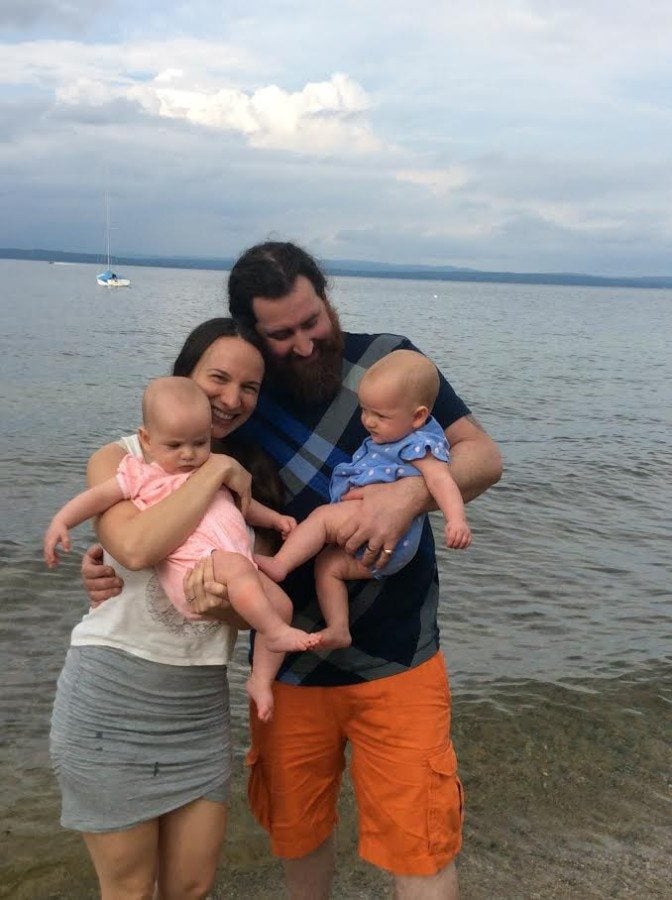 – Carabiners! These hiking accessories are great for clipping things onto a diaper bag or luggage. Imagine the rings that hold your babies' toys onto the handles of car seats and activity mats, except made of metal and for grownups.
-snacks
-bottles, sippy cups, drinks
-a ready-to-go stash of diapers, wipes, and ointment for quick changes (and a handy diaper caddy to keep it all together!)
-sunglasses/hats/mittens depending on the weather
-spare change of clothes for each baby
-toys/pacifiers
–receiving blankets – double as burp clothes
Car essentials for travel: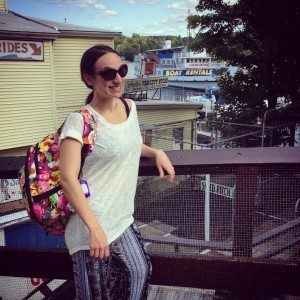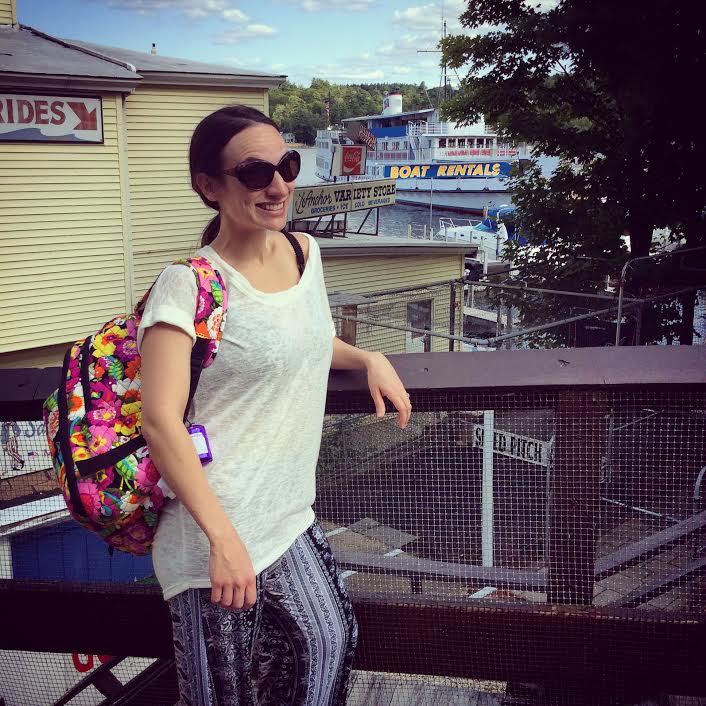 -gallon of water
–Sun visors for car and car baby view mirrors
-paper towels/plastic bags
-music/movies
Must-packs from home
When traveling away from home, it is also important to recreate a familiar, comforting experience for our little ones, so there are some items that we do not compromise on. If you are traveling by plane, it may not be possible to pack these types of items, but it could be worthwhile to send them ahead or purchase certain items for your trip when you arrive at your destination. This all depends on the necessity of the items, length of stay, and affordability.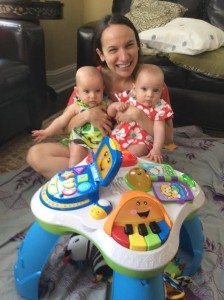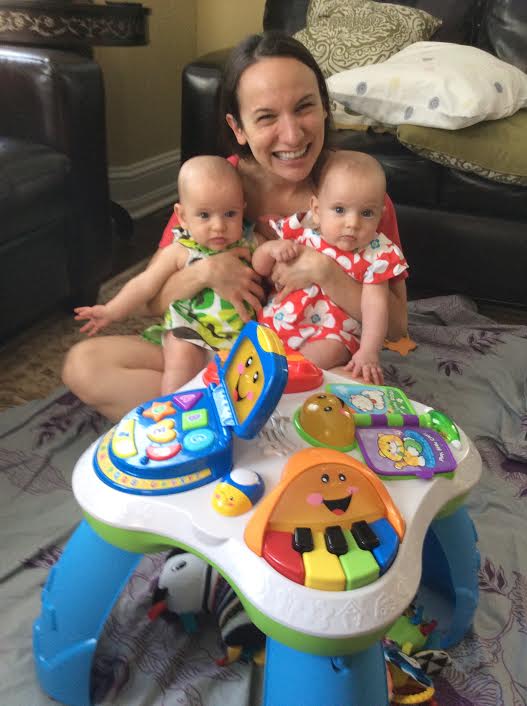 –Humidifier – our girls have always been sensitive to dryer air, and also take comfort in the white noise created by our cool mist humidifier
–thermometer, medicine, first aid kit
Consider nap, sleep, meal, and changing schedules when planning travel and activities. All babies are different. We found that breaking up a really long driving trip with an overnight at a hotel was better for us in the early months, and now that our girls are older, we can push our time in the car since we don't have to stop for diaper changes and feedings as frequently. If you do plan on making quick overnight stops, be sure to pack a smaller overnight bag, aside from your luggage so you can quickly grab exactly what you need for an overnight without having to unpack and repack again. And above all, breathe deeply, and try to enjoy the travel experience with twins!
Related Articles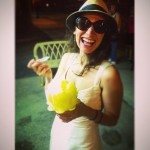 Juliette Mason is a WAHM from Long Island New York, and mother to identical toddler twin girls, Ginger and Hazel. She runs a small accessories business on Etsy, and owns a tattoo shop with her husband. Juliette has an undergraduate degree from Fordham University, and a masters in art education. Mason was a private piano teacher for 15 years, and is a licensed Zumba™ instructor. She enjoyed years of cross country traveling with her husband, and looks forward to making new memories on the road with her girls. You can read more about her bohemian lifestyle with twins, art, music, and reviews at Jujulemon.com.