Last updated on September 21st, 2023 at 05:29 pm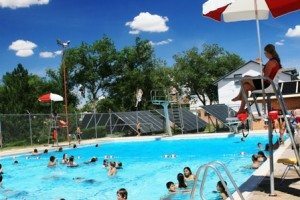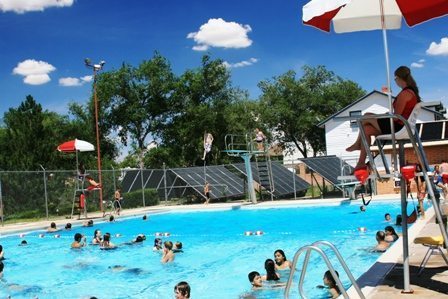 Living in Florida there is no way around it. You either sink or swim. So, once summer arrived and my twins were old enough to sit up by themselves, I knew it was time to teach them how to swim. Anxious to dive right in, I figured it'd be a cinch since this was my second time teaching swim lessons. While my eldest son grew up swimming like a pro right from the start, little did I know that this was wishful thinking, with more than one toddler. So this summer before you take a dip with your twins, here are a few tips that'll have them swimming like one fish, two fish in no time!
Have no fear!
Show them that mommy & daddy are here! At first, treading through unfamiliar waters can be very scary to beginning swimmers. Get organized and have plenty of help on hand to help you make it through managing two or more in the water. "Have a 1:1 ratio adults to kids," said Melissa Pietrosanti, of Los Angeles, CA. "(And) if you want any actual time to relax, increase that to 1.5 adults to a kid. (And) always know who is on duty."
Always having someone on duty will not only help you, as the parent, but it may prevent any unforeseen accidents from happening. Enforce the rules of the pool with your little tykes by teaching them to wear life jackets, (that allow them to swim freely), at all times, while encouraging them to get comfortable in the water. "I always put mine in life jackets and put them in floaters, tie those together, and keep them right next to me," said Carol Marie, of Concord, NH. "I can (manage) the two of them alone that way, but always have a second adult if I bring my younger son too."
Test the Waters
Whether you choose to teach your twins on your own or through swimming lessons, never be afraid to test the waters a bit. Start with small steps. Allow your multiples to get acquainted with the water the best way they know how through kicking, splashing and just by having fun. Krissi McCarthy Williams, of Orlando, FL, recommends putting them in swimming lessons. "Infant Swimming Resource (ISR) is the best!" she said. "My 17-month- old is swimming completely, independently and loves it!" (See Videos: Swim Lessons & Swimming underwater.)
In addition to teaching your twins the basics of swimming, encourage them to take along toys that'll keep them occupied and really make a splash. "I go to the Y all the time, alone with the boys," said Sarah Goodwin, of Petal, MS. "Bring a couple floating toys for them to 'chase.' If there is a therapy pool use that, it'll be warmer. And if you go during a water aerobics class, you may instantly gain a bunch of grandmas, who will help keep them entertained. Have fun!"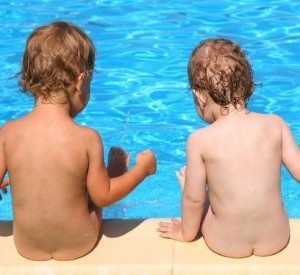 Going Under
Once your twins begin to see how much fun swimming can be, the easier it will be to teach them not to be afraid of going underwater. From an early age, it is essential to teach your multiples how to hold their breath, should they ever, unexpectedly, take the plunge. While there are many techniques to teaching this method, one of the best that worked for me was counting to three, and dunking them under for just a few seconds.
Whether you are teaching your twins to swim for the first time this summer, or just making sure they have a refresher course, remember to be patient. Don't expect them to 'get it' on the first try. Remember that practice makes perfect. Make swimming a regular activity and/or outing all throughout the summer; don't forget the sunscreen; and you may be very surprised with the end results.
Before you go out read these Twiniversity articles to help you have a safe summer:
Sun Protection For The Whole Family