If you and your kids are stuck inside, we've got an incredible list of free kids educational sites, apps, podcasts, YouTube channels, and free virtual field trips that will make the time just fly by. Try out something new every day to keep things interesting for your kiddos when you're homebound. This list was created on March 17, 2020 and updated on March 20.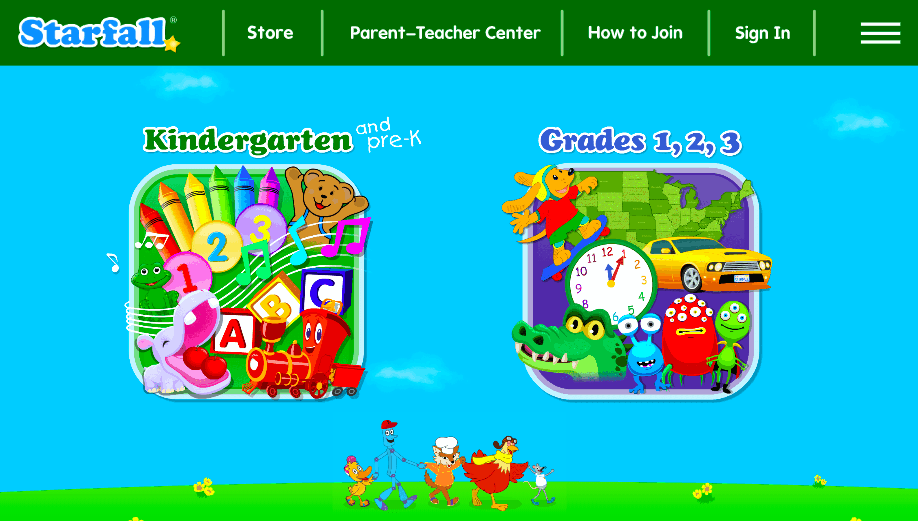 Free Kids Educational Sites
Freckle.com – For grades K-2, students practice early reading and math skills at their own pace with audio-guided lessons and big, colorful buttons.
Starfall.com – Starfall.com® opened in September 2002 as a free public service to teach children to read. Since then it has expanded to include language arts and mathematics for preschool – third grade. Starfall's emphasis on phonemic awareness, systematic sequential phonics, and common sight words in conjunction with audiovisual interactivity has proven effective in teaching emergent readers. Starfall activities are research-based and align with Individual and Common Core State Standards in English language arts and mathematics.
Mysteryscience.com – a starter set of science lessons
Readworks.org – FREE content, curriculum, and tools to power teaching and learning from Kindergarten to 12th Grade
STMath.com – a PreK-8 visual instructional program that leverages the brain's innate spatial-temporal reasoning ability to solve mathematical problems. ST Math's unique, patented approach provides students with equitable access to learning through challenging puzzles, non-routine problem solving, and informative feedback.
KhanAcademy.org and Khan Academy Kids (ages 2-7) – their personalized learning path dynamically adapts, ensuring each child is presented with activities, books, educational videos, and creative lessons that allow them to learn at their own pace, creating an individualized experience for every learner.
GoNoodle.com for physical activity and mindfulness videos
Abcya.com – ABCya provides over 400 fun and educational games for grades PreK through 6. Their activities are designed by parents and educators, who understand that children learn better if they are having fun.
Xtramath.org – a math fact fluency program that helps kids learn addition, subtraction, multiplication and division facts
Zearn.org – A set of foundational learning principles guides the design of Zearn Math. Combined, they create a math learning and teaching experience where all kids can love learning math.
Scholastic Learn at Home – Day-by-day projects to keep kids reading, thinking, and growing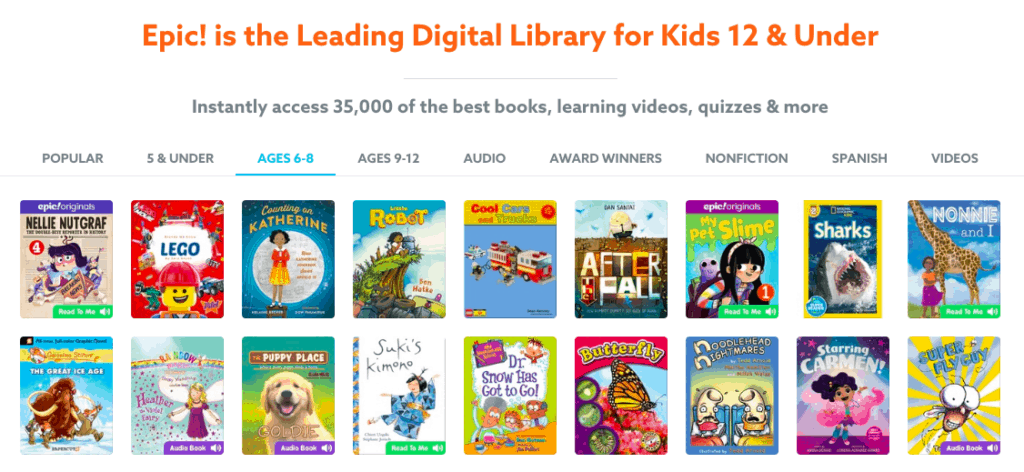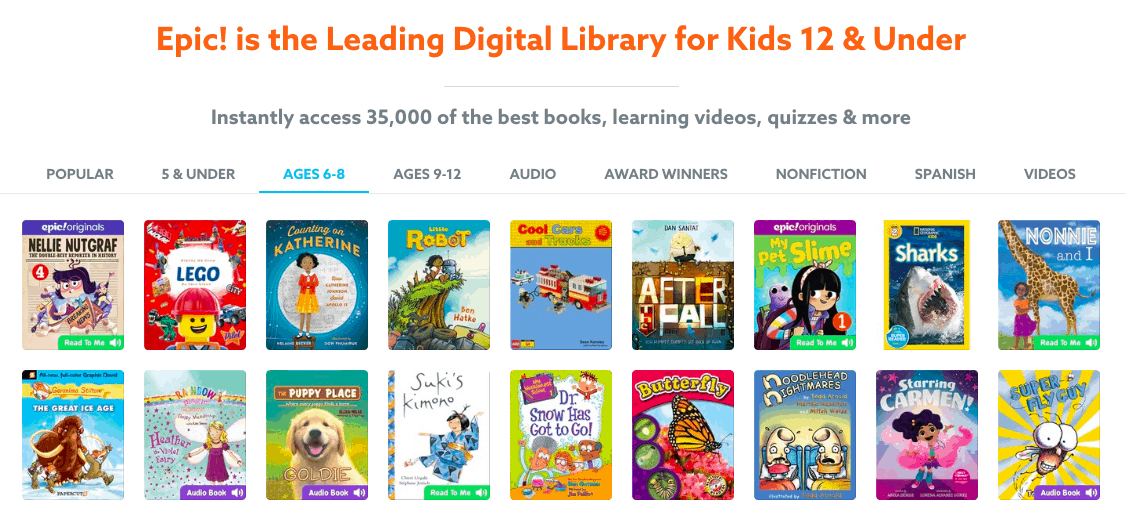 Free Kids Educational Apps
RazKids Kids A-Z app – eBooks with EQuizzes
Prodigy – a super fun math game for 1st-8th grade
Seesaw – Students explore a variety of powerful and intuitive tools (like draw+record, collage, video, and more) to show what they know in the way that works best for them
Epic – free digital library for ages 12 and under (ask your child's teacher for their remote student access code)
Vooks – animated storybooks for ages 2-8
Book Creator – create your own digital book
Ten Frames – Ten Frames are the perfect math manipulatives for early elementary classrooms. In this app they've built an interactive ten frame so that your students can develop their number sense while on the iPad. This app includes addition and subtraction questions up to 20 with over 100 bonus words to help develop vocabulary. Fun optional games at the end of every level provide a fun 60-second surprise for your little ones! This is ideal for Kindergarten, First Grade and Second Grade.
Monster Math – For 1st-3rd grades. Go on a wonderful math-filled adventure and learn common core math standards with Maxx, the mighty monster in Monster Math! Have your child be the best in their grade and practice addition, subtraction, multiplication or division with this fun free math game. Help Maxx save his friend Dextra, explore new worlds, battle enemies and find allies!
Scratch Jr. – young children (ages 5-7) learn important new skills as they program their own interactive stories and games
Starfall – reading, language arts, and mathematics for preschool through third grade
Let's Read – a fun, easy way to record video & audio narrations for the kids in your family. Then it synchronizes your recordings with the illustrations from their award-winning collection of picture books.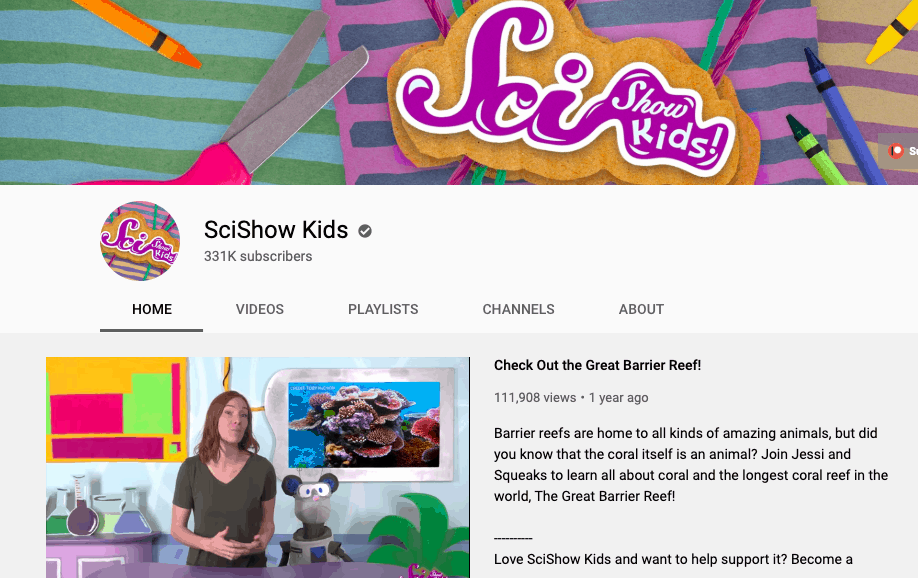 Free Kids Educational YouTube Channels
Kids Learning Tube – educates kids through music and animation in a fun and unique approach to learning.
Free School – FreeSchool is a safe and friendly place to expose children to famous art, classical music, children's literature, and natural science in an age-appropriate and kid-accessible way.
Homeschool Pop – fun, exciting learning videos for elementary students
StoryBots – The StoryBots library includes educational TV series, books, videos, music, games and classroom activities designed to make foundational learning fun and encourage intellectual curiosity in children ages 3-to-8.
Khan Academy – Khan Academy is a nonprofit organization with the mission of providing a free, world-class education for anyone, anywhere. Their interactive practice problems, articles, and videos help students succeed in math, biology, chemistry, physics, history, economics, finance, grammar, and many other topics.
Smithsonian Channel – awe-inspiring stories, powerful documentaries and amazing entertainment
The Brain Scoop – starring Emily, Chief Curiosity Correspondent for the Field Museum in Chicago, who created The Brain Scoop to share the work and research of natural history museums with the world
Word World PBS – the first preschool series where words are truly the stars of the show
TED-Ed – Within TED-Ed's growing library of TED-Ed animations, you will find carefully curated educational videos, many of which represent collaborations between talented educators and animators nominated through the TED-Ed website (ed.ted.com).
Sci Show Kids – SciShow Kids explores all those curious topics that make us ask "why?"
National Geographic Kids – Nat Geo Kids makes it fun to explore your world with weird, wild, and wacky videos! Videos featuring awesome animals, cool science, funny pets, and more, are made just for curious kids like you.
Peekaboo Kidz – Peekaboo is a cheerful destination with colourful animation for all the Happy Children of the world! Specially designed for kids as they explore the World of Kids Educational Videos, Classic English songs, Phonics Songs, Lullabies and more!
Storyline Online – Storyline Online streams imaginatively produced videos featuring celebrated actors including Viola Davis, Allison Janney, Chris Pine, Wanda Sykes, Justin Theroux, and Betty White reading children's books alongside creatively produced illustrations, helping to inspire a love of reading in children.
Story Time with Ms. Becky – Ms. Becky and Bear's Story Time is the best place for Storytime Reading with Thought. Their goal is to encourage children to think one book and one question at a time. Through Bear, Ms. Becky poses brief questions before and after to encourage careful reading of the story. For Example: Why did the character say or do something? How would you have acted? What will you do? Helping children identify with a character and think through actions and words has been shown to develop critical thinking skills—and a love for reading.
KidTimeStoryTime – they bring books to life with love, humor, and pep to make book-reading exciting for kids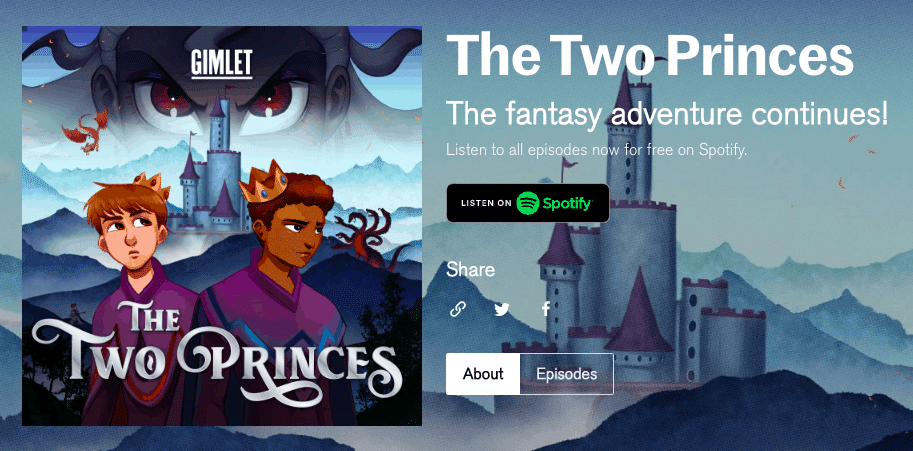 Free Kids Educational Podcasts
Brains On – Brains On! ® is a science podcast for curious kids and adults from American Public Media. Co-hosted each week by kid scientists and reporters from public radio, we ask questions ranging from the science behind sneezing to how to translate the purr of cats, and go wherever the answers take us.
Six Minutes – Eleven-year-old Holiday is pulled from the icy waters of Alaska with no memory of who she is or where she came from. Are her mom and dad really who they say they are? And when she begins to develop incredible abilities, she'll soon discover she's not alone in the world.
But Why: A Podcast for Curious Kids – But Why is a show led by you, kids! You ask the questions and they find the answers. It's a big interesting world out there. On But Why, they tackle topics large and small, about nature, words, even the end of the world.
Story Pirates – Story Pirates is a group of world-class actors, comedians, improvisers, and musicians who adapt stories written by kids into sketch comedy and musical theater.
Circle Round – Created and produced by parents of young children, WBUR's Circle Round adapts carefully-selected folktales from around the world into sound- and music-rich radio plays for kids ages 4 to 10. Each 10- to 20-minute episode explores important issues like kindness, persistence and generosity. And each episode ends with an activity that inspires a deeper conversation between children and grown-ups.
Smash Boom Best – Smash Boom Best is a debate show for kids and families from the makers of the award-winning podcast, Brains On! Every episode takes two cool things, smashes them together and lets you decide which is best. Cats versus Dogs. Pizza versus Tacos. Super Speed versus Super Strength. Who will be crowned the Smash Boom Best? Their debaters use facts and passion to make their case… teaching listeners how to defend their own opinions along the way.
Wow in the World – Hosts Mindy Thomas and Guy Raz guide curious kids and their grown-ups on a journey into the wonders of the world around them. We'll go inside our brains, out into space and deep into the coolest new stories in science and technology.
Eleanor Amplified – Buckle up! Your car is headed for… adventure! Eleanor Amplified is a radio adventure series for the whole family. Listen together as world-famous radio reporter Eleanor foils devious plots, outwits crafty villains, and goes after The Big Story. Eleanor's pursuit of truth takes her into orbit, out to sea, through a scary jungle and even to the halls of Congress!
The Two Princes – a scripted fantasy action-adventure podcast from Gimlet Media
Ear Snacks – Andrew & Polly and their friends consider music, science, art and culture in a fun-filled family-friendly podcast that parents enjoy and younger kids eat right up.
KidNuz – Five minutes of today's top stories, current events, politics, science, entertainment, sports and more — all nonpartisan and age-appropriate.
Story Spectacular – The children's story podcast for tamer car rides, relaxing bedtimes or for when you just need a break with a fun story.
Goodnight Stories for Rebel Girls – a fairy tale podcast about the extraordinary women who inspire us. The show is based on Good Night Stories for Rebel Girls, the global best-selling book series inspiring millions of girls and women around the world to dream bigger, aim higher, and fight harder.
The Alien Adventures of Finn Caspian – He can't sleep, he can't shake the feeling someone is following him, and he can't stop the monsters who show up to smash his cake. In other words, it's turning out to be more exciting than he expected. That's all in the first few episodes of this award-winning, serialized podcast for kids. Finn, his friends and their pet robots aboard the Famous Marlowe 280 Interplanetary Exploratory Space Station discover uncharted planets, help aliens in far-off galaxies, and take tips from listeners back on Earth as they try to solve the universe's great mysteries.
What If World – What If World is a storytelling podcast for kids. What if a tiny dragon lived in my closet? What if there were a never-ending bowl of ice cream? What if cats ruled the world? Join Abacus P Grumbler, Randall Radbot, and Whendiana Joan as they help Mr. Eric tell wacky stories inspired by your questions! Call to leave a voicemail at 205-605-WHAT and be featured on the show.
The Unexplainable Disappearance of Mars Patel is a scripted podcast for middle grade kids, performed by middle grade kids. It is a fun, high-quality, serial mystery that can be described as Goonies meets Spy Kids meets Stranger Things for 8-12 year olds.
Forever Ago – a history show for the whole family! Every episode explores the origin of just one thing — like sandwiches, video games, clocks and more — while teaching listeners to think critically about history.
Noodle Loaf – Noodle Loaf is an interactive music themed podcast for kids created by a music-ed specialist dad to help bring learning and laughter to your down time with singing, dancing and lots of play.
Audible Stories – OK, it's not a podcast, but it's something to listen to! For as long as schools are closed, kids everywhere can instantly stream an incredible collection of stories, including titles across six different languages, that will help them continue dreaming, learning, and just being kids. All stories are free to stream on your desktop, laptop, phone or tablet.
Alexa commands for kids
Ask your Alexa enabled device to do the following:
"Alexa, play choose your own adventure."
"Alexa, play the podcast [name of podcast]."
"Alexa, play Head's Up." – try your best to guess from superstars, celebrities, movies, fictional characters and more
"Alexa, play Would You Rather for Family."
"Alexa, ask Pikachu to talk."
"Alexa, play Beat the Intro." (it's like "Name that tune")
"Alexa, open Lemonade Stand." – run your very own lemonade stand and earn experience badges as you hit milestones
"Alexa, open Animal Workout." – This fun workout skill gets kids up and moving.
"Alexa, open Sesame Street." – Your Alexa-enabled device becomes a direct line to Elmo
"Alexa, open the Magic Door." – a magical choose your own adventure story with challenges. Best for ages 7 and up.
"Alexa, start SpongeBob Challenge." – this memory game tests your wits as you try to take meal orders at the Krusty Krab
"Alexa, start No Way That's True." – tests your kid's knowledge about wacky, wild and just plain weird facts and trivia.
"Alexa, open Story Blanks." – it's like Mad Libs for kids
"Alexa, play Headspace Bedtime Story." – guided meditations crafted especially for kids
"Alexa, open Good Vibes." – motivational and inspirational quotes from popular authors and books
"Alexa, open Amazon Storytime." – professionally-narrated stories for ages 5-12
"Alexa, start Kids Court." – solve a sibling or family argument with the help of Alexa
"Alexa, open Curiosity." – this skill gives users a choice between two topics, asking, "Are you curious about X or Y?" and gives a great overview of the topic in easy-to-understand language.
"Alexa, open the box of cats" – sometimes it's cats, sometimes it's something else…
"Alexa, tell me a knock-knock joke."
""Alexa, play Twenty Questions."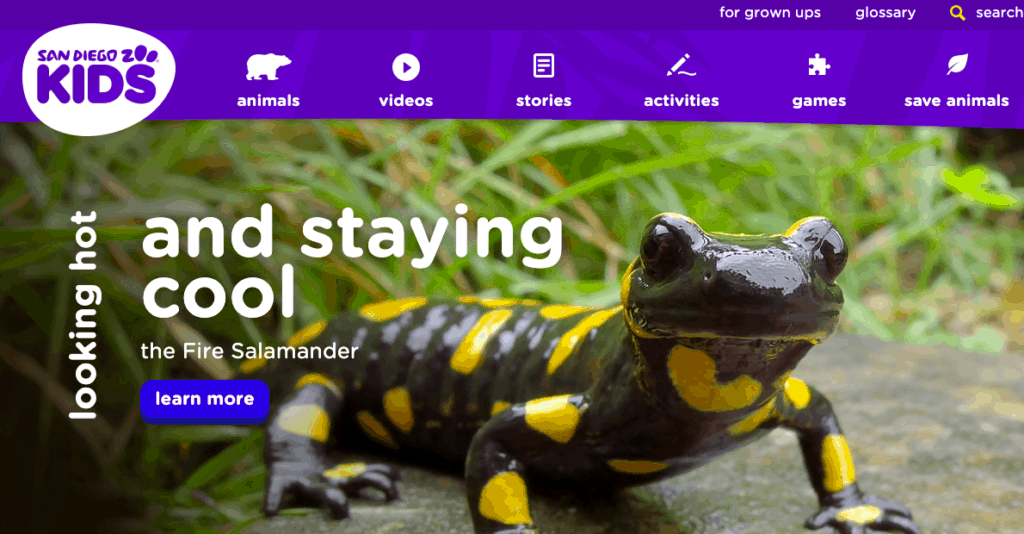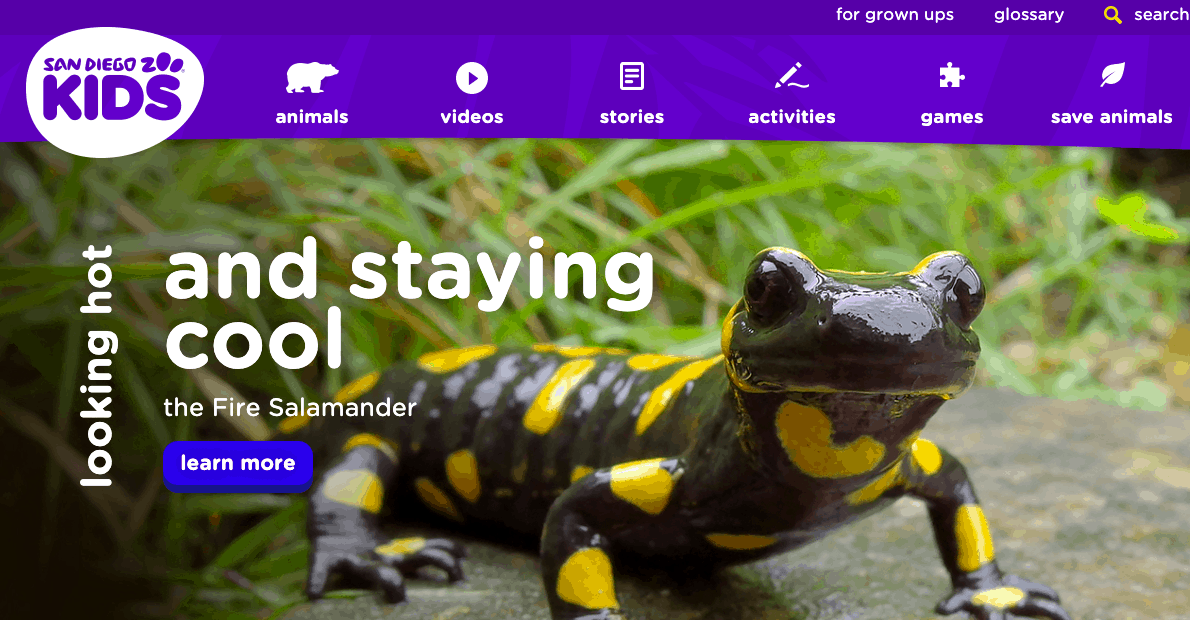 Free Virtual Field Trips
The San Diego Zoo has a website just for kids with amazing videos, activities, and games. Enjoy the tour!
Hidden Worlds of the National Parks – The exhibit allows you to take 360-degree tours of some of the most remote and beautiful U.S. National Parks. Instead of featuring much-documented vistas like Yosemite or the Grand Canyon, for example, the exhibit instead focuses on a selection of parks you may not have traveled to yet (or may never see), including the Kenai Fjords in Alaska, Hawaiian volcanoes, New Mexico's Carlsbad Caverns, Utah's Bryce Canyon, and Florida's Dry Tortugas.
Mud Volcano, Mammoth Hot Springs, and so much more. Tour Yellowstone National Park!
Explore the surface of Mars on the Curiosity Rover. They are updating from WEBVR to WEBXR now, but 360 Mode offers a digital view!
Monterey Bay Aquarium live cams
6 Animal Cams at Houston ZooGeorgia Aquarium has Jellyfish, Beluga Whales, and more
This Canadian site FarmFood 360 offers 11 Virtual Tours of farms from minks, pigs, and cows, to apples and eggs.
See the Saturn 5 Rocket on YouTube and more on this tour thanks to a real father/son outing.
Discovery Education field trip topics include: Polar Bears and the Tundra, Social Emotional Skills, STEM, manufacturing
Travel to Paris, France to see amazing works of art at The Louvre with this virtual field trip.
This Virtual Tour of the Great Wall of China is beautiful and makes history come to life.
Walk through the Boston Children's Museum thanks to Google Maps! This virtual tour allows kids to explore 3 floors of fun.
British Museum in London
National Gallery of Art Washington D.C. tour
Musee d'Orsay art gallery in Paris
National Museum of Modern and Contemporary Art in Seoul, South Korea
Pergamon Museum in Berlin, Germany. This historical museum is home to plenty of ancient artifacts including the Ishtar Gate of Babylon and, of course, the Pergamon Altar.
Uffizi Gallery in Florence, Italy (home to The Birth of Venus)
National Museum of Anthropology in Mexico City
To see more of Google Arts & Culture's collection of museums, visit the collection's website. There are thousands of museum Street Views on Google as well. Google Arts & Culture also has an online experience for exploring famous historic and cultural heritage sites.
Related Articles
Homeschooling Your Preschoolers
5 tips for surviving a homeschool day with toddler twins
Stuck at Home with the kids during the Coronavirus outbreak? How to keep them busy.