Getting Out the Door With Twins
There are a lot of articles on Twiniversity about going outside and doing fun activities with your twins. But we don't have much advice on how to literally get out the door when you have little twins.
This is a subject that often gives me anxiety, even a year after my twins were born! It's an ever-evolving procedure to get my two boys out of the house in the morning when I'm all by myself. As they grow and gain abilities, the routine has to change.
No matter what your situation is, whether you live in a 3-floor walk-up or a large single-family home in the suburbs or a farm out in the countryside — eventually you will have to leave the house with your little ones and do it all by yourself.
And it's not easy! It can be downright exhausting but hopefully, our tricks and tips can help make your grand exits a little easier. getting out the door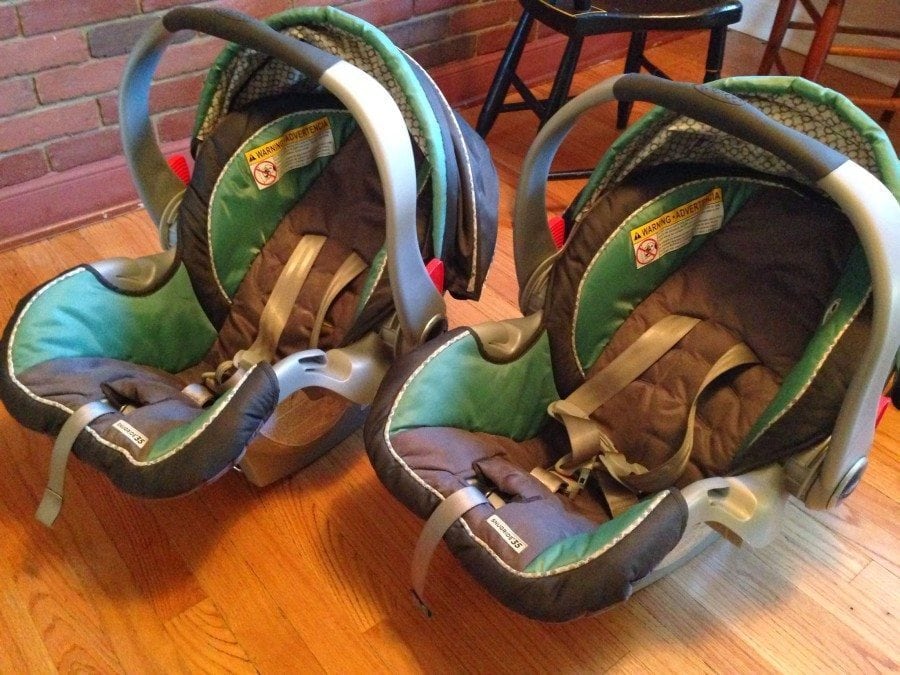 Infants in a house
When the babies are very little, infant car seat carriers are your friend! Load the babies up in the car seat carriers inside the house. getting out the door
For new parents, each car seat will come with one base which makes it super easy to just snap the car seat in and go. If you use two cars on a daily basis to transport the kids, you may want to invest in a second pair of bases — but they aren't totally necessary. With most infant car seats, you can just use the seat belt for installation (check your car seat manual to make sure you can do this.)
Make sure your babies are harnessed snugly into the carrier and place them just inside the front door. Run your bags out to the car, then come back to get the babies. Carry them out, and snap them in the bases. Exhausting? Yes. But relatively simple in this scenario. getting out the door
Infants in a walk-up apartment building
If you live in an apartment building without an elevator, this will add a layer of difficulty. There are a few things you can do, depending on the set-up of your building.
First, harness the babies snugly in their carriers and place them by the front door of your apartment. Grab your stroller, carry it down to the ground floor (while the babies are locked in your apartment), unfold it, and load it up with your bags.
The babies should be the last thing you bring out. If you have a number of flights to go down and you are nervous to leave your kids out of view, try carrying one carrier down a single flight, and then go back up to bring down the second carrier. Repeat until you get to the ground floor. It will take longer than just carrying one carrier all the way down, but if your building has a lot of foot traffic this might bring you peace of mind.
Walk the stroller to the car, unload everything into the car, and lift the stroller into the trunk. This is where a Snap N' Go Double stroller really comes in handy. It can hold two carriers but it's lightweight and small enough to fit in most car trunks. getting out the door
Older babies or toddlers in a house
When the babies are getting too heavy to carry around in carriers you may want to switch to convertible car seats. However, if your babies haven't met the height and weight limits of the seats, you can continue to use your infant seats — just keep the seats snapped into the bases, using them as you would a convertible car seat.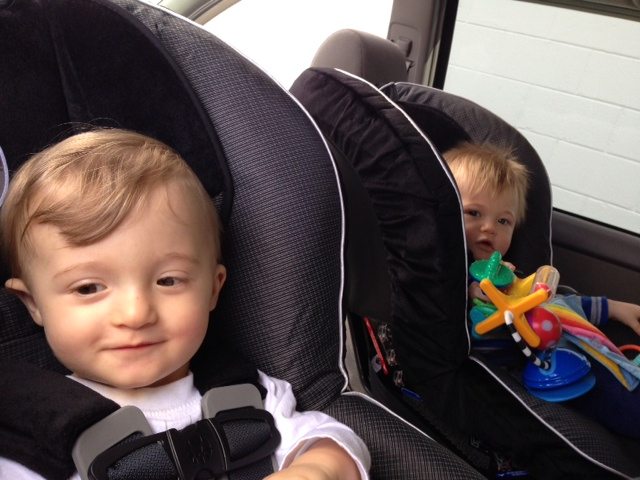 Once you are no longer using the infant seats to bring them to and from the car, this means you can't restrain the kids while you're preparing the car for their arrival. And once they can crawl and walk they often can't be trusted in a room by themselves for longer than a few minutes, even though you baby-proofed the whole house.
If your twins are particularly rowdy, I suggest you use separate cribs or pack n' plays for containment until you're ready to carry them out the door. Especially if you have pets, this is the best way to make sure they don't hurt themselves, their twin, or any of your pets while you are running out to start the car and load up your things. getting out the door
First, pack up the car with all of your bags, go back in for Baby A, carry her out, strap her into her seat, lock the car, go back in the house, grab Baby B, lock up the house, and strap in Baby B. Whew!
Keeping track of your keys at all times is essential. I'm constantly talking to myself about my keys: "Your keys are in your pocket." "Your keys are in the tray by the front door." These are the things I tell myself so I can hear them out loud and keep track of where my keys are! I must look crazy to a fly on the wall! But it works.
Also, be consistent. Keep a small dish or a wall hook by the front door where you always put your keys when you're in the house. When outside the house use the same pocket in your jacket or pants every time to make it easier on yourself. Consistency is key to keeping track of those keys! If all else fails, buy the Tile system to keep track of your keys, phone, remote controls, etc. getting out the door
And before you press "lock" on that car door, check first that you've got your keys on your body. The last thing you want to do is to lock a baby or two in the car!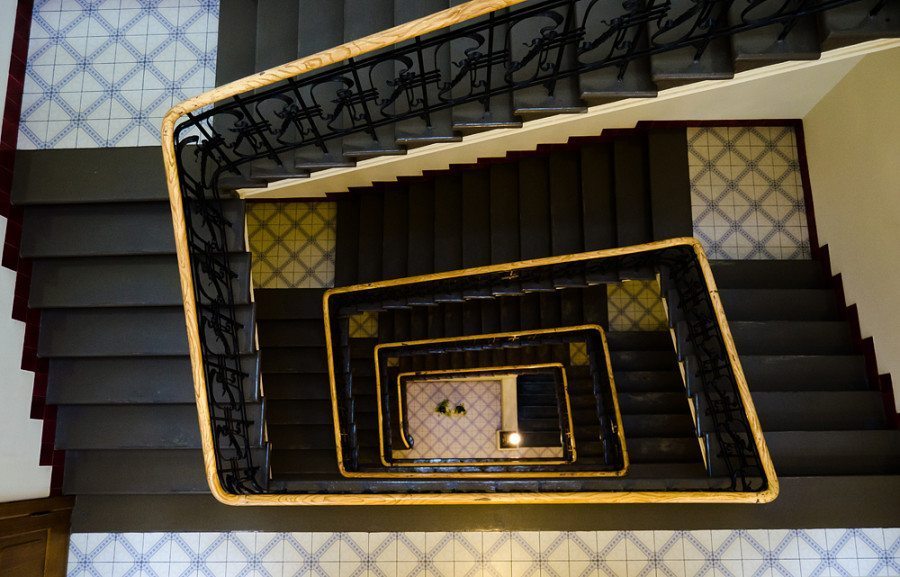 Older babies or toddlers in a walk-up apartment
If you're in an apartment building and your kids are in this stage it can be scary. They are too big for car seat carriers but not big enough to walk down the stairs themselves. The key here is getting everything ready in advance so you can make the transition to the lobby very quickly. getting out the door
One way to do it is to wear one child in a baby carrier and push the other in a lightweight single stroller, but getting down the stairs can be difficult in this situation.
Here's one way to do it. Bring the stroller and your bags down first, leaving the kids in their cribs all ready to go. Go back up and strap kid #1 in a carrier that hangs over your hip and then carry kid #2 on your other hip. Walk down the stairs (carefully!) and strap the kid you're carrying into the stroller. getting out the door
Another way, if you're nervous about carrying 2 kids down the stairs at once: Go back up and carry down kid #1 in your arms and strap them into the single stroller. Run back up and carry kid #2 downstairs, and once you get to kid #1 you can strap kid #2 in the baby carrier.
This method will leave kid #1 alone in the lobby for only 30-60 seconds. Once you roll out to the car, get kid #2 out of the baby carrier and in the car, and then transfer kid #1 from the stroller and pop the stroller in the trunk. getting out the door
Once your kids are both walking well, hold hands and walk them out to the car together. Place one child in the front passenger seat or in the space between the two car seats while you strap in the other child. That way they won't have to stand out in the street or on the sidewalk where you can't see or control them.
Here are more tips for getting out the door as quickly as possible:
We kept an extra diaper bag in the car (or by the door if it was cold out) and laid everything out the night before. – Tara H.
Plan ahead and have as much ready as possible beforehand. Start early. Leave early. The older they get, the more they can do for themselves (now they're almost 7, and help with giving food/water to our pets as I get their special needs brother ready). It's just a process. Find your groove and go. – Joella R.
Mine are 3 my daughter dresses herself while my son still needs help. They get their shoes on and I help my son. We keep coats in the car so we just have to get in seats. I buckle them in. If we have to leave early we pick out clothes the night before… I make sure I have everything packed early… And I got used to the fact that there is a good chance I will forget something. – Jenny R. getting out the door
Getting it ready the night before really helps! Reverse psychology/games work for my kids, too, in multiple areas! If I say, "Don't you dare put those shoes on!" Guess what?? LOL! – Beth E.
Just keep going, no matter what crisis occurs, press on and we will get out the door. 6-month-old twins… I'm basically a hermit, LOL! – Brianna H.
Preplanning, praise & bribery if I have to!! My g/g twins are almost 6 .. Gets easier! – Andrea L. getting out the door
Tell them you need to leave now a good 40 mins before you really do because they always pick that time to tantrum/poop, etc. – Sarah-Louise B.
We prep everything hours in advance. I get them dressed and ready. There are 4 kids total. When I'm ready to walk out the door, I start shouting our "who is ready" song (made up by me.) The kids will run to the door singing "I'm ready, I'm ready" then we are on our way. I guess the key is routine and making it fun! – Candice G.
Toddlers, 19 months: diaper bag is always at least halfway ready to go the night before. In the morning, when they are still sleeping, I pack the rest of the bag making sure there's enough diapers, wipes, etc., pack snacks, sippy cups and pull clothes. Once awake we get dressed then I carry one and hold the hand of another. Same thing if we leave in the afternoon — I do everything when they are napping. – Stephanie D. getting out the door
I have everything ready to go, pre-packed. I keep a bag in the car with diapers, wipes spare clothes, a towel, tissues, etc. I have a cinch sac bag prepped for whatever activity that season is the focus. Right now we go to the YMCA to swim, so a towel, bathing suit, swim diaper etc. is all in the cinch sac. I found cubbies with hooks at a thrift shop so every child ( I have 4, ages 1.5-4.5) has their own hook and spot for shoes/socks and their cinch sac and backpacks. Everything in one spot, organized and pre-packed/ready to go. It saves me literally hours in a week. – Amy R.
The infant stage was easiest for me. Everything by the door, buckled in carriers, and out the door. Toddler age I put a pack n play by the door so that I could buckle/unbuckle one and knew the other was safe. 3 was the hardest. Just had to hold on for dear life. Now at 4 they know to wait on me and they help bring in groceries and such. – Amy W.
I always make sure the diaper bag is packed and car seats have a blanket and pacifier already laid in there. – Shelbie H.
I put my older child's clothes in the dryer for 5-10 minutes. She gets herself dressed faster in order to be able to get them on before they cool off. It cuts down her getting dressed time by 15-20 minutes!
– Sara D.
getting out the door
Related Articles – Getting Out the Door With Twins
10 Tips for Easier Twin Travel
Rules For Surviving The First Week With Twins
Getting Out of the House with Twins | Facebook Live Chat
9 Tips For Self Care Even When You Can't Get Out Of The House
How to Get Out the Door With Twins in 10 Easy Steps (or, Why I'm Always Sweating)